Csonka's Impact Wrestling Review 6.28.19
July 2, 2019 | Posted by
Csonka's Impact Wrestling Review 6.28.19
Csonka's Impact Wrestling Review 6.28.19
OFFICIAL RESULTS
– The North defeated The Deaners @ 10:30 via pin [***¼]
– Rosemary and Taya Valkyrie defeated Su Yung and Jessika Havok @ 5:00 via pin [**]
– Sami Callihan defeated Fallah Bahh @ 6:43 via pin [**¾]
– The Rascalz defeated The LAX and Laredo Kid @ 8:00 via pin [***½]
---
– Follow all of my reviews at this link.
The North vs. The Deaners: Jake and Alexander begin, with Alexander looking to ground things, but Jake powers to his feet and hits a big shoulder tackle. Cody tags in and hits running knee strike and covers for 2. Alexander fires back and tags in Page, but he runs into double teams and Jake covers for 2. The North quickly cut off Jake and lay the boots to him. Jake powers out and tags in Cody but Alexander cuts them off until Cody fires back, and then he's quickly cut off by double teams. Alexander grounds the action, working over Cody. The double team DDT follows for 2. Alexander follows with strikes and a suplex. Page tags in and takes out Jake, while maintaining control on Cody. Alexander and Jake tag in with Jake running wild until he misses a charge, Alexander chop blocks the knee and gets an ankle lock but Jake rolls out hits a Michinoku driver as Cody hits a diving head butt for 2. Spear by Jake and but Page makes the save. Jake takes him out and trades with Alexander. Alexander levels him with a lariat and German but Jake rebounds with a lariat. Cody follows with a DDT, Page cuts him off and the iconoclasm connects and the double Gotch finishes him. The North defeated The Deaners @ 10:30 via [***¼] The North winning was the right call as they are about to challenge for the tag team titles on Friday. Good match to open the show as the North continue to roll.
– Taya met with Rosemary in Rosemary's lair. Taya talked about how she didn't agree to Monster's Ball and about this not being close to the end of her latest 30-day title defense window and thus she's not contractually obligated to defend the title. Rosemary cupped Taya's mouth and reminded Taya that Taya had made a verbal contract with Rosemary last week that Rosemary would help take care of Havok and Su in exchange for a title shot. Rosemary also told Taya that they have been "tasked" with a match against "the goblins" tonight.
– Rolando Menendez is back and he was outside somewhere looking for a big scoop on Cage's health. Rolando met with the Fake Doctor, Doctor Ariel, from a few weeks ago. The Doctor said Cage put his health in jeopardy last week and he's going to see to it personally that Cage doesn't put himself and the company in jeopardy tonight. Josh Mathews and Don Callis talked about how Dr. Ariel hasn't medically cleared Cage yet.
– We see footage from a recent House of Hardcore show where Moose attacked Tommy Dreamer. Moose held Dreamer near the camera and said "This is all your fault Rob!". The camera's cut to the commentary table and Josh said Don Callis better watch out for Moose because Callis is a friend of RVD.
– Josh hyped Sami Callihan vs. Tessa Blanchard at Slammiversary, and announced Eddie Edwards vs. Killer Kross in a first blood match for the PPV.
Rosemary and Taya Valkyrie vs. Su Yung and Jessika Havok: Taya and Rosemary argue to begin. Havok attacks and works over Taya. Taya battles back, but runs into an STO. She chokes her out in the corner; Yung tags in and grounds the action. Taya fires back, but get cut off and Yung slams her to the buckles. Yung gets the glove and Havok tags herself in. Taya battles back, and tags in Rosemary. The missile dropkick follows, and then sling blade connects. Havok fights of the XPLODER, but Rosemary takes out the knee but it breaks down as Rosemary dumps Havok. Havok cuts off the suicide dive, they brawl on the floor and Rosemary sends her into a chair. Rosemary kicks a chair into her face as Yung attacks with chair shots for the DQ. Rosemary and Taya Valkyrie defeated Su Yung and Jessika Havok @ 5:00 via pin [**] The match was ok, but the post match added a lot to the monster's ball build and elevated the overall segment.
– Post match, Taya tried to run away with her title but Su Yung caught up to her and they brawled to the ring. Yung stuck the bloody glove in Taya's mouth for the mandible claw. Rosemary sent Havok into the post and then hit Yung with a spear. Taya put the boots to Havok and fired up. Rosemary poured thumbtacks in the ring, but Havok saved Yung from getting suplexed into the tacks. Yung accidentally gave Havok a palm strike. Havok tried to shove Su into the tacks but Father Jim Mitchell ran out to get between Havok and Yung to keep them on the same page.
– Melissa Santos interviewed Ace Austin about suffering his first loss in Impact last week. Ace said he didn't like Melissa's question, and talked about how nobody knew TJP worked in Impact before last week. Austin talked about how he studies for his matches blamed his loss on not knowing who his opponent was. TJP interrupted the interview and said he showed up to the interview because he had to stretch his legs a bit after being chained in a basement for the last three years. TJP challenged Ace Austin to a rematch so Ace wouldn't have any excuses the next time.
– Desi Hit Squad mocked the Deaner for being losers.
– In a church at Boston, Eddie Edwards sat at the first row of seats and started to pray. A pastor came up behind him asked Eddie when's the last time he made a confession. Eddie sobbed about losing his friends, career, and maybe his wife. He doesn't care because he's being pulled in the direction of doing bad things, but knows in the eyes of God, he's a sinner. Suddenly Killer Kross teleported in the place of the pastor. Kross said we're all sinners in the eyes of God. Eddie was about to fight Kross but Kross told Eddie that this was holy grounds and nobody wants to start a fight in a church. Kross said Eddie's always trying to search for forgiveness in all the wrong places and that Edwards is afraid of losing or maybe even finding himself. Eddie said he'll see Kross later outside, where there's no rules. Eddie left. Kross said Eddie will have to wait a long time because Kross finds it peaceful at church. Kross sat down and a pastor asked Kross about Kross' last confession. Kross got up and said he would like to confess his sins right now. Kross aggressively held in the pastor and asked the pastor, "how much time do you have?"
– John E Bravo was hanging out with his former referee buddies and bragging about being Johnny Impact's friend. The referees laughed at his for being Johnny's stooge. Bravo said that he's in a better position now instead of being a referee jobber and that, "Johnny completes me". The referees and security continued to laugh off Bravo and Bravo tried to act macho by saying he would choke Rich Swann by the neck if Rich were here. Rich Swann arrived and attacked, but Impact ran in to save Bravo. Willie Mack, fresh off of his hospital stay, joined in. The referees and security separated the two teams. Rich Swann proposed a match between the and Bravo accepted the challenge as Johnny was busy talking about Slam Town.
Sami Callihan vs. Fallah Bahh: Fulton & Scarlett are at ringside. They brawl at the bell with Bahh laying in strikes. He misses a charge, and then absorbs chops from Sami. The shoulder tackle follows, and he hits a falling head butt. Fulton trips him up, allowing Sami to take control. Fulton gets tossed to the back by the ref. Bahh fires up and hits clotheslines and back elbows. Sami cuts him off and hits an elbow drop for 2. He grounds the action, and lays the boots to Bahh. Bahh again fires up, Sami rakes the eyes and grounds him. Bahh battles back to his feet, hits a belly to belly, and follows with the corner splash. The running ass attack follows, he then hits the Samoan drop. He looks for the banzai drop, but Sami powders. Bahh follow and they brawl on the floor, back in and Sami bites his hand and stomps on the feet. The cactus special in the ropes scores the win. Sami Callihan defeated Fallah Bahh @ 6:43 via pin [**¾] This was a pretty good and fun match, and again, delivered a really good post match that added to a PPV match build.
– Post match, Sami talked about how only a male can get this over, that he doesn't like knockouts equality, and sat in the ring and said he might take this show hostage. He has to say something but "unlike a bitch, I don't do it from behind". Sami called out Tessa Blanchard. Tessa arrived and Sami called Tessa a professional wrestler. Sami talked about how Tessa can't do anything to him because he's a male and how he's going to treat Tessa like an equal. Sami hit Tessa with a pump kick and said that's what happens when a women gets in the ring with a man. Tessa recovered and beat up Sami, but Jake and Dave Crist ran out and pulled Tessa away. Sami hit Tessa in the gut with a baseball bat. Tessa spit in the face of Sami and Sami laid her out with the cactus special. The segment was good, but the sudden male chauvinist stuff from Sami in this angle feels more forced than his usual promo work. But with that being said, he's making it work.
The Rascalz vs. The LAX and Laredo Kid: Konnan is at ringside. Kid flies in and wipes out the Rascalz, and Ortiz follows with a dive. Kid & Trey are in and Kid hits an enziguri and high cross. The superkick follows and then hits a big moonsault to the floor. Post break and Kid lays in kicks on Trey as Santana hits an alley opp. Triple teams follow and the others make the save. Trey battles back, and Dez tags in and Wentz flies in with a double stomp and follows with a dive. Ortiz dumps Trey, but gets cut off by double teams. Santana in and hits an enziguri on Trey, and the sitout DVD follows. Wentz takes him out, Ortiz then powerbombs him and Dez hits him with a cutter as it completely breaks down. They all brawl, the Rascalz get stacked up and Kid hits a 450 and Santana covers for 2. Ortiz tags in as Kid gets tossed, the Rascalz make the comeback and hit triple teams, and the meteora finishes Ortiz. The Rascalz defeated The LAX and Laredo Kid @ 8:00 via pin [***½] This was a tremendously fun, all action sprint, that gave the Rascalzs some momentum ahead of the PPV. Tons of fun.
– Melissa Santos interviewed Madison Rayne about being the second person to pin Jordynne Grace. Rayne said she should be happy for that victory but the finish was clouded in controversy when Kiera Hogan got involved. Rayne said she feels Jordynne deserves a rematch, but Kiera Hogan interrupted and said Jordynne Grace doesn't deserve a damn thing for everything Grace did to Kiera as a friend. Kiera said she sees the old and sympathetic Kiera in Madison Rayne right now, a person who thinks that the Knockouts division should be a sisterhood. Kiera said one thing every knockout has in common is they are all "selfish bitches" deep down inside. Kiera's difference is she's not afraid to admit that. Rayne said the rematch with Jordyne Grace could wait and maybe the women do have a dark side in them. Rayne challenged Kiera and said she'll show Kiera how ugly things can really get
– The Rascalz were in the tree house, and argued over who would wrestle LAX for the titles at Slammiversary. They proposed a triple threat next week where the Rascal that gets pinned will not be in the Slammiversary match.
– Cage made his entrance for his first in-ring promo since winning the world championship. Cage talked about how it took him 14 years to show he's the best in pro wrestling and become Impact world champion. But Elgin took that moment from him and even sent him to the hospital. Cage said Elgin sent an already injured Cage to the hospital. But he is here now and Elgin will find out you can't break the machine. Fake doctor interrupted Cage's promo and stood face-to-face with Cage. Cage hit him with an F5 and was then blindsided by Michael Elgin. Elgin gave Cage a buckle bomb followed by an Elgin Bomb. Elgin held the title and told Cage that the title is his at Slammiversary. Before Elgin could leave, Cage held on to Elgin's foot, and Elgin planted Cage with a spinning Elgin Bomb. Elgin set up a table. And powerbombed Cage from the ring to ringside through the table. Elgin took Don Callis's microphone and talked about how he's going to be the new world champion. Callis walked away to check on Cage and then told Elgin to get out of here. Callis threatened to fire Michael Elgin so Elgin punched him. Elgin was about to powerbomb Callis but he was stopped as Cage rose to his feet. Cage and Elgin then brawled to close the show.
– Next week: Johnny Impact & John E. Bravo vs. Rich Swann & Willie Mack, Winner Competes For The Rascalz against LAX at Slammiversary: Dez vs. Trey vs. Wentz, Kiera Hogan vs. Madison Rayne, TJP vs. Ace Austin.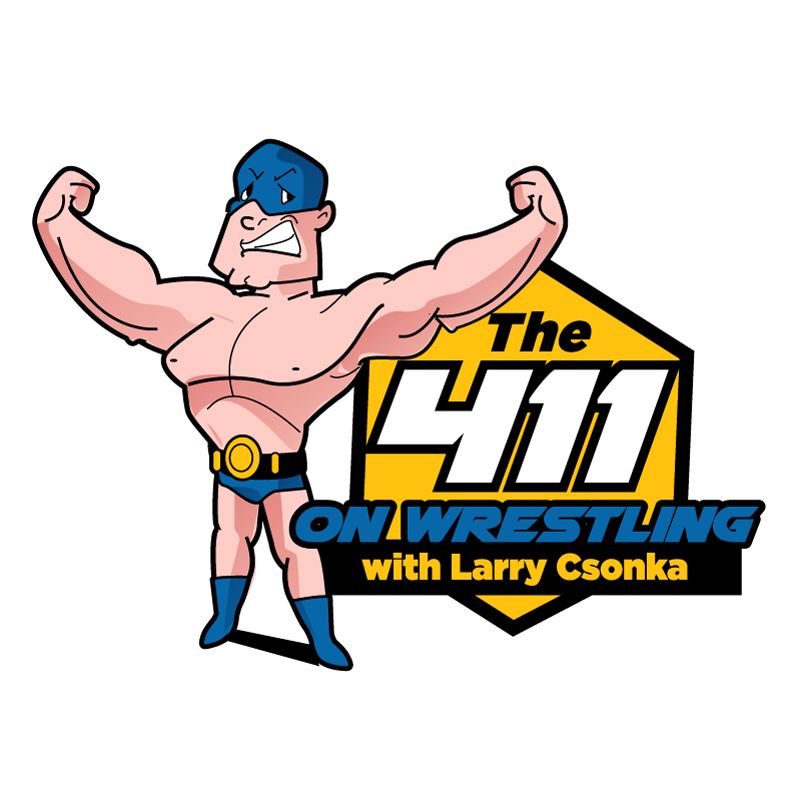 The 411 on Wrestling Podcast returns to the 411 Podcasting Network for episode 32. On the show, the good brother, Jeremy Lambert, joins 411's Larry Csonka; the guys will discuss and review the ROH Best in the World 2019 and AEW Fyter Fest 2019 events. Plus, a Daryl Takahashi cameo! The show is approximately 93-minutes long.
* Intro
* ROH Best in the World 2019 Review: 2:30
* AEW Fyter Fest 2019 Review: 42:12
You can subscribe and listen to the 411 on Wrestling Podcast via the above player on Transistor, or on the following platforms:
* iTunes
* Spotify
* Stitcher
* Google Play
– End scene.
– Thanks for reading.
8.0
The final score: review Very Good
The 411
Slammiversary is shaping up to be a really good show, and the company does a good job of delivering on PPV so I am excited. They also do a really good job of heating up TV heading into those PPVs and this show was a strong example of that. This was a really good and effective show that did a hell of a job to sell the PPV, hopefully they didn't blow their load ahead of next week.
legend