Csonka's NJPW WrestleKingdom 11 Preview
January 1, 2017 | Posted by
– Despite the fact that I watch so much wrestling and have been doing so for so long, I still get really excited for the big events. You simply don't watch as much wrestling as I do unless you're a huge fan. I love wrestling, because when the wrestling is great, it's some of the best stuff around. While many will claim WrestleMania to be 'THE big show of the year," and I get that. But on January 4th, New Japan takes center stage; and in my opinion, many times, this show sets the tone for the entire year. Today I am going to provide a solo preview of the show, a show with a ton of potential to be sure. Also, make sure to join 411 at 2AM ET on January 4th for my live coverage of NJPW WrestleKingdom 11.
1月4日(水)東京ドーム大会の第0試合『ニュージャパン・ランボー』に、天山、永田、中西、ライガー、タイガー、田口の出場が決定!! 
★ご注意下さい:16時10分から試合開始!https://t.co/cf3E8sIQH3 #njwk11 #njpw pic.twitter.com/tQtlmvZIsC

— 新日本プロレスリング株式会社 (@njpw1972) December 22, 2016
The New Japan Rambo: This is the traditional " Pre-show royal rumble style, get everyone on the card match", featuring returning legends, low card wrestlers not on the main card and sometimes surprise outsiders. We'll see Nagata, Tenzan, Nakanishi, Liger, Tiger Mask IV, BONE SOLIDIER, Yoshitatsu, random young lions like Henare, legends like Fujiwara, Kabuki and more. As a match, it's no good, but it's a lot of fun in a "gimmick battle royal" kind of way. It can be fun, there are some mark out moments (like HAKU last year) and I enjoy it for what it is. If this is your first rime watching the match, do not go into it expecting "good wrestling," but it can and likely will be fun.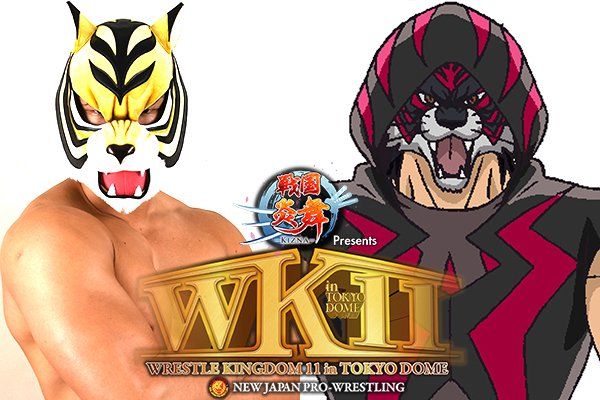 Tiger Mask W vs. Tiger Mask Dark: In all seriousness, Tiger Mask W vs. Tiger Mask Dark is on this show to promote the new animated Tiger Mask series. Tiger Mask W was portrayed the first time by Kota Ibushi, and according to the rumor mill, Tiger Mask Dark will be portrayed by former ROH star ACH. The reports are that Tiger Mask W will have a new mask here, which is good because the original gave Ibushi all kinds of fits. I get exactly why they are doing this match this way, but part of me feels like ACH vs. Ibushi in a regular match, without the possible restraints of the gimmick would be better. But as long as there are no mask malfunctions, I am sure this will be fun and at the very least good. Kota Ibushi is such a delightfully odd dude, turning down a WWE deal when they wanted him really bad, returning to Japan to play the new Tiger Mask… because he can. Tiger Mask W should win, because this is only ere to promote the animated show. This could range anywhere from solid fun to great.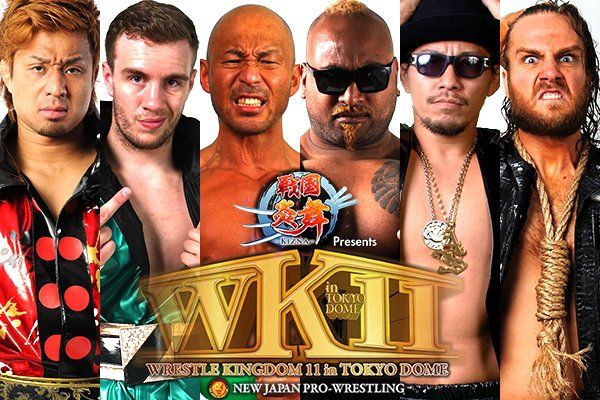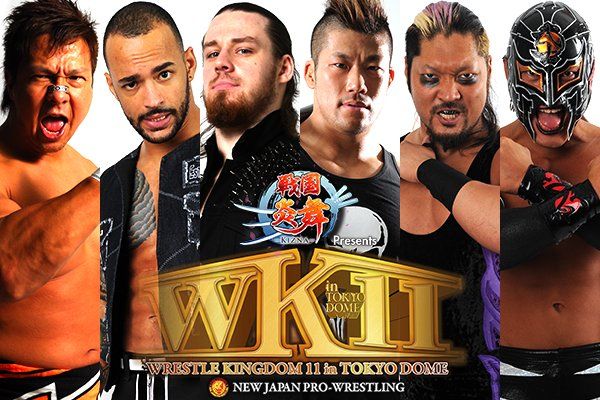 NEVER 6 Man Title Match: Champions David Finlay, Ricochet & Kojima vs. BUSHI, EVIL & SANADA vs. Jado, YOSHI-HASHI & Ospreay vs. Fale, Yujiro, Hangman Page: Ishii was originally to team with YOSHI-HASHI & Ospreay, but they decided that they needed to mix things up and added Ishii & Yano to the tag title match. They are going to work this gauntlet style, with two teams starting off in a regular trios match) BUSHI, EVIL & SANADA vs. Jado, YOSHI-HASHI & Ospreay vs. Fale, Yujiro, Hangman Page) working a trios match, leading to another and then most likely Champions David Finlay, Ricochet & Kojima getting a bye to the final part. BUSHI, EVIL & SANADA are the best team out of the challengers, and I feel that putting over Naito and Los Ingobernables should be a big goal of this show. Bullet Club is over and sells merchandise, Omega should win the main event, but the big players in Bullet Club are Omega and the Bucks (and maybe Cole or Rhodes) if they team with the Buck for a trios title shot. Jado replacing Ishii is a supreme disappointment, he's the shits. Gedo is very fun and would have been the better choice. In my opinion, the only real choice for the winners is BUSHI, EVIL & SANADA. Jado hurts his team, YOSHI-HASHI & Ospreay are great; Fale, Yujiro, Hangman Page are no good in terms of delivering in the ring most of the time, but should be fine, and the champions (David Finlay, Ricochet & Kojima) haven't done much in their 88 plus days as champions. Some of that is the last minute nature of the trio coming together, thanks to Tommy Chong Matt Sydal, (I don't give a shit about marijuana use, I'd have no issue if it was legal, but it's not cool in Japan and he messed up a prime gig.) the other issue is the generally poor booking of the titles. BUSHI, EVIL & SANADA have been a great trio, and Los Ingobernables has been booked very strongly as far as wins and losses go so winning here feels like the easy call to make. If they win, they can headline a lot of the smaller shows with the titles, like they were meant to, and draw well due to the huge popularity of Los Ingobernables.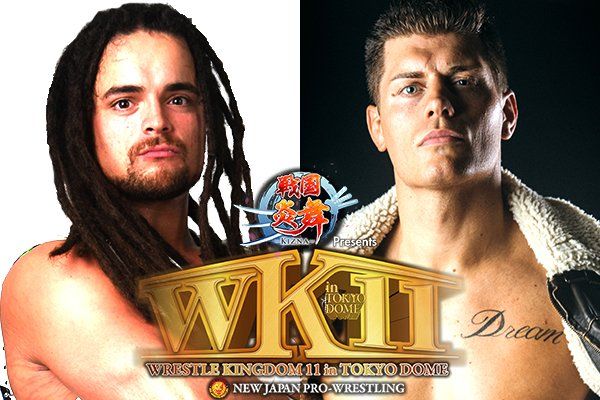 Cody vs. Juice Robinson: Cody vs. Juice Robinson is a big test for both guys. It's two Americans with nothing at stake, as well as Cody's debut, which is coming against a low card guy. Now don't get me wrong Robinson has greatly improved, but this feels like a match that will struggle to get heat. While Robinson has been delivering in the ring, Cody has been merely "fine to good' since his WWE departure. This is going to be his big chance to step up and deliver on one of the biggest stages in all of wrestling. Robinson is taking the spot that was likely for Big Mike Elgin, but he's not healed from his orbital born fracture. I think this can be "good," but won't have much crowd interest, but I hope I am wrong. Robinson is easily the better worker of the two at this stage; just because you call Cody Bullet Club and he sells some shirts, doesn't mean I have to be excited for his match or think he's magically become better than his most recent matches, which again have been fine to good, but nothing more. I respect Cody Rhodes for leaving the security of his WWE job in order to forge his own path; he laid out a perfect exit, marketed himself well and also priced himself smartly to work as much as possible for as many different companies as he could. I just wish that it was translating into great (or at the very least interesting) in ring performances.
Just a simple tag this year. Two humans fighting two humans. Maybe JR won't even hate it. pic.twitter.com/QQ540vwEcl

— TRENT? (@trentylocks) December 21, 2016
IWGP Jr. Heavyweight Tag Title Match: Champions Young Bucks (Matt & Nick Jackson) vs. RPG Vice (Beretta & Rocky Romero): In past years, the juniors got a lot of shit due to being booked in multi-team matches, so this is refreshing to see. RPG Vice won the junior tag tournament to earn the title shot and I am glad they didn't add any more teams. I expect this to be all action for the time they are given, and to be a lot of fun and possibly even great. Both teams have worked together a lot, so that won't be an issue here. RPG Vice won the junior tag tournament, and overcame the teases that they would breakup and defied the odds, so I can see them winning. But on the other hand, the Bucks have had the titles for over 180 days and have given stability to the titles, which was needed. If the Bucks have signed a new deal, I can see them retaining since they are a major part of Bullet Club. This should be a lot of fun, but I am not sure who walks out with the titles. I'll go Young Bucks here, in a match some will love and some will instantly hate due to the style they work. I am a fan of both teams, and anticipate a very fun and energetic outing.
ROH Heavyweight Title Match: Champion Kyle O'Reilly vs. Adam Cole: The ROH Title was defended on last year's event, which saw Champion Jay Lethal defeat Michael Elgin. The issue there was that it was two North American talents fighting over a title that the New Japan audience doesn't have any real investment ib. They liked Elgin, but never connected with Lethal. The advantage that this match will have is O'Reilly is essentially a New Japan regular, and Cole was placed in Bullet Club, and has worked some Japan dates. But another thing that will take away from the match most likely is the fact that Cole vs. O'Reilly just culminated their feud, with the big O'Reilly victory. The odds on Cole winning are so small, which means that they will have to work one hell of a match to make you believe O'Reilly losing is an actual possibility. If they can't do that, it's just a match. O'Reilly has had some great singles matches in Japan this year, and he's over there; I just fear that this will lack the drama and feeling that O'Reilly could really lose. The only drama right now is whether or not O'Reilly will actually sign a new ROH deal. If he doesn't, I could see him losing the title here.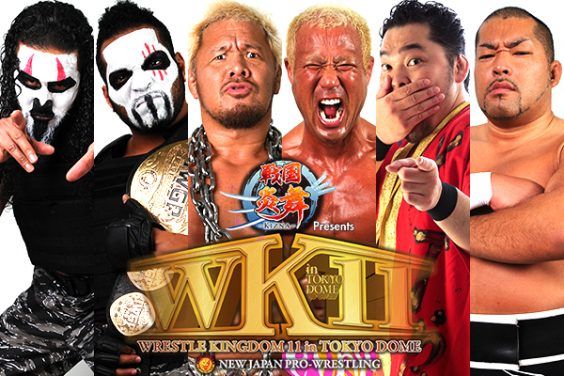 IWGP Tag Team Title Match: Champions G.O.D (Tanga Roa & Tama Tonga) vs. Yano & Ishii vs. TEAM GBH (Tomoaki Honma & Togi Makabe): During the final Road to shows, Yano returned to the promotion, proclaiming that he wanted in the tag title match, but didn't have a partner. It was then revealed that fellow CHAOS stablemate Ishii would be his partner. To be 100% honest, I had no desire to see this match become a last minute triple threat; we've not just got the Guerrillas of Destiny working well as a team, and actually developing a good chemistry with Togi Makabe and Tomoaki Honma. The champions finally delivered a truly great main event performance against Togi Makabe and Tomoaki Honma at the tag league finals. I have no desire to see Yano & Ishii win this, and Makabe & Honma winning will come off as a repeat of last year. At this point, I am leaning towards the champions retaining. Make no mistake, the guerrillas of Destiny started off as a dog shit tag team. And then they kept working, and slowly started to become a competent and even good team. They were still missing intensity, a killer instinct and marquee matches to prove themselves; they finally have those things, and are on the rise.
IWGP Jr. Heavyweight Title Match: Champion KUSHIDA vs. Hiromu Takahashi: Hiromu Takahashi is back after hi time in CMLL & ROH as Kamaitchi. His ROH run was largely forgettable, but his feud with Dragon Lee made headlines in Mexico and Japan. He and Dragon Lee had an amazing match during Fantasticamania, and now he returns as part of Los Ingobernables to challenge KUSHIDA. They have tried to make KUSHIDA the Tanahashi/Ace of the juniors; he's done well as the top guy, but I feel that he has really lacked a main nemesis that feels on his level. BUSHI was a good challenger, but he never felt on KUSHIDA's level. So now KUSHIDA defends against Takahashi in their first major singles bout. Takahashi has looked great since his return and can work at a top level, and KUSHIDA wants to steal the show in the worst way at the dome to prove that he's a top guy. He has repeatedly said his dream is to main event the dome as the junior champion. The effort from these two will be there, but I feel that the usual shenanigans from Los Ingobernables could hurt this one. With Hiromu Takahashi returning and joining Los Ingobernables, and the feeling that this will be a big show for the group (and also considering) that Los Ingobernables have been making things hell for KUSHIDA most of the year, I will go with Takahashi winning. Lots of potential here, in what could be a sleeper in terms of trying to steal the show.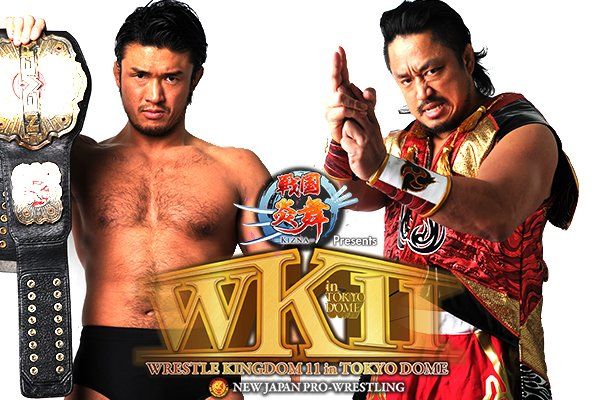 NEVER Openweight Title Match: Champion Katsuyouri Shibata vs. Hirooki Goto: Going into this show, one theme of disappointment I keep hearing is that there are no big outsiders announced for the show. Minoru Suzuki isn't coming back for a match, and with NOAH being bought and that relationship over, Marufuji and Nakajima aren't coming in. Many thought that they may be brought into face Shibata, so when it was clear that Goto was getting the spot, there was obvious disappointment. Goto and Shibata were schoolmates, feuded and even teamed to win the IWGP tag titles, so they have a history to play off of. They have had very good to excellent matches against each other in the past, and with the lack of outsiders available (I am glad Cody wasn't placed here to be perfectly honest), Goto made the most sense. I also feel that 2017 is the year that we'll see the true rise of Katsuyouri Shibata, officially sliding into that top 5 mix with Naito, Omega, Okada and Tanahashi (and my early G1 pick for 2017). I love the guy, he's paid for his past sins, he delivers and should be the next main event player. But to get there he needs to move on from the NEVER title ranks, and more importantly than that Goto needs to win a title match and stop being everyone's bitch (even if I love joking about it all the time). Goto is like Dolph Ziggler, minus the stupid bump and adding in great selling. Goto needs this win, Shibata doesn't need the title because he needs to move on. If past meetings tell us anything, this could be very good to excellent. Shibata is another great big match performer, Goto also tends to work up to his opponents. These are good things.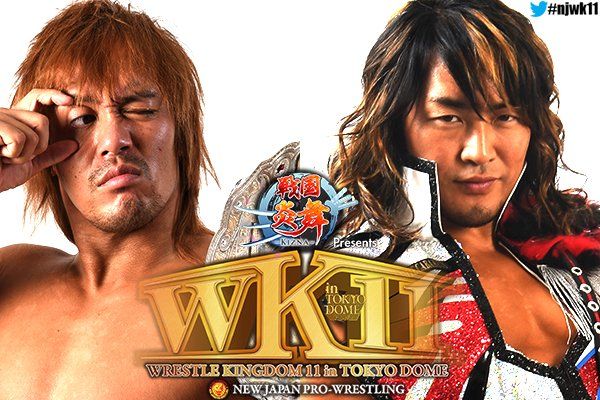 IWGP Intercontinental Title Match: Champion Tetsuya Naito vs. Hiroshi Tanahashi: This is basically the continuation of their feud from earlier in the year, which got derailed due to Tanahashi's injury. In hindsight, that was for the best because they got a break from each other, and gives Wrestlekingdom another marquee match. Tanahashi has slowed down this year, partly due to age, but mainly due to the accumulation of punishment he's taken working at such a high level for years. Naito had a really strong year in terms of becoming a top guy in overall presentation and in the ring. My issue with him is the fact that in his effort to capture the "give no fucks" mystique of Los Ingobernables, I feel parts of his matches come across as lazy. It's never bad, but causes some flow & at times selling issues in his matches. What really works here is the fact that Naito and Los Ingobernables are the anti-establishment, while Tanahashi has been the ace, the establishment's chosen one. The biggest reason that the match makes sense goes back to WrestleKingdom 8. Naito won the G1 and was challenging for the IWGP title. A fan vote decided the main event, and Shinsuke Nakamura defending the IWGP Intercontinental Championship against Hiroshi Tanahashi and Kazuchika Okada defending the IWGP Heavyweight Championship against Naito were the choices, but Nakamura & Tanahashi won the vote and main evented. This is a big part in Naito and being the face of the anti-establishment (Los Ingobernables). Much like the main event, if both guys are on, the sky is the limit in terms of match quality goes. Part of me feels that they will play it safe here and in the main event. Tanahashi doesn't need the IC Title or the win here. All he has to do is pit on his Mr. WrestleKingdom act, be awesome and he will be universally loved. Putting over Naito and Los Ingobernables should be the goal. Naito and Los Ingobernables are over huge, and Naito has become a draw on the level of Nakamura after his breakout year. I feel that the win here solidifies him into the upper tier with Omega, Okada and Tanahashi.
IWGP Heavyweight Title Match: Champion Kazuchika Okada vs. Kenny Omega: Omega and Okada are tremendous top end performers. When Omega drops the comedy, he can be truly amazing. Okada is a true big match performer, and does so many of the little things well. Unfortunately, I feel he gets too wrapped up in busy work that can go nowhere, and I also feel his matches can suffer from his lack of selling. The company finally anointed Okada at "the guy" last year, but Omega feels like the hot hand coming off the historic G1 victory. With Styles and Nakamura gone and Tanahashi slowing down, fully making Naito and Omega. They did good work setting this up, Okada took the beatings he needed to and Omega has been great on the promo side, selling the disenchanted outsider. If both guys are on, the sky is the limit in terms of match quality goes. Slowly watching the year unfold (for a second time) through the NJPW on ASX TV show makes me really appreciate the measured effort to put Omega in a position to succeed…
– Declaring that he refuses to starve and be a junior, making the move to heavyweight.
– Ousting AJ Styles from Bullet Club and the promotion.
– A run, with the Young Bucks, with the NEVER 6 Man Titles. Now while those titles don't mean much, it was part of a deliberate effort to define Omega & the Young Bucks as (the Elite) of the group both in name and perception.
– Taking credit for chasing away Shinsuke Nakamura.
– The IC Title win.
– Main eventing an event with Michael Elgin.
– His promo work running down Tanahashi.
– The historic G1 victory.
Having Kenny Omega lose here seems like a waste of the last year, THE WHOLE YEAR. They took the time to build this former junior and comedy wrestler into a top heavyweight, a good secondary draw and have him prime to be a main star. It took a lot of work from Omega, and a clear, precise and dedicated plan by the bookers to make a top guy. His victory creates a new top star, could breathe some much needed life into Bullet Club and also create a very interesting story of "the new ace losing" one year after his coronation, leading to a lot of Bullet Club vs. CHAOS. Also, the pressure is on both guys to not only draw but to deliver. Omega has been a tremendous big match performer this year, just like Okada has. Omega is looking to prove he belongs; Okada is main eventing again, but this is the first time he's main eventing as "the top guy" and not the guy on the rise and looking to prove himself against the ace, he's the ace trying to keep Omega off of his mountain. Omega is looking to make history again as the first Canadian wrestler to headline at the Tokyo Dome and first Canadian wrestler to win the IWGP Title.
There really should be no question as to who should win.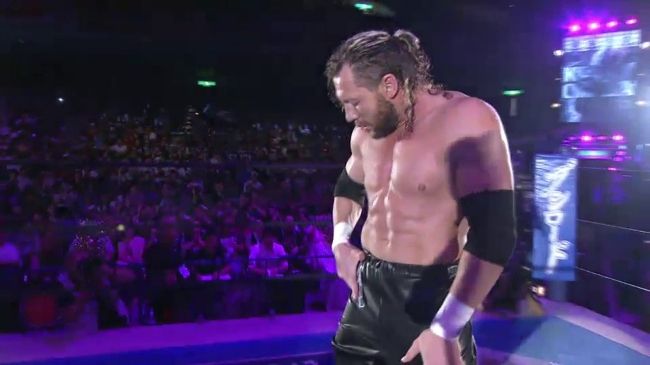 – The undercard has a lot of matches that will be solid to good, but these top four matches have a ton of potential to deliver at a very high level. Unless we get some stinkers or some supremely stupid booking, I think the show will be great and am really looking forward to it…
* IWGP Jr. Heavyweight Title Match: Champion KUSHIDA vs. Hiromu Takahashi
* IWGP Intercontinental Title Match: Champion Tetsuya Naito vs. Hiroshi Tanahashi
* NEVER Openweight Title Match: Champion Katsuyouri Shibata vs. Hirooki Goto
* IWGP Heavyweight Title Match: Champion Kazuchika Okada vs. Kenny Omega
Join 411 at 2AM ET on January 4th for our live coverage of NJPW WrestleKingdom 11.