Csonka's Smackdown Review 3.14.17
March 14, 2017 | Posted by
Csonka's Smackdown Review 3.14.17
Csonka's Smackdown Review 03.14.17
OFFICIAL RESULTS
– Becky Lynch defeated Natalya @ 8:50 via submission [**¾]
– Non-Title Match: Mickie James defeated Champion Alexa Bliss @ 8:45 via pin [***]
– Mojo Rawley defeated Dolph Ziggler @ 2:35 via countout [NR]
– Non-Title Match: The Usos defeated Champions American Alpha @ 10:50 via pin [*]
---
– We get highlights of Styles confronting Shane McMahon after Smackdown last week. Styles was upset that he lost to Orton, feeling that he should be the main event on WrestleMania.
– Bryan is on the phone, noting that there is a special Miz TV tonight. Styles arrives and demands to see Shane McMahon. Styles threatens to slap Bryan and mocks his "delicate" condition. Styles promises to tell the WWE Universe about the conspiracy against him, and heads to the ring.
– It's only Tom and JBL on commentary; Otunga is filming a movie and weather kept Mauro away.
AJ Styles Talks: Styles makes his way to the ring to kick off the show. Styles is pissed as he grabs the mic and the crowd cheers for him. Styles is sick and tired of Bryan and Shane messing with him. You'd think they'd roll out the red carpet for the best in WWE history to go to the Mania main event. Instead, he had to jump through hoops like a circus animal, while Bryan gave "basically his brother in law" a free title shot. He lost to Cena, but never received his one on one rematch, had to fight in a triple threat, then the chamber, had to go through a battle royal and then had to beat Luke Harper. Orton burns down Wyatt's house, and gets the Mania main event. He had the best 2016, put Smackdown on the map and put the asses in the seats and made the people subscribe to the WWE Network; and now he doesn't have a Mania match. Bryan is a puppet, but Shane McMahon, he needs to have a conversation with him about his career, if he even has one. He drops the mic and bails. Good promo from Styles with a nice intensity, he's pissed and clearly explained why he feels he deserves the Mania main event. It was a good follow up from last week's angle.
Natalya vs. Becky Lynch: Natalya turned on Lynch during a tag match last week, leading to this match. Lynch hit a dropkick and followed with some ground and pound. Natalya cut her off, but Lynch fired away with kicks, with Natalya hiding in the ropes. Natalya acts as if she wants a handshake, Lynch slaps her and then drops down into an STF; Natalya gets the ropes. Natalya powders to the floor and we take a commercial break. Post break, Lynch was in control and Natalya rolled to the floor where they brawled and Natalya slammed her to the mat. Back in the ring, Natalya chokes out Lynch in the ropes and worked the heat. Lynch slowly worked to her feet, but Natalya cut her off and slammed her to the corner. Natalya missed a charge and they traded strikes. Natalya slaps Lynch, which only fires her up and she follows with clotheslines, a dropkick and XPLODER. Lynch then got the rolling arm bar out of the corner into the disarmher for the win. Becky Lynch defeated Natalya @ 8:50 via submission [**¾] Pretty good match overall, I thought they worked a nice pace and kept up the intensity; the commercial break hurt the flow a bit.
– Post match Carmella attacked both women and stood tall.
– Styles waits on Shane McMahon backstage.
– We get highlights of Cena hosting thee Kid's Choice Awards.
– Carmella and Ellsworth talk and walk. She explains to Dasha that she plans to be the next Smackdown women's champion.
MIZ TV: Miz and Maryse are in the ring for Miz TV. Miz & Maryse are the guest this week because they are must see, because they have exposed Cena & Nikki as frauds. We get highlights from last week, where Miz and Maryse attacked Cena and Nikki, proving that they are the WWE's it couple. Miz then showed footage from talking Smack, where Miz ran down Cena and that fact that he's manufactured crap. Miz claimed everything was handed to him while he had to fight since day one to get where he is. Maryse claimed Nikki was jealous of her because she was married. Miz says Cena only loves himself, is selfish and classless. Maryse says Nikki is worse. Maryse claimed she and Nikki used to be best friends until Nikki blocked her return to WWE and to be on total Divas along with Kelly Kelly. Maryse mistakenly trusted her while Nikki renegotiated for more money. Nikki told her that he was untouchable because she was dating Cena. And that led to the Bellas returning without her. Maryse is pissed that Nikki took time, money and opportunity from her. Maryse now plans to make her suffer and prove that she's a backstabbing bitch. That brings out Cena and Nikki, they rush the ring as Miz and Maryse bail. Nikki says she has no power, and says that Maryse stabbed them in the back and that they were never friends. Nikki says Maryse and Miz steal the money of the fans, and calls her a brainless, spineless blowup doll. Nikki challenges Maryse to a match tonight. Miz declines, noting that Maryse has nothing to prove. He ends Miz TV and tells Cena & Nikki to continue to be horrible people. BUT Wait, Daniel Bryan is out. Bryan is out and was not impressed with Miz TV because he ran his mouth and then ran away like he does every time. Bryan is pissed and wishes he could punch Miz in the face, for stealing his moves, for reminding him he can't wrestle and for generally existing. Bryan says Miz takes advantage of the fact that Bryan can't fight him. Bryan books Cena & Nikki vs. Miz & Maryse for Mania, which he called a "Face Punching Extravaganza!" That was a really great segment, with Miz shining as usual; Maryse was also really strong and Bryan was great wrapping it up and officially setting up the match.
Mickie James vs. Champion Alexa Bliss: like the first ladies match, this is fallout from last week's tag match. Bliss stole the win tagging, herself in; James was pissed because she did all the work and thought she was getting a title shot. She laid out Bliss with a high kick and stood tall. They did some basic back and forth, James worked strikes and Bliss cut her off and choked her out in the ropes. Bliss posted James and then slammed her to the floor, and we took a commercial break. Post break, James fought back and worked a single leg crab. She then ran wild, slamming Bliss to the mat and hitting a basement dropkick; the fisherman's suplex followed and got 2. Bliss got pissed, tossing James across the ring and taking control back. James fought back with a back elbow, RANA and a series of kick but Bliss got a sunset flip out of the corner for 2. Bliss escaped the DDT and they then traded pinning combos Bliss then dropped James with a big right, hit the double knees but missed insult to injury and followed with the head kick for the win. Mickie James defeated Champion Alexa Bliss @ 8:45 via pin [***] Good match here as the women are getting time to build to their Mania match. Lynch vs. Natalya had a more invested crowd throughout, but I felt that Bliss vs. James had a better intensity, along with crisper and cleaner work overall. This has been a good night for the ladies overall.
– Shane McMahon arrived and Styles attacked him backstage and beat the shit out of him. Styles beat on Shane like he owed him money and then threw him through a car window, noting that Shane asked for this. BAH GAWD WE NEED MEDICAL ATTENTION SHANE IS BUSTED OPEN! These two may legit kill each other at Mania, because they will try to out stupid bump each other. As long as both survive and I am entertained, make it so.
– Shane undergoes concussion protocol backstage, medical wants him to go to the hospital; Finlay wants him to drink a beer, walk it off and go to the trainer's room.
– The Styles/McMahon stuff was really well done.
– The Usos tell AJ he can't do shit like that and Daniel Bryan confronts him and says he has lost all respect for Styles. Bryan threatens to fire Styles and has security take him from the building. The hilarity of the Usos, who have made jumping their opponents (when they are on TV) a big part of their gimmick chastising Styles is not lost on me.
– Tom and JBL use somber tones to discuss Styles' "premeditated attack" on Shane McMahon. JBL says that Styles has in fact been fired. I hat that they showed Shane's attack again, this time with "magic in car camera footage."
Mojo Rawley vs. Dolph Ziggler: And that was the sound of all momentum hitting a wall and losing all momentum. After some back and forth, Mojo tosses Ziggler over the top and to the floor twice, as commentary noted that Ziggler would have been eliminated if this was the Andre The Giant battle royal. Ziggler works some poorly done offense and gets tossed again. Ziggler ended up walking away and taking the countout. Mojo Rawley defeated Dolph Ziggler @ 2:35 via countout [NR] If the goal was to spend two and a half minutes and ensure that I don't care at all about either man, they accomplished it. This was some lame hype for the Andre The Giant battle royal; Ziggler looks like he doesn't care anymore.
– Eric LeGrand, a former standout for the Rutgers University football team turned motivational speaker, has been named the recipient of the third annual Warrior Award. LeGrand was a key player on the Rutgers University football team before a spinal cord injury he sustained during a game in October 2010 left him paralyzed from the neck down. LeGrand resumed his college classes via Skype and also launched his sports broadcasting career as an analyst for Rutgers Football Radio Network. LeGrand founded the charity Team LeGrand of the Christopher & Dana Reeve Foundation in 2013.
– Neville hypes 205 Live.
Randy Orton Talks: Orton claims that he waited for months and months to attack Wyatt where it hurt; an RKO would have been too easy so he made a plan to get close, to join his family, to earn his trust and respect. He got close, he knew Bray loved Sister Abigail, and when he burned her up he felt Wyatt get weak. Wyatt is only afraid of being alone, and now he is alone because he took everyone from him. But now he has to finish the job and swears to God that he will take everything from Wyatt. Wyatt appeared on the screen and admitted that Orton was right, but Wyatt returned home and says Abigail was forged in hell and her heart still beats; she has given her power to him and he is now the lord of lords. He must purge the infidels and he will start with Orton. He is born again and Abigail lives through him; he baptizes himself in her ashes. Wyatt rubs the ashes all over himself; he's a dirty boy. "Follow the buzzards…" I thought that the performances were good and that it followed up on the angle well, but it didn't really connect with me. Fine performances and follow up, that I can admit, but it did nothing to make me want to see the match.
– We get highlights of Baron Corbin kicking Dean Ambrose's ass last week and then going half time heat on his ass. Corbin promises to put Ambrose down and then take everything from him.
Champions American Alpha vs. The Usos: Hey, someone remembered that Smackdown has a tag team division. Alpha worked quick tags to begin, taking control and grounding Jey Uso. We see Shane McMahon walking backstage; Finlay and Noble are with him. They decide to go back to the match, the Usos work the heat but they have a stand off as the crowd chants for Angle. Alpha sends the Usos to the floor and we take a commercial break. Post break, the Usos took the heat, isolating Jordan. These poor bastards are trying, but the crowd keeps chanting for Angle while commentary keeps talking about "Shane's medical condition." It didn't help that the Usos were working the blandest and most lackadaisical heat they could. Shane refuses to leave, an Uso posts himself and Gable got the hot tag, he ran wild but the Doomsday bulldog is cut off and the Usos win. The Usos defeated Champions American Alpha @ 10:50 via pin [*] This was a painful joke of a main event that was never given the full attention of the company. I get that AJ & Shane is the big angle, but they have essentially killed off the tag team division with their lack of appearances and then they were not even second-class citizens here. This was a complete disservice to the tag division as a whole and the talent involved.
– Shane arrives with a mic and says that AJ Styles now has an opponent for Mania as the show cuts off.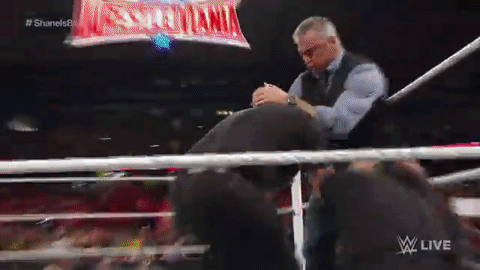 – End scene.
– Thanks for reading.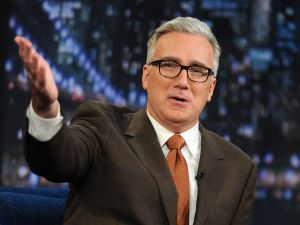 "Byyyyyyyyyyyyyyyyyyyyyye Felicia!"
6
The final score: review Average
The 411
Smackdown started off very strongly and did some very good work at setting up Mania and following up on last week's show an the established angles. But then things went off of a cliff once we hit Mojo Rawley vs. Dolph Ziggler, the Orton/Wyatt segment and the poorly produced main event. Watch up until Mojo Rawley vs. Dolph Ziggler and stop there. What You Need To see: AJ's promo, the AJ attack on Shane, Miz TV & the women's stuff was strong overall.
legend