Csonka's Top 14 ROH Matches From 2016
December 22, 2016 | Posted by
WELCOME back, back to the column that makes lists and hopes that you enjoy them. This week's column will look back at the best of ROH matches from 2016. I always hear a lot of people saying that they can't decide what to watch because they do not have enough time to follow everything, so maybe this will help those of you short on time find some stuff to check out. Have fun, and always, thanks for reading. Also, if you think something should have made the list, feel free to share it. The more wrestling we share, the more fun we can have.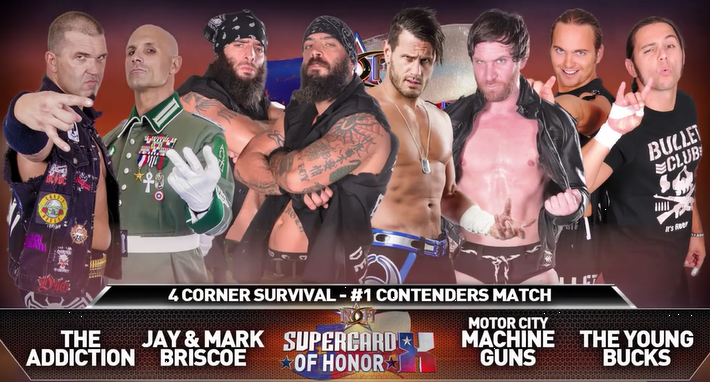 14. From ROH Supercard of Honor X (Night Two) Bucks, Guns, Briscoes and the Addiction [****]: One of the things I loved about night one was that ROH continued their commitment to the tag team division, and put on two great tag team matches. I have repeatedly said over the years that I am a huge fan of tag tea, wrestling, and while I have issues with ROH, they have been dedicated to their tag team division with the signing of the Young Bucks and the reunion of the Motor City Machine Guns. The addition of those teams to the roster they already have has been great. On this show, the tag teams got a nice showcase once again, this time in a #1 contenders match with the Bucks, Guns, Briscoes and the Addiction. This was a really fun and great match, the second best on the show overall and one of ROH's best from the weekend as a whole. This was well done, it was chaotic in the best way possible with everyone getting their shit in (and I mean that in the best way possible) because they worked the frantic match that the fans wanted, and they reacted as you would have hoped. The match was filled with non-stop action from bell to bell, great moves and near falls and it constantly built all the way through. The Briscoes came away with the victory, which at this time was the right call, as they have been building to the clash with War Machine (with the story being that the Briscoes are the legends of the ROH tag division, but War Machine has not defeated them to have a legitimate claim to being the best). This was a high quality match with the right winners and n the end it was a blast to watch.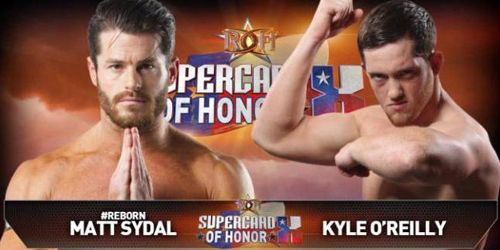 13. From ROH Supercard of Honor X (Night One) – Matt Sydal vs. Kyle O'Reilly [****] The more I watched this show, the angrier I got; there has been some tremendous efforts in the ring that people will enjoy. While they may not have topped my overall listing for the weeken, they have been very consistent here, and delivering upper tier matches. Another match that was really great was Sydal vs. O'Reilly. This was a first time match for ROH, and not only did I really enjoy the match, it came off as important. They set the pacing well early, they kept heir work focused as O'Reilly looked to pick apart Sydal to finish him with a submission, and it smartly built to the end. This was another match that didn't over stay its welcome, and that is a compliment because all too often these days people want to work 30-minute epics that tend to feel way too long and lose the crowd. O'Reilly picked up the clean win via submission to set the stage for his night two match with Adam Cole, as he should have. Matt Sydal continues to be one of the most consistent and overlooked talents in all of wresting. He has great tags in Japan, and everyone wants to talk about Ricochet. He has a library of great matches on ROH like this one, and everyone will talk about O'Reilly or whomever else he faces. Now O'Reilly is really great, but people need to start appreciating Sydal more. Don't sleep on a Matt Sydal match these days kids, he can still fly but works so much smarter, and has become a complete performer. He's pretty much become a can't miss performer for me.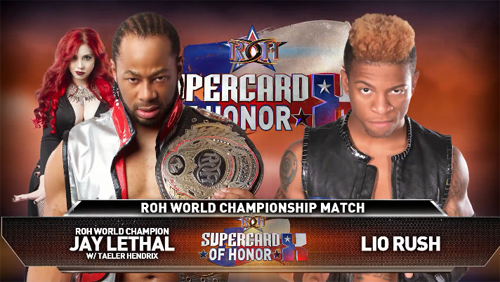 12. From ROH Supercard of Honor X (Night One) – Jay Lethal vs. Lio Rush [****]: At the age of 21, Lio Rush has received a lot of hype over the last year. He debuted in 2014, and after hearing about him I finally go to see his work in Evolve and came away impressed. He then entered the ROH Top Prospect Tournament, and came away the winner with strong performances there. Rush signed with ROH, but there was a lot of trepidation following that, due to the fact that the booking of the Top Prospect Tournament winners and recent guys like ACH and Moose has been sketchy at best. And then it was announced that Rush was getting a title shot against Jay Lethal at Supercard of Honor X (Night One), due to TV champion Ishii being too busy with NJPW. The crowd was rough for Rush at the beginning, the fans knew who he was, but were not sure what to expect in this match. What they got was a match that was a true star making performance for Rush. I felt that they played the match exactly as they should, Lethal was the over confident veteran and champion, almost looking insulted that he had to share the ring with Rush. Commentary even called it as if he was completely over matched and that it was only a matter of time before he lost. And then Rush started to find his groove, overcome the odds and the homestretch to this was spectacular. Rush scored with a series of great near falls that not only got the crowd into the match big time, but also had them believing some of the near falls. Lethal eventually scored the win, but Rush came away a big winner here. ROH has something special, they just need to follow up with it. I fear they won't if history has taught us anything, but I hope that I am wrong.
11. From ROH Honor Rising Night One 2.19.16: Tomohiro Ishii defeated ROH TV Champion Roderick Strong [****]: I was looking forward to this match, hoping that Strong would recapture some of that early 2015 magic and deliver a great main event with Ishii. Now this wasn't in the same league as the Ishii vs. Shibata matches, but it was a damn great main event with a surprising finish and at times similar style. The one thing I liked was that while they worked a physical and intense match, it didn't feel like the usual Ishii match, and that's a compliment because I love to see guys deliver great matches while working outside of their comfort zone. Strong got control after slamming Ishii to the apron, which played into Strong's wheelhouse, working the back. They worked a great pace, and the action escalated well to the end very well with good near falls and the surprising finish when Ishii hit the brainbuster, and Strong was down for the three. Going into the main event I had hoped for a physical and competitive match, with a near fall or two that could make me buy that Ishii was going to win, But ROH and NJPW did one better and actually pulled off the title change. It's nice to be surprised in a finish that everyone thought was a lock for Strong.
10. From ROH Best in the World: ROH World Title Match: Champion Jay Lethal vs. Jay Briscoe [****]: This was a refreshingly clean match and finish after the horrendous booking of the last PPV. Some will say that the match was too short, but I will take a short and strongly worked match over one that over stays it's welcome. They made the most of the time, worked a great main event that kept the crowd involved more than just about anything on the show. The story was that they knew each other well from their previous world title match, and it was going to come down to the man that made the first major mistake or hit the first really big move to get to our finish. This was also a great example of a heel winning clean where it doesn't damage the babyface as well. Lethal continues as champion, and if they craft the right story, whoever beats him should have had one hell of a moment. They really didn't, it was just the change to Cole and then O'Reilly.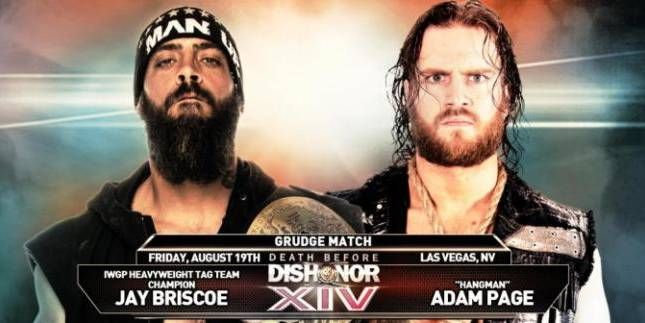 9. From ROH Death Before Dishonor – Anything Goes Match: Hangman Adam Page vs. Jay Briscoe [****]: The goal of this match was to try and make Adam Page a star, and while the follow up will be the key, the match more than delivered and commentary played up the importance of the win very well. Page took a ton of punishment and on his own, defeated one of ROH's biggest stars/former world champion. I won't claim that Page will be come a big star (the booking of him post match was shit actually), but the match was awesome (if you like the style) and should have been a great launching point (Much better than putting a directionless Page into Bullet Club and telling fans he's a big deal), but lizard man screwed the pooch with his shit booking.
8. From ROH TV 1.20.16 – reDragon (Bobby Fish and Kyle O'Reilly) vs. The Young Bucks (Matt and Nick Jackson) vs. The Kingdom (Michael Bennett & Adam Cole) w/Maria [****]: This was a beautiful exercise in insanity, as this match was the big sent off for Maira and Mike Bennett. The Bucks then hit the Meltzer driver on Maria and they hit the fatality on Bennett (Indy Taker, superkicks in the clash with AJ Styles' help) and that was all. That was absolutely insane, and I loved it. It was exactly what it needed to be action wise, they continued Cole vs. O'Reilly and basically used that to write out Bennett and Maria. They checked off all the boxes, mission accomplished.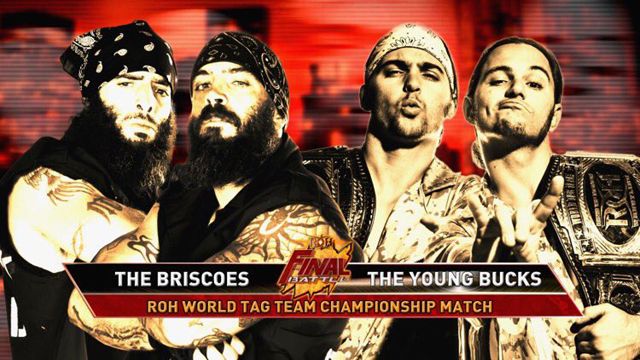 7. From ROH Final Battle – ROH Tag Team Championship Match: Champions The Young Bucks vs. The Briscoes [****]: The Briscoes controlled early, even blocking superkicks, the crowd is very into this. Matt finally hit a superkick to cut off the Briscoes. The Briscoes were sent to the floor, a dive by Nick followed. The bucks took the heat, picking up the pace and working double teams before hitting apron bombs on the Briscoes. The Briscoes then cut off the attempted dives, suicide dive Jay followed, and Mark hit the Cactus Jack elbow to the floor. After a short period of control, The Bucks made the comeback and hit a tornado DDT onto Jay on the floor. Superkicks from both teams, more from the Bucks as they stopped the Briscoes' attempts at double teams. Double team buckle bomb to Jay, but Mark makes the save. The doomsday superkick sends Mark to the floor. More bang for your buck on Jay, but it only gets 2. It breaks down into superkicks and some floor brawling, doomsday device stropped as Nick crotches Mark, Meltzer driver countered with a cutter from Mark. JAY DRILLER and then he froggy bow score a great near fall for the Briscoes. The crowd loves this. Mark then hits a blockbuster to the floor. Back in, doomsday device to Matt, but he manages to kick out. Nick makes a solo comeback with a series of kicks, MELTZER DRIVER to Mark, but Jay makes the save. Superkicks from the Bucks, but the Briscoes fire up after eating rapid-fire superkicks, the Bucks cover and retain.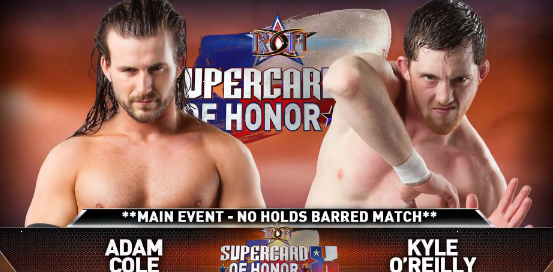 6. From ROH Supercard of Honor X (Night Two) – Adam Cole vs. Kyle O'Reilly [****¼]:
The main event of night two was a No Holds Barred match between Adam Cole vs. Kyle O'Reilly, used as the culmination of their most recent feud. They battled a few years back, which broke into a bloody brawl and a match that people loved. Cole had fucked over O'Reilly, cost him his chance at the ROH Title, and here we are again. I felt that both guys did an outstanding job of not only working the match in the way it needed to be worked (with hate and violence) but they simply made it feel easy. It never felt slow, never felt labored or overly complicated; it was well laid out and easy to follow. They used their regular repertoire, and added in the tables, chairs, chains and other toys to accentuate the escalation of their feud and the hatred between them. Cole and O'Reilly started with violence, they slowly and beautifully escalated I through out and not only did they end things at the right time, but they never went too far. I appreciate violence, I can still appreciate and get into blood, but I can't get into the over the top shit where it becomes an actual assault case. They never crossed the line, which kept it enjoyable to me. O'Reilly overcame at the end, using the chain that Cole had introduced to tie him up and then O'Reilly made Cole passed out in the arm breaker. This was an excellent effort form both men, with O'Reilly getting a marquee victory (not just a great match, but one that fans could get invested in) needed for him to move on from Cole and to eventually get back into the ROH Title scene, which feels very crowded all of the sudden.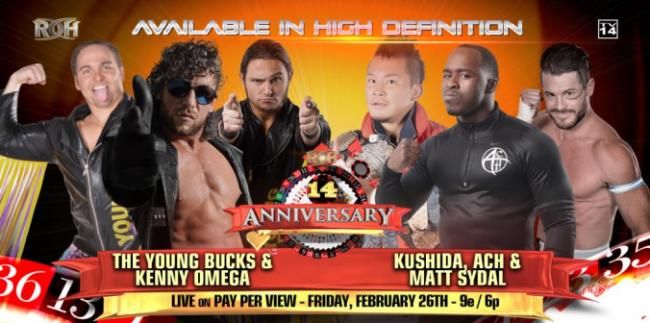 5. NEVER Openweight Six Man Title Match: Champions The ELITE (Kenny Omega & The Young Bucks) vs. ACH, Matt Sydal & KUSHIDA [****¼]: That was a great athletic spectacle, and exactly what I wanted it to be and what it needed to be on this show as they got the crowd to come alive. The ELITE were the most over act on the show, and this crowd fell in love with what became an at times amazing athletic display. It was a fun and well done exercise in chaos and athleticism that had an different vibe than anything else on the show. All six-men played their part perfectly (Sydal was REALLY great though), and you really could not ask for anything more.
4. From ROH Death Before Dishonor – ROH World Title Match: Champion Jay Lethal vs. Adam Cole (BAY BAY) [****¼]: This felt like a big time main event, and it more than delivered in the main event spot. They played into the story that Lethal was more concerned with revenge and violence against Cole, and his frustrations got to him and Cole out lasted him. It's funny, for months I heard that lethal needed to drop the title, and then he got over so well and did the face turn and now people are upset because they wanted him to keep the title for a longer time. But I think it was time, as I said in the TV reports, the obvious direction was Cole winning to build to the O'Reilly match. This was excellent work from both guys.
3. From ROH Final Battle – ROH TV Championship Match: Champion Marty Scurll vs. Will Ospreay vs. Dragon Lee [****¼]: Fish is out due to a death in the family. (His mother passed during the UK tour). Fast paced beginning as you'd expect, I want to see Lee vs. Ospreay already. Lee and Ospreay did some nice exchanges here, Scurll cut off Ospreay with superkicks, but Lee took him out with a dive. Scurll then started to drop Ospreay on his head, Lee made the save. They then worked into some three-way spots, as Ospreay set Scurll up top, Lee sent Ospreay to the mat and hit the corner double stomp on Scurll. Sitout powerbomb by Lee onto Ospreay. Lee hit a RANA to the floor, but Ospreay landed on his feet. Ospreay hits the springboard forearm onto Scurll and then the dive onto Lee. And Scurll up top, Scurll escapes with kicks and Ospreay hits the cutter and then the shooting star press, but then Scurll locks in the chicken wing but Lee broke it up with the double stomp off the top. Really nice pacing, near falls and counters here, with Ospreay hitting the back handspring double PELE. Lee gets a near fall off of the German, and Scurll does the "finger break spot" on Lee. Ospreay hits the cutter on Lee, Scurll tosses Ospreay and applies the chicken wing on Lee to retain. That was exactly what I wanted that to be and what it needed to be. It was worked at a great pace, had a lot of cool moves and counters and in the end all three guys looked awesome. I am cool with the division being built around these three right now. This felt fun, fresh and very energetic. Sometimes you just have to allow the guys to do what they do best and do what the crowd wants and that was this match. It was insanely fun; everyone got to shine, and this really succeeded because Scurll was a great base for the highfliers. Also, Scurll and Ospreay had a collection of great spots from their previous feuds that they sprinkled into this. Everyone came off like a star here.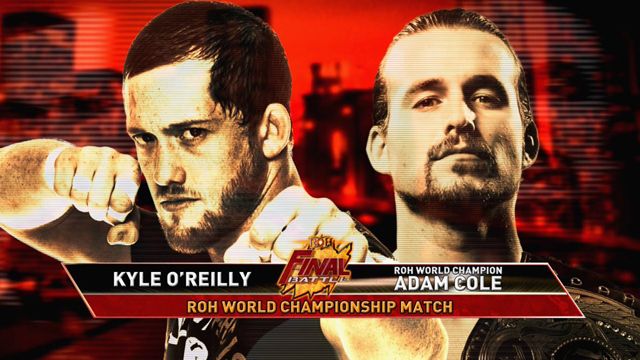 2. From ROH Final Battle – ROH Championship No DQ Match: Champion Adam Cole vs. Kyle O'Reilly [****¼]: After O'Reilly's request, Nigel made this a NO DQ match. They brawled to begin, with O'Reilly taking Cole down, working ground strikes an looking for submissions. They brawled to the floor, but when they returned to the ring O'Reilly worked knee strikes before being sent to the floor. O'Reilly landed on the previously injured shoulder, Cole took the heat once O'Reilly rolled back in. O'Reilly fired up, landing a series of kicks, and then ran off the apron and Cole hit him in the face with the ROH title. The cameraman was nice and made sure to show O'Reilly blading under the ring. Not much juice from O'Reilly, but commentary is selling this like a crazy Muta blade job. Cole then laid in shots with a trashcan, put it on O'Reilly and then superkicked it. Cole then laid in some chair shots, but it only fired up O'Reilly, who connected with kick. O'Reilly then suplexed Cole onto the chair, Cole flipped him the bird and spit at O'Reilly, who jumped into the arm bar. O'Reilly then beat on Cole with the trashcan, laid it in his lap as he sat in the chair and hit the dropkick off the apron. O'Reilly set up a table in the ring, laid Cole on it and went up top only for Cole to cut him off. They went back and forth; O'Reilly hit the belly to back suplex through the table for a near fall. They brawl on the apron, and they trade low blows. Guillotine by O'Reilly, but Cole jumps off the apron and they go through another table. O'Reilly then got the chain in a call back to their Dallas match; Cole is busted open here. Low blow by Cole, and then hits the last shot for a near fall. Cole then got a mystery bag, revealing thumbtacks. They teased the thumbtack spot, Guillotiner by O'Reilly but then transitions to the triangle, but Cole then powerbombs O'Reilly into the tacks. O'Reilly then hits the brainbuster, and lock in the triangle and lays in the tacks to do so and Cole finally tapped. That was an excellent math and a great way to and their feud. Cole used the NO DQ stipulation to be a dick and to just inflict more punishment. O'Reilly wanted No DQ because he wanted revenge and did not want to be DQ'd if he crossed a line. Cole was more than willing to use all the toys, but when it came timer to fight, show heart and overcome, he failed because hw Is a pussy/heel. O'Reilly was so hell bent on revenge that he was willing to lay in the tacks and roll in them just to punish Cole, get his revenge and win the title. In the end, good prevailed and closed out the story on a happy note. On one hand, the feud ending here and O'Reilly winning made sense, but on the other hand it feels a bit late, a common theme with ROH. Anyway, the main event was about what I wanted out of it; great pacing, O'Reilly finally overcoming and no bullshit.
1. From ROH All Star Extravaganza – ROH Tag Team Title Ladder War Tag Team Title Match: Champions The Addiction vs. The Young Bucks vs. The Motor City Machine [****¾]: While everyone was really great and there were tons of awesome, dangerous and insane spots, Christopher Daniels (at the age of 46) put in an absolutely amazing performance. The promo he cut set it up, noting that the title meant everything to him and that he would do anything to keep them and he did just that. The crowd knew it as well, because he got a big "Thank You Daniels" chant. It was a hell of a performance from him, and all involved. You had three teams that for many fans defined tag team wrestling, doing battle in the biggest stipulation match ROH has, and knocking it out of the park. This was everything I wanted from this match and more; top tier MOTY level shit right there. I absolutely loved this.