Csonka's Top 17 Matches of 2016
December 31, 2016 | Posted by
WELCOME back, back to the column that makes lists and hopes that you enjoy them. This week's column will look back at the overall best of 2016. I always hear a lot of people saying that they can't decide what to watch because they do not have enough time to follow everything, so maybe this will help those of you short on time find some stuff to check out. 2016 was great year overall with a lot to love. Have fun, and always, thanks for reading. Also, if you saw matches from companies I do not regularly catch; feel free to share them with the others. The more wrestling we share, the more fun we can have. NOTE: While I reviewed over 450 shows in 2016, due to lack of time, I did not get to STARDOM, Dragon Gate and PWG in 2016. Also, if a match you are looking for isn't here, I either didn't see it, or I didn't rate it "****¾" or higher.
17. From Evolve 58 – Best In The World Challenge Series – The Flyer: Zack Sabre Jr. vs. Will Ospreay [****¾]: That was fucking amazing, and a clear match of the year candidate. This is a MUST SEE match, and I cannot stress that enough. This proved on a bigger stage that Zack Sabre Jr. is legit one of the very best in the world, and the hype around Ospreay was real. The crowd reaction to the match and the finishing sequence made this truly feel special.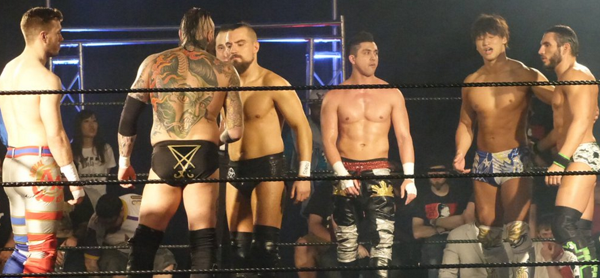 16. From WWN Live Mercury Rising – The Six Man Tag Team Tradition Continues – Days Of Future Past: Kota Ibushi, Johnny Gargano & TJ Perkins vs. Will Ospreay, Tommy End & Marty Scurll [****¾]: We're starting this match 3 hours and 24 minutes into the show. They worked clean and basis stuff early, keeping a methodical pace and making it feel as if they are going to go long. They worked their way to Ibushi vs. Ospreay, and that got a great reaction. These two worked a really fun and quickly paced set, with some slick counters. After Ibushi and friends got some run, Ospreay was able to slow up Gargano and then lads took the advantage and worked the heat on Gargano. Good choice, as TJP is a heel and Ibushi needs to be saved for a big hot tag. I need to watch more Scurll, dude is fun in the ring and has a great villain presence. And that's what they did; Gargano sold for a while, Ibushi got a short hot tag, and then it broke down with everyone hitting everyone in a three on three battle. They traded superkicks, Ospreay was isolated and TJP and Ibushi worked him over. Things then got fast paced, with rapid-fire offense and the Europeans jus wrecking Gargano with all of their signature stuff. They then worked over TJP, and did a sweet triple team elevated cutter spot for a great near fall. Ibushi then came in to save the day, ran wild until Ospreay cut him off and then Gargano returned with spears and a suicide dive. Ibushi hit a moonsault and a 450 by TJP, and Scurll made the save and they have the crowd back big time. We then go the big signature move buffet and EVERYONE is down! Scurll did the broken fingers spot on Ibushi, Gargano hit a dive onto the pile on the floor and then End hit a moonsault onto everyone! This is beautiful madness. They then poured into the crowd and brawled. Ibushi and Ospreay battled onto the top of the setting in the bar area, it was hard to see them and then the both hit a moonsault onto the pile of guys. Ibushi and Ospreay then returned to the ring and had a hell of a sequence until the others returned. We then got Ibushi hitting the big powerbomb and that was all. They had a lot to work against after a really soft middle of the show, but they worked their asses off, got the crowd back and delivered one hell of a main event. It was exactly what it was supposed to be in the best way possible.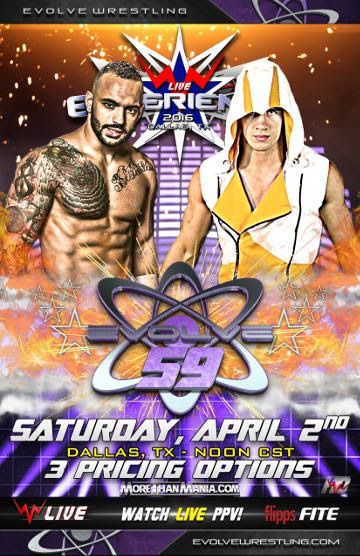 15. From Evolve 59 – USA vs. Europe Series Match: Ricochet vs. Will Ospreay [****¾]: The opening minutes was all fast paced work, counters and both guys trying to one up the other in a what ended up a mirror/mirror deal. The big thing is that Ricochet has been regarded as the best high flyer for the past few years, and now Ospreay is getting that buzz, so it makes sense. A match like this feels so refreshing, the pacing, the different things (Ricochet pulling out the ripcord leg sweep) and just the general work are very enjoyable. Ricochet missed the People's Moonsault, countered Ospreay's attempt and then finally hit it. They are playing this perfectly as the "king of flight' defending his crown against the young upstart. The story made perfect sense, and the work was a joy to watch as both guys seemed to have an answer for the other, including both guys hitting reverse RANA back to back for a double down spot. For a regular match I would loathe that spot, but here it works because of the story. Both of these guys did a great job with the mirror aspect, which is the real hook here like when they would do the same counters, and then end up kicking each other with the same style of kick at the same time. The action escalated to a striking battle, to a DVD on the apron and then the 450 by Ricochet for the near fall, which he sold so well. Ospreay countered and then absolutely spiked ricochet with the cutter, the shooting star and the phoenix splash for a near fall of BEAUTY. Sweet Baby Jesus they have done such a good job of building to this point, Ricochet made a comeback and planted Ospreay with a sick regal-plex for another great near fall. Ospreay avoided the 630, and hit the Spanish fly for a near fall, the Essex destroyer followed and some how Ricochet survived. Ospreay misses some wild looking twisting shooting star, Ricochet then did the deadlift brainbuster for another near fall. Michinoku driver by Ricochet, but Ospreay says I ain't got time for that shit and kicks out. Ricochet ate knees on the shooting star, KO kicks by Ospreay and then he did a back handspring into the benadryller by Ricochet for the win. For as much as Zack Sabre Jr vs. Ospreay was awesome, this was awesome in a completely different way in on the same level. FAN FUCKING TASTIC.
14. From WWE Battleground – Sami Zayn vs. Kevin Owens [****¾]: This was simply amazing, with great emotion from both guys as far as the hate and desperation went. These two know how to work together, you expect good at the very least from these guys, but they have the ability to take their emotions (feud wise) and translate that to their work, which makes the audience care and react in kind. This was so good, the only negative is that they were NOT separated in the draft. This was the time to separate them so that they can come back at a later date and do it again. But the shitty post match booking doesn't take away from the fact that they delivered an awesome match that was fitting of their pre-WWE story.
13. From NXT Takeover: Back to Brooklyn – NXT Tag Team Title Match: Champions The Revival (Dash and Dawson) vs. Johnny Gargano and Tommaso Ciampa [****¾]: This was an absolutely incredible match, with everyone playing their role perfectly and the structure allowing it to organically build all the way through. The juxtaposition of the Revival's old school approach against the current independent style of Gargano and Ciampa worked perfectly together; the Revival are not only the best big match tag team in wrestling right now, but they may be the best team in all of wrestling right now. I loved this match and the way it sets up the future of Gargano and Ciampa. This was the best tag match I've seen this year, everything was effortless, the crowd was into everything and I'd call it upper tier MOTY stuff. This was the best match of the Summerslam weekend.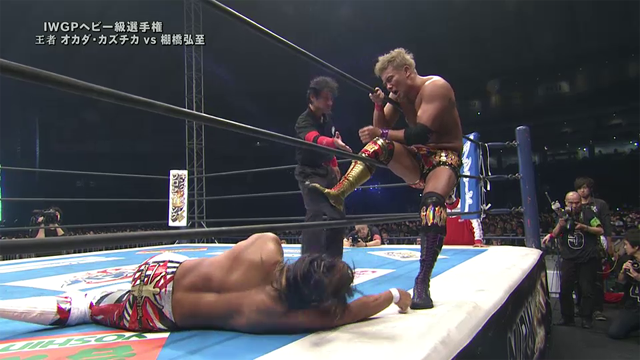 12. From WrestleKingdom 10 – IWGP Heavyweight Title Match: Champion Kazuchika Okada vs. Hiroshi Tanahashi [****¾]:. This was another amazing match to close things out, and a fitting overall conclusion to the story they were telling. They went full tilt here, using great callbacks and some new stuff as the old lion stayed one step ahead for much of the match, only to finally be defeated. This was a match designed for those that have been following the story, but also something you can enjoy if you hadn't. It's a great story, a great emotional ride and I can't argue with anyone that went five stars for it. My big issue is that you can't dedicate a large portion of a match to working the legs, and just abandon it so quickly, even with the call backs, it bothered me because it took away from the meaning of that work; making the first portion rather useless to a degree. I wish it would have caused Okada to adapt to fully play off of Tanahashi owning him, but they stayed with what works, which is fine. Still, this was an excellent match and story, and a great capper to the show and another great match between the two and the official crowning of Okada.
11. From NJPW/CMLL FantasticaMania 1.24.16 – Kamaitachi vs. Dragon Lee [****¾]: These guys had a big series of matches in 2015, I got put on to them late in the year but came away impressed. When they were added to this show I was excited to see a fresh match between the two in a new environment, and this was fucking fire kids. This match was easily the best thing on the tour, and one of the top matches so far for 2016. These two have worked several times together, and due to that they have built a tremendous chemistry. They can present a match that is almost impossible for anyone else on the cards to duplicate, both in terms of the moves and the execution of them. These two were able to integrate familiar spots, play off of those spots and whether you were familiar with their past work or not, worked a match that easily made you care and glued you to the screen. This had great heat, great work and intensity and some insane near falls down the stretch; it felt big time through out and delivered more than I could have hoped for. Kamaitachi finally countered and hit a Canadian destroyer to pick up the win and the title. Make sure to catch this one; there is no reason not to set aside 19-minutes for this. If you don't, you simply do not like nice things. This is the kind of match that makes you love the wrestling.
CHRIS HERO VS TOMOHIRO ISHII WAS THE MATCH DREAMS ARE MADE OF pic.twitter.com/CxM76jWHns

— The Tag Rope (@tagropemag) November 10, 2016
10. From RPW Global Wars 2016 Night 1 – Tomohiro Ishii vs. Chris Hero [****¾]: The great thing here is that this was a battle of two guys that bully their opponents and impose their will whenever they wish. The big difference between this math and the Shibata match was that Shibata refused to take Hero's shit, and then basically scared Hero into the realization that he couldn't fuck with Shibata. Here, Ishii just out bad-assed Hero; constantly fighting back, overcoming and giving as good as he was getting. They took all the best parts of Ishii' matches, his refusal to quit, his desire to pummel his opponents and added in Chris Hero, who can seemingly work with any one in any style and make it work. Hero ends Ishii's night at around 14-minutes, and after this and the Shibata Match, I desperately want Chris Hero in the 2017 G1 (Guess I can keep wishing).
9. RPW Global Wars UK 2016 Night 2 – British Heavyweight Champion Katsuyori Shibata vs. Chris Hero [****¾]: This was an absolutely amazing match and one I really wanted to see. Shibata is awesome, Hero simply travels the world, having **** matches with everyone and their mom and is a joy to watch. Hero tend to bully opponents, due to the size advantage, and does it better than anyone. Shibata was able to stop that bullshit, and even though he was the smaller man, Shibata is meaner and simply more vicious, and was able to back of the bully. Shibata basically intimidated Hero in the striking game, and out grappled him on the mat. It built and built through out, with the violence escalating at the right times and they went home perfectly, not even coming close to going long. As a matter of fact, I wanted it to go longer.
8. From Evolve 60 – Chris Hero vs. Zack Sabre Jr. [****¾]: The closing stretch was a beautiful display of mixing in callbacks to the previous matches very well here. Hero then adjusted the elbow pad and looked for another KO of ZSJ. ZSJ fought with all he had to avoid another piledriver, got the Gotch hold but ZSJ countered out and then bent Hero in half with the double arm bar and then into the pinning combo, but Hero barely escaped. ZSJ hit a German and then Tiger suplex, the soccer kick followed, but Hero was still alive and then connected with the ripcord elbow and spinning kick. SICK TOMBSTONE on ZSJ, and that was that. These two men were made to wrestle each other, and not only put together another awesome match, but played into the feud and previous matches very well. Chris Hero simply has ZSJ's number right now, no matter how hard or how much heart ZSJ shows. These guys can feud forever as far as I am concerned.
7. From NXT Takeover Toronto >: DIY defeated Champions The Revival [****¾]: This was an excellent tag match, with great near falls, a tremendous crowd and some beautiful call backs to their last match. This was exactly what it needed to be and I loved it, it checked all the right boxes. The action was great; the story was great, the villains fell and the heroes won (while Gargano) found redemption. This had a little bit of everything I love in wrestling. This was beautiful tag team wrestling here, with the Gargano redemption story a hugely important thread that kept this together. The underlying tease of Gargano failing again and a possible Ciampa turn was also there, which I loved. It was easily one of the best tag matches of the year.
6. From ROH All Star Extravaganza – ROH Tag Team Title Ladder War Tag Team Title Match: Champions The Addiction vs. The Young Bucks vs. The Motor City Machine [****¾]: While everyone was really great and there were tons of awesome, dangerous and insane spots, Christopher Daniels (at the age of 46) put in an absolutely amazing performance. The promo he cut set it up, noting that the title meant everything to him and that he would do anything to keep them and he did just that. The crowd knew it as well, because he got a big "Thank You Daniels" chant. It was a hell of a performance from him, and all involved. You had three teams that for many fans defined tag team wrestling, doing battle in the biggest stipulation match ROH has, and knocking it out of the park. This was everything I wanted form this match and more; top tier MOTY level shit right there. I absolutely loved this.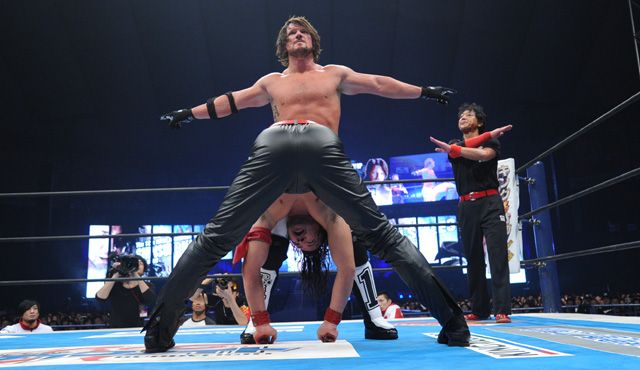 5. From NJPW WrestleKingdom 10: Shinsuke Nakamura defeated AJ Styles [*****]: Nakamura retained in an absolutely amazing match, with both guys being in top form, and that's always great to see from Nakamura, who tends to rely on the friends and family plan and phones performances in based off of his charisma. That's great for house shows and such, but it makes you forget how great he can be when he is going full tile. The best thing is that it was a completely different match than anything else on the card, it felt effortless, it constantly built and went home at the right time, which made me appreciate it more. This was everything I love about wrestling. Also, AJ Styles, really good pro wrestler. I hope that kid makes it one day.
4. From The NJPW G1 Night 17 – Hiroshi Tanahashi vs. Kazuchika Okada [*****]: This was an absolutely amazing match; they played the time limit draw perfectly, and did the classic finish where someone hits their finish and has the cover but the bell rings at 2, I loved this finish and reminded me of Flair vs. Wndham. The match beautifully built all the way to the finish, with great drama and the finish is awesome (a great play off of one of my favorite finishes between Windham and Flair). The emotion was off the charts and the crowd was insane for this, really adding to he great work from both. Okada had some lackluster performances in the tournament, also delivered two of the tournament's best matches. I love the wrestling.
3. From The NJPW G1 Night 18 – Tetsuya Naito vs. Kenny Omega [*****]: This was an amazing main event match during the G1; awesome action, tremendous drama and they played not only the knee work perfectly but also the tease of the draw. On back-to-back nights, closing out the blocks, we get two five star matches. This was a simply amazing effort from both men, I thought it would be good, maybe even great, but this was next level as Omega used the G1 as a place to set notice that he should get some WOTY consideration. Not only winning the G1, but delivering the top tier matches he did, like this one, was awesome to see.
2. From The NJPW G1 Night 13 – Kazuchika Okada vs. Tomohiro Ishii [*****]: This was a match that I thought, "this will be good and a ton of fun, maybe even great." But then it just turned into something special as through out the match it had a beautiful and perfectly designed build; the crowd is losing their shit, Liger is losing his shit, and I am losing my shit! This was simply amazing, everything done at the right time with a purpose all culminating with the perfect climax point. I LOVE THE WRESTLING! Seriously, everything meant something, the reactions were perfect, it never felt long and just all came together; it just all happened and never felt like they were trying for the epic match, it was the perfect storm. It's often when your not trying for the epic where the greatness happens, and this was one of those matches.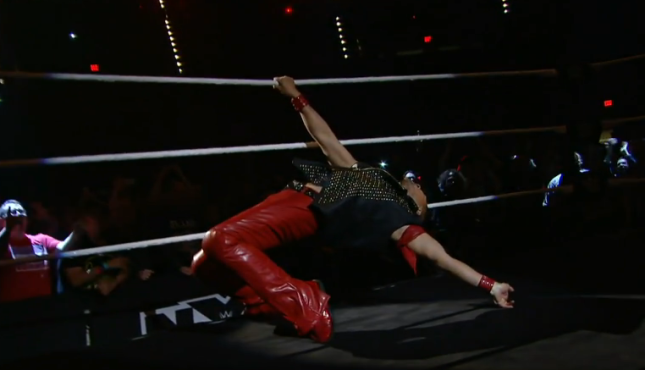 1. From NXT Takeover: Dallas – Shinsuke Nakamura vs. Sami Zayn [*****]: The beginning was simple, but effective as they played off of the crowd and allowed their charisma and selling to carry things early. And they should have because when you can barely do anything and the crowd goes ape shit, you play off of that all you can. It became a battle of who wanted it more, and they did a great job down the stretch of teasing the near falls before they got to the near fall scenarios. The counters to the signature stuff were also so good. The thing that shocked me, and trust me I know how good these guys are, is that they worked together like they have been working the loop for years. But there are times when you can stick two awesome workers in the ring, give them the time and the finish and magic simply happens. And that is what happened here. These guys could have stopped and held the crowd up for all the monies they had to continue the match and they would have given it to them. Nakamura finally hit the kinshasha, and that was the end to that beautiful match. This lived up to my expectations and more. You could not have asked for a better match to debut Nakamura to WWE fans or for Zayn to say good-bye to NXT. There was no match this year that I was more emotionally invested in from bell to bell than this one.