Csonka's Top 22 Matches of March 2017
April 6, 2017 | Posted by
WELCOME back, back to the column that makes lists and hopes that you enjoy them. This week's column will look back and the month of March and the top 22 matches I have watched for the month. I always hear a lot of people saying that they can't decide what to watch because they do not have enough time to follow everything, so maybe this will help those of you short on time find some stuff to check out. Have fun, and always, thanks for reading. Also, if you saw matches from companies I do not regularly catch; feel free to share them with the others (I will also be doing a supplemental column from time to time, looking at matches I missed from the promotions I do not regularly cover). The more wrestling we share, the more fun we can have.
22. From The NJPW New Japan 3.12.17 – NJ Cup 1st Round Match: Katsuyori Shibata vs. Minoru Suzuki [****]
21. From Evolve 80 – Ricochet defeated Keith Lee @ 17:15 via pin [****]
20. From Pro Wrestling NOAH Great Voyage – Eddie Edwards defeated Atsushi Kotoge @ 19:18 via pin [****]
19. From ROH Manhattan Mayhem – Dragon Lee vs. Will Ospreay [****]
18. From NJPW New Japan Cup 3.11.17 – NJ Cup 1st Round Match: EVIL defeated Hiroshi Tanahashi @ 23:20 via pin [****]
17. NEW JAPAN CUP 2nd Round Match (3.13.17): Yuji Nagata vs. EVIL [****]
16. From The NJPW 45th Anniversary Show II 3.07.17 – CHAOS Hiroshi Tanahashi & KUSHIDA vs. EVIL & Hiromu Takahashi [****]
15. From ROH TV (3.01.17) -TV Title Match: Champion Marty Scurll vs. Donovan Dijak [****]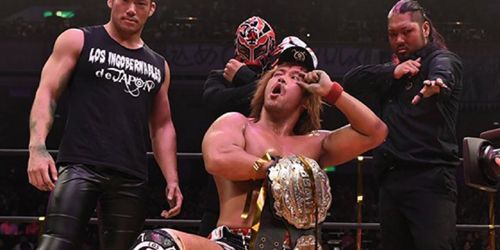 14. From The NJPW 45th Anniversary Show II 3.07.17 – CHAOS (YOSHI-HASHI, Rocky Romero and Kazuchika Okada) vs. Los Ingobernables de Japon (Tetsuya Naito, SANADA & BUSHI) [****]
13. From ROH Winner Takes All (15th Anniversary PPV) – ROH TV Title Match: Champion Marty Scurll vs. Lio Rush [****]
12. From EVOLVE 81 – Fred Yehi defeated Matt Riddle @ 17:30 via ref stoppage [****]
11. From ROH Winner Takes All (15th Anniversary PPV) – Top Contender's Match: Jay Lethal vs. Bobby Fish [****¼]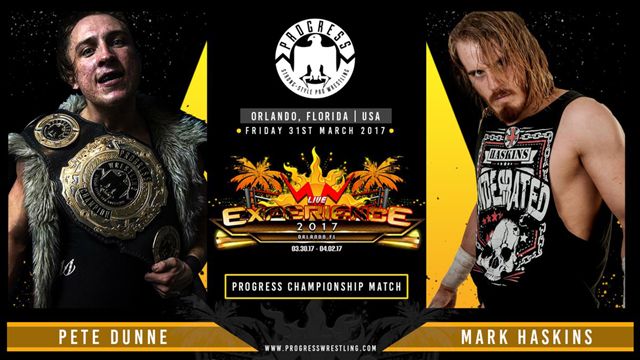 10. From PROGRESS: Orlando – Champion Pete Dunne defeated Mark Haskins @ 19:15 via submission [****¼]: During their entrance, The lads of British Strong Style (Dunne, Bate & Seven) pay homage to their American father, Triple H, by doing his water spit and pose; all hail the king of kings. Haskins had to vacate the PROGRESS championship, due to what they thought would be a career ending neck injury, so he never lost the title. Slow back and forth to begin, Bate distracts Haskins and Dunne attacks. Haskins fought back, attacking the legs and hits the powerslam for a near fall. Haskins then wipes out Seven & Bate with a suicide dive, but eats a PK from Dunne; Dunne hits a moonsault onto his pals, his legs hit the barricade hard. Haskins then hit Dunne with a suicide dive. Haskins then ran down the ramp and laid out Dunne with a running kick. He tried another but Dunne cut him off with a forearm strike. Back in, Dunne missed a double stomp and Haskins locks in the sharp shooter. Seven distracts him, and the ref tosses Bate & Seven to the back, Dunne then hits a draping DDT and takes control as Bate & Seven slowly leave. Dunne then focuses on the legs, breaking down Haskins and then laying in elbows. Dunne then stomps away on the fingers, before laying in forearm strikes. Dunne is just mauling Haskins here, stomping on his neck. Haskins fires up, they trade strikes and Haskins goes crazy fists and follows with a leg lariat. The corner dropkick follows, Dunne fights of a suplex, but Haskins hits a back breaker into the falcon arrow (HE DID THE DEAL!) for a near fall. Haskins then lays in strikes in the corner, Dunne then dares him to hit him with his hands behind his back. Haskins then unloads with kicks, Dunne fires back and drops him. Dunne then cuts off the springboard with a forearm strike, but Haskins goes rapid-fire offense and locks in the arm bar, but Dunne makes the ropes. They trade strokes from the seated position, just beating the hell out of each other; enziguri by Dunne but Haskins gets caught and tomb stoned, and then a jumping tombstone gets the near fall. Haskins tries to cover up, and gets a small package for the near fall; the pedigree by Dunne gets 2. Haskins is slowed, favoring the neck as Dunne lays in the strikes. They battle up top, Haskins fights him off and then hits the destroyer and rolls into the death valley driver for a great near fall. Haskins transitions back into the arm bar, but Dunne counters out. Dunne then hits the bitter end for a near fall. Dunne rolls into the modified crossface, and Haskins has to tap. This was an killer match, with Haskins surviving the early attack of British String Style and the numbers game, but he unfortunately could not fight off the attack and focus on the neck by Dunne, who took full advantage of the bad neck to retain his title. This was a stellar main event, with great action and a great story of Haskins trying to overcome.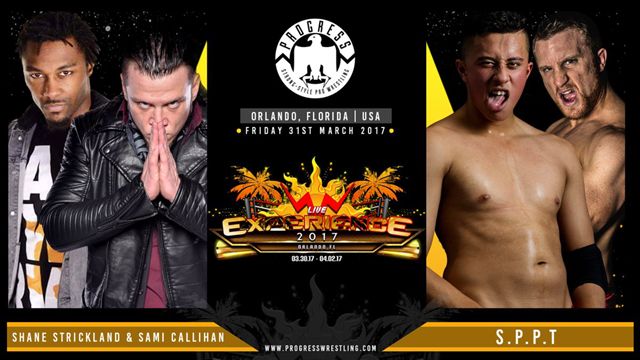 9. From PROGRESS: Orlando – South Pacific Power Trip defeated Sami Callihan & Shane Strickland @ 13:20 via pin [****¼]: JML attacked at the bell and that allowed Banks and Sami to go back and forth in the ring. Strickland returned, we got back and forth with he and Cooper, as Cooper dropped him with a big boot. Sami back in and hit face washes on Cooper. It broke down into a series of dives, including a Fosbury flop by Strickland. Cooper then hit a wild Phoenix splash that almost completely missed the pile. They brawled on the floor; this is beautifully chaotic and is getting a great reaction. Sami then dove over the barricade to take out Banks, Strickland and Sami lapped the ring and hit running kicks to Cooper. They worked back into the ring, with the SPPT taking control. Cooper with head butts to Sami and elbows followed. Strickland then Germaned him off for a tower of doom spot; Banks hit the coast to coast dropkick on Strickland Banks laid into JML with kicks, the pacing picked up really well as the SPPT ran wild, Sami and Banks went face to face and traded strikes, Sami then hit the air raid crash, but Cooper made the save. Strickland made the comeback, but Cooper caught him with the flatliner, and then they traded strikes and kicks; Strickland with the high kick and then hit the cutter. It broke down; everyone hits everyone for the quadruple down. The crowd loves this and is going wild. JML fought back, called for the end and then hit a powerbomb/double stomp combo, Sami locked in the stretch muffler but Banks fought, Cooper made the save with superkicks. Strickland tried to fight on his own, but Banks hit a disaster kick and they put Strickland away with a double team spike DDT. This was beautiful, non-stop and hard-hitting chaos and completely different than anything else on the show. Sami Callihan & Shane Strickland make a great team, but the South Pacific Power Trip greatly impressed and likely earned some new fans here in the US with such a strong and energetic performance. This was absolutely great.
OH MY FUCKING GOD #EVOLVE81 https://t.co/3WgRw6WdxO @OfficialEGO pic.twitter.com/SIX89XWUlr

— Italo Santana (@BulletClubItal) March 31, 2017
8. From EVOLVE 81 – Darby Allin defeated Ethan Page @ 20:15 via pin [****¼]: Allin's orderlies are wearing Ethan Page masks; Allin has Page's name written all over him. The bell sounds, Allin runs wild and takes out the keepers, but Page cuts him off with chair shots. Page tries to assassinate Allin by tossing him from the ring into the first five rows of chairs. Page continues his adult by throwing Allin like a fucking javelin into the wall. Allin is busted open, so Page hits him in the face with a ladder. Page wraps a chair around Allin's head and posts him to maintain control. Page slams the ladder onto Allin, who is a bloody mess. Allin keeps fighting back, showing great resiliency here. Page cuts him off and hits the iconoclasm onto one of the ladders. Allin again fights back, hitting a RANA and then attacking Page with chair shots. Allin up top, Page hits him with a smash mouth chair toss and then grabs a table. Page works over Allin in the ropes with strikes, but misses the chair shot and it rebounds off the ropes so Page hit himself. Allin counters RKO EGO and puts Page through the chair and then through the table in the corner. Allin sets up the ladder, climbs and has to fight off the Keepers allowing Page to hit a low blow. Page climbs as well, AN PRESS SLAMS ALLIN OFF THE LADDER THROUGH TABLES ON THE FLOOR! MY GAWD THAT MAN HAS A FAMILY! Back in the ring and Page sets up chairs, climbs on them and looks for a package piledriver and hits it but Allin somehow survives. The crowd is trying to rally Allin as Page sets up another table, the Keepers are in as is Pricilla Kelly. She tries to seduce the Keepers, Austin Theory arrives to take out the Keepers and ten wipes them out with a dive to the floor. Nice to see Darby has friends. The Keepers brawl with Theory to the back, Allin gets a trash an and goes into the bleachers, puts on the trashcan and goes for the coffin drop and NO ONE CATCHES HIM. Fucks sake. Allin drags himself to the ring, waffles Page with the can repeatedly and puts Page through a table with a huge splash off of the ladder for the win. This was an absolutely insane spectacle of a match, with Darby Allin not only surviving but also finally picking up the big win over Page as payback to months of abuse. The big takeaway is that EVOLVE has taken the time to build up Allin as a sympathetic babyface that the face can rally behind, he was insane here and page was the perfect villain to his hero. This was a great way to close out the show, and played well off of the established feud, providing a satisfying payoff to the feud.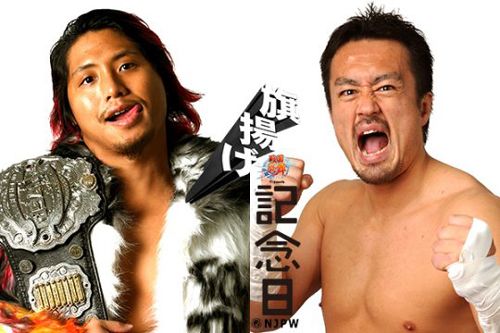 7. From The NJPW 45th Anniversary 3.06.17 Event – IWGP Junior Heavyweight Title Match: Champion Hiromu Takahashi vs. Ryusuke Taguchi [****¼]: Makabe is out on commentary. We of course got some Taguchi shenanigans early, which Takahashi did in return. Taguchi hit an as attack off of the apron to the floor, and then back in the ring hit a few more until Takahashi cut him off with an atomic drop. Takahashi then attacked the legs of Taguchi, sending him to the floor. Takahashi slows the action, working a single leg crab. Takahashi looked to mock Taguchi by using some ass attacks, but Taguchi countered because no one knows ass like Taguchi. Taguchi then hit some flying ass attacks to the corner, and went for the ankle lock but Takahashi got away. Taguchi got the ankle lock for a moment, but Takahashi had enough of that shit and stuck Taguchi with a powerbomb. Taguchi up top, Takahashi cuts him off and runs up hitting the wheelbarrow driver for the near fall. Takahashi slaps the shit out of Taguchi and that fires up the challenger who fires back and takes Takahashi down with strikes. They trade slaps, Taguchi hits a dropkick and then the do don for the near fall. Taguchi gets the ankle lock once again, but Takahashi counters out and looks for his own ankle lock. Taguchi counters and hits a dump suplex, heads up top but the frog splash eats knees. Taguchi charges and runs into a overhead belly to belly into the corner. Takahashi hits the time bomb, but Taguchi kicks out. He then plants him with the running DVD into the buckles. Takahashi goes for the time bomb once again, but Taguchi counters into ankle lock. Takahashi fights, Taguchi double stomps the ankle and locks the hold back in. Takahashi struggles and just makes the ropes. Taguchi then hits the tiger suplex, but Takahashi hits a snap German; Taguchi powers up and levels Takahashi with a lariat. Takahashi hits the superkicks, the lariat follows and Taguchi kicks out. Takahashi hits another running DVD to the corner, the time bomb follows and Taguchi Is finally done. This was a really great match, with Taguchi delivering and showing why he is occasionally still used in spots like this. This was a hard fought title match, with Takahashi dominating in the end and looking strong as he heads to his next title defense. These side title defenses against guys that you know won't win are effective as long as the champion wins clean and the challenger is presented as a threat and the fans buy into him. That all happened here, this delivered and Taguchi pulled out another big match performance, while Takahashi strengthened his run with the title. He called out KUSHIDA, they had a stand off and presumably set up the next title match.
6. From PROGRESS: Orlando – Champion Matt Riddle defeated Trent Seven @ 10:50 via submission [****½]: Lots of circling to begin, with both guys looking to be careful before they engage. We get some sportsmanship early with clean breaks and such. Riddle quickly worked rapid fire strikes, and followed with the XPLODER, but Seven then countered the senton and laid in chops. Seven then rubs his balls, licks his hand and looks to attack, but Riddle fought him off and sent him to the floor. They lit each other up with chops on the floor, back in and Seven quickly hits the suicide dive to take control back. The brawl continued on the floor, Seven up top but Riddle cut him off and then hit the avalanche fisherman's buster! My God. Riddle fired up, Seven is pissed and slaps Riddle. Riddle took him to the corner, hit knee strikes and hits a German, Seven pops back up and they trade Germans. Seven hits a series of chops, and then a snapdragon suplex but Riddle answers with an up kick and then a bridging German for 2. Riddle goes back to the strikes and kicks, Seven avoids the knee strike, hits seventh heaven piledriver and that gets the near fall. Seven teases the piledriver off the ropes, but Riddle slips out and hits the powerbomb and jumping tombstone, but Seven kicks out. They traded strikes center ring, Seven then hits the seven star lariat for a great near fall. Riddle hits a knee strike and piledriver, but SEVEN KICKS OUT AT ONE AND IS ALL LIKE COME AT ME BRO. This was a bad idea, because bro locked in the bromission and picked up the win. Great fucking finish. They made mention that the Atlas title was "big lads kicking the shit out off each other, and they weren't lying. Seven is really great, and this match was in Riddle's wheelhouse, in that 10-15 minute mark, filled with heated back and forth action and some great near falls during the final third of the match. Once again, where this thrives is the active crowd and the fact that it had a different feel than the other matches.
HOLY SHIT!!! @RealKeithLee #EVOLVE81 https://t.co/8uH8FC20g1 pic.twitter.com/LecvgFNm7l

— ??Jocay ? (@Jocay19) March 31, 2017
5. Keith Lee defeated Donovan Dijak @ 12:06 via pin [****½]: This is a battle of two big dudes who are also very agile; they worked a fun and athletic opening stretch, Lee countered a monkey flip, landing on his feet. Dijak did not know what to make of this, and Lee told him to bask in his glory; Lee hit the dropkick and sent Dijak to the floor. Lee then hit a corkscrew plancha, they brawled to the apron and Dijak hit the big chokeslam onto the apron to take control back. Dijak took a lot of time to celebrate, but then hit a corkscrew moonsault to wipe out lee on the floor. Back in and Dijak hit a springboard elbow drop for 2. Lee then caught a high cross, rolled through and looked for the powerbomb but Dijak back flipped out of that only to be killed by the POUNCE! Lee went high risk, missing the moonsault and leading to Dijak hitting the destroyer for a near fall. Lee fought off feast your eyes, but then hit a huge high angle spinebuster and then headed to the ropes again; but Dijak kipped up and hit a superkick and then snatched him off the ropes, and hit feast your eyes for the great near fall. Dijak looks for a senton to the floor, but Lee (after a big of a struggle, Dijak is a big boy) catches him and hits the apron bomb! Back in and Lee hits the moonsault but Dijak somehow survives! This is some real shit right here. Dijak flips out of the chokeslam and then Lee does the same, hits the spirit bomb and picks up the win. This was absolutely fucking great, with big hoss daddies doing flippy boy things and also trying to kill each other. I loved this, I need to see more of this and feel that it was a must see match with a tremendous sense of urgency and great pacing; it never slowed in a bad way and felt like a big time match.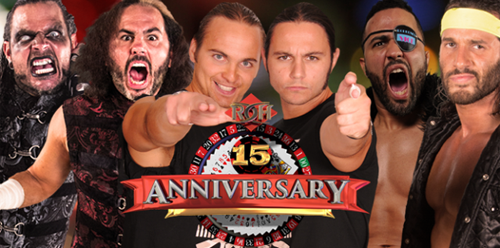 4. Las Vegas Street Fight (ROH Tag Team Title Match): Champions The Broken Hardys vs. The Young Bucks vs. Roppongi Vice (Romero & Beretta) [****½]: Vice got tossed as the Bucks and Hardys looked to start, but Vice grabbed the toys first and attacked their opponents and took control, taking the Hardys to the floor. The Bucks and Vice worked a quick paced back and forth, with Vice fighting off the Meltzer driver. The Hardys returned and took control, working over Beretta and then the Bucks took out Romero. Beretta then got POWERBOMBED onto the ramp, and we're back to the Bucks vs. Hardys. The Bucks took control, mocked the Hardys but both missed coming off the top. Jeff grabbed a ladder, his spot monkey addiction has returned. Romero cuts the Hardys off, and hit Matt with the ladder and then Beretta tossed Romero into the ladder to take out Matt, but Jeff took them out with a trashcan shot. Superkicks by the Bucks, they set up the ladder in the corner but Beretta returns hitting a tornado DDT but he's pulled off of the top onto the ladder. Jeff is superkicked to the floor and falls onto the pile on the floor. Nick climbs the ladder, Beretta pushes over the ladder but Nick bounces off the top and hits a swanton onto the pile. The Bucks work double teams on Beretta, Nick hits a 450 onto a trashcan that was on Beretta for a near fall. It breaks down into a flurry of big moves, superkicks follow, twist of fate and side effect by Matt but Jeff eats knees on the swanton try. Romero brings out a sleeve with thumbtacks on it, hits forever clotheslines on the Hardys and Bucks. STRONG ZERO hits, but the Bucks survive as Matt makes the save. And now Beretta pours put some thumbtacks, they go after Nick and battle up top. Matt over to make the save and they hit a double team electric chair on Beretta into the tacks. Superkicks for all from the Bucks, they put thumbtacks in Beretta's mouth and superkick him! Romero tries to make the save, sliced bread countered into the MELTZER DRIVER but the Hardys make the save, the crowd loves this as the Bucks and Hardys battle, twists of fate on the Bucks but they survive. The Hardys grab tables now, Matt sets one up as Jeff sets up the ladder. Matt puts Matt Jackson on the table, Nick makes the save, superkicks to Beretta. Beretta set on the table, Jeff hits the swanton to retain. In 2017, Beretta has been the best and craziest guy in every match he's been in, dude is an unsung hero and a shining example of finding success post WWE. This was a beautifully insane and violent match, and considering it was made late (due to the Hardys title win) it had a ton of heat and they more than delivered on the stipulation. The only negative is that they did an absolutely insane and awesome match.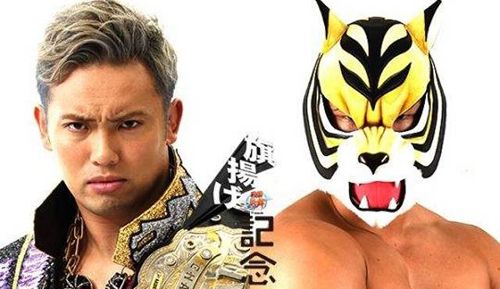 3. From The NJPW 45th Anniversary 3.06.17 Event – Non-Title Match: IWGP Champion Kazuchika Okada vs. Tiger Mask W [****½]: They worked nice, fast pace, back and forth opening stretch, leading to both trying a dropkick and then a stand off. Tiger Mask W started to take control, but Okada hit the dropkick and sent him to the floor. Okada follows, and hits the running cross body over the barricade. Back in and Okada takes control, working a straightjacket. Tiger Mask W looked to fire up, got cut off and Okada hit the slingshot senton for the near fall. Tiger Mask W picks up the pace, and starts to fire back with kicks and a RANA; the moonsault to the floor connects. Back in the ring, Okada avoids the corner attack and hits a DDT. He then connects with a running uppercut for the near fall. Tiger Mask W hits a dropkick, but Okada counters the tiger driver into the side neck breaker over the knee. Tiger Mask W avoids the Okada dropkick, but Okada gets the knees up on the moonsault. Okada locks in red ink, but Tiger Mask W makes the ropes. Okada up top, the elbow drop connects and he looks for the rainmaker, but Tiger Mask counters into the snap German suplex. Tiger Mask W then hits a series of rapid-fire strikes, a powerslam and moonsault for the near fall. Okada fights of the tiger suplex, but Tiger Mask W drops him with an enziguri. It slows as they trade strikes back and forth. Okada stomps away at Tiger Mask W, he's suddenly very angry. Tiger Mask W fires up and works over Okada with strikes. They take turns beating each other down, Okada shoves the ref down as Tiger Mask W starts to use closed fists. Okada then fires back with dropkicks, but Tiger Mask W counters the rainmaker with a kick and hangs onto the wrist of Okada and hits another head kick. He then stomps at the head of Okada, hits the big sit out powerbomb for a great near fall. Okada fights off the tiger driver, knees by Tiger Mask W follow and he then sets Okada up top. Okada fight him off and sends him to the apron. Tiger Mask W back up top, Okada snatches him up and looks for the tombstone, but Tiger Mask W escapes and hits the PELE kick. Tiger Mask W then hits the SUPER TIGER DRIVER off the ropes for a tremendous near fall. Okada countered out of another powerbomb, and hits the rainmaker. He hold onto the wrist, pulls Tiger Mask W to his feet and hits another rainmaker. Tiger Mask W counters the third rainmaker, but Okada hits a German, and transitions into the rainmaker to send Tiger Mask W back to imaginationland. I honestly wasn't sure what we'd get here, obviously Okada is great and so is Ibushi, but would it all translate with it being Okada vs. Tiger Mask W; thankfully it did. This was an awesome match with an absolutely fiery final 8-10 minutes, filled with big moves great drama and an effort that gives the Tiger Mask W gimmick longevity in the ring. It is a novelty act, it is here to hype the TV show but there is a gifted performer under the mask. Today's effort was great, the match was extremely well done and by the end the fan believed that this anime character come to life in Tiger Mask W may actually defeat Okada. That makes it a huge success in my eyes.
2. From The NJPW New Japan Cup 3.12.17 – NJ Cup 1st Round Match: Tomohiro Ishii vs. Kenny Omega [****¾]: It's black tights Omega tonight, which means SERIOUS KENNY; he decided to try and strike with Ishii, they brawled to the floor and teased a one winged angel, Ishii escaped but Omega hit the reverse RANA. This only angered Ishii, but Omega cut him of right away, slamming him off of the edge of the ring apron. Omega kept beating on Ishii, again making him angry. Ishii went with the reliable striking game before using his power, hitting the delayed suplex for a near fall. Omega clipped the knee, trying to slow the powerhouse down and then hit the Finlay roll/moonsault combo for the near fall. They both fired up, trading chops center ring. Ishii chopped Omega in the throat, but Omega managed to hit a RANA as Ishii charged at him. Omega up top, cut off, and Ishii followed all the way up. Omega fought him off; they battled back and forth with Omega teasing a superbomb. Ishii stopped that bullshit and hit a RANA off the ropes. LUCHA FUCKING ISHII! Last ride by Ishii for the near fall, shit just got real there. Omega avoids a lariat, tries to flip out of a German but lands on his head, back to his feet and a big lariat by Ishii decapitates Omega. Omega then hits the brainbuster across the knee and Ishii has to roll to the floor. Omega then followed with the great div to the floor, leading to the countout tease. Omega up top, hits the missile dropkick to the back for a near fall. Ishii fights, Omega hits the snap dragon suplex but Ishii is a fucking zombie and keeps walking towards him, superkicks and knee strikes by Omega follow and then the gut wrench powerbomb gets another near fall. V Trigger countered, and Ishii fights off the one winged angel. German by Ishii and both men are down. They struggle to their feet, trade strikes but Ishii is having issues, grabbing at his arm, due to the neck damage suffered. Omega keeps firing away but Ishii hit V Trigger! The sliding lariat follows, but Omega survives! Omega fights off the lariats, hits V Trigger but runs into another lariat for a great near fall! Ishii looks for the brain buster, but Omega escapes; Ishii fights off the one winged angel, but Omega plants him with a German for another near fall. Snap dragon suplex by Omega, V TRIGGER! ONE WINGED ANGEL COUNERED, REVERSE RANA BY OMEGA only gets 2. Sweet baby Christ this is great. Ishii then counters the one winged angel into a stunner! LARIATOOOOOOOOOOOOO by Ishii gets 2. What in the fuck? BRAIN BUSTAAAAAAAAAAAAAAAAAAA an Ishii pins Omega. My God that was fucking spectacular. I love the fact that they haven't gone chalk with this and have made it truly interesting. The tease of Ishii winning this is great, he beat Okada in a classic G1 match last year, but since he's CHAOS, never challenged for the title. This kicked all of the asses. I had extremely high hopes for this match and they lived up to all of them. I love that omega still didn't hit the one winged angel, they are protecting that move and setting it up for something special when he does hit it. Omega will get all of the accolades, and I understand why, but there has not been a more consistent performer the last 4-5 years than Ishii; dude is amazing.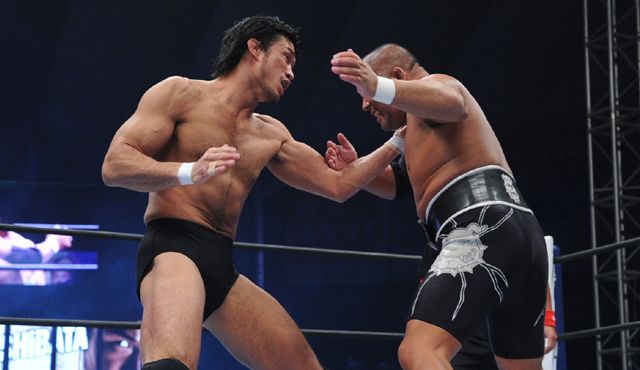 1. NJ Cup Semifinal Match (3.19.17): Katsuyori Shibata defeated Tomohiro Ishii @ 22:34 via referee stoppage ****¾: Both guys were tentative to begin, they've battled before and know each other well. Shibata grounded Ishii with a top wristlock and attacked the arm early. Ishii struggled and made the ropes, and then fired away with chops by Shibata took him to the corner and beat him down. Ishii fire up and cut him off with the shoulder block and then went back to the chops. This finally took Shibata down, so he continued lighting Shibata up in the ropes. Shibata then fired back with chops, and they beat the hell out of each other center ring. Ishii delivered corner forearms, beating Shibata down to the mat. Shibata then cut him off with the running corner kick and forearm strikes. The running dropkick followed, and then a suplex for the near fall. Shibata then locked in an abdominal stretch, but Ishii powered to the ropes. Great struggle spot from Ishii, but all of that fight earned him a kick to the chest and more beating from Shibata. Ishii finally had enough of this shit and traded strikes with Shibata. They started to throw bombs center ring, beating the hell out of one another. Ishii was throwing so hard his elbow wrap started to come undone. Shibata staggered Ishii, and then kept throwing until Ishii fired up and dropped him. Ishii hit repeated corner clotheslines, and followed with a vertical suplex for 2. Shibata looked to fire up and fight back, but Ishii kept throwing strikes and slowing him down. Ishii hit the powerslam but Shibata popped back up and dropped him with a kick and the crowd is into this battle. It's simply a matter of who can throw the hardest and most strikes as they are essentially daring the other to keep fighting. Shibata works a head crank, but Ishii makes the ropes. Ishii escapes the sleeper and then the kick, planting Shibata on the mat. Shibata then laid in kicks to Ishii, stomped on his head but that pissed Ishii off. Ishii then kicked Shibata in the head, delivered chops to the throat in the corner. German by Ishii as Shibata grabs at his throat, trying to catch his breath; Ishii connects with the powerbomb for 2. he followed with lariats, but Shibata is still standing. Ishii leveled him but Shibata pops back up because he's a grown ass man! The sliding lariat by Ishii gets a near fall. My word they just keep throwing big time strikes, Ishii finally drops him again and both men struggle to their feet. Head butts by Ishii, but Shibata takes a seat and brushes it off. Ishii drops to the mat and they trade strikes from the sitting position. HIT ME FUCKER! Back to the feet, they trade suplexes and this crowd is INTO this big time. Ishii blocks the PK and locks in an arm bar. Shibata barely makes the ropes. Ishii now lays in kicks, but Shibata catches one and then drops Ishii with a jumping enziguri. They again struggle to their feet, sleeper by Shibata but Ishii works to fight out. Shibata keeps the hold, SLEEPER SUPLEX by Shibata, Ishii no sells the PK but runs into a dropkick and kicks out at one, hits the lariat and Shibata kicks out at 1! Sweet Jesus this match! Head butt by Ishii, but Shibata hits strikes and the sleeper. Ishii fades, BIG PK and then Shibata drops back for the sleeper with the body lock. Ishii fades, and the ref calls for the bell. I loved this, this was a battle of two bad ass dudes fighting with all they had to make this final. Ishii has been the MVP of this tournament, and is again killing it and he remains one of the most consistent high-level performers in all of wrestling. His fight spots to escape the chokes were so great, the back and forth strikes and those fight segments made this feel so raw and different than most matches. I love the wrestling. This kicked ass because it felt like a fight, like making the finals was THE most important thing and that they were willing to give their all to make it there.
– End scene.
– Thanks for reading.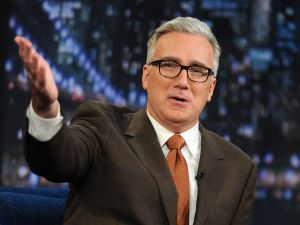 "Byyyyyyyyyyyyyyyyyyyyyye Felicia!"