Csonka's WWE 205 Live Review 7.11.17
July 11, 2017 | Posted by
Csonka's WWE 205 Live Review 7.11.17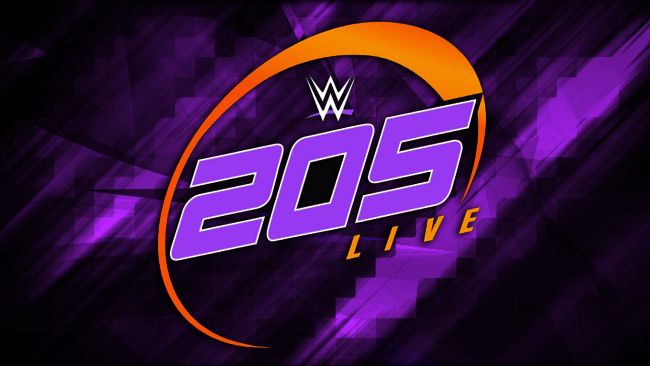 Csonka's WWE 205 Live Review 7.11.17
OFFICIAL RESULTS
– Akira Tozawa defeated Ariya Daivari @ 2:16 via DQ [NR]
– Rich Swann defeated Mario Connors @ 3:50 via pin [**]
– TJP defeated Mario Connors @ 0:28 via pin [NR]
– I Quit Match: Cedric Alexander defeated Noam Dar @ 11:11 [***]
---
– Titus talks with Tozawa on speakerphone. Titus doesn't want Tozawa to feel bad in how he beat Neville on Raw. Daivari arrives and hangs up on Titus, claiming Tozawa doesn't deserve a rematch. They will have a match tonight.
Akira Tozawa vs. Ariya Daivari: Daivari uses the hair to take Tozawa to the corner, and then beats him down and takes control. Daivari quickly grounds Tozawa, but Tozawa had enough of that, hits a RANA, running kick and standing senton. Tozawa hits the snap Saito suplex, heads up top but Neville arrives to attack him for the DQ. Neville then slams Tozawa to the barricades and then tosses him back into the ring and kicks at the elbow of Tozawa and locks in the rings of Saturn. Akira Tozawa defeated Ariya Daivari @ 2:16 via DQ [NR] I really liked that. Asshole Neville is the best Neville; he's also rarely lost during his run, so him trying to destroy Tozawa following last night's loss makes complete sense.
– We see highlights of Drew Gulak going high risk two-weeks ago, which cost him a match with Mustafa Ali. Gulak gives an apologetic press conference, he had an indiscretion and caved into peer pressure and dove off the top rope like a common show off. He plans to make 205 Live better, and next week will face Ali again, and wants it to be a 2 out of 3 falls match to leave no doubt about who's ideology is correct.
– We get a video package on the TJP vs. Rich Swann angle and last week's match.
Rich Swann vs. Mario Connors: Before the match could start, TJP makes his way out to the ring to have a look at the match. TJP watches on as Swann outwrestles Connors early. TJP looks impressed. They pick up the pace, Swann hits a stomp as Connors goes for a dropdown, and then misses the corner attack. Connors manages a dropkick and covers for 2. Connors tries to take control, but Swann lays in rights, but Connors spike shim with a tornado DDT for a near fall; Swann sold that like death. Swann fought back, hit the head kick but Connors kicked out. The Phoenix splash finished it. Rich Swann defeated Mario Connors @ 3:50 via pin [**] This was solid and fun, with Swann giving Connors a lot; Swann is such a great babyface.
– TJP plays mind games and says he expected more out of Swann, noting that e would have beat Connors on half the time. TJP now wants to face Connors, IT'S A TRAP TJP!
TJP vs. Mario Connors: TJP has the time put up on the screen so he can prove he can win quicker than Swann. TJP attacks Connors, looks for the knee bar but Connors rolls him up for 2. TJP hits the detonation kick and wins. TJP defeated Mario Connors @ 0:28 via pin [NR] I really thought that they were going to have TJP lose to have him humiliated for boasting so much on Swann. I like the angle so far and feels it has a ton of potential.
– Brian Kendrick is here to cosplay Jack Gallagher. Kendrick again calls Gallagher a third rate William Regal, and is angry because he worked hard and made sacrifices. He doesn't think Gallagher has worked hard, which brings out Gallagher. Gallagher says he's been fighting wince age 16 and knows it's a privilege to be here. He's congratulates Kendrick on getting a second chance after pissing away his first chance, he isn't a third rate William Regal, he's a first rate Jack Gallagher. He can do what he wants because he can back it up. Gallagher attacks and they brawl. Gallagher head butts Kendrick to the floor, which leads to Kendrick attacking Gallagher with an umbrella. YOU LEAVE WILLIAM III OUT OF THIS ASSHOLE! This Kendrick angle hasn't done much for me, but if he brings his A-Game like in his match with Tozawa for a big match with Gallagher, I'll be cool with that. Just don't do an umbrella on a pole match, please.
I Quit Match: Cedric Alexander vs. Noam Dar: Fox is out with Dar. After some counters, they go crazy fists, and Alexander sends Dar to the floor with a dropkick. Alexander follows and beats down Dar on the floor. Try brawl to the steps, Dar trips up Alexander and that allows him to take control and he starts to target the arm. Dar actually does some nice submission work as Alexander refuses to quit. Dar rips off the buckle protection and Alexander puts his hand in the buckle rod and tries to rip his hand off basically; Dar rakes the eyes and escapes. They brawl on the apron, Alexander punches him in the face but Dar escapes the apron suplex. Alexander misses the moonsault to the floor and Dar attacks the knee with the running kick. Dar looked to torture the knee, but Alexander fought back with a spinning back elbow and flatliner on the ramp. They crawled back to the ring, Dar powdered to the floor and Alexander wiped him out with a dive. But Dar fought back, slamming him to the apron and tossing him over the commentary table. Dar grabs a chair and I don't think he's about to offer Alexander a seat. It doesn't matter as Alexander dives over the table and takes Dar out. The springboard clothesline follows, but as Alexander looks to grab the chair, Dar attacks the knee. He grabs the chair and sets it up, but Alexander takes him out with the handspring kick. He traps Dar's arm in the chair and demands he quit and starts to stomp on the chair, but Dar refuses. Alexander keeps attacking, Dar refuses to quit and saps him so Alexander repeatedly stomps the shit out of the arm in the chair and Dar quits. Cedric Alexander defeated Noam Dar @ 11:11 [***] They had a good match, Cedric won and we can finally move on. The only thing I didn't like was how Dar was presented in the finish; he was too babyface like and if he would have said that he was done with Dar because she had manipulated him into continuing the nonsense with Cedric, it would have worked, but they had him go heavy heel after being brave and having his arm nearly broken. It just didn't play right with me.
– Post match, Dar also says he quits Alicia Fox. He wasn't ever into her, and says she's as stupid as she looks. He signed his WWE contract at 22, and is the youngest member of the 205 & Raw rosters. He's world-class athlete and has a woman in every city, and could have any woman in this arena. He used Fox (who is crying) to get what he wanted. He knew Fox would get him attention, but she's too much trouble. He tells her to jog on, because she means nothing to him.
– Best guess at the Kurt Angle reveal…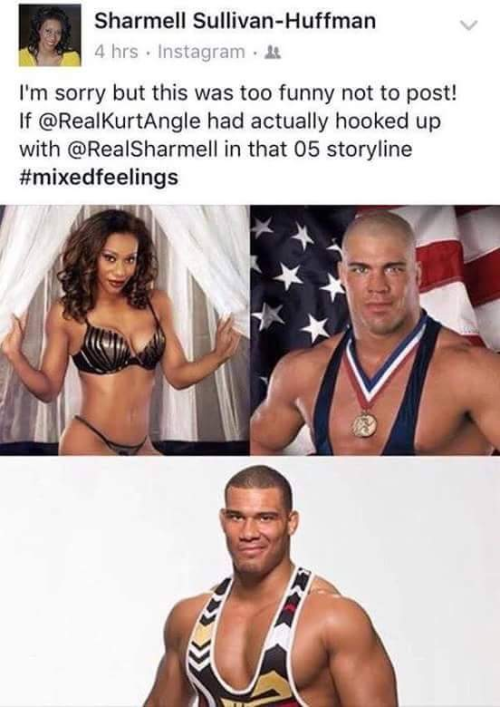 – End scene.
– Thanks for reading.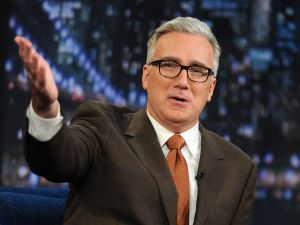 "Byyyyyyyyyyyyyyyyyyyyyye Felicia!"
6.8
The final score: review Average
The 411
They did a good job continuing the Neville vs. Tozawa angle with a great beat down by Neville, Gulak vs. Ali looks to build to a finish next week with the 2 out of 3 falls match, and the Swann/TJP angle is interesting as Swann tries to get his friend to be the guy he loves, but there's still a lot of the old TJP there. The Gallagher vs. Kendrick stuff doesn't do much for me, but they finally ended Cedric vs. Dar (at least I hope so). All things considered, it was a pretty good hour of TV, but nothing must see.
legend