Csonka's WWE Main Event Review 3.09.19
March 9, 2019 | Posted by
Csonka's WWE Main Event Review 3.09.19
Csonka's WWE Main Event Review 3.09.19
OFFICIAL RESULTS
– EC3 defeated Apollo Crews @ 5:45 via pin [**½]
– Kalisto, Lince Dorado, & Tyler Breeze defeated Jinder Mahal & The Singh Brothers @ 3:05 via pin [**]
---
– Main Event reviews are here for the millions of people that are dancing in the streets for hot and sexy WWE E-Show action!
– Follow all of my reviews at this link.
– You can watch WWE Main Event on Hulu.
EC3 vs. Apollo Crews: This is a rematch from last week, which Crews won. They lock up and EC3 grounds things early. Crews battles to his feet, takes EC3 down and then hits a shoulder tackle. He picks up the pace, follows with a dropkick and then arm drags. EC3 cuts him off, hits a neck breaker and covers for 2. The suplex follows for 2. EC3 grounds things, and then hits a slam. The elbow drop follows but he misses a charge and Crews hits a high cross for 2. EC3 levels him with a lariat, but Crews counters back and hits an enziguri. The clothesline connects, another enziguri follows and Crews heads up top, but EC3 cuts him off and finishes him with the one percenter. EC3 defeated Apollo Crews @ 5:45 via pin [**½] This was a solid match, with EC3 getting revenge for last week's loss.
FROM RAW – The Big Dawg Speaks: Roman Reigns kicked off the show. He says last week was the comeback, but this week he takes the yard back. He wants the universal title, but his brother is in his way. He calls out Rollins, who is glad that Reigns is back. He plans to take the motivation Reigns gave him and beat Lesnar at Mania. Rollins knows Reigns deserves a shot since he had to give up the title. Reigns praised Rollins for looking over Raw while he was gone, and he has confidence that Rollins will win at Mania. Reigns then said he wanted to get the band back together one last time, but Rollins disagreed, due to Ambrose's past actions. The crowd wants it, and Reigns wants to be with his brothers one last time. Rollins agreed to it for Reigns. They called out Ambrose, who arrived and was immediately laid out by the el kabong by Elias. This was a solid opening segment which will lead to a PPV match on Sunday, I like that they didn't just give it away as it allows them to tease it all show long. LATER… Rollins & Reigns arrive post match. They again try and talk Ambrose into the reunion, but Ambrose bails. Come on Dean, if you can't fist your friends, who can you fist? (Phrasing?) Corbin, Drew, & Lashley arrive and mock Rollins & Reigns. They plan to end the Shield once and for all. They attack 3 on 2, until Ambrose returns and evens the odds. The Shield clears the ring, stands tall, share a fisting, and that should set our PPV match for Sunday. You can read my Raw Review here.
FROM RAW – Triple H Talks: Big Dave sent an Intagram video saying that they are playing by his rules. Triple H talks about trying to honor Ric Flair last week, praising the real man behind Ric Flair as a true friend. They have been there for each other during the best and worst of times, discussing Reid's death and Flair almost dying last year. Triple H is getting emotional here. He just wanted to honor Flair last week and give him the thing he knows he loves, being in front of the fans. Dave wanted his attention, and he got it. Dave quit when things didn't do his way, and attacked a 70-year old man to steal a moment. Triple H mocks him for playing bad guy 101, but he doesn't care what big Dave does. Triple H will go wherever he needs to in order to get at him, "have some balls and show up!" For every moment they shared, it's over, he's not Triple H. When they go face to face, he'll be looking at the man. Stand up and tell him what you want and he'll give it to him. I really liked this as I felt Triple H was emotionally on point in reaction following last week's angle. I'm not exactly hyped about a match right now, but this was good stuff. You can read my Raw Review here.
Kalisto, Lince Dorado, & Tyler Breeze defeated Jinder Mahal & The Singh Brothers: Dorado starts off, working with a Samer. Samer hits a shoulder tackle, but runs into a dropkick, Sunil tags in but Dorado hits a high cross. Kalisto tags in, they work double teams, and Breeze tags in and follows with kicks. The faces clear the ring. Kalisto fights off Samer, tags in Breeze and runswild with kicks. Superkick to Sunil gets 2. Dorado hits the lethal injection, Mahal gets taken out and Kalisto hits Salida del sol and Dorado finishes things with a shooting star press. Kalisto, Lince Dorado, & Tyler Breeze defeated Jinder Mahal & The Singh Brothers @ 3:05 via pin [**] Good action from the faces and the Singhs sold well, but the match was so short it was almost not worth it. This was ok.
FROM RAW – Becky Lynch is Here: Becky has to sign a hold harmless agreement to compete on Sunday. Stephanie runs down the situation with the women's title and brings out Charlotte & Becky. Becky signs the agreement as Rousey arrives. She's not happy about the entire situation and says she never vacated the title. She demands her title back, gets it, and the Becky vs. Charlotte match will still happen Sunday. If Becky wins, she's added to the Mania match. Rousey tells Steph she makes WWE too much money for her to fire her. Rousey starts whining, doing the reported heel turn. She dumps Charlotte and arm bars Becky. She then works her over with strikes, while Charlotte watches on. The first half, the talking, was rough. It got better when Rousey arrived. I really dislike how Becky winning the Rumble now means nothing because they had to overcomplicate the entire angle. I thought the Rousey heel turn came off well and loved Charlotte refusing to help and allowing Becky to take a beating. You can read my Raw Review here.
– End scene.
– Thanks for reading.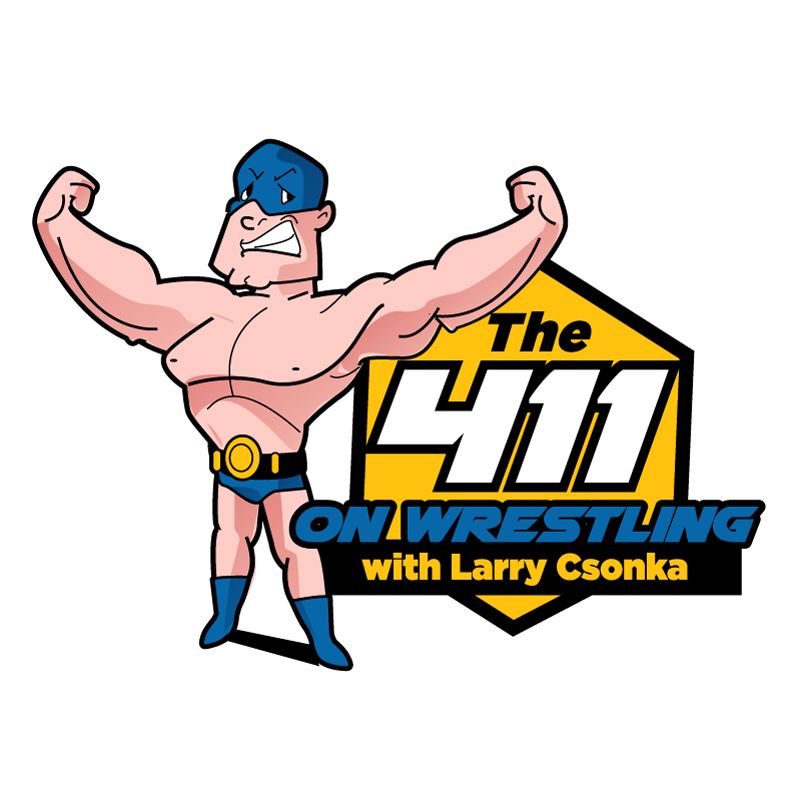 The 411 on Wrestling Podcast returns after a long hiatus to the 411 Podcasting Network. On today's show, 411's Larry Csonka discuses Jushin Liger's retirement, Tommaso Ciampa's neck injury, previews the WWE Fastlane PPV, and discusses his recent medical issues, which led to his absence in early 2019. The show is approximately 33 minutes long.
Intro
Liger – 3:30
Ciampa – 6:20
Fastlane – 9:40
Personal Update – 23:45
5.5
The final score: review Not So Good
The 411
This week's episode of WWE Main Event was not a good show. There were times when we used to get some actual good wrestling, but WWE treats the show like a complete afterthought, showcasing highlights and fulfilling international TV obligations. In that aspect, it works, but I can't help but think the show could be more.
legend