Csonka's WWE Raw Review 02.12.18
February 12, 2018 | Posted by
Csonka's WWE Raw Review 02.12.18
Csonka's WWE Raw Review 02.12.18
OFFICIAL RESULTS
– Loser Enters The Elimination Chamber First: John Cena defeated The Miz @ 19:00 via pin [***]
– The Revival defeated The Good Brothers @ 7:45 via pin [**½]
– Bayley defeated Sasha Banks @ 12:13 via pin [***½]
– Mandy Rose & Sonja Deville defeated Alexa Bliss & Mickie James @ 3:58 via pin [**]
– Roman Reigns defeated Sheamus @ 14:25 via pin [***¼]
– Second Chance Elimination Chamber Qualifier: @ via [***¼]
---
– Follow all of my reviews at this link.
John Cena Talks: Cena makes his way to the ring to kick off the show, and talks about the importance of WrestleMania, and making moments. He's here to face the truth, in two weeks, he has to win the Elimination Chamber, because if he doesn't, he isn't sure he'll have a road to WrestleMania. He has to survive the chamber, and win to get a shot at an unbeatable champion in Lesnar. Cena loves making the impossible possible. He will win the chamber and will go onto make history at WrestleMania. The Miz arrives with Axel & Dallas, and disputes Cena's claim because this is 2018, and the year of the Miz. Miz claims that Cena is living in a fantasy world, because Miz is going to main event WrestleMania, and will beat Lesnar. Cena laughs at Miz and claims someone in the crowd was laughing as well. He says Miz has no real chance against Lesnar, and if it happened, it would be Miz's last match. Miz says he won't make the mistakes Cena made, because he's smart and will cross lines others will not, and that's why he beat Roman for the IC Title. Miz reminds Cena that he beat him at Mania. Cena says Miz at times can back up his words, and challenges him to a match tonight and the loser of the match, enters the chamber match first. Miz says he's not stupid, and Axel & Dallas attack Cena. They lay him out and Miz accepts, right now! Kurt Angle arrives and says this is not how they will start Raw, and he likes the match, the match is on. He tosses Axel & Dallas from ringside.
John Cena vs. The Miz: Miz goes for covers and we take a commercial break. Post break and Miz knocks Cena to the floor. Miz follows, slamming Cena to the barricade. Back in they go and Miz hits a double-sledge off the top for 2. Cena fights back, hitting a dropkick for 2. The fisherman's suplex follows for 2. Miz cuts him off with knee strikes, and lays the boots to him; the cover gets 2. Miz slows things down with a sleeper, Cena fights but Miz works Cena down to his knees. Miz keeps things grounded. Post Break, Cena counters the skull crushing finale, but Miz locks on the figure four. Cena powers out into the STF. Miz crawls and makes the ropes. He stuns Cena off of the ropes, and heads up top. Catches Miz, rolls through but Miz counters out into a DDT for 2. Miz follows with the corner clothesline, but Cena hits an AA out of nowhere for 2. Cena up top and Miz crotches him and locks on the figure four again. Cena again counters out, this time into a crossface. Miz makes the ropes. Miz hits the skull-crushing finale, but Cena kicks out at 2. Miz sets Cena up top, follows him up, but Cena powers him up and hits the super AA for the win. John Cena defeated The Miz @ 19:00 via pin [***] Due to the loss, Miz enters the chamber match first. It was about what you'd expect, Miz dominated, they kicked out of finishers, and Cena overcame the odds. But it was fun and the crowd really liked it, and played off of the opening promo well.
– Matt cuts a promo about tonight's "Second Chance Elimination Chamber Qualifier."
"I shall achieve VICTORY, and I will turn the Elimination Chamber into…THE DELETION CHAMBER!" – #WOKEN @MATTHARDYBRAND #RAW pic.twitter.com/6R4EBK8LSC

— WWE Universe (@WWEUniverse) February 13, 2018
– The Good Brothers cut a promo on the Revival, calling them nerds.
– The Good Brothers (Anderson & Gallows) make their way to the ring, and get attacked by the Revival.
The Good Brothers (Anderson & Gallows) vs. The Revival (Dash & Dawson): Gallows and Dawson to begin, and Gallows runs wild. The Good Brothers clear the ring, until Dawson clips out Gallows' knee. Post break, and the Revival are working the heat on Gallows, focusing on the knee and using quick tags. Gallows fights back and looks to make the tag and does. Anderson runs wild, Gallows pulls Dawson to the floor, but Gallows gets sent to the steps. Dash rolls up Anderson for 2, but Anderson kicks out and hits the spinebuster for 2. Dawson tags in, and shatter machine finishes Anderson. The Revival defeated The Good Brothers @ 7:45 via pin [**½] That was a rock solid little tag, with the Revival picking up the win and hopefully moving onto someone new.
Kurt Angle Talks: Ronda Rousey will be signing her WWE Raw contract at Elimination Chamber. Shocking. Angle is here to give an update on Jason Jordan. Jordan had neck surgery last week, and will miss WrestleMania. He can't keep his emotions, because he is a father. If you get any joy out of this news. You should be ashamed. Jordan may not be their favorite, but he's a human being and his son. Angle stumbles over his words a bit here, and Seth Rollins arrives. Rollins says he's sorry about Jordan, and says he's been hard on him, but he's a good kid. Rollins knows what it feels like to have to miss Mania due to an injury. But that made him realize that Mania moments aren't guaranteed. Right now he has nothing, but Angle says maybe Rollins can find a new partner. Rollins declines, and says Angle wanted him to be a big piece of Raw, but right now he doesn't want to be a part of Raw, he wants to BE Raw. He wants to be the man one more time, and he wants Brock Lesnar and the universal title. Rollins wants in tonight's second chance four-way. Angle hesitates, but Rollins makes his case, and Angle says it's up to the fans. They agree. Well that makes tonight's match a bit more interesting and gives Rollins something to do for now. Angle was really rough here, but I thought Rollins did really well.
– Wyatt cuts a promo about tonight's "Elimination Chamber Qualifier."
Bayley vs. Sasha Banks: Bayley gets a cradle for 1 and then a backslide for 2. Bayley follows with another cradle for 2. Bayley follows with arm drags and a dropkick. Banks rushes Bayley to the corner, following with strikes and Bayley hits a shoulder tackle and cradle for 2. Banks attacks the arm, and hits a hip toss and running meteroa for 2. Banks fires up with forearm strikes and sends Bayley to the floor. Banks holds the ropes for Bayley, but then dropkicks her back to the floor. Back in they go and Bayley takes Banks to the corner, and then stuns Bayley's arm off the ropes. Post break, and Banks has Bayley grounded. Banks is focused on the arm, and covers for 2. Bayley tries to fight back, but her arm gives. Bayley hits a desperation lariat and cuts off Banks. They trade strikes center ring, Bayley hits the Thezs press and follows with strikes. Bayley starts picking up the pace, and picking up near falls. Bayley hits a knee strike, heads up top but misses the elbow drop. Banks locks on the banks statement, Bayley fights and makes the ropes. Bayley sends Banks to the buckles, but Banks catches a charging Bayley with a big boot. They work up top, Banks fights her off, but Bayley back up and hits Bayley to belly off the ropes for the win. Bayley defeated Sasha Banks @ 12:13 via pin [***½] This was a very good match, worked with a great sense of urgency, and it felt like an important match, thanks to the way it was worked and laid out. These two, along with Asuka, have delivered the goods over the last three weeks.
– Post match, Bayley offers the handshake, they stare down, but Nia Jax arrives and lays both of them out. Jax then says this has everything to do with her. Banks & Bayley took Asuka to her limit, and she took them out in seconds, and will end Asuka's streak.
– Rollins & Reigns meet backstage. Reigns jokes about Rollins working his magic to get into tonight's match. Reigns says he will eliminate him like he did at the rumble. The Bar arrives, and says Rollins will fail once again. They then joke about Jordan & Ambrose rehabbing together, and making sure to talk about how bad a tag partner Rollins is. Reigns will face Sheamus later on it appears.
– We get a by the numbers video for Asuka.
– Renee interviews Apollo Crews & Titus Worldwide. Titus takes over the interview, and helps Apollo hype tonight's match. It was fun.
– Alexa meets with Mickie, and Mickie questions Alexa's motivations, and says they aren't friends. Alexa claims she wants to clear the air and make things right for her actions from a few months ago. Alexa claims that she was jealous and kisses Mickie's ass. They face Mandy & Sonja tonight. Mickie says they can team tonight, but at the chamber, she's coming after the title.
Mandy Rose & Sonja Deville vs. Alexa Bliss & Mickie James: Paige is out with Rose & Deville. James & Rose into begin, with Jams controlling early. Deville tags in and looks to ground James, but James takes her down and Bliss tags in. She follows with double knee attacks, and covers for 2. James tags back in, but Deville cuts her off and tags Rose back in. James hits a neck breaker, and looks for a tag. Deville takes out Bliss, stopping the tag. Rose attacks, hits the glam slam and that's that. Mandy Rose & Sonja Deville defeated Alexa Bliss & Mickie James @ 3:58 via pin [**] This was ok and played as solid hype for the chamber, but like the men, it feels like we're going to burn out the matches before we even get there.
– Post match, Absolution attacks James, but Bliss makes the save.
Elias Performs: Elias sings the Elimination Chamber Blues, but first runs down San Jose, and all cities in California. He reminds us he beat Cena & Strowman last week. Elias has gotten got really good at playing off of and controlling the crowd. BRAUN now arrives. HE HAS A MIC AND A GIANT STRING BASS. He breaks the strings strumming it and sings a song for Elias, telling Elias he's about to get these hands. He heads to the ring and brings the bass with him. BRAUN puts the bass down and enters the ring. Elias attacks, gets the guitar but BRAUN cuts him off and starts to smash him. The powerslam follows and BRAUN stands tall. Elias tries to escape, and BRAUN grabs the bass and follows. He then smashes Elias with the bass. I can't wait for people saying they killed BRAUN's character, it was fun and he still killed a man.
GET THESE HANDS A CELLO, because @BraunStrowman has a song to sing for @IAmEliasWWE! #RAW #GetTheseHands pic.twitter.com/EYEANnxTqu

— WWE (@WWE) February 13, 2018
– Finn Balor cuts a promo about tonight's "Elimination Chamber Qualifier."
Roman Reigns vs. Sheamus: Cesaro is out with Sheamus, while Reigns is out alone. They lock up and work a basic back and forth opening stretch. Sheamus starts to lay in strikes, a head butt follows but Reigns fires back and hits clotheslines. Sheamus rolls to the floor. Back in and Reigns follows with rights and dumps Sheamus again. Reigns follows and they brawl on the floor and reigns repeatedly slams Sheamus to the barricades. Sheamus cuts him off and hits the Finlay roll on the floor. Post break, and Sheamus has things grounded. The crowd doesn't care and chants for Rusev day, because every day is Rusev day. Reigns fights back, hitting clotheslines but Sheamus posts him and follows with the back breaker for 2. Sheamus now locks on the cloverleaf, Reigns fights, and kicks Sheamus away, connects with a Samoan drop, covering for 2. Reigns looks for a superman punch, but Sheamus counters with white noise, and covers for 2. Reigns cuts of the brogue kick with a superman punch, covering for 2. Reigns hits the sitout powerbomb and again covers for 2. Cesaro distracts reigns and Sheamus rolls him up for 2. A knee strike follows and Sheamus covers for 2. They go to the floor, Reigns takes out Cesaro and then posts Sheamus. The drive by is cut off, Sheamus up top and jumps into the spear and Reigns covers for the win. Roman Reigns defeated Sheamus @ 14:25 via pin [***¼] This was a good, back and forth, hard-hitting match. I found it to be a ton of fun, and the win served its purpose, giving reigns momentum ahead of the Elimination Chamber.
– Ivory is going into the WWE Hall of Fame. She joins Goldberg & The Dudleyz in this year's class.
In TWO WEEKS at #WWEChamber, @RondaRousey will officially join Monday Night #RAW with her @WWE contract signing! pic.twitter.com/iyHMD14JrX

— WWE (@WWE) February 13, 2018
Second Chance Elimination Chamber Qualifier: Finn Balor vs. Matt Hardy vs. Bray Wyatt vs. Apollo Crews vs. Seth Rollins: JIP as Crews hits an apron moonsault to Wyatt on the floor. He gets cut off and it breaks down, Crews to the floor and Rollins cuts off Balor, sending Matt to the floor. Balor hits sling blade, Rollins hits a superkick and Wyatt takes him out. Sister Abigail countered and Rollins hits the superkick for 2. Balor gets tossed, and Rollins heads up top and Crews cuts him off and follows him up, Matt and Balor back, Wyatt breaks things up, no tower of doom for you. Wyatt takes control, hitting a senton on Crews for 2. Post break, and Wyatt and Matt face off. Matt claps and laughs, lays in rights and hits a side effect. Side effect to Balor. Matt hits the elbow off the ropes, but Rollins flies in to cut off Matt. It breaks down as Rollins hits a double blockbuster on Wyatt & Crews. The suicide dive follows on Balor and then Matt and then Wyatt. Rollins hits the suplex and then does the deal, hitting the falcon arrow on Crews for 2. Crews sent to the floor, enziguri to Wyatt, but Wyatt kills him with a lariat. Balor back in, hits sling blade and the shotgun dropkick. Balor up top, Rollins cuts him off and Rollins looks for the Phoenix splash, Matt back in and it breaks down but Balor hits a double stomp, Rollins hits the curb stomp but Crews makes the save. Crews battles with Rollins, they trade strikes but Crews hits the standing moonsault for 2. Rollins fights off the powerbomb, but Crews hits the standing shooting star press for 2. Crews up top, Matt cuts him off and follows him up. They trade strikes and Wyatt pulls Matt to the floor and hits sister Abigail. Wyatt follows Crews up but Balor and Rollins are back and hit the tower of doom, and then both pin Wyatt. No Official Decision @ 16:25 [***¼] This was a good & fun, but at times chaotic match. Going off the air with no winner announced, looks to set up Balor and Rollins next week for the final chamber spot. Hey, at least they gave you a hook to tune in for next week's show.
– End scene.
– Thanks for reading.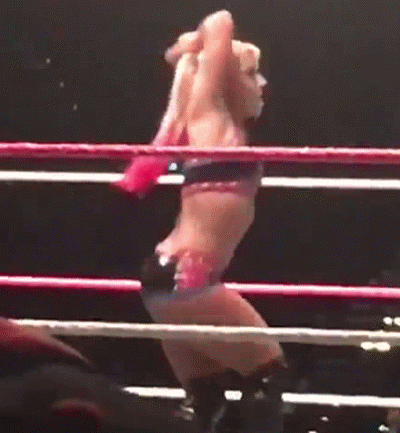 ~GLORIOUS~
7
The final score: review Good
The 411
The last three weeks of raw have been a nice change, focusing on more wrestling, less filler, and a ton of focus on building to the Elimination PPV. I thought tonight's show was good and also a fun one to watch that didn't feel like a three-hour show.
legend