Csonka's WWE Raw Review 05.14.18
May 14, 2018 | Posted by
Csonka's WWE Raw Review 05.14.18
Csonka's WWE Raw Review 05.14.18
OFFICIAL RESULTS
– WWE IC Title Match: Champion Seth Rollins defeated Kevin Owens @ 14:57 via pin [***¼]
– WWE MITB Qualifier: Bobby Roode defeated Baron Corbin & No Way Jose @ 10:40 via pin [**½]
– Curtis Axel and Bo Dallas defeated The Fashion Police @ 3:45 via pin [*½]
– Natalya, Sasha Banks and Ember Moon defeated Ruby Riott, Liv Morgan and Sarah Logan @ 11:10 via submission [**]
– Non-Title Match: Champions Matt Hardy and Bray Wyatt defeated The Revival @ 4:42 via pin [**]
– WWE MITB Qualifier: Alexa Bliss defeated Bayley & Mickie James @ 9:05 via pin [**]
– Dolph Ziggler and Drew McIntyre defeated Braun Strowman and Finn Balor @ 12:22 via pin [**½]
– WWE MITB Qualifier: Kevin Owens defeated Elias & Lashley @ 13:01 via pin [***]
---
– Follow all of my reviews at this link.
– We get footage of Nia Jax's challenge to Ronda Rousey from the NBC upfronts, featuring some absolutely horrible acting.
Roman Talks: Roman cries about being robbed by Mahal last week, and calls him out. Kurt Angle arrives and says that Mahal won't be coming because he has a MITB qualifier later tonight. He's getting the chance because WWE Management yelled at Kurt, and Jinder in that match is best for business. Reigns wants in the match, and Kurt says that won't happen because Management says Reigns will get no further opportunities to qualify. Reigns says he will do what he has to do and leaves. This is amazing after years of being pushed as management's boy that they want people to buy the world is against Reigns. He played the company man heading into Mania, saying Brock wasn't one of the boys, and now, the company is against him. Sure…
– Reigns finds Mahal and they brawl backstage. They brawl into the arena, and Reigns lays out Mahal with a superman punch. Angle brings out refs & producers to separate them. A lame angle followed by a lame brawl, not a good way to kick off the show.
WWE IC Title Match: Champion Seth Rollins vs. Kevin Owens: Kevin attacks right away, beating Rollins down. He lays in strikes on Rollins in the corner, but Rollins rebounds with a clothesline. He lays in strikes and kicks, and Kevin powders. Rollins continues to attack and Kevin catches the suicide dive and posts Rollins. Back in and Kevin hits the senton for 2. He grounds things until Rollins hits a jawbreaker, but Kevin tosses him to the floor. Post break, and Kevin has things grounded. Rollins battles back and dumps Kevin. Kevin pulls him to the floor and looks for an apron bomb, but Rollins cuts him off. They battle on the apron, and Rollins does the deal with an apron falcon arrow. Back in and they trade strikes. Rollins dumps Kevin and hits a suicide dive, and then a second. Back in and Rollins hits the springboard clothesline. The blockbuster follows for 2. Kevin fights off the ripcord knee and plants Rollins with a DDT for 2. The pop up powerbomb is countered as is the black out. They trade kicks and clotheslines and Kevin covers for 2. Kevin heads up top and the swanton eats knees. The superkick and ripcord knee follows and Rollins covers for 2. Rollins heads up top and the high fly flow eats knees and Kevin cradles him for 2. Kevin up top and Rollins rushes up and cuts him off. They trade strikes, and Kevin hits the twisting fisherman's buster, Rollins rolls to the floor. Back in and Rollins hits the black out and covers for the win. Champion Seth Rollins defeated Kevin Owens @ 14:57 via pin [***¼] This was a good back and forth opening match, as Rollins can seemingly do no wrong these days. The man is on a roll; he's having a lot of good to great matches and winning, which is getting him over, odd how that works.
– We get more from the Jax/Rousey angle at the NBC upfronts. They will face at MITB for the title.
– Bo Dallas and Curtis Axel approach Kurt Angle for a Raw Tag Team Title shot. Angle makes a match for later tonight but it won't be for the titles, since they've never won a match and lost to the champions last week.
WWE MITB Qualifier: Bobby Roode vs. Baron Corbin vs. No Way Jose: Corbin attacks at the bell and takes Jose to the floor and beats him down. Back in and Roode takes control, and the blockbuster connects for 2. Corbin stuns Roode off the ropes, but Jose attacks. Post break, and Corbin has grounded Roode. Roode fights back but runs into a side slam for 2. Corbin knocks Jose back to the floor. Jose rushes backing and Corbin then lays out Roode with a clothesline. Jose works over Corbin with grounded strikes and hits a high cross for 2 as Roode makes the save. The spinebuster on Jose follows for 2 as Corbin makes the save. Corbin lays in rights to Roode, sets him up top and Jose makes the save, Roode fights him off and follows with a clothesline on Jose. He sets for the DDT, but takes out Corbin, allowing Jose to get a roll up for 2. Jose dumps Roode; Corbin cuts him off and then attacks Roode. Back in and Corbin hits the chokebreaker on Jose for 2. Roode returns and gets a sunset flip for 2. He then runs into deep six and Jose makes the save. Corbin now lays in corner clotheslines to both but gets posted. Roode hits the DDT and finishes Jose. Bobby Roode defeated Baron Corbin & No Way Jose @ 10:40 via pin [**½] This was a perfectly average match, nothing wrong with it other than it was the usual triple threat formula and there was no fire at all here.
– Kevin Owens meets Kurt Angle backstage and demands a rematch with Seth Rollins. That's a hard no from Kurt. Kevin threatens to call Stephanie. Angle now checks on Mahal, who wants his match postponed. Angle refuses and Mahal says he will compete.
You are now about to witness THE B-TEAM in action on Monday Night #RAW!@RealCurtisAxel @TheBoDallas pic.twitter.com/li713vk0KG

— WWE (@WWE) May 15, 2018
Curtis Axel & Bo Dallas vs. The Fashion Police: Curtis Axel & Bo Dallas are now going by the name, "The B Team." Dallas and Breeze to begin. They work comeback and forth with both looking for pins. Axel distracts Breeze, allowing Dallas to cut him off and the B Team takes control. They work quick tags, isolating Breeze and picking up near falls. Breeze manages to cut off Dallas, and tags in Fandango. He runs wild on the B team and hits a DDT for 2. Axel then rolls him up for 2. Fandango fights back, hitting a powerslam for 2. Dallas takes out Breeze, Fandango misses the top rope leg drop and the B Team hits a double team neck breaker for the win. Curtis Axel and Bo Dallas defeated The Fashion Police @ 3:45 via pin [*½] This was certainly a match that happened. Nice way to follow up the Fashion Police's big win over the Bar from a few weeks ago.
– They cut a post match promo and say they are coming for the tag team titles.
– Styles faces Nakamura on tomorrow's Smackdown.
The next chapter will be written TOMORROW NIGHT as @WWE Champion @AJStylesOrg battles @ShinsukeN on #SDLive at 8/7c on @USA_Network! pic.twitter.com/gmZQ8Z2DSe

— WWE (@WWE) May 15, 2018
Natalya, Sasha Banks, and Ember Moon vs. Ruby Riott, Liv Morgan, and Sarah Logan: Logan overpowers Moon to begin. Moon picks up the pace and fights back with arm drags and tags in Banks, who hits running knees for 2. Banks follows with mounted rights, but Logan cuts her off and tags in Ruby. They work over Banks in their corner, using quick tags and Banks manages to fight them off and everyone is in. Post break, and Morgan is working the heat on Natalya. Natalya quickly cuts her off and tags in Banks. Banks fights off Morgan and Logan until Ruby distracts her. That allows Logan to take control, and then Ruby tags in, hitting a clothesline for 2. They then double team Banks, covering for 2. Banks slowly fights them off and tags in Natalya. Natalya strolls mildly on Morgan. The crowd is dead for this. The sharpshooter follows as Moon takes out Ruby. Morgan escapes and hits an enziguri for 2 as it breaks down. Banks hits meteora to the floor, Moon hits a suicide dive and Natalya gets the sharpshooter for the win. Natalya, Sasha Banks and Ember Moon defeated Ruby Riott, Liv Morgan and Sarah Logan @ 11:10 via submission [**] They tried, it wasn't bad, but no one cared. The finishing moments were fun and this was OK overall.
– Dolph Ziggler and Drew McIntyre cut a promo on tonight's match vs. Braun Strowman and Finn Balor.
Champions Matt Hardy and Bray Wyatt vs. The Revival: Dash and Matt to begin, and they work into a stand off; Matt claps for Dash, Matt attacks and tags in Wyatt and they follow with double teams. The B Team is taking notes backstage. Dawson in and Wyatt works him over. The senton follows and Matt tags in for double teams, and Matt covers for 2. Dash in and the Revival work double teams on Matt. They attack Matt in the tree of WHOA, and then ground Matt, working his knees. Matt cuts off Dash with a side effect. Wholesale changes to Dawson and Wyatt, Wyatt runs wild and hits the uranage. Matt tags in and we get a twist of fate and the double Abigail for the win. Champions Matt Hardy and Bray Wyatt defeated The Revival @ 4:42 via pin [**] This was another ok match as the champions continue to roll, while the Revival continue to flounder on the main roster.
– Backstage, Banks wishes Bayley luck in her NITB qualifying match.
– Sami Zayn comes to the ring. He says prince Harry looks like him and is a big fan of his. He then cuts a promo on Bobby Lashley, complaining about how Lashley gave him vertigo. He even has a doctor's note, and breaks out the old man glasses to read it. Sami then shows the video interview with Lashley and Renee Young from last week, the boring and awkward video from last week. Sami says Lashley wants to be him, as Lashley even wore his hat for the interview. He then reveals Lashley has something to hide, and says that he is bringing Lashley's sisters to next week's Raw to expose him. Well that sounds fucking exciting.
Let's learn more about vertigo from @SamiZayn's doctor… #RAW pic.twitter.com/0oMb73RvlE

— WWE (@WWE) May 15, 2018
WWE MITB Qualifier: Alexa Bliss vs. Bayley vs. Mickie James: Bliss and James attack Bayley, sending her to the floor. Post break, and James has Bayley grounded as Bliss talks trash. Bayley slowly fights back, taking James down, but Bliss cuts her off. James then rolls up Bliss for 2. They argue and then attack Bayley. They take Bayley up top and Bayley knocks them off and hits a high cross. She fires up and hits clotheslines and a Saito suplex. She hits stunners in the ropes on both and works over Bliss in the corner. James fights her off with a head scissors but Bayley cuts her off. Bliss then hits code red for 2 as James makes the save. They trade strikes from their knees, and Bliss accidentally hits James. They argue and Bayley attacks and runs them together. She takes out James, heads up top and leaps over Bliss, but Bayley cradles her for 2. The Bayley to belly gets 2 as James makes the save. Bayley takes James to the floor and Bliss KOs her and finishes it with a DDT. Alexa Bliss defeated Bayley & Mickie James @ 9:05 via pin [**] Another tired triple threat with no real sense of urgency or excitement. It was ok at best, like most of the matches tonight.
– Reigns attacks Mahal (as he was getting wrapped up for his match) once again, spearing him through some drywall. Dastardly Heel Roman Reigns strikes again, taking out the injured valiant babyface Jinder Mahal.
😵😵😵

Safe to say @JinderMahal won't be cleared to compete after THIS!#RAW @WWERomanReigns pic.twitter.com/rwB4rv0qxK

— WWE (@WWE) May 15, 2018
Braun Strowman and Finn Balor vs. Dolph Ziggler and Drew McIntyre: Balor and Ziggler start things off. Ziggler attacks with rights, but Balor cuts him off with a dropkick. McIntyre tags in and so does Braun. McIntyre talks trash and then tags out. Post break, Braun and Balor double team Ziggler, taking control. They pose and celebrate. Ziggler fires back but eats a dropkick and powders. McIntyre trips up Balor and he tags in. McIntyre lays in chops and rights, taking control. McIntyre lays in more chops and then Ziggler tags in and hits a neck breaker for 2. Ziggler grounds things and tags McIntyre back in. McIntyre easily overpowers him and stops the tag. He then tosses him to the corner and lays in chops. Balor then avoids a charge and we get wholesale changes to Ziggler & Braun. Braun just beats down Ziggler with ease. He ends up posting himself as Ziggler sidesteps him. Balor in and works over Ziggler. He follows with chops and an enziguri. The final cut gets 2 as McIntyre makes the save. Balor knocks him to the floor and hits sling blade on Ziggler. Balor goes John Woooooo on Ziggler, Braun takes out McIntyre on the floor. Ziggler crotches Balor up top and pins him. Dolph Ziggler and Drew McIntyre defeated Braun Strowman and Finn Balor @ 12:22 via pin [**½] This was a match neither team shouldn't have really lost, but Ziggler (especially) and McIntyre needed the win much more. It had a few fun moments, and while average, was better than most matches on the show.
– More on Jax & Rousey from earlier today.
– Angle fake talks on his phone and hypes Jax vs. Rousey. It was Stephanie cutting his balls off on the phone.
http://i211.photobucket.com/albums/bb320/Lthomascsonka/balls_zpsvjmjfdve.jpg" border="0″ alt=" photo balls_zpsvjmjfdve.jpg
WWE MITB Qualifier: Kevin Owens vs. Elias vs. Lashley: Kevin is replacing the "injured" Mahal. Kevin & Elias attack Lashley right away. Lashley quickly fires back and takes control. Post Break, as Lashley is in control on the floor, working over both Kevin & Elias. Back in and Elias & Kevin cut off Lashley and work him over in the corner. They predictable turn on each other, and brawl. Kevin takes control and hits the senton, covering for 2. Elias cuts him off, but Lashley is back and hits a full nelson slam for 2. Lashley takes control as the crowd chants for "Bobby's sisters." Lashley hits a spinebuster on Kevin, but Elias cuts him off and dumps him to the floor. Elias now decides to perform his concert. Kevin cuts that off, but Elias takes him out with a knee strike for 2. Kevin misses a cannonball, and Elias hits s top rope elbow but Lashley makes the save. Lashley back in, working over both Elias & Kevin. The double suplex follows by Lashley. Lashley follows with corner spears until Kevin cuts him off. Elias attacks, and hits the sitout powerbomb for 2. Lashley brawls with Elias and then hits a press slam. The dominator follows for 2 as Sami attacks Lashley to break up the pin. He hits the helluva on the floor, Kevin hits the frog splash and pins Elias. Kevin Owens defeated Elias & Lashley @ 13:01 via pin [***] This was a good main event, everyone got some time to shine, and Kevin picks up the win to sneak into MITB with help from his buddy Sami.
– Kevin & Sami celebrate post match.
– End scene.
– Thanks for reading.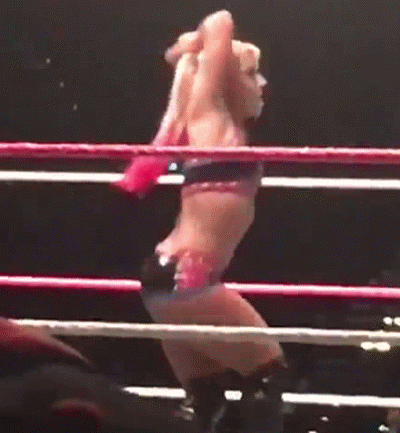 ~GLORIOUS~
5.5
The final score: review Not So Good
The 411
Tonight's episode of WWE Raw continued the build to MITB, but other than Rollins vs. Owens, the show was completely forgettable, skibbaple, and felt like a chore to get through. The Reigns angle is laughable, and the Owens angle is another repeat of the Authority's favorite wrestler. Also, the multiple triple threats have become tiresome and repetitive.
legend