Csonka's WWE Raw Review 1.02.17
January 2, 2017 | Posted by
Csonka's WWE Raw Review 1.02.17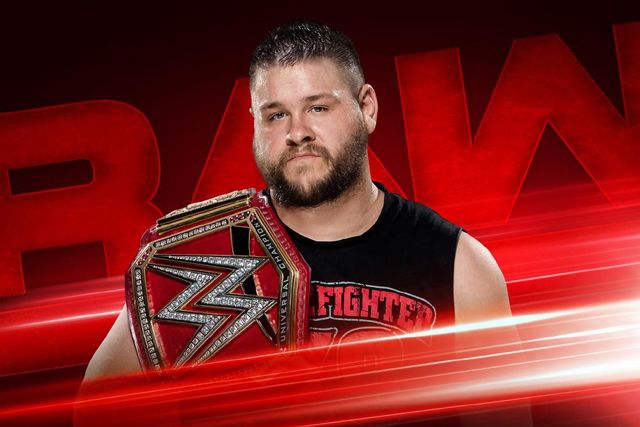 Csonka's WWE Raw Review 1.02.17
OFFICIAL RESULTS
– Non-Title Match: Seth Rollins defeated universal Champion Kevin Owens @ 12:02 via DQ [**½]
– Karl Anderson defeated Cesaro @ 10:56 via pin [***]
– Last Msn Standing Match: Braun Strowman defeated Sami Zayn @ 15:41 [***½]
– Xavier Woods defeated Titus O'Neil @ 3:52 via pin [*]
– Drew Gulak defeated Cedric Alexander @ 2:28 via pin [NR]
– US Title Match: Champion Roman Reigns defeated Chris Jericho @ 13:00 via pin [***]
– TJ Perkins defeated Brian Kendrick @ 2:42 via pin [NR]
– Rusev and Jinder defeated Big Cass @ 1:47 via pin [NR]
– #1 Contenders Match: Bayley defeated Nia Jax @ 3:35 via pin [*½]
---
Mick Foley Talks: Foley talks about his horrible haircut, and plays off of saying the wrong town last week. He hyped the Owens vs. Reigns match at the Rumble, which will feature Chris Jericho, hanging 500 feet above the ring like a sexy piñata, in a shark cage. Owens and Jericho make their way to the ring. They claim abuse of power, and rightfully mock the haircut. They were entertaining as always. Foley will allow Owens to host the Kevin Owens Show tonight, and Goldberg will be the guest. Stephanie arrived and defended Foley to Owens and Jericho. Owens snaps, because he doesn't care and claims that they are national treasures. She books reigns vs. Jericho for the US title, if Reigns is counted out or DQ'd he loses the title. They all argue, and Stephanie brings up that she is upset that Smackdown beat Raw in the ratings. She also books Owens vs. Rollins, and the loser is banned from the US Title Match. In terms of laying stuff out for the show it works well; Jericho and Owens were fun as always. Although, I find it hilarious that Stephanie's answer to Smackdown beating them is to book more matches between the same four guys that have been largely stale for months (in terms of the recent matches being variations on the same theme).
Seth Rollins vs. Kevin Owens: The loser o the match is banned from ringside during the US Title match. I do not like how Owens is being presented here because he comes off as Jericho's lackey and not the champion. It's been a running theme of his run, he's not presented as the guy; he's just the guy with the belt. Rollins ran wild early, hitting dives. Owens fought back, but Rollins hit the blockbuster and we took a commercial break. Post break, Owens worked the heat; hitting a DDT and senton before tossing Rollins to the floor. Owens missed a cannonball on the floor, allowing Rollins to fire up and make the comeback. Owens fought off the pedigree, Rollins hit a dive and they brawled on the floor. Owens hit Rollins with the ring bell and got DQ'd. Seth Rollins defeated universal Champion Kevin Owens @ 12:02 via DQ [**½] I liked the finish, because Owens didn't get pinned like last week. Also, being banned from ringside adds more fuel to the fire in regards to the Owens/Jericho split and eventual feud. The match was solid, but I am getting burnt out on the Owens/Rollins/Reigns/Jeriho matches.
Cesaro vs. Karl Anderson: Gallows is at ringside with Anderson, Sheamus is on commentary. That seems like poor planning. They worked a basic, but well done back and forth to begin. Cesaro took control, working suplexes and uppercuts. Anderson sent Cesaro to the floor and we took a break. Post break, Cesaro fought back, hitting a dead lift suplex, but Anderson hit the corner kick and clothesline for a near fall. On Earth-2 this is a NJPW G1 tournament match. Anderson fought back with uppercuts and the run up the ropes high cross. Gallows distracted Cesaro, allowing Anderson to hit the spinebuster for 2. They picked it up down the stretch; Cesaro is great in the homestretch of a match. Sheamus tried to stop Gallows from interfering, but it caused Cesaro to get crotched. Anderson hit a neck breaker off the ropes for the win. Karl Anderson defeated Cesaro @ 10:56 via pin [***] Good match there, it was nice to see Anderson get some rime in a singles setting and Cesaro is great. The win makes sense to set up the next challengers. It can also play into the relationship issues Sheamus and Cesaro still tease.
– We get a Goldberg video package.
Last Msn Standing: Sami Zayn vs. Braun Strowman: Sami smartly used his sped earl, hitting and running. He then got a kendo stick and laid into Strowman with it. Strowman then broke it in half and tossed Sami across the ring. Sami got another kendo stick and attacked, he went for a moonsault and was caught as Strowman slammed him to the barricade. Strowman charged and posted himself, Sami then sent him to the post repeatedly, but as he went for the tornado DDT, Strowman dropped him with a big right. Back in the ring and Strowman hit the corner charge, and took control. Good aggression by Strowman, Sami played resilient face and kept getting to his feet. He tried to fire back, but got cut off with the lariat. They went to the floor and took a break. Post break, Strowman tossed Sami off the stage and slammed him into the announce table. Clubbing shots by Strowman followed, as he tossed Sami backstage. Sami then grabbed a pipe and attacked Strowman, but Strowman started to toss Sami around and then threw a box at him, but Sami avoided it. Chair shots by Sami followed, but Strowman would not go down. Back to the stage they go, and Strowman whipped Sami to the screen. Sami again used chair shots to make a comeback, Sami then charged V and hit a running cross body; they fell off the stage through tables. They both made it to their feet, more chair shots from Sami, but Strowman grabs the chair and flings Sami down the stage. Back ringside and Strowman powerslams Sami, but he beats the count. Knees strikes by Strowman as he continued to beat on Sami, continually breaking the count as he hits another powerslam. Sami couldn't answer the count, and Strowman wins. Braun Strowman defeated Sami Zayn @ 15:41 [***½] That was really well done, and I enjoyed it. Sami was a great fighting babyface, while Strowman was a great monster. It was exactly what it needed to be, as Sami's great babyface character allowed Strowman to shine as a monster. I think the thing to do here is to keep Sami out until the Rumble, where he returns to eliminate the monster.
– As Sami was getting stretchered out, Strowman attacked one more time, because he could.
– We get highlights from last week's 205 Live.
– Jack Gallagher hangs out with New Day, practicing fencing with umbrellas.
New Day Talks: New Day is here to talk New Year's resolutions. They said that 2016 was good, and announced that they would be in the Royal Rumble. Titus O'Neil interrupted, ripping off their intro. O'Neil says they need a new member of New Day, he wants in. O'Neil danced for them to prove he has rhythm. He wanted to play Francesca, but Woods refused so O'Neil blew his whistle and danced some more. O'Neil called Woods a weak link and we got a match. Titus O'Neil is horrible, this was supposed to be funny, but just wasn't. Send him back to Superstars (yes, I know it was cancelled.)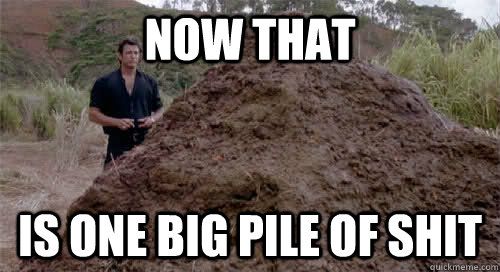 Xavier Woods vs. Titus O'Neil: Woods attacked at the bell, ran wild, attacking the knee of O'Neil. O'Neil cut him of with the big boot and then worked him over in the corner. O'Neil grounded him, working his slow and uninteresting Superstars level heat segment. Woods made the comeback, hit kicks and a knee strike. Another kick to the head by Woods and then Woods sent O'Neil to the flood and hit a dive. Back in and Woods covered for 2. Woods went for the high cross, but got caught and O'Neil hit back breakers and tossed him aside. Woods then scored with the sunset flip and won. Xavier Woods defeated Titus O'Neil @ 3:52 via pin [*] WWE would be better off keeping Titus O'Neil around for his charity work, and as far away from the ring as possible; he's not even serviceable.
– Bayley met with Stephanie, and of course, Stephanie ran her down and praised Charlotte. Bayley stood up to her, and Stephanie announced that Bayley faces Nia Jax in a #1 contender's match tonight.
– Cedric and Alicia walk and run into Noam Dar. Dar apologizes to him. Cedric makes him apologize to fox, so Dar calls her sweet cheeks. Dar is a fine little weasel, but the angle does nothing for me.
Cedric Alexander vs. Drew Gulak: Aries is on commentary, and Nese is at ringside with Gulak. This is playing off the recent 205 Live shows. After a bit of back and forth, Gulak took control and slammed Alexander off the ropes. Gulak then took Alexander to the mat, grounding him and working some submissions. Alexander started to make a comeback, hitting rights and elbows. The jump kick followed, Fox then pulled Nese off the apron. Gulak then rolled up a distracted Alexander with the tights for the win. Drew Gulak defeated Cedric Alexander @ 2:28 via pin [NR] They did their best with the time given, but it's another Alexander match getting short changed to further the angle with Fox.
US Title Match: Champion Roman Reigns vs. Chris Jericho: If Reigns gets DQ'd or counted out, he loses the title. Kevin Owens is banned from ringside. This feels like a set up for Reigns to lose the title without "losing" before he wins the Universal Title, but they didn't go that way and I am glad.. Jericho attacks at the bell, takes Reigns to the corner and then hits a missile dropkick. Reigns fired up and connected with a clothesline. Jericho then dropkicks him to the floor, Jericho follows and avoids the charge, and Reigns posts himself. We head to a commercial as we get the countout tease. Post break, Jericho grounds Reigns ad works the heat. Reigns makes his comeback, countering the Jericho bulldog and then slamming him to the corner. Reigns hit the backdrop suplex, Jericho avoided the superman punch but Reigns countered the lionsault. Reigns fought off the Code breaker, but Jericho countered into the walls. Reigns then rolled up Jericho for 2. Jericho up top, but he jumps into the superman punch, for a near fall. Jericho counters the spear, but Reigns escaped the walls. Reigns tried for the spear again, but posted himself. Removed a buckle pad, gets the US Title and tosses it to Reigns and pulls an Eddie Guerrero as he fakes being hit. Reigns argued with the ref, and Jericho hit the code breaker for a near fall. Jericho misses a charge, hits the exposed buckle and Reigns finishes him with the spear for the win. Champion Roman Reigns defeated Chris Jericho @ 13:00 via pin [***] Despite having the deck stacked in his favor, Jericho falls due to his earlier shenanigans. Reigns and Jericho actually work well together, and this was good. It was also refreshing to not have Owens or Rollins involved. With Reigns about to challenge for the title at the Rumble, him winning made the most sense.
TJ Perkins vs. Brian Kendrick: Kendrick attacks at the bell, but Perkins uses his speed to make the comeback, but Kendrick grounded him and slowed the attack, Perkins fired back with kicks, got crotched as he went up top. Kendrick followed, but Perkins hit a RANA off the ropes and then countered sliced bread into the detonation kick and knee bar. Kendrick tapped, Neville was watching on backstage. TJ Perkins defeated Brian Kendrick @ 2:42 via pin [NR] Again, they did well with the time given, but these guys are never going to get over constantly working such short matches.
– We get a promo for the UK Title tournament.
– Emmalina doesn't debut… again.
– Enzo rode out in a scooter and cut his usual promo. Enzo can't compete, so Cass will go it alone.
Cass vs. Rusev and Jinder: After some stalling, Cass and Jinder started things off. Cass sends Jinder to the floor, he looks to attack Enzo, Cass tosses Jinder again, eats the superkick and Rusev pins him. Rusev and Jinder defeated Big Cass @ 1:47 via pin [NR] Cass losing in a two on one situation is fine, the match wasn't very good, unfortunately.
– Charlotte joins commentary.
– Tajiri returns on 205 Live tomorrow. Neville faces Perkins as well.
Bayley vs. Nia Jax: The winner faces Charlotte at the Rumble. Jax tossed Bayley around, hit a shoulder breaker and then the corner splash. Jax played monster, beating on Bayley and working a cobra clutch. Bayley escapes, avoids the charge and Jax posts herself. Bayley up top, pulled off and Jax hits elbow drops and the leg drop. Jax to the ropes, and Sasha's music hits, allowing Bayley to hit Bayley to belly off the second rope for the win. Bayley defeated Nia Jax @ 3:35 via pin [*½] Not much of a match, but it does the job to set Banks vs. Jax and Bayley vs. Charlotte. Jax is also protected, having to be distracted and take a super sized finish before losing.
The #KevinOwensShow is LIVE NEXT, as host @FightOwensFight welcomes special guest @GOLDBERG on @WWE #RAW on @USA_Network! pic.twitter.com/zGXBUNPGrG

— WWE (@WWE) January 3, 2017
– Undertaker & HBK will be on Raw next week.
NEXT WEEK: The #Undertaker returns to @WWE #RAW LIVE on @USA_Network! #TheDeadman #ThePhenom pic.twitter.com/rYG7XCRZtE

— WWE (@WWE) January 3, 2017
NEXT WEEK: WWE Hall of Famer @ShawnMichaels is LIVE on @WWE #RAW on @USA_Network!! @WWEStudios #HBK #MrWrestleMania pic.twitter.com/wvv2A7sR4n

— WWE (@WWE) January 3, 2017
The Kevin Owens Show w/Goldberg: Owens welcomed us to the show, teased introducing Goldberg, but he was talking about Jericho. Tampa is now ON THE LIST for chanting Goldberg. Jericho then announced that he was going to be in the Royal Rumble. Owens wasn't pleased by this, but Jericho assured him if he won, they main event Mania and remain co-universal champion. Goldberg has had enough of this shit and makes his way to the ring. Owens has a very small lawn chair for his guest, Goldberg. Goldberg promises to make Jericho first in the Rumble, and Owens offers him a seat. Jericho goes to put Goldberg on the list, but Goldberg threatens him. Owens refuses to be intimidated, tosses some chairs around and goes face to face with Goldberg. Goldberg tells him to take his shot. Paul Heyman then arrives. Heyman says he has a spoiler for the rumble, "eat, sleep, elimination repeat, elimination repeat, elimination repeat, elimination repeat, elimination repeat. Goldberg promises to take care of Lesnar and then face Owens or Reigns at Mania. Roman Reigns then arrives. He calls Owens and Jericho delusional, and then goes face to face with Goldberg. BRAUN then arrives. He takes Heyman's mic and says he's winning the Rumble. Goldberg and Reigns both spear Braun and again go face to face. Not a bad closing segment to add some heat to the Rumble. It felt as if this should have been the final segment of the go home show. Also, I don't think Braun should have been taken out after the effort put into him earlier in the evening, but thankfully it took two guys to take him out. I would have had Jericho talk shit and take that to close the show.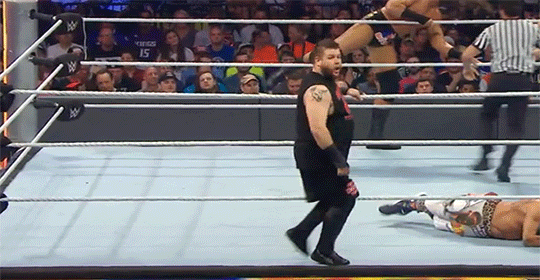 "Mama says these my magic shoes. Mama said they would take me anywhere…"
6.8
The final score: review Average
The 411
I felt tonight's show was a pretty strong effort. The show moved faster for me than most weeks, they continued with what had been established, added to the build for the Rumble and again did some hype for 205 Live. It was a far from perfect show, but it wasn't bad.
legend