Csonka's WWE Raw Review 1.09.17
January 9, 2017 | Posted by
Csonka's WWE Raw Review 1.09.17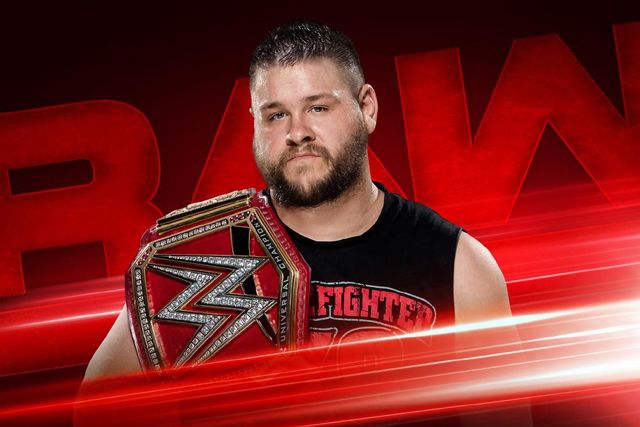 Csonka's WWE Raw Review 1.09.17
OFFICIAL RESULTS
– Seth Rollins vs. Braun Strowman went to a double countout @ 8:35 [**½]
– Jack Gallagher defeated Drew Gulak @3:40 via pin [**]
– Big Cass defeated Jinder @ 3:10 via pin [½*]
– Neville defeated Lince Dorado @ 3:06 via submission [**]
– Sheamus defeated Luke Gallows @ 10:30 via pin [**½]
– Charlotte & Nia Jax defeated Sasha Banks and Bayley @ 8:55 via pin [**]
– Kofi Kingston defeated Titus O'Neil @ 3:30 via pin [DUD]
– US Title Handicap Match: Chris Jericho [w] & Kevin Owens defeated Champion Roman reigns to win the title @ 10:20 via pin [**½]
---
– Stephanie and Mick met backstage and were talking about some bullshit job review. Stephanie questioned him about The Undertaker showing up, which is "just a rumor" at this point. Rollins arrived, announced he was in the Rumble and then Strowman arrived, and wanted to kill Reigns or Goldberg. Stephanie then shrieked like a fucking banshee to end the segment.
– Strowman makes his way to the ring, he brawls with Reigns and then Jericho and Owens join in and beat on the US Champion. Rollins arrived with a chair to try and even the odds, saving Reigns. Stephanie then says that Reigns will get a chance to rest, while Rollins will face Braun Strowman, again…
Seth Rollins vs. Braun Strowman: These two faced off on December 26th (Braun Strowman defeated Seth Rollins @ 3:35 via DQ [**]); it was fine then, Strowman shouldn't have lost and still shouldn't. Rollins is also prepping for Triple H and shouldn't be losing. Strowman controlled from the opening bell, working over Rollins with ease. Rollins stunned Strowman off the ropes, hit a bunch of clotheslines but Strowman didn't give a fuck and sent Rollins to the floor. Post break, Rollins battled back, hit the dive and Rollins finally got Strowman down, using hit and run tactics. Strowman then took one out of the Brian Cage playbook, catching Rollins on thee blockbuster attempt. They teased the superlex, but Rollins shoved him off and hit the frog splash for 2. Strowman to the floor, Rollins jumps from the ring post, but Strowman moves and Rollins eats barricade. This led to a double count out. Seth Rollins vs. Braun Strowman went to a double countout @ 8:35 [**½] They essentially did the same thing, only it took twice as long. The good news is that Strowman is working longer matches against quality opponents.
– Sasha and Bayley are talking about last week while backstage; Charlotte arrives and claims that Banks doesn't care about Bayley, claiming that she was acting. Charlotte reminds them that no one has defeated her at a PPV. Bayley is excited for her title match at the Rumble after her win last week. Banks hopes Bayley wins so that she and Bayley can face off. But until then, she has her back if needed. Nia Jax arrived and kicked ass on Banks & Bayley. Charlotte was happy to see her until Jax slammed her up against the wall and left.
– Austin Aries has joined commentary.
Jack Gallagher vs. Drew Gulak: Gulak looked to ground Gallagher, but Gallagher was a step ahead of him as Aries made sure to tell us that he would fight back and take control with a thumb to the eye. It's a pretty great running joke. They did some back and forth, head butt by Gallagher and then the shotgun dropkick followed and Gallagher picked up the win. Jack Gallagher defeated Drew Gulak @3:40 via pin [**] Solid work for the time given as Gallagher gets some momentum ahead of his next meeting with Daivari.
– Gallagher offers to meet with Daivari on 205 in parlay.
– HBK hangs out with TJ Perkins, learning how to dab.
– Foley searches for the Undertaker, looking like an idiot, and then gets reprimanded by Stephanie.
"Your entire performance review hinges on your ability to produce The #Undertaker TONIGHT!" – @StephMcMahon to @RealMickFoley #RAW pic.twitter.com/WQLAtIlb8R

— WWE Universe (@WWEUniverse) January 10, 2017
HBK IS HERE: HBK joked about getting blown up on the way to the ring. He's missed the fans and misses this place a lot thins time of year, due to the Royal Rumble. It is in his neighborhood this year, and makes him think back 20-years to when he won the WWE title at the Rumble. He shills the Rumble and gets the "one more match" chants. The shilling turns to the movie he is in. This led to Rusev, Jinder's new physique and Lana arriving. Rusev says Lana should be in the movie, mocks Star Wars for CGI and says Lana should be in it. Rusev then claimed that he was the Bulgarian Gorge Clooney. They bantered a bit as Rusev says everyone forgot about HBK's career. Enzo and Cass arrived; Enzo is still in his scooter. They did their usual shtick, with Enzo putting HBK over, with HBK calling Rusev and crew haters. Enzo says Lana is a great actress as she has to pretend she loves Rusev. They make movie jokes, and Cass wants to face Rusev one on one. Rusev books Jinder vs. Cass, Cass calls then sawft. HBK says he will stay out during the match and leads the crowd in saying "suck it," after promoting a Christian film. He's likely the only guy that can get away with that. It was a segment, it had some fun parts, but felt like a waste of HBK.
Big Cass vs. Jinder: JIP with Cass taking control. Jinder gets in a heap shot as the ref breaks them up. Jinder hits a basement dropkick and then grounds Cass. Cass fires up, hits a corner splash and another. Distraction by Rusev, superkick to Rusev by HBK. Botched side slam by Cass, the elbow drop finished it. Big Cass defeated Jinder @ 3:10 via pin [½*] Not good, this feud must continue.
– Emmalina is allegedly premiering soon.
Neville vs. Lince Dorado: Neville refused to shake hands, so Dorado attacked and ran wild early. Dorado hit the high cross for a near fall. Cheap shot by Neville and he laid the boots to Dorado. Neville grounded him and worked the top wristlock. Dorado fought to his feet, Neville slammed him to the mat and applied the rings of Saturn. Dorado tapped. Neville applied the submission again, but Rich Swann made the save and ran wild on Neville. Neville would bail, allowing Swann to stand tall. Neville defeated Lince Dorado @ 3:06 via submission [**] Solid match for the time given, Neville was great with his Aggression and the post match was strong.
– We get a Rumble video package, featuring Edge.
– Stephanie meets with Sasha and Bayley. They want Charlotte and Jax next week. Stephanie makes sure to show them she is the real boss, dresses them down and makes the match for this week.
Sheamus vs. Luke Gallows: Cesaro & Anderson are on commentary. Gallows works over Sheamus for a bit, but Sheamus hits a spin kick in the corner and then covers for 2. Sheamus then hit the Finlay roll and knee drop. They brawled to the floor, back in the ring and Gallows sent Sheamus to the floor with a big boot. Post break, they battled back and forth, trading strikes hoss style. Sheamus then sent Gallows back to the floor. Back in and a clothesline off the ropes by Sheamus. Gallows hits a kick to the back, Sheamus avoids the slam and then hits a powerslam for 2. Anderson and Cesaro brawled at the announce table, Sheamus gets distracted allowing Gallows to score a near fall. Cesaro gets the swing on the ramp, brogue kick to Gallows and Sheamus wins. Sheamus defeated Luke Gallows @ 10:30 via pin [**½] They split the singles matches, and did a lot of talk on commentary to help set up the next tag title program. The match was fine, but they succeeded in doing work to set up the tag title match.
– Roman Reigns said he would retain his title tonight.
WHERE BE THE UNDERTAKER?: Foley is in the ring and comments about his past with Taker, and then calls him to the ring. Stephanie then makes her way out, and apologizes for Foley not producing Taker. She then says she will give his performance review, and gives him some backhanded compliments and blames him for the ratings loss to Smackdown. Foley starts to apologize, and then Taker uses his mystical powers to interrupt a job evaluation for a man he tried to kill by tossing off HIAC; MANIA SEASON BABY! Taker grabs the mic and says he's back. But wait, I thought he was back on Smackdown to dig holes and take souls. He says he is entering the Rumble, and that he answers to no one, goes where he wants when he wants and no one controls him (just Vince when he wants to see his son get his ass whooped.) He suffered his most devastating loss in this city when the streak ended. At the Rumble, he has 29 holes for 29 souls; the dark side is coming to the Rumble. He says he will win and return to the main event of Mania. If anyone stands in his way, they will rest in peace. So Taker is back, I guess for real this time because Raw needed one more boost against Football. Getting Taker set for the Rumble is a good step, but it really made no sense for it to happen on Raw. It didn't feel right, as he had previously returned to his home. They tried to cover it with the, "he answers to no one, goes where he wants when he wants and no one controls him" deal.
– Tomorrow on 205 Live, more Noam Dar vs. Cedric Alexander.
– Owens and Jericho claim that they will beat that stupid idiot Roman Reigns.
Charlotte & Nia Jax vs. Sasha Banks and Bayley: So Banks, the injured one, starts the match. Good job stupid babyface. Banks slams Charlotte into Jax, and we take a break. Post break, Banks tried to fight back, but Charlotte attacked the knee and tagged in Bayley. Bayley worked over Charlotte, hit a stunner in the ropes and then missed the corner elbow, allowing Charlotte to hit the big boot and cut her off. Jax tagged in, hit snake eyes and then tossed Bayley around. Hops by Charlotte, she then grounds Bayley. The heels kept the heat on Bayley, Jax knocked Banks to the floor and then tagged in Charlotte. Bayley got a roll up, Jax made the save and just ran over Bayley, hit the leg drop and covered for the win. Charlotte & Nia Jax defeated Sasha Banks and Bayley @ 8:55 via pin [**] This was an average/bland match with little to no heat. I am not a big fan of Bayley losing here, as they still have issues maintaining her momentum. In theory this helps build two feuds, and yes the faces were forces into the match in a weakened state by Stephanie, but it simply had no heat or sizzle to it.
– Backstage, Alicia Fox meets with Noam Dar and he prepares for a slap. Fox lays a big kiss on him and then says Dar can't handle a real woman.
– New Day is here. They bring out Titus O'Neil to play off of last week's bad segment. O'Neil still wants to be part of New Day. They show clips from NXT in 2010 of O'Neil falling on his face in a keg carrying competition. They all laugh at him, and give him a chance at redemption and have a keg on the floor for him. It's apparently filled with "Booty Juice." He runs it around the ring and beats the time from 2010… wait, he did until he dropped it before the line. Replay confirms this. Fucks sake this was no good and a complete filler segment, God forbid we give the cruiserweights some time.
Kofi Kingston vs. Titus O'Neil: O'Neil tosses around Kofi to start, Kofi hits a dropkick but then eats a slam. O'Neil lays the boots to him, hits some chops until Kofi fires back. O'Neil then grounds Kofi for a bit, hits a big boot and covers for 2. Kofi then looks for a sunset flip, O'Neil counters and sets him up top. High cross caught by O'Neil, back breakers follow. Woods plays the trombone, he tosses Kofi to the floor, chases him and eats trouble in paradise and Kofi wins. Kofi Kingston defeated Titus O'Neil @ 3:30 via pin [DUD] That was bad and they should feel bad. Can't they just have O'Neil do charity work, he seems to love it and is good at it,
– Brock returns next week. He'll stand there, hop around and make more than 90% of the roster does in a month.
Champion Roman Reigns vs. Chris Jericho and Kevin Owens: If all research is correct, the last time Roman had a Raw match that didn't include Owens, Jericho or Rusev was his July match with Finn Balor. My god this has been beyond repetitive and lazy; no wonder it is so hard to care. It's beyond stagnant. Reigns attacks before the bell and tries to lock Jericho in the shark cage. Owens makes the save and slams Reigns into the cage. Owens and Jericho double team Reigns on the floor, and then in the ring. Jericho grounds Reigns. Reigns slowly battles back against both men. Sends Jericho into Owens, clotheslines by Reigns follows as he sends Owens to the floor. Jericho avoids the superman punch, lionsault connects for 2. Superkick by Owens, he and Jericho look to double team Reigns, but Reigns fights back and Jericho looks for a code breaker, countered and a spear by Reigns and Owens pulls him to the floor. Reigns fights off the apron bomb, hits the drive by on Owens and then a superman punch to Jericho. Owens holds Reigns' leg, code breaker by Jericho; apron bomb to Reigns. They roll Reigns back in, code breaker and Jericho wins the title. Chris Jericho [w] & Kevin Owens defeated Champion Roman reigns to win the title @ 10:20 via pin [**½] This was clearly designed to get the title off Reigns in a way that protects him, which it accomplished. Unfortunately, the match came off like a "best of (and not a good one)" from the previous 150 matches between these guys. There was no sense of urgency here at all, and it felt about twice as long as it actually was. We need to get these guys away from each other ASAP.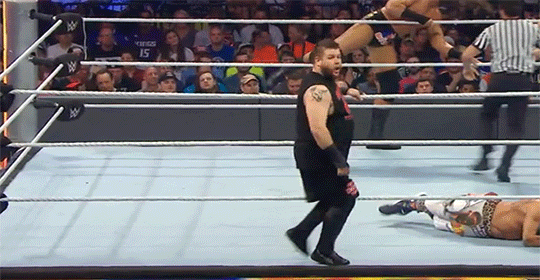 "Mama says these my magic shoes. Mama said they would take me anywhere…"
5
The final score: review Not So Good
The 411
While I would not call this a bad show, I will say that I felt that this was not a very good show. The past few weeks I felt that Raw was solid with some good elements of build for feuds and the Rumble. They did some small things here, but I didn't' find much of it interesting at all. The show also felt lifeless and long to me, no buzz, no real sense of urgency; it was a show.
legend