Csonka's WWE Raw Review 1.23.17
January 23, 2017 | Posted by
Csonka's WWE Raw Review 1.23.17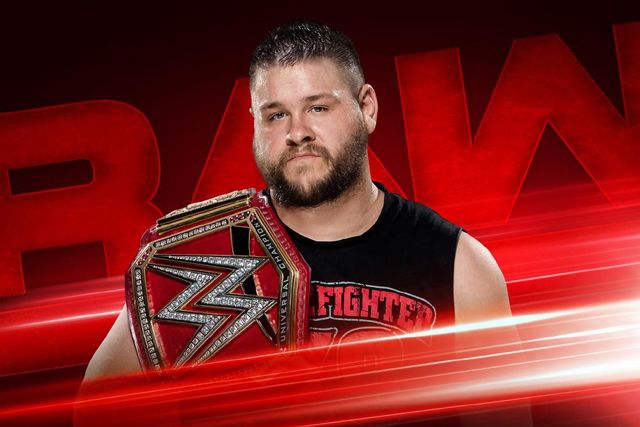 Csonka's WWE Raw Review 1.23.17
OFFICIAL RESULTS
– Gallows defeated Cesaro @ 8:52 via pin [**]
– For Rollins' Rumble Spot: Sami Zayn defeated Seth Rollins @ 16:04 via pin [***]
– TJ Perkins, Mustafa Ali, and Jack Gallagher defeated Drew Gulak, Tony Nese and, Ariya Daivari @ 3:50 via pin [**½]
– Rusev, O'Neil, Jinder and BRAUN defeated New Day, Enzo and Cass @ 4:30 via pin [*½]
– US Title Match: Roman Reigns defeated US Champion Chris Jericho @ 8:45 via DQ [**½]
– Nia Jax defeated Ray Lyn @ 0:33 via pin [NR]
– Non-Title Match: Cruiserweight Champion Rich Swann defeated Noam Dar @ 5:55 via pin [**]
---
– We get highlights from the never-ending Roman Reigns vs. Chris and Kevin feud.
Roman Reigns Is Here To Talk: Reigns discusses his match with Owens at the Rumble, the shark cage is in the ring as Chris and Kevin arrive to interrupt. Owens reminded everyone about powerbombing him through the announce table, which he had coming after years of Reigns doing it to others; and Owens is proud to be the man that did it on his own. Reigns promises to beat Owens' ass, Jericho call him a stupid idiot and mocks Reigns for losing the US Title. Jericho again says he will be a sexy piñata at the Rumble and teases going to the ring and beating Reigns down. Reigns takes that as Jericho giving him a rematch for the title, and the crowd liked that. Owens accepts on behalf of Jericho, which Jericho did not appreciate. Owens says that he has a feeling Reigns will be locked in the shark cage tonight. Reigns says he will win the US title and then the Universal title, because he is something Owens will never be, the guy. I wouldn't call this bad, but we've been here and done that so often as of late that I just don't care, it's like we're watching reruns. It plays into the possible Jericho/Owens split, but it's just so repetitive.
Cesaro vs. Gallows: Cesaro controlled early until Anderson distracted him, allowing Gallows to work him over as we took a break. Post break, Gallows had control. During the break, Sheamus chased Anderson away from ringside. Cesaro battled back with a dead lift suplex and then uppercuts. He followed with a tornado DDT for the near fall, but Gallows escaped the swing and rolled to the floor. Big boot by Cesaro and Sheamus hit a brogue kick on the floor. Anderson arrived an attacked Sheamus, allowing Gallows to make the comeback and win. Gallows defeated Cesaro @ 8:52 via pin [**] Not much of a match as most of it took place during the break; it was very by the numbers, but did a fine job of setting the stipulation (two refs) on the pre-show.
– Foley talks with Stephanie on the phone; Zayn wants to announce his entry into the Rumble. Foley was about to put him in, but Stephanie says he has to defeat Rollins to get in. Stephanie gives Foley some mystery instructions, which he is not thrilled with.
– We get a sit-down interview with Corey Graves interviewing Bayley. She's so excited to be a WWE star. She doesn't see her fandom as a bad thing, because it's what got her here. She's asked about being a role model, but she says she's just Bayley and wants to give back and make it special experience for fans. Not many think she can beat Charlotte, they've had matches before and Charlotte looks as if she was born in the ring. She's beaten her twice and will leave the Rumble as the champion. They should do more of these, I have said it before, because it breaks up the show and works to further feuds in a slightly different way.
– Foley informs Rollins of his match vs. Zayn, noting that Zayn has to win to qualify, but Foley says if Zayn wins, he gets Rollins' spot in the Rumble
Seth Rollins vs. Sami Zayn: The winner is in the Rumble, the loser is out. They played friendly early, doing some basic back and forth, and then both guys attempting pins. Zayn eventfully fired up, but got cut off, sent to the floor and Rollins hit a suicide dive. Post break, Rollins maintained control, hitting an enziguri, but Zayn countered the knee strike, hitting the blue thunder bomb for the near fall. They went back and forth, picking up the pacing and the Zayn went up top but Rollins ran up, slowed him down and then Zayn eventually hit the blockbuster for the near fall. Superkick by Rollins and that got a good near fall. Falcon arrow (HE DID THE DEAL) by Rollins got another near fall. Rollins pulled Zayn to his feet and they traded strikes, sling blade by Rollins, and then Zayn countered out of the pedigree, but missed the helluva. Zayn managed to toss Rollins to the floor, and the crowd is into it. Zayn up top, Rollins back in and cuts off Zayn. Rollins teased a top rope pedigree, Zayn went crazy fists, hit the sunset flip bomb for a great near fall. Rollins took a bad bump off that as his head rebounded badly off the mat. Rollins hits an enziguri but runs into the XPLODER, Rollins to the apron and cuts off the helluva, and hits the pedigree on the apron. But Triple H's music hits and Rollins is distracted, looking for the Game. No Triple H, because he's too busy taking over the UK, that allowed Zayn to get a roll up for the win. Sami Zayn defeated Seth Rollins @ 16:04 via pin [***] Rollins doesn't need to be in the Rumble because he's facing Triple H at Mania; this adds some much needed heat to that feud (which it lacked due to Triple H's absence), as Triple H fucks him again. Zayn has had the deck stacked against him, being fed to Strowman and needed the win and entry into the Rumble. The match was good, but would have been even better with a hotter, and more definitive finish. Or the screw job could have come sooner instead of waiting so long. I mean, what if Rollins scored a flash pin 5-minutes in, what about the elaborate plan then?
– Tomorrow on 205 Live, Neville faces Cedric Alexander.
– A pissed off Seth Rollins searches for Triple H. Foley says he had nothing to do with it, essentially blaming Stephanie. He promises to get answers, which he's been trying to get since August. Thankfully Rollins was appropriately fired up and pissed off about his loss.
Drew Gulak, Tony Nese and, Ariya Daivari vs. TJ Perkins, Mustafa Ali, and Jack Gallagher: Austin Aries is out or commentary. Gallagher did some fun/silly stuff to annoy Gulak; Perkins tagged in and ran wild until Nese cut him off and pummeled him with rights after a gut buster. Perkins escaped the body scissors, Ali and Gulak tagged in, Ali took control and it broke down. Ali then hit the imploding 450 on Gulak for the win. TJ Perkins, Mustafa Ali, and Jack Gallagher defeated Drew Gulak, Tony Nese and, Ariya Daivari @ 3:50 via pin [**½] They did their absolute best, but it's almost impossible for six guys to be properly highlighted in such a short time frame. At least Ali hit his sweet ass finish on Raw.
New Day Kills Time Because They Have Nothing For Them To Do After Their Long Ass Title Run: They try to explain that they will win the Rumble, but Enzo and Cass interrupt them. Cass plans to toss out 29 guys, and says he is entering the Rumble. Lana, Rusev and Jinder's new physique interrupt, and Rusev calls them goofs. He mocks Big E and Cass for having "Big" in their stupid names. "You're big I get it, but you don't see me walking around calling myself handsome Rusev." He's in the Rumble now. Titus FUCKING O'Neil is here. New Day runs him down for coming out again; Woods wants to take this outside. We're getting a tag match, Titus gets the numbers wrong and then BRAUN arrives. For the most part, a time filler to get to our traditional "hey, there are mid-card guys in the Rumble as well" segment.
New Day, Enzo and Cass vs. Rusev, O'Neil, Jinder and BRAUN: JIP, as the heels took the heat almost right away on Kofi. Titus hit a dominator and celebrated, but got dumped to the floor. BRAUN tossed him backing and then Cass got the hot tag, worked over Jinder. Rocket launcher on Jinder, it breaks down and Cass almost dies hitting the big boot to the floor. Big dive by Kofi, BRAUN tags in and destroys Enzo, Enzo tries for the DDT, but BRAUN cuts him off, hitting the powerslam for the win. Rusev, O'Neil, Jinder and BRAUN defeated New Day, Enzo and Cass @ 4:30 via pin [*½] Outside of the closing frenzy, it was a rather lifeless effort. It was very flat, and really could have been better.
– AMERICAN BIG SHOW IS HERE! He and BRAUN have a stand off, but BRAUN backs off and bails. I am fine with that; they can save the confrontation & brawl for the Rumble match.
US Champion Chris Jericho vs. Roman Reigns: This is for the US Title. Reigns ran wild to begin, working over Jericho on the floor as we took a break. Post break, Owens joined commentary and buried Saxton right away. Jericho grounded Reigns and worked the heat. Reigns fought back, Jericho cut him off and slapped him around. Reigns fired back with rights, Jericho up top, leaps off and Reigns hit an uppercut to stop his attack. Clotheslines follow for Reigns, they then try… something that looked really bad and Jericho got a sloppy cradle to try and save the spot. Reigns eats a dropkick as he goes for the spear, allowing Jericho to get a near fall. Reigns then hit the sitout powerbomb for the near fall. Owens leaves commentary and attacks to save Jericho. Roman Reigns defeated US Champion Chris Jericho @ 8:45 via DQ [**½] This was another solid outing that lacked energy, and came off as if they were killing time for the DQ. There was no sense of urgency or drama to this at all.
– The shark cage magically lowers, and they lock Reigns in. Reigns manages to fight out and slams Owens & Jericho to the cage. Reigns locks Owens in the cage and has it raised as Jericho tries to hang on, but he eats a superman punch. Reigns then laid out Jericho with the spear. This was solid build for the Universal title match, but I feel it would have meant more if these three hadn't had so many segments/matches with each other so often.
– After the break, Owens is released. Owens vs. Reigns is now a no DQ match at the Rumble; Jericho will still be in the shark cage.
– We now get Graves' interview with Charlotte. Charlotte says it's a family tradition for a Flair to dominate at the Rumble. She respects Bayley, was proud of her when she debuted, but plans to punish her at the Rumble because Bayley is not in her league. She admits that her father got her in WWE, but she's the greatest in WWE. She will look down at Bayley crying after she retains at the Rumble, and Bayley will continue to be just a fan.
Nia Jax vs. Ray Lyn: Jax is facing independent wrestler Ray Lyn. Lyn looked terrified and Jax attacked, and quickly defeated her. Nia Jax defeated Ray Lyn @ 0:33 via pin [NR] Exactly what it should have been.
– She dedicated her win to the recently deceased career of Sasha Banks. Banks then arrived, using a crutch. Banks attacked Jax with the crutch, sent her to the floor and hit meteora off the apron. This was a nice little follow up to Jax and Banks, keeping things going and giving Banks some revenge.
– Emmalina's not here.
It will be worth the wait… #RAW #Emmalina @EmmaWWE pic.twitter.com/3qJZJj07MS

— WWE (@WWE) January 24, 2017
Cruiserweight Champion Rich Swann vs. Noam Dar w/Alicia Fox: Swann used his speed and random flippity doos to take control, Dar bailed to the floor and used Fox as a shield. Swann then kicked him in the face. Dar caught Swann on the way in as Fox distracted the champion. Post break, Dar had control but Swann quickly fought back, picking up the pace. Sweet spin kick by Swann and Dar is in dreamland. Cruiserweight Champion Rich Swann defeated Noam Dar @ 5:55 via pin [**] This was solid, but most of it was gobbled up by the commercial break. They did what they could with the limited time frame given and Swann won like he should have.
– Post match, Swann was fired up and called out Neville. Neville came out, tried to leave but Swann hit a dive. Neville said fuck it and left.
– Tomorrow on 205 Live, Neville faces Cedric Alexander. Alexander plans to prove himself tomorrow night. Fox arrives an says he will never be anything without him. Dar says he is a winner because he has Fox inn his corner. he offers a handshake for stealing his girlfriend. Alexander shoves him down in retaliation for last week's attack. She's upset because Alexander almost made Dar cry.
GOLDBERG: Goldberg makes his way to the ring, extremely sweaty (and a little bloody) after his battle with the locker room door. Goldberg then flubbed his lines, jokingly blaming the crowd cheering for him. I wondered if he concussed himself. He will stop at nothing to get his title shot at Mania. Paul Heyman then arrived; hyped up the Rumble and the various pairings we could see in the match. He of course teases Goldberg vs. Lesnar, and Lesnar is here. Heyman promised that Lesnar would defeat and conquer Goldberg; the only man that will eliminate Goldberg is Lesnar. Goldberg calls on Lesnar and calls him a dumb ass. Lesnar circles the ring, enters and then UNDERTAKER's DONG SOUNDS and he's magically in the ring. The show closes with the three men having a stand off. Once we got past Goldberg's concussion induced promo, this was good. I like that he and Lesnar didn't touch yet and that they are letting it simmer. The surprise appearance made for a great crowd reaction, but I was really hoping for more. I wouldn't have minded BRAUN arriving, and then the parade of goofs running down only to get destroyed and tossed over the top by the big dudes. But I think it worked to create a cool atmosphere heading into the rumble.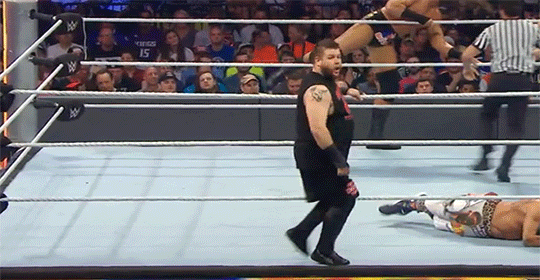 "Mama says these my magic shoes. Mama said they would take me anywhere…"
6.0
The final score: review Average
The 411
Tonight's show was one of those rock solid shows, but also another in a line of go home Raws that really lack the overall punch to make me really excited for the PPV on Sunday. The show also felt really long this week, mostly limping along until the closing segment, which was good and got huge reaction, but was far from a homerun segment. The big issue with the show's close is that to me it comes across as a major indictment against creative that they have chosen to focus on these three part timers as the closing image to sell us on the PPV. I have no issue with using them, they should use them, but you have three hours a week to build stars if and when you want to. It feels disappointing that they're already relying on them so heavily and it's not even Mania yet. They decided to make a star with Balor, he got hurt, and it's just like they said; "Fuck it, trot out the old guys, the work's already done!"
legend