Csonka's WWE Raw Review 12.26.16
December 26, 2016 | Posted by
Csonka's WWE Raw Review 12.26.16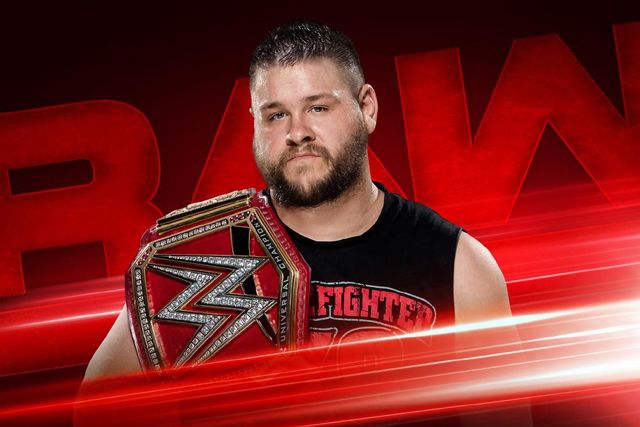 Csonka's WWE Raw Review 12.26.16
OFFICIAL RESULTS
– Raw Tag Team Title Match: Champions Sheamus & Cesaro defeated New Day @ 10:05 via pin [***]
– Nia Jax defeated Scarlett Bordeaux @ 1:06 via pin [NR]
– Non-Title Match: Champion Charlotte defeated Bayley @ 4:00 via pin [*½]
– Neville defeated TJ Perkins @ 5:55 via pin [**½]
– Big Cass vs. Rusev never started [NR]
– The Shining Stars vs. Bo Dallas & Darren Young went to a no contest @ 1:00 [THANK YOU BRAUN]
– Braun Strowman defeated Seth Rollins @ 3:35 via DQ [**]
– Gallows & Anderson defeated The Golden Truth @ 3:50 via pin [**]
– Non-Title Match: Champion Rich Swann defeated Ariya Daivari @ 1:30 via pin [NR]
– US Title Match: US Champion Roman Reigns defeated Universal Champion Kevin Owens @ 16:25 via pin [***]
---
– We begin with highlights of BRAUN killing folks last week.
Stephanie McMahon is Here to Talk: Stephanie makes her way to the ring to kick off the show. Stephanie says Foley has been given the night off, the crowd chants for Punk, and Stephanie says if they can keep it up for 2:15, they will have lasted longer than Punk. Nice shut down there as Seth Rollins makes his way out. He asks if Stephanie gave Triple H what he wanted for Christmas, and wondered if she gave him his manhood back. Rollins says Triple H was once a bad ass; he's been calling him out, but he is now a coward. Rollins says he came here for a fight, and he wants a match against Braun Strowman. Roman Reigns arrives, and I bet he wants the same thing. Stephanie guessed the same thing, and Reigns said Braun made a mistake. Rollins said he asked first, and Reigns teased going to the back to teach him a lesson. They tease beating on him backstage and then powerbombing him through the table. Stephanie was happy with this and teased that Dean Ambrose may be around, teasing a Shield reunion. She said it won't happen, but books Rollins vs. Braun and Reigns vs. an opponent of her choosing. We're getting New Day vs. Sheamus & Cesaro to kick off the show. It had some fun moments, but was the typical revolving door talking heads segment; It was solid.
Champions Sheamus & Cesaro vs. New Day (Kofi Kingston & Xavier Woods): New Day attacked Sheamus right away, running wild and scoring near falls. Cesaro in and New Day maintained control, working the corner stampede. Sheamus then pulled Woods to the floor and we took a break. Post break, the champions worked the heat on Woods, working double teams and scoring a near fall. Woods finally sent Cesaro to the floor and hit a tornado DDT on the floor. Woods made the tag; Kofi ran wild with dropkicks and then hit a dive onto Cesaro. SOS on Sheamus followed for a near fall. Woods tagged in, up top and hit the elbow drop for 2 as Cesaro made the save. Knee by Sheamus, Cesaro tagged in and got the swing on Woods. Big E distracted the ref, trouble in paradise by Kofi; Cesaro press slammed him onto Big E. Sheamus then brogue kicked Woods, covered and the champions retained. Champions Sheamus & Cesaro defeated New Day @ 10:05 via pin [***] Good match, these teams have developed a good chemistry.
– After a John Cena promo, we get royal Rumble hype. This leads to a Brock Lesnar video package, narrated by Paul Heyman. Goldberg returns next week.
– Braun walks and people run away. Owens and Jericho meet with him, and praise him for killing people last week. Owens says after he beats Reigns that Braun should be the next in line. Owens and Jericho try to get Braun angrier at Rollins and Reigns so he will destroy them so they don't have to deal with them. Braun is not pleased and walks away.
– Goldust & R-Truth talk and Bayley arrives and gives Truth a hug, and Goldust a polka dot Bayley bear, because Dusty made her what she is. ALL THE FEELS!
Best. Gift. Ever, from @itsBayleyWWE to @Goldust… #RAW pic.twitter.com/lhBN7g3BaN

— WWE Universe (@WWEUniverse) December 27, 2016
– Gallows and Anderson arrive to call them nerds and steal the bear and rip it apart.
– We get highlights of Nia Jax attacking Sasha Banks last week.
Nia Jax vs. Scarlett Bordeaux: Bordeaux is wearing a Sasha shirt, so Jax attacks and beats her down, hitting corner splashes. Jax hit a Samoan drop and picked up the win. Nia Jax defeated Scarlett Bordeaux @ 1:06 via pin [NR] This was exactly what it needed to be.
Scarlett Bordeaux Reppin' The Boss On #RAW! pic.twitter.com/HKDNX7j2M1

— NXTFanNation (@NXTFanNation) December 27, 2016
– Post match, Jax told her victim to pick a better role model and hit the big leg drop before leaving.
– Charlotte & Stephanie talk. Owens & Jericho arrive to make a complaint about Foley for booking the Rumble rematch with Reigns. Jericho is still afraid of heights. Jericho wants the match vs. Reigns for the US Title tonight. She gives the match to Owens.
– Bayley makes her way to the ring. She loves Chicago, and says Christmas came early for her as she pinned Charlotte last week, which makes her the #1 contender. Charlotte arrives, and mocks Bayley for pretending to be a WWE star. Charlotte then shows the footage from last week, showing Charlotte's shoulder coming up before three. Charlotte then says she has a good lawyer, and made a settlement, and the victory has been expunged from the books. Charlotte continued to run her down, noting that Bayley is average. She then said she made the system work for her. Charlotte knows this is Bayley's dream, and used to laugh at Bayley when she's tell her about her dream. Charlotte will give her a chance to defeat her right now. Charlotte then reveals that Dana Brooke will be the referee.
Bayley vs. Champion Charlotte: Dana distracted Bayley, allowing Charlotte to attack and take control. Dana allows Charlotte to do what she wants, but constantly backs off Bayley, so Bayley hits Bayley to belly on Dana. We get a new ref; Charlotte maintains control, but Bayley fires up and repeatedly slams Charlotte to the corner. Bayley up top, and hits the high cross for 2. Corner elbows by Bayley, Charlotte cuts her off and sends her to the corner and then covers for a near fall. Bayley makes the comeback, hitting Bayley to belly, but Dana pulls out the ref, Bayley chases her down, and Charlotte cradles her and uses the ropes for the win off the quick count. Champion Charlotte defeated Bayley @ 4:00 via pin [*½] Not much of a match, it was more about the shenanigans with Dana. I didn't like them having another match here if they are facing at the Rumble. I get exactly what they were doing here, screwing over the babyface, but Bayley had some momentum last week and it feels as if it got cut off for some cheap heel heat. Charlotte already had heat, and didn't need this. Also, shouldn't Bayley have been disqualified?
– BRAUN kills people backstage; he wants to face Zayn as well. Stephanie promises they will have a match next week, but BRAUN wants a last man standing match. Stephanie agrees, but wants him to kill Rollins for her.
Neville vs. TJ Perkins: Neville is done being your superhero. Aries is out on commentary. Neville pinned Perkins on last week's 205 Live in the main event tag match so this makes perfect sense. They worked a nice, fast paced back and forth and got the crowd involved. Perkins hit a dive, back in and the high cross connected for 2. Neville avoided a dropkick, made his comeback and sent Perkins to the floor, and slammed him to the barricade. Neville then started to lay in elbow strikes to Perkins. Perkins then fought back with dropkicks, hit the wheelbarrow lung blower, and that got 2. Neville escaped the detonation kick: Neville with the slingshot in, Perkins catches him (after some trouble), hits the detonation kick, but as Perkins went for the knee bar, Neville rolled through, grabbed the tights and picked up the win. Neville defeated TJ Perkins @ 5:55 via pin [**½] This was fun, and they did well with the time given and the right guy won. Earth-2 Neville is great. Perkins was largely protected, got in a lot and Neville came off great, pinning the former champion again.
– Neville said he was leaving a pile bodies everywhere, and that he wasn't appreciated, because the fans were ignorant. He promised to beat Swann on 205 live tomorrow, because he is the king of the cruiserweights.
– Cass is now pushing around Enzo in a wheelchair after last week's ass beating.
– We get a promo for tomorrow's Smackdown.
– Enzo and Cass make their way out. They did their usual shtick, Enzo ran down Rusev and Mahal, making tinder and chicken jokes. Cass then challenges Rusev and calls him a coward. Cass then calls him out.
Big Cass vs. Rusev: Mahal and Lana are with Rusev. Enzo pulls Mahal to the floor, Cass and Rusev brawl and Rusev is cleared to the floor. Mahal ends up in the wheelchair, and Cass tosses Enzo onto him. Big Cass vs. Rusev never started [NR] This feud must continue, and if I am being honest, it does nothing for me. It really seems as if Enzo and Cass have been directionless (or just in nothing feuds) since their call up.
– Commentary hypes the UK Championship Tournament.
The Shining Stars vs. Bo Dallas & Darren Young: This was set up on Facebook, when the Shining Stars tried to sell Backlund a time share. THANK LITTLE BABY JESUS IT'S BRAUN AND HE HAS A CHRISTMAS TREE! Braun killed everyone, no sold a chair shot and continued the beatings until morale improved. He then tossed the steps at the Shining Stars and Dallas. The Shining Stars vs. Bo Dallas & Darren Young went to a no contest @ 1:00 [NR] the crowd chanted "Thank You Strowman" and I agree.
Braun Strowman vs. Seth Rollins: Strowman attacked right away, tossing Rollins across the ring. Rollins low bridged him to the floor, went for a dive but Strowman slid back in and cut him off. Strowman continued to beat down Rollins, but Rollins used his speed, hit a kick, avoided him and then Strowman posted himself as Rollins sidestepped him. Rollins hit some knee strikes, but Strowman then caught him and slammed him to the corner. Blockbuster and superkick by Rollins, Strowman countered the pedigree, sending Rollins to the floor. Sami Zayn's music hit and he attacked Strowman. Zayn posts Strowman, Strowman chases and Zayn bails. Post match, Jericho hit the code breaker twice on Rollins. Braun Strowman defeated Seth Rollins @ 3:35 via DQ [**] That was exactly what it needed to be here. Strowman is getting a push and can't lose. Rollins will be facing Triple H soon, and can't lose. Strowman looked like a beast, they added heat to the Zayn match next week, and Rollins was more than competitive.
– Owens gets interviewed about facing Reigns tonight, and is proud of Jericho for taking out Rollins. He promises to beat Reigns for the title tonight.
– We get another Emmalina tease.
Gallows & Anderson vs. The Golden Truth: Goldust attacked Anderson right away, laid the boots to him, leading to he and truth working double teams. Gallows then tagged in and took the heat on Truth. Gallows ran wild; Truth battled back but got cut off by Anderson, who hit the running boot. Goldust got the hot tag, he runs wild on Gallows and Anderson, sending them to the floor. Goldust is fired up. Back in and Anderson rolls up Goldust for the win. Gallows & Anderson defeated The Golden Truth @ 3:50 via pin [**] Solid stuff, the right team won, and Goldust showed great fire.
– Nom Dar hits on Dana Brooke as Rich Swann walks.
– Cruiserweight Champion Rich Swann is out.
Champion Rich Swann vs. Ariya Daivari: Daivari tried to brawl right away, Swann used his speed to fight back an then Daivari missed the frog splash. Double stomp by Swann, spin kick, Daivari is done. Champion Rich Swann defeated Ariya Daivari @ 1:30 via pin [NR] A short and decisive win for the champion.
– Swann says he will accept Neville's challenge for tomorrow night on 205 Live. Neville attacked Swann from behind, rolled him into the ring and then hit the red arrow and Neville stood tall.
TOMORROW NIGHT: @WWE #Cruiserweight Champion @GottaGetSwann squares off one-on-one with @WWENeville on #205Live! #RAW pic.twitter.com/SkYMNr7BT3

— WWE (@WWE) December 27, 2016
PLUS: The first-ever #GentlemansDuel will take place as @GentlemanJackG meets @AriyaDaivari411 on #205Live! #RAW pic.twitter.com/YQhepqP7x3

— WWE (@WWE) December 27, 2016
– Ariya Daivari rants backstage, claiming he lost because he feared interference by Jack Gallagher. Gallagher disputes this, and challenges Daivari to a duel and slaps him.
when there's bad takes on the timeline pic.twitter.com/W7Yt8rNUld

— Holt (@Holtarna) December 27, 2016
– Goldberg returns next week, and now we get a big video package, highlighting his return to WWE.
"At the #RoyalRumble Match … EVERYONE IS NEXT!" – @Goldberg#RAW pic.twitter.com/2T4SBATI7W

— WWE (@WWE) December 27, 2016
US Champion Roman Reigns vs. Universal Champion Kevin Owens: Owens tried to stall a bit, but Reigns would have none of that. Owens then worked the side headlock, and bantered away at Reigns. Reigns escaped, hit the shoulder block and Owens took a powder to the floor. They briefly brawled to the floor, Jericho's music hit, distracting Reigns and allowing Owens to hit the DDT and senton for a near fall. We then went to the commercial break, post break, Owens was in control until Reigns hit the clothesline. Owens cut him off with a kick, hit the cannonball and scored a near fall. Dear Michael Cole, just because you say "big fight feel" 20-times doesn't make that the case. I am more than aware that commentators need to sell the product, but when you go over the top, all the time, it loses it's effectiveness. Owens slowed things to a crawl, working the extended chinlock spot. They again brawl to the floor, Reigns made a comeback hitting the corner clotheslines and Samoan drop for 2. Owens then hit the backstabber, Reigns avoided the pop up powerbomb, laid in forearm strikes and countered the superkick into a sitout powerbomb for the near fall. Owens avoided the superman punch, but Reigns then hit it and covered for 2. Jericho distracted reigns, Owens hit the code breaker for the bear fall. Rollins returned and pedigreed Jericho on the floor. Owens laid him out with the superkick. Spear by Reigns and he retains. US Champion Roman Reigns defeated Universal Champion Kevin Owens @ 16:25 via pin [***] Overall it was a good match, as I felt they played off the dynamic well, and worked a better pace with a better layout as opposed to their last PPV match. I didn't like them having another match here if they are facing at the Rumble, but they created some good near falls, and it never felt lethargic like the PPV match. I also like how Reigns and Rollins are together out of necessity and aren't just instant besties.
– Post match, Rollins pedigreed Owens and Reigns speared Jericho.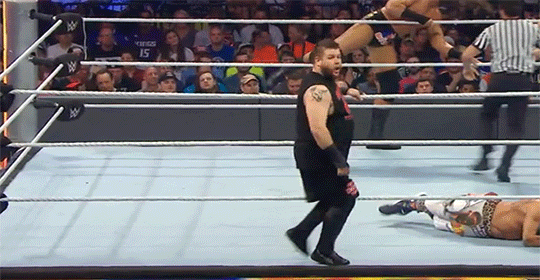 "Mama says these my magic shoes. Mama said they would take me anywhere…"
6.2
The final score: review Average
The 411
They have more weeks than usual to build to the PPV, which slows things down, but that isn't always bad. I thought tonight's effort was really solid, the right people won, they did a lot of little things to advance feuds, they did a lot of set up for tomorrow's 205 Live. It was a show to solidify things, and in that aspect I think it was mission accomplished.
legend