Csonka's WWE Raw Review 3.04.19
March 4, 2019 | Posted by
Csonka's WWE Raw Review 3.04.19
Csonka's WWE Raw Review 3.04.19
OFFICIAL RESULTS
– Lashley, Corbin & McIntyre defeated Balor, Angle, & Strowman @ 14:45 via pin [***]
– Natalya defeated Ruby Riott @ 2:15 via pin [NR]
– Gauntlet Match: Heavy Machinery won @ 5:55 via pin [*]
– Elias defeated Dean Ambrose @ 8:12 via pin [**]
– Tamina defeated Sasha Banks @ 3:15 via pin [*]
– Tag Title Match: Champions The Revival defeated Ricochet & Aleister Black @ 6:52 via DQ [**¾]
---
– Follow all of my reviews at this link.
The Big Dawg Speaks: Roman Reigns kicked off the show. He says last week was the comeback, but this week he takes the yard back. He wants the universal title, but his brother is in his way. He calls out Rollins, who is glad that Reigns is back. He plans to take the motivation Reigns gave him and beat Lesnar at Mania. Rollins knows Reigns deserves a shot since he had to give up the title. Reigns praised Rollins for looking over Raw while he was gone, and he has confidence that Rollins will win at Mania. Reigns then said he wanted to get the band back together one last time, but Rollins disagreed, due to Ambrose's past actions. The crowd wants it, and Reigns wants to be with his brothers one last time. Rollins agreed to it for Reigns. They called out Ambrose, who arrived and was immediately laid out by the el kabong by Elias. This was a solid opening segment which will lead to a PPV match on Sunday, I like that they didn't just give it away as it allows them to tease it all show long.
Lashley, Corbin & McIntyre vs. Balor, Angle, & Strowman: Braun immediately kicks the shit out of Corbin, so Drew tags in and cuts off Balor. Balor dumped all three heels, and scored with a dive. Lio cut him off, yes he's still with Lashley, as we hit the commercial. That leads to the heels taking the heat on Balor, with Corbin controlling with the Jinder Mahal special. The heels started working quick tags, but Balor tagged in Angle, who ran wild with Germans. Drew managed to cut him off with a head butt as we took a second commercial break. Post break, Braun tagged in and ran wild. The powerslam and Balor double stomp got 2 as Lio interfered. Braun murdered Lio, spearing him through the barricade and Lashley pinned Balor, likely setting up an IC Title rematch. Lashley, Corbin & McIntyre defeated Balor, Angle, & Strowman @ 14:45 via pin [***] This was an overall good opening match, setting the heels as a dominant force ahead of presumably facing the Shield on Sunday.
– Post match, the heels beat down Balor & Angle to stand tall.
– We see the Raw tag teams running down Heavy Machinery. They were very mean to Otis.
Ruby Riott vs. Natalya: Liv & Sarah are at ringside. Ruby attacks at the bell and takes early control. Natalya fought back, got the sharpshooter, but Ruby escaped. Natalya then cradled her for 3. Natalya defeated Ruby Riott @ 2:15 via pin [NR] Christ, why is Natalya winning & Ruby being wasted still? Remember when they had a feud over sunglasses?
– Lacey bomb.
– We see footage of Batista trying to murder Ric Flair last week.
– The SNL Weekend Update guys are here and will be doing "media" for WrestleMania.
Triple H Talks: Big Dave sent an Intagram video saying that they are playing by his rules. Triple H talks about trying to honor Ric Flair last week, praising the real man behind Ric Flair as a true friend. They have been there for each other during the best and worst of times, discussing Reid's death and Flair almost dying last year. Triple H is getting emotional here. He just wanted to honor Flair last week and give him the thing he knows he loves, being in front of the fans. Dave wanted his attention, and he got it. Dave quit when things didn't do his way, and attacked a 70-year old man to steal a moment. Triple H mocks him for playing bad guy 101, but he doesn't care what big Dave does. Triple H will go wherever he needs to in order to get at him, "have some balls and show up!" For every moment they shared, it's over, he's not Triple H. When they go face to face, he'll be looking at the man. Stand up and tell him what you want and he'll give it to him. I really liked this as I felt Triple H was emotionally on point in reaction following last week's angle. I'm not exactly hyped about a match right now, but this was good stuff.
– Stephanie says she will do what's best for business and reinstating Lynch. Lynch will face Charlotte at Fastlane for the vacant Raw women's title. I guess we're just supposed to ignore that two Smackdown women are fighting for the Raw title.
– Roman meets with Dean backstage. Dean walks away.
Heavy Machinery vs. The B Team vs. The Ascension vs. Ryder & Hawkins : This is a gauntlet match. Heavy Machinery took out the B Team in about 90-seconds. The Ascension were in next, taking control and working over Tucker. This is really bland and there is no heat at all for any of it. Otis got a hot tag, ran wild and pinned Viktor. Hawkins & Ryder are the last team, they attack right away and work double teams. Otis made the comeback, hit the caterpillar, and won. Heavy Machinery won @ 5:55 via pin [*] This was a bland, heatless, and predictable match. It existed.
– Torrie Wilson is going into the WWE Hall of Fame.
– The SNL guys walk the wacky WWE hallway of random losers.
– Charlotte runs down Beck ahead of Sunday's title match. She plans to become Raw women's champion on Sunday.
– Seth meets with Dean. Seth calls Dean his wrestling soul mate. Dean refuses the Shield reunion.
– Elias does his shtick.
Dean Ambrose vs. Elias: Ambrose hits the ring, attacking right away and then dumping Elias prior to our break. Post break, Elias takes control, hitting Undertaker's old school. Ambrose quickly fired up, but Elias cut him off and laid the boots to him. Ambrose did a solid job f selling his back from the guitar shot earlier. Ambrose tried to make his comeback again, but a knee strike and drift away finished him. Elias defeated Dean Ambrose @ 8:12 via pin [**] This was ok, they worked hard, but it felt a bit disconnected and rushed.
– Rollins & Reigns arrive post match. They again try and talk Ambrose into the reunion, but Ambrose bails. Come on Dean, if you can't fist your friends, who can you fist? (Phrasing?) Corbin, Drew, & Lashley arrive and mock Rollins & Reigns. They plan to end the Shield once and for all. They attack 3 on 2, until Ambrose returns and evens the odds. The Shield clears the ring, stands tall, share a fisting, and that should set our PPV match for Sunday.
Tamina vs. Sasha Banks: Jax & Bayley are at ringside. This is part of the build for Sunday's tag title match. Tamina attacks at the bell and pummels Banks. Banks picks up the pace and connects with knee strikes. Tamina posted herself, and Jax made the save as Banks had the Banks statement locked on. It broke down with all four brawling, Jax distracted Banks allowing Tamina to win. Tamina defeated Sasha Banks @ 3:15 via pin [*] It wasn't as bad as most Tamina matches, but it still wasn't good.
– Braun tries to kill one of the SNL guys.
Champions The Revival vs. Ricochet & Aleister Black: No entrance for the champions. The Revival isolate Black right away; Gable & Roode make their way out. Post break and the champions still have the heat on Black. Black fires up with strikes, and tags in Ricochet. Ricochet runs wild off the hot tag, picking up near falls. Roode & Gable attack the champions for the DQ. Champions The Revival defeated Ricochet & Aleister Black @ 6:52 via DQ [**¾] This was pretty good while it lasted, and should set up a triple threat for Sunday.
Becky Lynch is Here: Becky has to sign a hold harmless agreement to compete on Sunday. Stephanie runs down the situation with the women's title and brings out Charlotte & Becky. Becky signs the agreement as Rousey arrives. She's not happy about the entire situation and says she never vacated the title. She demands her title back, gets it, and the Becky vs. Charlotte match will still happen Sunday. If Becky wins, she's added to the Mania match. Rousey tells Steph she makes WWE too much money for her to fire her. Rousey starts whining, doing the reported heel turn. She dumps Charlotte and arm bars Becky. She then works her over with strikes, while Charlotte watches on. The first half, the talking, was rough. It got better when Rousey arrived. I really dislike how Becky winning the Rumble now means nothing because they had to overcomplicate the entire angle. I thought the Rousey heel turn came off well and loved Charlotte refusing to help and allowing Becky to take a beating.
– End scene.
– Thanks for reading.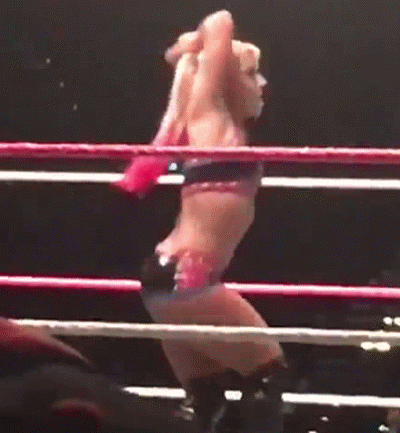 ~GLORIOUS~
5.5
The final score: review Not So Good
The 411
This week's Raw wasn't a very good show. It felt overly long, just dragging along, and the Fastlane build felt extremely rushed/last minute. I also think that WWE continues to overcomplicate angles that are generally basic and already had a good path. The Triple H promo, Rousey heel turn, and reaction to the Shield reunion were the best parts of the show.
legend