Csonka's WWE Raw Review 3.06.17
March 6, 2017 | Posted by
Csonka's WWE Raw Review 3.06.17
Csonka's WWE Raw Review 3.06.17
OFFICIAL RESULTS
– Kevin Owens defeated Sami Zayn @ 4:00 via pin [**¾]
– Cruiserweight Title Match: Champion Neville defeated Rich Swann @ 13:50 via pin [***¾]
– Raw Tag Team Title Match: Champions Gallows & Anderson defeated Enzo and Cass @ 6:58 via DQ [* ½]
– Akira Tozawa defeated Ariya Daivari @ 2:15 via pin [NR]
– New Day defeated The Shining Stars @ 1:20 via pin [NR]
– Non-Title Match: Sasha Banks defeated Champion Bayley @ 13:00 via submission [**]
– Non-Title Match: Samoa Joe defeated US Champion Chris Jericho @ 3:52 via countout [**]
---
Raw is Jericho: Jericho said that this is where Y2J was born, but tonight will see the resurrection of Jericho (rise again man). Owens turned on him a few weeks ago; he's angry, hurt and confused and needs to know why Owens did it. Owens arrives and at first refuses, and Jericho just wants to know why, why would you do it? Owens said that he didn't stab his best friend in the back because Jericho was never his best friend; Sami Zayn was at one time his best friend and he did stab him in the back and he'd do it again and again and again. He used Jericho, because Triple h told he that everyone was coming for him, so he needed someone to have his back, to know what to do and to be gullible; "you were a perfect tool until you outlived your usefulness." Owens says he would have beaten Goldberg had it not been for Jericho, because Jericho outsmarted him last night. Owens says he sparred him at the festival of friendship; he let him walk away because he had a family, and he knows that is a mistake he has to live with. Jericho's biggest mistake was costing Owens his title. Jericho says he would have done the same thing 10-years ago, and he would have done it quicker, and better. Jericho then said he has thousands of friends, the friends of Jericho. "Cheer me on maaaaaaaaaaaan!" Jericho says they aren't even after last night, it was the beginning of a long and winding road, leading to Mania. Owens says he'll get his Universal title back when he wants it, but right now all he can think about is taking Jericho's title from him; Owens agrees to the Mania match as long as the US Title is on the line and Jericho quickly agrees. Owens hit the ring and they brawled, but Samoa Joe ran in to save Owens and help in the beat down of Jericho, but Sami Zayn made the save and took out Joe with chair shots. Jericho then cleared the ring and stood tall with Jericho. As expected, the first verbal joust between Jericho and Owens was a strong piece of business. Jericho elicited the right amount of sympathy, while also reminding us that he was no angel, while Owens came off like the remorseless asshole he needed to be. I loved the addition of Sami and Joe into the mix, as it not only works due to the past and current associations, but also allows them to play with some tag matches in the build to Mania. I really liked this.
– Foley made Owens vs. Sami during the break, banning Joe and Jericho from ringside; they face off later tonight
Kevin Owens vs. Sami Zayn: JIP with Owens in control, sending Sami to the floor. After a quick floor brawl, they worked back into the ring where Sami avoided the pop up powerbomb and then hit a dive to the floor. Back in the ring and Owens planted Sami with the pop up powerbomb. Owens then continued to abuse Sami, hitting another pop up powerbomb for the win. Kevin Owens defeated Sami Zayn @ 4:00 via pin [**¾] Considering that the goal of this was to help rehab Owens after his loss to Goldberg and also to reinforce the fact that he is a remorseless asshole, this more than served its purpose. Although with that being said, I do hate that Sami is constantly the guy used in this role.
– Austin Aries shows off his package.
Cruiserweight Champion Neville vs. Rich Swann: They did not fuck around here, working a fast paced and intense opening stretch; Neville nearly killed him slamming him to the LED board, leading to a commercial break. Post break, Neville had Swann grounded and was in full control. The crowd chants for Aries as Neville and Swann battle on the apron. Swann cut off and crotched the champion; Swann then hit a great flip dive to the floor onto Neville. Back in and Swann hit the RANA and a Michinoku driver for the near fall. Neville cut off Swann as he went up top, SUPERPLEX by Neville, but Swann rolls to the floor before the count. Neville again beat him down on the floor, and we worked through another commercial break. Post break, Swann was firing up with strikes and then hit a German and a superkick for the near fall. Swann then hit the head kick, but then MISSED the Phoenix splash. Neville then locked in his rings of Saturn variation to pick up the win. Champion Neville defeated Rich Swann @ 13:50 via pin [***¾] This was a great fucking match and more the style that they need to put on. Not only was the pacing brisk, but we got some fun flying and they also worked with a tremendous aggression and sense of urgency, like they wanted to win and be champion. This was really great, but the commercials hurt the flow a bit.
– Neville claimed that he ran wild on 205 Love and that there was no competition left, but the crowd cheered for Aries. Neville said that Aries is delusional if he thinks he's even close to being on his level. Neville dismisses him back to his announce table, because this is "my ring" and you need to leave before I re-break your orbital socket. SHOT TO THE EYE, ROLLING ELBOW AND NEVILLE IS DOWN ON THE FLOOR AND BAILING! I love that Aries will be getting back to action, he's not a great face, but Aries vs. Neville should be great.
– Enzo and Cass met with Cesaro & Sheamus; they then bickered like teenage girls.
– Hour one was really damn good, smoking Fastlane with ease.
Goldberg Talks: Goldberg arrives and shows off the Universal Title, telling the fans that it belongs to the fans and they boo him. We get CM Punk chants, Goldberg teases telling us a secret but Paul Heyman arrives. He has no plans to go to the ring, but says that he did not come alone and announces Brock Lesnar. Lesnar and Goldberg went face to face in the ring, as Heyman sarcastically introduces them to each other. Heyman puts over Goldberg and says that Lesnar is here to shake his hand, but also says that at Mania they will go to war, and claims that Lesnar will win the title and make Goldberg his bitch. Brock grabs his hand, snatches him up and nails Goldberg with the F5. Heyman was really good there selling the match, and Brock needed to finally get one up on Goldberg. Good segment.
Goldberg just took his first bump in 13 years, after 2 big PPV pay days AND 1 world title win. Strong candidate for best worker of all time.

— Brad Stutts (@Stuttsy) March 7, 2017
– I love Corey Graves' complete hatred for Enzo.
– Enzo and Cass do their shtick.
Raw Tag Team Champions Gallows & Anderson vs. Enzo and Cass: Gallows and Enzo brawled right away, Cass then came in to save Enzo and beat down Gallows. Gallows and Anderson worked over Cass, but Cass quickly fought back and sent Anderson to the floor. Sheamus and Cesaro then made their way to the ring as we went to a commercial break. Post break, the champions worked the heat on Enzo. Enzo hit a desperation DDT, Cass and Anderson tag in and Cass ran wild, hitting the empire elbow but Gallows made the save. Enzo it a dive and spilled Cesaro's coffee; everyone brawled and we got a DQ. Champions Gallows & Anderson defeated Enzo and Cass @ 6:58 via DQ [*½] Not very good while it lasted, it felt as if they were simply killing time until the DQ and they are seemingly setting up another multi-person match for Mania. This was easily the weakest thing on the show so far.
– Rick Rude is going into the WWE Hall of Fame.
Welcome to the @WWE Hall of Fame Class of 2017, #RavishingRickRude! #WWEHOF #RAW pic.twitter.com/fFa9Yo2Twk

— WWE (@WWE) March 7, 2017
– Foley is angry and books Enzo and Cass vs. Sheamus and Cesaro for next week, with the winners facing Gallows and Anderson at mania for the titles. We'll see if that sticks.
– Stephanie arrives and tells Foley to follow her to her office…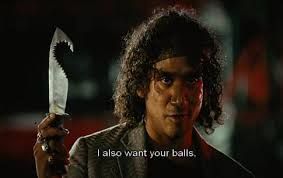 Akira Tozawa vs. Ariya Daivari: They brawled at the bell, with Daivari taking control early. Tozawa fired up, ran wild and hit a running kick and senton for 2. Tozawa followed with the suicide dive, back in he went up top and jumped over Daivari. Snap German from Tozawa and he picks up the win. Akira Tozawa defeated Ariya Daivari @ 2:15 via pin [NR] Akira Tozawa continues to make the most out of his short Raw matches, looking good and winning over the crowd. This also set up a match for tomorrow's 205 Live.
– Post match, Tozawa called out Kendrick, but Kendrick said that he'd answer him tomorrow night on 205 Live.
– New Day arrives for ice cream related shenanigans.
I JUST WANTED ICE CREAM!
New Day vs. The Shining Stars: the Stars worked over Kofi early, and then threatened to attack Woods and the ice cream cart. Kofi hit a dive, back in Big E and Kofi hit midnight hour and that was that. New Day defeated The Shining Stars @ 1:20 via pin [NR] Filler.
– WWE runs a video for Trish and Lita in honor of women's history month.
Bayley Talks: Mick Foley brings Bayley out to the ring. Bayley says that she asked Charlotte to leave Dana Brooke in the back, but then Sasha came out to help her. She needs to move forward to Mania, which has always been important to her, but last year he had to sit on the sidelines and watch Banks, Lynch and Charlotte compete for the title. She promised that she would be on the show the next year, but it doesn't feel like it should, it doesn't feel right. Foley says it doesn't matter how you get there, because she's going to Mania. Foley asks who her opponent will be, and Banks makes her way out. He says that they have always talked about facing off at Mania, and says that they can make it happen. Foley polls the audience, who seem to like it. Charlotte of course makes her appearance with Dana Brooke at her side. Sandra Dee says that the plan is now clear; Banks needed to get a title shot and needed her to not be the champion. She then claimed that Banks used Bayley and this was a conspiracy to rob her of her title and her PPV streak. Charlotte says that she's the victim, and she's not really wrong there. Stephanie is out with her clippers…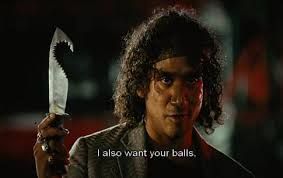 She says the crowd is just like CM Punk, losers. Stephanie then stirs the pot between Banks and Bayley as we get more Punk chants. Stephanie thinks Charlotte deserves the title shot. Stephanie books Bayley and Charlotte, but Foley defends Banks and says she deserves a shot as well. Foley books Banks vs. Charlotte for next week, with the winner gets Bayley at Mania. But Stephanie books Bayley vs. Banks for right now, if Banks wins, it's a triple threat at Mania. It's about time that Bayley showed that she wasn't proud of how she won and actually showed conflict. Unfortunately the segment became more about Stephanie and Foley's issues over the title, which hurt it for me. It's one of the things that makes Raw more tedious to watch as compared to Smackdown, on Smackdown they feel like they are actually "working together to make their show a success," while on Raw it's the Stephanie McMahon bal cutting show. Now sure, part of it is the set up to write Foley off for his surgery, but she was cutting balls off and dominating segments she didn't have to long before the draft and Foley's return.
Raw Women's Champion Bayley vs. Sasha Banks: If Banks wins, it will be Bayley vs. Charlotte vs. Banks at Mania. They worked a solid and even back and forth, it was fine but lacked a sense of urgency. Banks hit a lucha arm drag and then a RANA, they picked up the pacing but it felt rather clunky. Banks took control with a clothesline as we took a commercial break. Post break, they awkwardly traded pinning combos as the sloppiness continues. They fired up; Bayley hit a belly to back suplex as Charlotte makes her way to the ring. Once they picked up the pace and showed more fire, the match got better and smoother. Bayley missed the high cross, Banks locked in the Banks statement, but Bayley made the ropes. Back stabber and Banks statement by Banks, Charlotte tries to get involved and it backfires as Bayley taps. Sasha Banks defeated Champion Bayley @ 13:00 via submission [**] This started out really rough, it did get better but the shitty end and overall booking took away from my enjoyment. Bayley is as pure a babyface as you have, you make her look like she doesn't deserve her championship and then have her lose here. It's like they look at the booking of the Raw women each week and say, "hey, how can we take all of this talent we do use and fuck it up even more?" The only positive is that I think it's for the best that Nia Jax isn't involved; they will have a better chance of delivering with just the three.
– Post match, Charlotte lays out both Bayley and Banks.
NEXT: Take an exclusive look at the grueling rehab @WWERollins is going through on his way to @WrestleMania, plus hear from @TripleH! #RAW pic.twitter.com/UcEdOB03pw

— WWE (@WWE) March 7, 2017
– Rollins says that no matter what that he'll be at Mania.
– Triple H is here live via satellite, and says that you have to praise WWE for the top tier care they offer their talent. He says Rollins is stupid for saying he'll be at Mania, but he always lies to himself. Triple H smartly did this backstage, staying away from the live Chicago crowd. He says if Rollins calls him out at Mania, it will be the last thing Rollins does in a WWE ring.
– Roman says if BRAUN wants him that he'll be in the ring at the end of the night.
– We get a video package for the return of evil Emma.
Coming soon… #RAW @EmmaWWE pic.twitter.com/ILoS3Ck9En

— WWE (@WWE) March 7, 2017
– I can't wait for 2018…
Samoa Joe vs. US Champion Chris Jericho: They brawled right away, with Joe beating Jericho down in the corner. Jericho battled back, and managed to send Joe to the floor; he followed but Joe worked the clutch on the floor. Joe releases the hold and wins via count out. Samoa Joe defeated US Champion Chris Jericho @ 3:52 via countout [**] The work was solid, and that was likely the best result to do right now. Joe "wins," but Jericho gets some revenge post match hitting the code breaker. Joe needs wins right now, and Jericho can easily survive a countout loss. This was solid.
– Austin Aries has a message for Neville on tomorrow's WWE 205 Live.
TOMORROW NIGHT: @AustinAries has a special message for the #Cruiserweight Champion @WWENeville on #205Live at 10/9 on @WWENetwork! pic.twitter.com/1wJpUdyKdQ

— WWE (@WWE) March 7, 2017
BRAUN WANT TO KILL PUNY ROMAN: BRAUN makes his way to the ring, and he has plans to kill Roman Reigns. BRAUN doesn't want a match; he wants Reigns to come to the ring like a man so he can rip him apart. Reigns' music hits, but it's interrupted by the Undertaker's DONG. Taker makes his way to the ring as BRAUN stares him down. The crowd loves Taker's appearance and stand off with BRAUN. BRAUN actually backs away and the crowd boos. BRAUN left through the crowd, and then Reigns' music hit and he made his way out to the ring. Reigns and Taker went face to face, and Reigns tells Taker that this is now his yard. Taker looks at the Mania sign as we get chants of "Roman Sucks!" Taker chokeslams reigns and there's out Mania match. I believe that the Undertaker disputes your claim of property rights to this particular yard Mr. Reigns.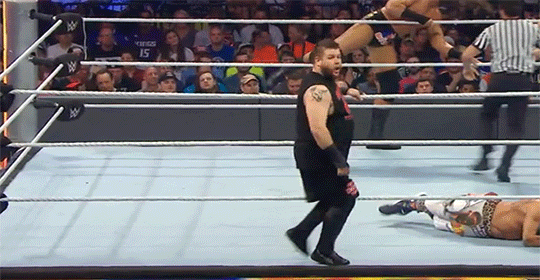 "Mama says these my magic shoes. Mama said they would take me anywhere…"
6.5
The final score: review Average
The 411
After an extremely disappointing Fastlane PPV, WWE came out swinging with the first hour of Raw and tricked me into thinking that we were going to get a kick ass show. Hour one was really, really good and one of the better hours of Raw in a while, but after the Lesnar/Goldberg segment, the second hour saw a severe drop in quality. Hours two and three were rather mediocre, not bad and they did accomplish things, but the final two hours just dragged for me, losing that buzz and energy of the first hour. What you need to see: The Owens/Jericho opening promo, Swann vs. Neville, The Neville/Aries promo segment, The Goldberg/Lesnar segment.
legend