Csonka's WWE Raw Review 3.13.17
March 13, 2017 | Posted by
Csonka's WWE Raw Review 3.13.17
Csonka's WWE Raw Review 3.13.17
OFFICIAL RESULTS
– Sasha banks defeated Dana Brooke @ 1:13 via pin [NR]
– Tony Nese & The Brian Kendrick defeated TJ Perkins & Akira Tozawa @ 8:58 via pin [**¾]
– Chris Jericho & Sami Zayn defeated Kevin Owens & Samoa Joe @ 3:47 via disqualification for kicking too much ass [**½]
– #1 Contender's Match: Enzo & Cass vs. Cesaro & Sheamus went to a no contest @ 8:10 [**]
– Roman Reigns defeated Jinder Mahal @ 2:55 via pin [NR]
– Austin Aries defeated Ariya Daivari @ 3:47 via pin [**½]
– Big Show defeated Titus O'Neil @ 1:50 via pin [NR]
– Non-Title Match: Champion Bayley defeated Nia Jax @ 8:00 via disqualification for kicking too much ass [*]
---
– We get highlights from Fastlane and last week's Raw.
Brock Is Here To Bounce Around & Look mean While Paul Talks: Paul was basically euphoric over the fact that Brock F5'd Goldberg last week; he then proclaimed that Brock would win the title at Mania. Paul cut things short because the fans were chanting for Goldberg. Paul then admitted that they cased themselves an issue with Goldberg, and Goldberg had thusly owned Brock until last week. Paul then promised that Brock would end the resurrection of Goldberg to rest as his client will win with the F5, because "down goes Goldberg." Good fire and energy from Heyman here, he basically has to do so every week because Brock is just paid to stand there.
– Mick Foley watched on from backstage, and was seemingly not a fan of the promo. Stephanie arrived and tried to make nice with Foley; she claimed heat of the moment and the pressure of building to Mania. She claimed that things weren't personal, which is something she learned from her father. Yes, because Vince never held a grudge. She said that she would be his teacher, and then told him that he would have to fire one member of the Raw roster before the end of the show. I don't see how anyone cares about this authority figure drama; I guess Foley will fire himself to prove he's the good guy and to also set his exit up.
– On WWE.com, Charlotte told Brooke to take out Banks for her; I am pretty sure it was a rerun from July.
Sasha banks vs. Dana Brooke: Bayley and Charlotte are at ringside. Brooke used her power early and Banks rolled her up for the win. Sasha banks defeated Dana Brooke @ 1:13 via pin [NR] As a title contender, Banks should have won with ease; it was probably for the best that this was so short.
– Post match, in another rerun from July, Charlotte runs down Brooke, but Brooke attacks and finally fights back. At least that's new. It's hard to care or buy into it because they've teased their break up so many times.
– Eric LeGrand, a former standout for the Rutgers University football team turned motivational speaker, has been named the recipient of the third annual Warrior Award. LeGrand was a key player on the Rutgers University football team before a spinal cord injury he sustained during a game in October 2010 left him paralyzed from the neck down. LeGrand resumed his college classes via Skype and also launched his sports broadcasting career as an analyst for Rutgers Football Radio Network. LeGrand founded the charity Team LeGrand of the Christopher & Dana Reeve Foundation in 2013.
-Tomorrow on 205 Live…
TOMORROW NIGHT on #205Live: A Fatal 5-Way Elimination Match will determine who will face @WWENeville at #WrestleMania! #RAW pic.twitter.com/hBuA2kwnQe

— WWE (@WWE) March 14, 2017
TJ Perkins & Akira Tozawa vs. Tony Nese & The Brian Kendrick: Tozawa ran wild early, sending Kendrick to the floor and hitting a dive. Nese tried to take a save, but Perkins wiped him out and we went to a commercial. Post break, Kendrick grounded Tozawa and worked the heat. Kendrick and Nese double-teamed Tozawa for a bit, but as he dove for the tag, Kendrick pulled Perkins to the floor. Nese grounded Tozawa with the body scissors, but Tozawa fought to his feet and then countered out, kicked V and got the tag to Perkins. Perkins ran wild, working over Nese and hitting a bulldog for the near fall as Kendrick ran in and accidentally hit Nese. It broke down, Kendrick and Tozawa brawled as Nese scored a near fall. Perkins hit the springboard DDT for 2. Tozawa sent Kendrick to the floor, but Nese slammed Perkins into Tozawa and rolled up Perkins with the tights and picked up the win. Tony Nese & The Brian Kendrick defeated TJ Perkins & Akira Tozawa @ 8:58 via pin [**¾] Pretty good match overall, as they played off of established feuds well and worked a nice pace. It was also nice to see them get more than three-minutes.
– Owens cut a promo, noting that it was one month ago that he took the spotlight back when he attacked Jericho. He knows the fans are upset, but he was never Jericho's friend, but all Jericho was doing was trying to get close to Owens' universal title. And now Jericho is mad because Owens outsmarted him and stabbed him in the back before Jericho could make the move. But Jericho got his revenge at Fastlane by costing him the title. He will take away Jericho's title, and when he is done, the only thing left, will be the tears of Jericho… "Cry It Out Man."
Kevin Owens & Samoa Joe vs. Chris Jericho & Sami Zayn: Owens teased starting out, but quickly tagged in Joe and they revisited their battle from last week. Jericho quickly fought back, hitting a missile dropkick and tagging in Sami. Sami picked up the pacing right away, using his speed but Joe cut him off in the corner with the backsplash and kick. Owens then superkicked Jericho to the floor, Sami battled back and sent the bullies to the floor and followed with a dive, but started to favor his knee. Back in the ring, Owens clipped out Sami's knee and that allowed he and Joe to lay in the beating and then they got disqualified for kicking too much ass. Post match, Joe and Owens beat down Sami but Jericho made the save. He got cut off and ate the pop up powerbomb. Chris Jericho & Sami Zayn defeated Kevin Owens & Samoa Joe @ 3:47 via disqualification for kicking too much ass [**½] They are keeping Joe very strong here, he's not taking any loses and not taking almost any punishment since he's been called up. I can possibly see them turning the US Title match into a four-way or maybe saving Joe for Balor at Mania. The match had a great energy, and I was pretty bummed when it ended so soon.
– Mick and Stephanie talk about the firing to come. She of course suggested Sami Zayn. Nia Jax arrives, and is pissed that she's not in the Raw Women's title match at Mania. Stephanie decides to take care of this and makes Jax vs. Bayley.
– Sad panda Mick Foley walks, Jinder Mahal confronts him and claims he can't be fired because he's a main event level talent. Foley books Mahal vs. Reigns for tonight.
– New Day is here to shill the WWE/Jetsons crossover movie. New Day then interviews Big Show. Show vs. Shaq is off as they announced Show for the Andre battle royal. They do the gimmick where they ask him a question and keep cutting him off as he tries to answer. Fuck's sake, Titus O'Neil is here. Titus then complains about not being in the movie and shoves Show. HE GONNA DIE.
– So yeah the first 20-minutes of hour two were trash.
– Enzo & Cass do their shtick. He had "a cuppa hatas" for a couple of haters.
#1 Contender's Match: Enzo & Cass vs. Cesaro & Sheamus: Sheamus and Cesaro controlled early, taking the attack to Cass. Cass fought back, tagged in Enzo and lamed him onto Sheamus, we then went to a break as Anderson and Gallows watch on. Post break, Sheamus and Cesaro work the heat on Enzo with double teams. Enzo slipped away from Sheamus, Sheamus charged and posted himself. Cesaro tagged n, initially cut off Enzo, but he got the tag to Cass. Cass ran wild on Cesaro, hit a pair of sack of shit slams and a big boot. Sheamus tagged himself in, hit the shoulder block off the ropes and looked for the 10 beats, but Cass sent him to the floor. Anderson & Gallows arrived, attacked and we get a no contest as they attacked and beat down both teams. They posted Sheamus and then laid the boots to Cesaro. Superkick to Enzo, magic killer to Cesaro and the champions stand tall. Enzo & Cass vs. Cesaro & Sheamus went to a no contest @ 8:10 [**] To me it makes no sense for Anderson and Gallows to run in, because it will lead to a triple threat and now they have to deal with two teams instead of one. The match wasn't bad, it just sort of existed and never felt interesting.
– Undertaker vs. Reigns is official for Mania.
– Foley meets with Anderson and Gallows, and they say that there are no winners, so no contenders. Foley makes the title match a triple threat. Anderson and Gallows have never watched wrestling, ever.
Roman Reigns vs. Jinder Mahal: Mahal actually controlled for a bit, but Reigns cut him off with the side slam. Undertaker's DONG hits, distracting Reigns. Mahal hits a knee strike and knee drop, allowing him to work over Reigns. Mahal hit a basement dropkick, laid the boots to Reigns, but Reigns hit the superman punch and another to pin Mahal. Roman Reigns defeated Jinder Mahal @ 2:55 via pin [NR] Reigns selling for Mahal at all feels laughable, even with the distraction. He should have simply ran through him, Mahal is a nothing guy and is only filling a spot, while Reigns is about to fight Undertaker. Reigns also claimed he wasn't messing around, but just went 50/50 with Jinder Mahal…
– Reigns called out Undertaker, so of course Shawn Michaels arrives for his yearly pre-Mania appearance. Reigns says it's pretty cool to see Michaels, but then says he didn't call out Michaels, he called out Taker. Michaels says he saw what happened last week, and said he saw Reigns get distracted by the DONG, because he is not focused, and Taker is already in his head and will eat him alive at Mania. Reigns said it won't happen, and that everyone wants to make this about Taker. Michaels says he's on Reigns' side, and knows what it's like to be in Reigns' shoes with everyone hoping he'll fail. Reigns says that with all due respect, he appreciates the advice, but Taker retired Michaels, and Reigns plans to retire Taker. BRAUN then arrives and attacks Reigns on the ramp to "thank you Strowman" chants. Good segment in a really thin hour two, I dig the Shawn appearances like this, and the fact that reigns showed more of a heelish attitude here.
LOOOOOL ROMAN DIED pic.twitter.com/sAaoQ1uLlG

— WrestlinGifs (@WrestlinGifs) March 14, 2017
– Stephanie and Foley talk, and he's not happy that he has to fire someone tonight. She informed him if he doesn't make a choice then she will.
NEXT: @AustinAries makes his #RAW in-ring debut against @AriyaDaivari411 on @USA_Network! pic.twitter.com/oanrEP8k94

— WWE (@WWE) March 14, 2017
Austin Aries vs. Ariya Daivari: They went back and forth, with Aries picking up the pace and taking control as we see Neville watching on. Daivari sent Aries to the floor, worked him over on the apron and took the heat. Back in the ring and Daivari hit the lariat for a near fall. Daivari then attacked the eye of Aries, but Aries fired back with clotheslines and elbows. The pendulum elbow followed, and Aries then tossed Daivari to the floor and connected with the heat-seeking missile. Back in and Aries hit the shin breaker into a head drop back suplex; the rolling elbow finished things. Austin Aries defeated Ariya Daivari @ 3:47 via pin [**½] Not bad, but I still think they're giving Aries' opponents too much offense; Aries is new to a lot of people, especially the Raw audience, he needs to look more dominant, especially if he ends up as the title challenger.
– We get an Evil Emma promo.
Nice girls finish last… #RAW @EmmaWWE pic.twitter.com/rHNDUVeJ8z

— WWE (@WWE) March 14, 2017
Big Show vs. Titus O'Neil: O'Neil tried to take the fight to Show, but Show cut him off and delivered chops. O'Neil tried to make a comeback, failed, chokeslam, chokeslam, chokeslam (O'neil sandbagged him a bit on the last one)… ~fin~ Big Show defeated Titus O'Neil @ 1:50 via pin [NR] It was what it should have been, short.
THE 3RD CHOKESLAM!!! @WWETheBigShow WINS!! #RAW pic.twitter.com/N5webHVFzG

— Italo Santana (@BulletClubItal) March 14, 2017
– Bayley and Banks discuss Bayley's upcoming match against Jax. Banks then tells Bayley not to worry about the haters who think she doesn't deserve the title. Banks with the subtle mind games.
– Jericho is a sad panda backstage, but promises revenge at Mania. He wants to show the world the real Kevin Owens and will expose him next week. Next wee on the Highlight Reel, "the real Kevin Owens" will appear. He then calls interview guy Mike "Tom Phillips," noting that he's been talking to him all summer. "Not Tom Phillips" makes the list.
Non-Title Match: Champion Bayley vs. Nia Jax: Bayley tried to stay away from Jax, using her speed but Jax walked her down and tossed her to the floor. Jax got frustrated as we took a break. Post break, Jax was in control, working the back. Bayley escaped with knee strikes, and then Jax missed a kick and was caught in the ropes. Bayley kicked her to the floor, hit the stunner in the ropes and then worked kicks to the knee. Jax caught the high cross, but Bayley escaped the Samoan drop and tried for a guillotine, but Jax escaped an stunned Bayley off the ropes and hit corner charges. She beat her down and got DQ'd, this was another disqualification for kicking too much ass. Champion Bayley defeated Nia Jax @ 8:00 via disqualification for kicking too much ass [*] The booking of Bayley is so odd, they gave her the title before Mania in disputed fashion, not the best move for the big babyface. She then lost to Banks and then had her ass handed to her here. Bayley tends to work well with Jax, but this largely felt disjointed and never got locked in.
– Jax beat down Bayley in the floor post match.
– Next week on Raw, BRAUN vs. Roman.
WHO WILL MICK FOLEY FIRE?: Stephanie brings out Foley, who thanks Stephanie for this lesson. He thinks that this will be the best for all involved and make the show better. He says he has chosen Stephanie to fire, which pleases the crowd. Stephanie says he can't fire him, and she wants the name right now, and Foley says she needs to go because of how she treats talent. He treasured their relationship, but she lied to him and is a bad person. Foley knows that she and Triple H have been pulling the strings as Triple H has been building his army. And here comes Triple H. Triple H is amused by this and tells Foley to say this to his face, he's always around and sees all. He threatens to rip off Foley's bad leg, and Foley asks if he will actually do it himself. Triple H mocks him as being a nostalgia act, and says he never would have brought him back; he creates the future so he doesn't have to look at has beens like Foley. But Stephanie likes him, but do not mistake her heart for a lack of being able to do what it takes. Vince taught her well, and Foley is dangerously close to dragging his body around the globe telling stories of the man he used to be. Foley says that he doesn't have to pretend to like Triple H, he doesn't need him or his company. Foley can look in the mirror and like what he sees. But Triple H wonders how Foley's kids will feel about this. Noelle wants to be a WWE star and Dewey works in the office, "I'm sure they'll forgive you for ruing their lives." Triple H tells him to tuck his tail, go to the back and rethink things. "So when Stephanie says to jump, you jump monkey. Get the hell out of my ring." Foley fires up and refuses to leave as Stephanie monologues. Mandible claw to Triple H, but Stephanie low blows him. triple H drops the jacket and Seth Rollins comes limping out on his crutch to make the save. Rollins tosses the crutch down and hits the ring, and they brawl. Great reaction for Rollins as he dropkicks Triple H to the floor. Triple H grabs the crutch, enters the ring and Rollins attacks but Triple H takes out the knee. Triple H then locks in the Indian death lock as referees make the save. Triple H gets in one more shot with the crutch and stands tall. While I hated that they built the entire show around the Foley/Stephanie angle, they somewhat salvaged it with the Triple H/Rollins stuff. The crowd loved the return of Rollins and treated it like a big moment, but I feel that they cut it off way too soon; Rollins needed to stand tall for once and look like a hero, instead they cut him off again for the Triple H attack and the villain once again looking dominant. Triple H really didn't need that, Rollins did.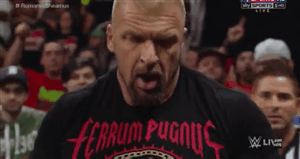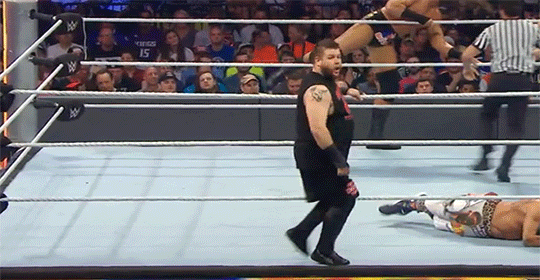 "Mama says these my magic shoes. Mama said they would take me anywhere…"
5.5
The final score: review Not So Good
The 411
We're three weeks out of WrestleMania, and the focus of the show was largely on the drama between Mick Foley & Stephanie McMahon. Add into that the fact that the show was largely "just there," and while they did some small things to build Mania, it felt as if they were going through the motions between the opening and closing segments. I get that the entire three hours can't be peaks and that there will be valleys, but this week's show felt like a giant valley after Brock and Paul appeared, only really picking up at the end. What you need to see: The closing angle.
legend