Csonka's WWE Raw Review 3.20.17
March 20, 2017 | Posted by
Csonka's WWE Raw Review 3.20.17
Csonka's WWE Raw Review 3.13.17
OFFICIAL RESULTS
– Samoa Joe defeated Sami Zayn @ 12:30 via submission [***½]
– Charlotte defeated Dana Brooke @ 3:55 via pin [**]
– The Brian Kendrick defeated TJ Perkins @ 1:20 via pin [NR]
– Non-Title, No DQ Match: Nia Jax defeated Champion Bayley @ 10:23 via pin [*½]
– Handicap Match: Cesaro & Sheamus vs. Cass, Enzo, Gallows & Anderson @ 0:44 via pin [NR]
– Austin Aries defeated Tony Nese @ 7:55 via pin [**½]
– BRAUN Strowman defeated Roman Reigns @ 9:00 via DQ [**]
---
– We get highlights from last week's show…
MICK FOLEY IS SUPER SERIOUS: Foley is out in sweats, Cactus Jack shirt and flannel. He then reads a prepared statement, thanking Triple H & Stephanie forgiving him an opportunity. He then apologized and fell into buzzwords hyping Mania, before announcing is leave of absence. He then ripped up the index cards, and was not amused that he had to be scripted. Foley looked to rant, but they kept cutting his mic. Stephanie then made her way out to the ring; she lights into Foley and says that it has always been about Foley and the fact that he needs to be loved, not about what has been best for business. Stephanie then fires Foley. She looks to banish him to the back, but Stephanie's favorite Sami Zayn arrives. Sami is not pleased with the treatment of Foley and says she's made a lot of wrong choices, but no one has had the guts to say it. He also says that she should be ashamed of herself. Stephanie said Sami wasn't even good enough to talk to her and banished him to the back, but Sami decided to stay and says he should leave, but he needs to do the right thing. This brought out Samoa Joseph, and he was not in a good mood. Stephanie books the match for right now, so Sami hits a dive as we go to beak. It's a good opening segment to play off of last week's closing angle; the thing that bothers me is that we're again dedicating all of this time to Mick & Stephanie this close to Mania. You'd think they were booked in a major match at the show. The performances are good and I love seeing Sami get the spotlight, but the use of the show's time feels off. Stephanie vs. Foley feels better built than Triple H vs. Rollins.
Samoa Joe vs. Sami Zayn: JIP after the break, with Joe dominating with ease. Sami survived the onslaught. Started to fire up but ran into the snap slam. Joe is so casually awesome as he kicks the shit out of a man. Joe teased the muscle buster, but then sent Sami to the floor and connected with the elbow suicida. Post break, Joe continues his attack, using an amazing blend of casualness and intensity as he destroys this man. Sami beats the count, manages to take Joe out of his boots with a lariat and the high cross gets the near fall. They brawled to the floor, Sami posted Joe and then hit the big DDT on the floor. Back in the ring, the helluva is countered with the STJoe; the clutch follows and Sami is done. Samoa Joe defeated Sami Zayn @ 12:30 via submission [***½] This was very good, seeing Joe really embrace the monster ass kicker role was great, and Sami is a perfect guy to do that against, He's a natural babyface, the face love him and he sells a beating excellently.
– Foley tells Sami he made a dumb decision, but that he appreciated what he did for him and he is proud of him. They share a loving embrace as Sami tells Mick that he's his hero. He then hugs Sheamus & Cesaro, who appreciated the chance Foley gave then and the fact that he beloved in them. Mick blew off some cruiserweights so that he could hug Bayley, and Triple H appeared and told Mick to, "HAVE A NICE DAY!"
UP NEXT: Get the absolute latest on @WWERollins' condition following the brutal attack by @TripleH last week… #RAW pic.twitter.com/o78tD4bBJ3

— WWE (@WWE) March 21, 2017
– We see footage of Rollins training for his Mania return. We then get to speak with Rollins' physical therapist, Rollins was only saved by his knee brace and is doing miraculously well… but he doesn't think Rollins will make Mania and "no doctor in America will clear him to compete. If Rollins competes at Mania, he'll be right back at the facility starting all over again.
Charlotte vs. Dana Brooke: Dana attacked at the bell, showing great fire and controlling with ease and connecting with big rights. Charlotte took a powder, but Dana kept control and even got a near fall off of the lariat. Dana took almost the entire match, and then ran into a bog boot, and Charlotte picked up the win. Charlotte defeated Dana Brooke @ 3:55 via pin [**] I thought that this was a great follow up from last week, they gave Dana a lot and she showed great babyface fire; but the finish absolutely sucked and made Dana come off like a jobber. The match was perfectly solid, and honestly, one of Dana's better main roster outings.
– Stephanie walks and sees sad Bayley and mocks her. Bayley says she used to admire Stephanie, but ever since she came up to the main roster, all she's seen Stephanie do is hurt people. Stephanie says Bayley will have to earn that she is champion every night. Bayley faces Nia Jax tonight, and if Jax wins, she gets into the WrestleMania 33: Participatory Award Raw women's title match.
The Highlight Reel: Jericho says he will speak with the REAL Kevin Owens tonight; he doesn't need Owens as a friend because he has the friends of Jericho, CHEER ME ON MAN! Jericho then shows us old images of a young Owens in a classic Y2J shirt, and also had a Jericho poster as well as a Pam Anderson poster.
"He doesn't look like a prizefighter to me…" – @IAmJericho is exposing the REAL @FightOwensFight as a FAN of JERICHO! #HighlightReel #RAW pic.twitter.com/Uh0X0QRf04

— WWE (@WWE) March 21, 2017
Better than Super Sasadango Machine doing DDT power point presentations. #Raw pic.twitter.com/lbWto3L4ZL

— Michael Sempervive (@Sempervive) March 21, 2017
Jericho says Owens looked like a simple fan, mark out man. When Owens was signed to the WWE, he reached out to Jericho through Twitter DM to ask for advice. Jericho they says he want all the time back he spent recovering for taking bullets for Owens, all the time back from his hospital stay. Jericho agrees that they were never friends; he is Owens' idol and hero. Jericho vows to turn Owens back into that 16-year old kid at Mania. Jericho also says losing at Mania will hurt even more than when Owens lost the Universal title. Jericho then teased putting him on the list, Joe arrived to distract him, allowing Owens to attack from behind and lay him out with the pop up powerbomb. Owens then took the list and ripped it up, and then posed over Jericho. Another good segment, Jericho was on and kept the crowd invested and I also like how they worked in some real life things to this. The Owens sneak attack and beat down also played well, showing that we're still getting a serious and more focused Owens.
TJ Perkins vs. The Brian Kendrick: They did some fun back and forth, but it went to a stalemate early, playing off of their history. Perkins hit a high cross, Kendrick pulled his hair a bunch leading to Perkins arguing with the ref for an hour like an idiot; Kendrick then hit sliced bread for the win. The Brian Kendrick defeated TJ Perkins @ 1:20 via pin [NR] This was done to keep Kendrick strong for his feud with Tozawa. It was ok for the time given, although it would have been cool for Perkins not to look like an idiot.
– Post match, Kendrick revealed that he stole Tozawa's passport; I am pretty sure that's a crime.
– Roman says tonight he's going to teach Braun a lesson in his yard.
– We get a Goldberg vs. Lesnar video package.
– Sheamus and Cesaro talked backstage, and Stephanie interrupted and booked them against Enzo, Cass, Gallows and Anderson; if they lose they are out of the tag title match at Mania.
Non-Title, No DQ Match: Nia Jax vs. Champion Bayley: If Nia Jax wins, she is added to the raw women's title match at WrestleMania. Bayley attacked with forearms at the bell, and then worked the sleeper but Jax tossed her down. Bayley went for a RANA, Jax cut her off and slammed her to the apron. We see Charlotte & Sasha watching on from backstage as Jax misses an ass attack and runs into the steps. Post break, Jax works the heat on Bayley, using her size and power to control. Bayley tries to fight out, but the heat is feeling a bit long in the tooth and bland. Jax tosses her to the floor again, and repeatedly slams Bayley into the barricade. Jax grabs a chair but Bayley kicks it into her face. Bayley lands kicks, hits the running knee and covers for 2. Bayley puts together some sustained offense for the first time, heads up top, and hits the high cross for 2. Jax then pulls Bayley off the ropes, hits the Samoan drop and wins. Nia Jax defeated Champion Bayley @ 10:23 via pin [*½] A largely boring match to give us another multi-person Mania match. The match did nothing for me, felt a bit lazy and simply existed. The booking of the four-way did more damage to Bayley, who had to lose to Jax and Banks to get there; they are hoping that the "Bayley winning at Mania moment" can erase that. I also think the four-way is an inferior match compared to the three-way or just doing Bayley vs. Banks.
– We get a Mae Young video package for women's history month.
– Triple H will be on ESPN programming tomorrow.
Triple H Talks about Rollins: Triple H is asked about Rollins' diagnosis, he's disappointed because he wanted the fight. But now Rollins will miss Mania again. He is insulted that Cole things he has fault in this, but it is all on Rollins for not listening to him and listening to the crowd. He has never needed the cheers of the crowd, but Rollins is insecure and needed it. The crowd once again ruined things for Foley. Triple H blames Foley's physical condition on the crowd; the crowd needed a hero and Rollins wanted to be that hero. But last week, Triple H ended that all in 30-seconds. We see the footage from last week, and Triple H again blamed the crowd. Triple H said he thought Rollins was the future, he showed him the way, he gave him the blue print. But just like all these millenials, when Rollins got knocked down, Rollins cried and blamed others. He made things too easy; he was a crutch or Rollins and then beat him down with a crutch. H claims to be done with Rollins, and gives Cole some free tickets to Mania for Rollins, but they aren't front row. Triple takes the tickets back and then proposes a hold harmless agreement for a non-sanctioned match so that he can end Rollins' career, and so he can't sue anyone. If they want it, he will draw up the papers, they will face at Mania. Really good work by Triple H here, and the non-sanctioned match seems like the best way to go not only to play off of the angle but to allow them all of the smoke and mirrors to have a great match.
– Enzo and Cass do their shtick.
Cesaro & Sheamus vs. Cass, Enzo, Gallows & Anderson: If Cesaro & Sheamus lose, they are out of the tag title match at Mania. The champions attacked Enzo and Cass, because they're heels; dumb heels, but heels. Their brawl allowed Cesaro & Sheamus to hit an assisted brogue kick and win. Cesaro & Sheamus vs. Cass, Enzo, Gallows & Anderson @ 0:44 via pin [NR] For the second week in a row, Gallows & Anderson are presented as complete idiots, ensuring that they are stuck defending in a triple threat match.
– Post match, Enzo and Cass laid out Gallows & Anderson.
– We get a New Day segment from backstage, hyping Lesnar vs. Goldberg, Taker vs. Reigns and Owens vs. Jericho.
Austin Aries vs. Tony Nese: We saw this match recently on 205 Live. Nese attacks at the bell, looking to get some revenge. Aries tried to fight back, but Nese kept control and grounded him. Aries finally cut off Nese, hit the heat-seeking missile and we took a commercial break. Post break, Nese worked the torture rack to maintain control. Nese then missed the moonsault, allowing Aries to fire up and work strikes. The face buster and STO led to the pendulum elbow drop. Finlay roll by Aries and then hit the missile dropkick. The rolling forearm finished it. Austin Aries defeated Tony Nese @ 7:55 via pin [**½] this was a perfectly fine match, but my issue again is that Aries is being booked like any other guy and going 50/50 instead of dominating like the top contender he is.
– Neville arrived and Aries mocked him, but Neville claimed that Aries was no threat and that Aries' ego will cost him at Mania. Aries says that while he hears Neville, he sees a man who knows he is about to face a man who is above his level. Aries tells him to enjoy being king, because in 13-days, it's over.
– Emma will allegedly return, again, and maybe stick around.
This time last year I made my return and then wow'd everyone at #Wrestlemania…So what's one more week wait, if it'll be all about me! #RAW pic.twitter.com/bV9Om8dRhl

— EMMA (@EmmaWWE) March 21, 2017
– We get a Goldberg vs. Lesnar video package.
– BRAUN promises to kill Roman, and tells taker to bring a shovel to scrape him off the mat.
– Austin Aries will talk to Neville, again, tomorrow on 205 Live.
Roman Reigns vs. BRAUN Strowman: Reigns attacked at the bell, and they brawled back and forth with Reigns kicking BRAUN to the floor. BRAUN cut off the drive by kick, and then slowly beat down Reigns in the ring. BRAUN then worked a chinlock as they slowed things down and are doing the opposite of what has made recent BRAUN matches good. After about an hour, Reigns escaped the chinlock and fought back. BRAUN then ran him over with a lariat. The crowd chants for taker because they've had enough of this shit. BRAUN eventually posted himself, Reigns unloaded with strikes and hit the Samoan drop, but BRAUN survived. Reigns hit the drive by, but then got slammed to the steps. BRAUN tossed some steps in the ring, BRAUN looked to smash him with the steps but ran into a superman punch. BRAUN blocked the second but Reigns then hit it countering BRAUN. THE DONG SOUNDS and Taker appears in the ring. Taker get a great reaction, and then chokeslams BRAUN. Taker realizes he done fucked up and Reigns then cuts him in half with the spear to stand tall. BRAUN Strowman defeated Roman Reigns @ 9:00 via DQ [**] This was nowhere near as good as their Fastlane match, it felt like a neutered version of it to get us to Taker. It was ok.
– The best part of the entire final segment was taker realizing he was fucked because he attacked BRAUN and took his eyes off of Reigns, and then ate the spear.
– Taker sat up and did the throat slash as Reigns was heading to he back.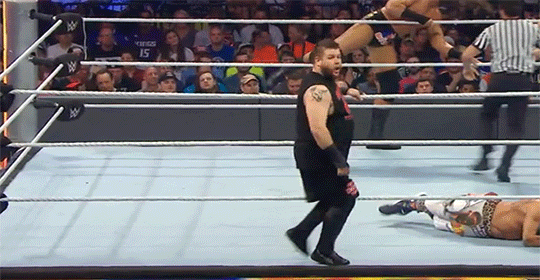 "Mama says these my magic shoes. Mama said they would take me anywhere…"
5.9
The final score: review Not So Good
The 411
They did that thing where they tricked me by putting on a good first hour, but the quality quickly dropped off for me. I felt that there was too much focus on Foley & Stephanie, and then while there was some attention and small efforts to build to Mania, none of it felt all that important or made me care. Overall I felt tonight's show was a below average effort that did little to make me excited for Mania. What you need to see: Joe vs. Sami, Triple H's promo, the Highlight Reel.
legend