Csonka's WWE Raw Review 4.03.17
April 3, 2017 | Posted by
Csonka's WWE Raw Review 4.03.17
Csonka's WWE Raw Review 4.03.17
OFFICIAL RESULTS
– Raw Tag Team Title Match: Champions The Hardys defeated Gallows & Anderson @ 10:40 via pin [**¾]
– Non-Title Match: Champion Neville defeated Mustafa Ali @ 10:30 via pin [***½]
– The Revival defeated New Day @ 8:05 via pin [**¾]
– Bayley, Sasha Banks, and Dana Brooke defeated Emma, Nia Jax, and Charlotte @ 9:20 via submission [**½]
– #1 Contender's Match: Cesaro & Sheamus defeated Enzo & Cass @ 9:50 via pin [**½]
– Sami Zayn defeated Jinder Mahal @ 2:20 via pin [NR]
– Seth Rollins & Chris Jericho Finn Balor defeated Samoa Joe and Kevin Owens @ 12:15 via pin [***¼]
---
– We get a video package on Reigns defeating the Undertaker. It was a great video package.
– The show then opens to several minutes of Undertaker/Roman Sucks chants.
– Cole says last night was officially Undertaker's final match.
Roman Reigns is Here to Talk: Reigns got massive DELETE, Fuck You Roman, Asshole, Go Away, & You Suck chants, so he just strolled around with a shit eating grin, and then politely waited. He then pointed at his hand and mouthed "in the palm of my hand." He was so fucking smug here and it was great. He finally spoke, saying "this is my yard now" and dropped the mic. That was spectacular, Reigns was smug, confident and walked away like an entitled asshole; I hesitate to use perfect to describe things, but they played the post Mania crowd perfectly, eliciting nuclear heat for Reigns. Now they just need to follow up on it.
Champions The Hardys vs. Gallows & Anderson: The Hardys controlled early on, working over Anderson and sending he and Gallows to the floor. Post break, Gallows and Anderson cut off Matt, worked double teams and took the heat as we got "fuck that owl" chants. Matt kept trying to fight back, avoided an elbow drop and got the hot tag to Jeff. Jeff runs wild, runs through the hits and then hits a running splash for 2. To the floor and Jeff hit poetry in motion off the steps, back in and Gallows crotches him. The boot of doom follows, but Jeff survives. Matt saves Jeff from the magic killer, twist of fate and swanton connect allowing the Hardys to retain. Champions The Hardys defeated Gallows & Anderson @ 10:40 via pin [**¾] This was a pretty good match, they got The Hardys on TV, they got them a win and also allowed them to play the hits in front of the TV audience. Good stuff overall, serving its purpose well.
– Neville reminds us that he did everything he promised he'd do at Mania and you can't argue with his results. Tomorrow on 205 Live there will be a celebration. Mustafa Ali interrupts him
Champion Neville vs. Mustafa Ali: They worked a nice, fast paced opening stretch with Ali sending Neville to the floor and hitting a high cross. Unfortunately for Ali, Neville cut him of once they got back in the ring. Post break, Neville had the heat and was grounding Ali. Ali managed to fight back with a kick in the ropes, and then hit the rolling neck breaker for 2. Neville started to choke out Ali in the ropes, hit a snap Saito suplex and then decapitated him with a sick lariat with a great sell by Ali. Neville pulled Ali up top, and Ali hit a desperation Spanish fly and both men are down. They worked to their feet, Ali hit a superkick and ran wild, hitting a spike DDT on Neville for the near fall. Neville then avoided the imploding 450, allowing Neville to climb up top; he then dropped back down as a fuck you to the crowd, and locked in his submission for the win. Champion Neville defeated Mustafa Ali @ 10:30 via pin [***½] This was a very good match, with both guys working hard because they actually had an extended time frame to work with on Raw. Neville's absolute distain for the crowd's beach ball shenanigans while he kicks ass, led to a great heel finish; "FUCK YOU NO FLIPPITY DOOS FOR YOU!"
– Vince McMahon is in the building.
Vince McMahon is Here: The crowd chanted that Roman sucks as Vince thanked the crowd for being such passionate fans. He promises a "superstar shake up" next week, which I guess means a new draft. Vince then shows footage of his darling Stephanie going through a table at Mania, and says she will not be here for a while. The crowd is happy to hear this, and Vince gets upset that they are so blood thirsty. Vince now names a new general manager; a hall of famer… and Teddy Long arrives. Vince has his music cuts and yells at him to stop dancing, and then announces Kurt Angle as the new Raw GM. The crowd predictably & properly loses their shit. Awesome. If he can't get cleared to wrestle, this will be a great use of Angle; he has charisma, can talk and is a fresh face to WWE. I also like short Vince appearances like this, they are to the point and have a purpose.
– New Day is out, and they put over WrestleMania 33. They issue an open challenge… and the Revival make their debut. #TopGuys#Raw
New Day vs. The Revival: Woods and Big E are in for New Day. The top guys control early, bur Woods picks up the pace and fights back but the Revival cuts him off as we head to a commercial. Post break, The Revival worked the heat, targeting the arm of Woods. Woods managed a missile dropkick, and got the tag to Big E, who started to toss around the Revival. Big E ran wild, sending the Revival to the floor but he then missed the spear and flew to the floor. Woods was left alone to fight for himself and got caught with shatter machine. They then beat down Kofi post match and took out his knee, classic Revival. The Revival defeated New Day @ 8:05 via pin [**¾] Pretty good match, with The Revival getting the clean win most importantly.
– Angle meets with Enzo and Cass. Angle completely played straight man to their comedy. Enzo and Cass want gold around their waists, and wonder why the Hardys are the new champions. Enzo then asks the age-old question: "why is Goofy treated like a man, and Pluto treated like a dog?" Angle then books a #1 contender's match between them, Sheamus and Cesaro. They spell it out for him, and Angle says, "That's not how you spell soft."
Bayley, Sasha Banks, and Dana Brooke vs. Emma, Nia Jax, and Charlotte: Good to see Emma back, they really needed a fresh face in the mix. Emma tagged herself in right away and attacked former running buddy Dana Brooke. Emma then wanted Bayley in the ring, working a nice back and forth. Post break, the heels took the heat and worked over Bayley in their corner. Emma was really great here, giving no fucks while being rather ruthless. Bayley manages to send Charlotte to the floor, but Charlotte pulls Banks to the floor to stop the tag. Bayley finally made the tag; she hits meteora and runs wild. The corner knees followed, and that got a near fall. It breaks down; Jax dropkicked to the floor and Bayley wipes her out with a high cross. Banks counters natural selection into the Banks statement for the win. Post match, the heels argue and Jax beats down Charlotte and stands tall. Bayley, Sasha Banks, and Dana Brooke defeated Emma, Nia Jax, and Charlotte @ 9:20 via submission [**½] This got Emma back in the mix, moved Charlotte out of the title picture with another loss (and possibly telegraphed her move to Smackdown), while getting some momentum for Banks and some heat back on Jax. I'd call this a solid match with better booking around it.
– Sami Zayn meets with Angle, and hopes to have a good relationship with Angle, similar to what he had with Foley. Angle seems completely confused by Sami, and then says Sami has all of the three Is and will always be fine. Sami is moved by this speech. Jinder Mahal arrived and is upset he lost the Andre battle royal and demands justice. Angle books then in a match for tonight.
Brock is Here: Heyman cuts his promo, noting that Brock has allowed him to tell a fairy tale that they tell their children. It was about a superhero (Goldberg), who had to take a thrill ride through suplex city; that superhero got his ass kicked by the beast. And we won't be seeing Goldberg around here anymore. Brock is looking for new challengers, and mentions Seth Rollins, and Heyman says Brock owes Rollins. He also mentions the Hardys. Paul says Brock will not take selfies with the title, he will not be the status quo and brings up Roman Reigns and says history determines that they go one on one for the rights to the Yard. "If Roman Reigns is the big dog, then Brock Lesnar is animal cruelty." The crowd chants for Balor, and Heyman calls out Reigns right here, right now and tonight. BRAUN is here. BRAUN plans to finish Reigns to get Brock's attention, because Brock has his attention. Brock lays the belt on the mat and challenges BRAUN to come at him. BRAUN backed off while talking some shit.
Interesting segment with Heyman already setting up Brock vs. Roman; the BRAUN match intrigues me, but it would have meant more if he wasn't tossed so early in the goof battle royal last night.
– We got a backstage promo from Jericho, says this is his crowd, his friends, the friends of Jericho. Jericho put the tip of Owens' finger on the list. Owens then attacked Jericho kicked his ass and Joe arrived and they double-teamed him. Owens then powerbombed Jericho through a table as he and Joe stood tall. That's what you get for giving just the tip.
– Angle promises to find Rollins a new tag team partner, because Jericho can't compete tonight.
Enzo & Cass vs. Cesaro & Sheamus: Cesaro & Sheamus controlled early, but Sheamus was having issues on corner spots and almost completely slipped off the top. Cesaro & Sheamus to the floor, and Cass tossed Enzo out onto them. Rough beginning to the match. Post break, Sheamus posted himself and it broke down. Enzo escaped the Finlay roll, but was alone as Cass was down on the floor. Cesaro ran wild with uppercuts, the swing and the sharpshooter. Cass made the save, sent Sheamus to the floor and ran wild with corner attacks on Cesaro. Enzo is back, they look for the rocket launcher but Sheamus cuts it off and tosses Enzo of and into an uppercut for the win. Cesaro & Sheamus defeated Enzo & Cass @ 9:50 via pin [**½] It was a bit rough early, but they turned it around and the right team won. Cesaro & Sheamus vs. the Hardys has a ton of potential.
Jinder Mahal vs. Sami Zayn: Mahal beat down Sami on the floor before the bell, and after a minute or so rolled him backing and controlled with ease. Jinder made angry faces to pretend he's being intense, worked a bland heat, ran into the XPLODER and helluva. Sami won. Sami Zayn defeated Jinder Mahal @ 2:20 via pin [NR] The best thing I can say about this is that Sami picked up a clean win.
– Tomorrow on 205 Live…
TOMORROW: @megatjp vs. @AustinAries vs. @GentlemanJackG vs. @MustafaAliWWE to decide the No. 1 Contender for the #CruiserweightTitle! #RAW pic.twitter.com/5SEGtpOTkU

— WWE (@WWE) April 4, 2017
– And Rollins' opponent is… Finn Balor, no demon tonight. I wonder if he and Rollins tease any tension.
? #HappyValentinesDay❤️@WWERollins pic.twitter.com/3hqx8KmC51

— Finn Bálor (@FinnBalor) February 14, 2017
Seth Rollins & Chris Jericho Finn Balor vs. Samoa Joe and Kevin Owens: Ok let me get this straight, Seth wasn't cleared to wrestle last night (the hold harmless gimmick), had his knee destroyed for over 20-minutes last night, and is now cleared to perform? Rollins is Superman. Rollins and Owens to begin, they worked a fun back and forth stretch. Rollins and Joe traded strikes, Owens returned and then Rollins tagged in Balor and Owens ran from him. Balor took control, using his speed and looking for the double stomp, Owens rolled to the floor and Balor followed and attacked. Rollins then hit a dive onto Owens, and then one onto Joe & Owens, but clutched at the knee. Back in the ring and Owens attacks the knee. Joe tagged in, running wild on Rollins and then working quick tags to Owens. Rollins kept fighting, but they constantly cut him off, continuing to attack the knee. Joe locks in the clutch, but Rollins escapes and hits an enziguri. Balor gets the hot tag and runs wild. He works over Owens, hits an enziguri to send Owens to the mat, heads up top but Owens avoids the double stomp and Owens a swinging side slam, but Balor hits sling blade to counter the pop up powerbomb. Joe in to make the save, it breaks down and Balor hits Owens with the dropkick, hits the double stomp and wins. Seth Rollins & Chris Jericho Finn Balor defeated Samoa Joe and Kevin Owens @ 12:15 via pin [***¼] Good tag match to close out a really fun and enjoyable episode of Raw.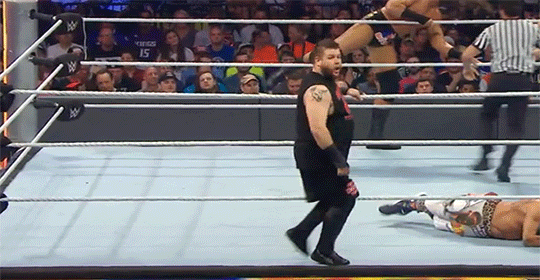 "Mama says these my magic shoes. Mama said they would take me anywhere…"
8
The final score: review Very Good
The 411
In many ways, the results don't mean much tonight, due to next week's "Superstar Shakeup," the rosters could be very different come next week. Things could be very interesting next week; the "Superstar Shakeup" will allow the brands to make trades and or deals to improve their brand, according to WWE.com. Overall I really enjoyed the show, it had a great vibe, was fun and had good debuts and returns. It was also newsworthy with Angle now being a permanent addition to Raw for the foreseeable future, and the "Superstar Shakeup" promising changes next week. This was a great first show post Mania, I hope that they can keep it up tomorrow night. This was a ton of fun.
legend