Csonka's WWE Raw Review 4.10.17
April 10, 2017 | Posted by
Csonka's WWE Raw Review 4.10.17
Csonka's WWE Raw Review 4.10.17
OFFICIAL RESULTS
– The Revival defeated The New Day @ 9:00 via pin [**½]
– TJ Perkins defeated Austin Aries @ 4:44 via pin [**]
– Nia Jax defeated Charlotte @ 6:00 via pin [**]
– Finn Balor defeated Jinder Mahal @ 2:45 via pin [NR]
– Sami Zayn defeated The Miz @ 7:40 via pin [**½]
– Sheamus, Cesaro, & The Hardys defeated The Shining Stars, Gallows & Anderson @ 6:00 via pin [**]
– Non-Title Champion vs. Champion Match: IC Champion Dean Ambrose defeated US Champion Kevin Owens @ 12:12 via pin [***]
---
– Tonight, the Raw after the Raw after Mania gets a shake up…
– The GMs have been "Negotiating" trades and deals all week.
Miz & Maryse Continue to Cosplay as John Cena & Nikki Bella: Miz mocked Cena, stating Hollywood didn't want him and Nikki because they were too robotic. Dean Ambrose arrives, and he is also coming to Raw. He acts wacky, like Miz and Maryse are really Cena & Nikki. He congratulates them on their engagement and for beating Miz and Maryse at Mania, because they are the worst. Ambrose also praises Cena's work on the pistachio commercials, and says not to do anything stupid like filming The Marine 5. Ambrose then hits dirty deeds to lay out the Miz. A short and entertaining segment, but I wish we got more info regarding the roster changes, other than "there were negotiations and HERE ARE NEW PEOPLE!"
BIG REVEAL! @JohnCena and Nikki @BellaTwins are actually @mikethemiz and @MaryseMizanin?! #RAW #SuperstarShakeup pic.twitter.com/hbKNcBpg4H

— WWE Universe (@WWEUniverse) April 11, 2017
– Sami Zayn meets with Kurt Angle and wants to know where he'll end up. Angle once again looks annoyed with Sami, and says there is a lot of interest from Smackdown. Miz and Maryse arrive and complain about Ambrose's actions and then run down Sami. Angle books Sami vs. Miz for tonight.
– Big E has a "blow up doll" version of Kofi with him. Big E explains that the doll carries the spirit of Kofi and they will take out The Revival for injuring Kofi last week.
– The Revival wears some great shirts to the ring…
LOOK AT THAT GEAR pic.twitter.com/DVWDWhe9io

— Danny Danny Chopper (@GolazoDan) April 11, 2017
The New Day vs. The Revival: The Revival took out Kofi last week, so this is Woods & Big E representing New Day. New Day attacked right away, looking for revenge, and working double teams. Post break, the Revival worked the heat on Woods. They worked quick tags, isolating Woods until a double down spot. Big E and Dash tagged in, Big E tossed him around with ease, hitting suplexes and the running splash for a near fall. Big E tosses Dawson, and Dash got a roll up for a near fall. Big E fought them both off, blind tag by Woods and that led to Woods hitting an elbow drop all the way across the ring for a near fall. The Revival fights off the midnight hour and catches Woods with the shatter machine for the win. The Revival defeated The New Day @ 9:00 via pin [**½] The Revival, picking up two wins in a row, especially over New Day is a great start for them. This was a solid match that accomplished its goal of keeping the Revival's momentum.
– Neville in interviewed backstage, he looks salty as usual, and says Aries is not on the Neville level. TJ Perkins arrives, and says some day, someone will make Neville eat his words. Neville says Perkins will never get a shot at his title. Because he's a joke now, and since 205 Live started, his opportunities have been given to guys like Aries. Neville claims he respects him, and Aries arrives. Aries says Neville is full of shit, but Neville keeps stirring the pot and leaves.
– Curt Hawkins is here; he's apparently a Raw guy now. Big Show arrives to welcome him. Show knocks him out and leaves.
– Neville joins commentary.
Austin Aries vs. TJ Perkins: Aries grounds Perkins right away, looks to take control but Perkins picks up the pace, leading to a stand off. They worked some fun back and forth action after that, Neville is a tremendous condescending asshole on commentary. Aries sent to the floor, avoids the dropkick and then stuns Perkins in the ropes. Aries follows with the double sledge to the floor and celebrates. Neville heads to the ring and distracts Aries, but Aries beats the count, and then gets rolled up. TJ Perkins defeated Austin Aries @ 4:44 via pin [**] I like the Perkins heel turn, but him defeating Aries only makes sense if they are making the title match a triple threat (to get away from doing Aries vs. Neville on back to back PPVs); if they don't do that, killing Aries momentum makes no sense. It was ok for the time given, but the finish was flat (like 99% of distraction finishes). Perkins needed a change, hopefully the heel turn can do the trick.
– Perkins attacks Aries post match, laying him out with the detonation kick.
Seth Rollins Talks: Rollins is happy to be back in front of the fans, he put his all into getting back for Mania. He couldn't think about the after Mania, he was physically messed up after his victory at Mania, but he's now at peace, because he left it in the ring and because he won, "we did it together, we slayed the king of kings." He thanks the fans for having him back, and together, they are just getting started here on Raw. He has issues with Joe, and he wants to win the Universal title. We go back and see the Stephanie table bump from Mania. He won't be named employee of the month, Stephanie will come back and will eventually try to get even with him. He knows that going to Smackdown would be the easy move, but he did that once before and will not do it again. He won't leave Raw without a fight, which brings out Kurt Angle. Angle says that Stephanie made it clear that she wants him gone, but Angle saw something in hit at Mania, and he was impressed by how he won an ass kicking contest on one leg. Angle wants to make Raw great, and he has Rollins and as long as he is GM, Rollins has a home on Raw. Joe attacked and angle tried to separate them, but Joe and Rollins brawled and Rollins cleared Joe to the floor.Solid babyface moment for Rollins, with Angle putting him over and standing up for himself despite knowing what Stephanie wants. The short brawl with Joe helped make this more interesting.
– Kevin Owens is interviewed; he doesn't really care about the shakeup, and says Jericho likely wants to run off to Smackdown. He is the face of America, and the top champion on Raw. Ambrose can run around and act goofy, as long as he knows his place, otherwise Owens will beat his ass, because this is the Kevin Owens show.
Nia Jax vs. Charlotte: Jax controls early, using her size and power advantage well. Jax then grounded Charlotte, hitting repeated elbow drops and scoring a near fall. Jax then worked a cobra clutch for a bit, Charlotte escaped only to be tossed around; Charlotte countered the Samoan drop, worked chops hit a big boot and then tried for a sunset flip an Jax stopped that. Charlotte then clipped the knee, hit natural selection, but Jax kicked out. Jax missed the charge, posting herself and Charlotte then slammed her into the post again, headed up top and hit the moonsault to the floor (well her knees knee shit Jax in her dome). Jax beat the count, Charlotte went for the figure four but Jax sent her to the buckles to escape. Corner splash and Samoan drop by Jax picked up the win. Nia Jax defeated Charlotte @ 6:00 via pin [**] I'd say that following that clean, and rather dominant victory, that Charlotte's "leaving the territory." Charlotte dominated Raw, so losing to Jax on the way out to Smackdown was a good call to try and give Jax some credibility and momentum. The match wasn't bad really, just very flat and the crowd was never into it until Charlotte busted out the moonsault to the floor. The Drifter was wandering in the crowd during this match, making a soft main roster debut.
– We get a Finn Balor video package.
Finn Balor vs. Jinder Mahal: Balor used his speed early, lots of hitting and moving and then hitting a basement dropkick. Mahal caught Balor with a big boot after refusing to break cleanly. He grounded Balor, working his "Main Event (the show, not the match) offense." Balor quickly fought back, hitting a PELE kick and then sling blade. The shotgun dropkick and top rope double stomp followed and Balor wins. Finn Balor defeated Jinder Mahal @ 2:45 via pin [NR] Well, the important part is that Balor won.
– Bray Wyatt cuts a promo, claiming that Raw is his new home. He came with a gift, a gift of Payback. In three weeks, he faces Randy Orton in a house of horrors match. Not thrilled that the WWE Title match is happening on a Raw PPV, it could really mess with their storytelling. Wyatt promises to be watching Balor…
The Miz vs. Sami Zayn: After a quick back and forth, Zayn sent Miz to the floor and teased a dive; Miz used Maryse as a shield. Post break, Miz grounded Zayn and then hit the neck breaker combo for a near fall. Miz has a good time mocking Zayn, but his delay in following up allowed Zayn to fire back; Miz cut him off with a DDT for a near fall. Miz then laid in the Daniel Bryan kicks, but Zayn countered with a blue thunder bomb for a good near fall that got the interest of the crowd. Maryse pulled Miz to the floor, saving him from the helluva. Zayn chased, Maryse grabbed his leg, but Zayn countered the skull-crushing finale into a roll up for the win. Sami Zayn defeated The Miz @ 7:40 via pin [**½] I think having Miz lose on his first night on Raw, especially after all he did to build the Cena feud at Mania, and then lose that, was poor booking. Sure Sami has been in limbo, and could use some wins, but Miz needs some redemption wins/reset after the Cena angle and the move to Raw should have provided that. What we got was solid and fun, but the commercial break killed the momentum and hurt the match.
Roman Reigns Talks: They're doing the backstage sit down interview here. Reigns discuses beating Taker, noting that it was his biggest win, he respects Taker, but the win was bitter sweet. He had to do what he had to do, he's the big dog here, and this is his yard now. BRAUN arrives and kicks the shit out of Reigns, tossing him into the air and through a table. BRAUN then repeatedly slammed reigns into the metal garage door, which makes that great sound when a body hits it. BRAUN then powerslammed reigns onto a production cart, set reigns against a wall and then crushed him with another cart; BRAUN then shoved Reigns, tied to a stretcher, off of the loading dock, Fucking savage. 1. Pipes falling 2. Production carts 3. Frantic agents 4. Stretcher job 5. Frantic heel returns to do bad things to the stretchered victim; BACKSTAGE BRAWL BINGO! BRAUN THEN CAME BACK, KICKED HIS ASS IN THE AMBULANCE AND THEN TOPPLED OVER THE AMBULANCE WITH REIGNS IN IT. BRAUN accomplished vehicular homicide and wasn't even driving. It started off well enough with the reigns promo, but got amazing with BRAUN hitting beast mode for the beat down. Holy shit I loved that, wildly entertaining and BRAUN was amazing as a wild, beat like executioner. Best thing on the show with ease; whether WWE wants it or not, the fans continue to treat BRAUN as a face.
– BRAUN should have looked down at Reigns and said, "who's your God now, bitch?"
Your yard???? Welcome to my nightmare!!!! #MonsterAmongMen

— Braun Strowman (@BraunStrowman) April 11, 2017
– The DRIFTER appeared, and Graves lost his shit with beautiful hatred for him.
The Shining Stars, Gallows & Anderson vs. Sheamus, Cesaro, & The Hardys: Sheamus & Cesaro face The Hardys at Payback. The baby faces controlled, early, with Sheamus & Cesaro working over Anderson. Cesaro hit a run up high cross, for a near fall. Post break, the heels worked over Cesaro for a but, Matt got the hot tag and worked over the Shining Stars. Gallows and Anderson were dumped, Jeff hit poetry in motion on the floor; back in the Hardys hit the twist of fate/swanton combo platter on a Shining Star to pick up the win. Sheamus, Cesaro, & The Hardys defeated The Shining Stars, Gallows & Anderson @ 6:00 via pin [**] They didn't tease any issues ahead of the tag title match, just gave the Hardys a clean win to keep their momentum going. This was another fine and solid match. I can see the Shining Stars heading to Smackdown.
– Dana Brooke is reading a book, "Be Your Own Protégé," and Emma arrives to remind Dana that she is her protégé. Dana doesn't want any of her shit and makes fun of the Emmalina gimmick. She will stand on her own, and won't be going with anyone else anymore.
Bayley Talks: Sasha Banks introduces "Just Bayley." Bayley thanks the fans, noting that she couldn't have done this all without them. Banks says Mania did not go her way, and congratulates Bayley and tells her that her moment is over, she wants a title shot. Alexa Bliss then arrives. Bliss mocks them for their little show of affection and notes that she deserves all of the recognition. She is putting an end to this Bayley & Sasha trash and will take over the division. Mickie James then arrives, and Bliss is not pleased. James runs down her accolades, and tells Bliss that her nightmare has just begun, Jax attacks James and Bliss shoves Banks into her, and Jax tosses her and lays out Bayley before posing with the title, saying that it is hers. They introduced the new players, and continued the momentum for Jax. The Raw women's division certainly needed a new coat of paint.
– Tomorrow on 205 Live, it's Perkins vs. Gallagher.
Watch as @MegaTJP battles @GentlemanJackG TOMORROW NIGHT on #205Live at 10/9c only on @WWENetwork! pic.twitter.com/wNilMqJgdH

— WWE (@WWE) April 11, 2017
– Update on Reigns…
UPDATE: @WWERomanReigns has suffered cracked ribs, internal injuries, and a possible separated shoulder after @BraunStrowman's attack. #RAW pic.twitter.com/EakHBfsrTQ

— WWE (@WWE) April 11, 2017
Champion vs. Champion Match: IC Champion Dean Ambrose vs. US Champion Kevin Owens: They brawled right away, and then spilled to the floor to continue the fight. Ambrose controlled early, hit a plancha and we went to commercial. Post break, Owens was in control and beating down Ambrose. He grounded him with the chinlock, Ambrose battled to his feet, but was quickly tossed to the floor. Owens followed, tossing him to the post. Ambrose broke the count, and countered the senton. He sent Owens to the floor, and hit the suicide dive. Owens fought off dirty deeds, but Ambrose followed with clotheslines and a neck breaker. Owens countered the bulldog, but Ambrose fought off the cannonball, set Owens on the top rope and hit a clothesline for a near fall. Owens powders to the floor, but Ambrose hits the elbow drop press to the floor. Back in and Owens catches Ambrose with the superkick, hits the package side slam and that gets a near fall. Ambrose counters the pop up powerbomb, hits a RANA but Owens hits the superkick. Ambrose counters out and hits dirty deeds for the win. IC Champion Dean Ambrose defeated US Champion Kevin Owens @ 12:12 via pin [***] Good old WWE, doing the old "Champion vs. Champion" match with no build to ensure that it means nothing in terms of creating interest. It feels like that was done to set up Owens to Smackdown. The match was good, and was the best in ring action on the show.
– Post match, Jericho arrives and hits the code breaker on Owens to stand tall.
SUPERSTAR SHAKEUP MOVES & THOUGHTS
*
To Raw
–
Apollo Crews
: Crews has been on the main roster for a year, and was a guy brought up without a plan; he has never felt as if he got his footing on the main roster, was never given a defined character, and never showed any of the flashes that led to his WWE signing. A simple change of venue will not help any of this; he needs time and attention from the creative team so that we have a reason to care about him.
*
To Raw
–
Miz & Maryse
: This is a huge blow to Smackdown; Miz has been one of the most important and entertaining parts of the show for the last year or so. He has delivered great matches, extremely entertaining segments and along with AJ Styles, have been the MVPs of the show. I was also really hoping for Miz vs. Nakamura feuding on Smackdown.
*
To Raw
–
IC Champion Dean Ambrose
: While not as big a loss as the Miz in some ways, Ambrose was the workhorse of Smackdown last year, working more live events than anyone in the company and drawing well with Miz & Styles while Cena was away. He was a guy that worked on a few different levels, and that versatility and work ethic will hit Smackdown hard.
*
To Raw
–
Curt Hawkins
: Hawkins is nothing more than a warm body to put others over and to add a fresh man to the roster of Main Event.
*
To Raw
–
Bray Wyatt
: Wyatt was red hot after the WWE title win, and then they got he and Orton way too deep into the hocus-pocus, which cooled him off very quickly. Unfortunately, he feels as if he needs another reboot, and moving him is the easiest way to do that. But it's another big name gone (Miz, Ambrose, Wyatt) from Smackdown, which looks rough as we speak, but we won't know how it all shakes out until tomorrow night. So for now, these are just running thoughts on the moves as they happen.
*
To Raw
–
Kalisto
: The move makes sense, he was dead in the water on Smackdown, and will be reunited with the cruiserweights.
*
To Raw
–
Heath Slater and Rhyno
: A fine move considering that they weren't doing anything, but I also don't see them doing much on raw; maybe a hot feud with the Shining Stars. The gimmick was fun early on and they got a tag title run out of them, but I doubt that they can recreate that interest in Slater again.
*
To Raw
–
Alexa Bliss
: As predicted, Bliss arrives on Raw, seemingly taking the place of Charlotte.
*
To Raw
–
Mickie James
: The James move is a good one, but Smackdown will certainly need someone to replace her, likely Banks.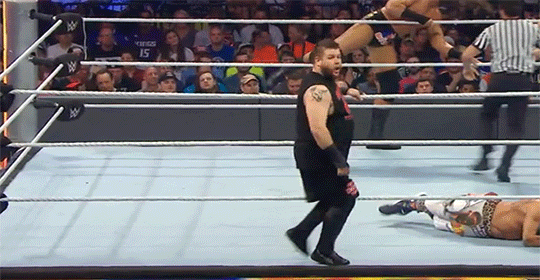 "Mama says these my magic shoes. Mama said they would take me anywhere…"
6.5
The final score: review Average
The 411
This was a solid, but unspectacular show, which couldn't capture the fun vibe of last week. It's hard to grade the roster changes until we see Smackdown tomorrow, but I also found it difficult to become invested in them without a real explanation as to how they happened. WWE's "the GM's negotiated" was beyond vague. Right now Raw is beyond loaded with over 50 roster members, while Smackdown has around 25. As far as Raw talent to Smackdown goes, I can see Charlotte, Banks, New Day, The Shining Stars, Owens and possibly Jericho all moving tomorrow.
legend