Csonka's WWE Raw Review 4.17.17
April 17, 2017 | Posted by
Csonka's WWE Raw Review 4.17.17
URGENT NOTICE: For the time being, please access the site using 411WRESTLING.COM. Bookmark that URL and only access the site via that address. You'll notice that all the article links already go to 411wrestling.com URLs. Please only use that domain until further notice. Thanks.
Csonka's WWE Raw Review 4.17.17
OFFICIAL RESULTS
– Samoa Joe defeated Chris Jericho @ 8:52 via submission [**¾]
– Gallows & Anderson defeated Enzo & Cass @ 11:03 via pin [*¾]
– TJ Perkins defeated Jack Gallagher @ 9:55 via pin [**¾]
– #1 Contender's Match: Alexa Bliss defeated Mickie James, Nia Jax, and Sasha Banks @ 14:00 via pin [***½]
– Finn Balor defeated Curt Hawkins @ 0:30 via pin [NR]
– Jeff Hardy defeated Cesaro @ 13:00 via pin [***]
– BRAUN vs. Big Show went to a no contest @ 13:22 [***¼]
---
– We get to relive BRAUN's assassination of Reigns from last week, it gets better every rime I see it.
BRAAAAAAAAAAAAAAAAAAAAAAUN!: BRAUN is proud of everything he did to Reigns last week, and claimed that Roman wouldn't be here tonight. BRAUN wants to prove that he's the monster among men, and Kurt Angle arrives. Can we get Kurt a lovely crushed velvet tracksuit to wear, suit jackets just feel wrong. Angle says BRAUN has proven himself, but BRAUN disputed this. Angle books BRAUN vs. Reigns at Payback, and BRAUN promises that it'll be Reigns' funeral. Angle tries to give BRAUN the night off, but BRAUN demands more competition, or else. BRAUN bails without saying anything else. Fine segment, I love crazed giant BRAUN.
– If Kurt isn't careful, this is how Raw will begin next week…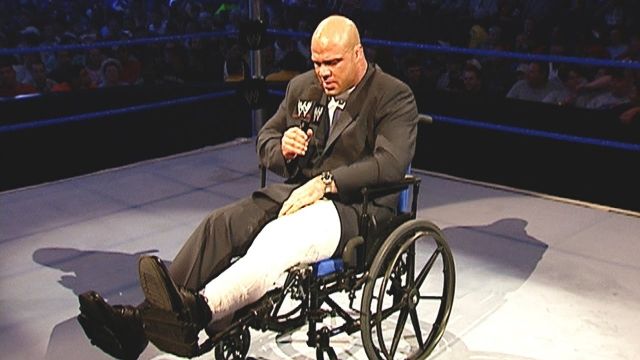 Chris Jericho vs. Samoa Joe: Rollins is out on commentary; he faces Joe at Payback. Joe attacks at the bell, pummels Jericho in the corner but then runs into kick and then a high cross. The springboard dropkick follows as Rollins talks about wanting all of Joe, not half, not part and most certainly not just the tip, he wants all of Joe. Post break, Joe took his time beating down Jericho with kicks and chops. Jericho looked to fire up but ran into the snap slam for a near fall. Joe would miss an elbow drop, allowing Jericho to hit the lionsault for 2. Jericho looked for a charge, but ran into the STJOE; Joe then misses the senton, and Jericho locks in the walls; Joe fights out and locks in the clutch, Jericho fades as Joe locks in the body scissors and Jericho taps. Samoa Joe defeated Chris Jericho @ 8:52 via submission [**¾] This was honestly a match that should not have been booked, because neither man should be losing ahead of the PPV; I will say that Joe winning was the right call, considering that Jericho is bulletproof at this point. Still, I wouldn't have booked the match, and instead, would have booked two separate singles matches to give them both momentum heading into the PPV. Pretty good match overall, the finish was good because they didn't trade in and out of submissions for minutes on end just to do so; Joe got his hold, locked it in and won.
– Joe cut a hell of a promo, discussing the sounds of Rollins' knee shredding apart when he debuted, and that was simply business. At Payback, it's personal as he gets revenge for his benefactor Triple H and especially for Stephanie after Rollins caused her to go through a table at Mania.
– Gallows and Anderson walked and the Drifter was playing a tune, causing Corey Graves to lose his show.
– BRAUN kills Truth and Goldust; agents Finlay, Noble & Pearce scold BRAUN for being a bad boy.
– Post break, a poor, scared ref has to tell BRAUN that Angle wants him to leave the building. BRAUN refuses.
– Enzo & Cass do their shtick.
– The Revival is out about eight weeks, due to Dash suffering a broken jaw, so we get this.
Gallows & Anderson vs. Enzo & Cass: Enzo and Cass control early, working over Anderson and ten sending him to the floor. Cass ten tossed Enzo into both Gallows and Anderson as we went to break. Post break, Gallows and Anderson took the heat on Enzo, which seemingly lasted forever as they focused on the arm of Enzo. Enzo eventually hit a DDT off the ropes, but Anderson cut off the tag attempt. Anderson tried to spear Enzo out of the air, and Enzo made the hot tag. Cass ran wild, Gallows in and stops the rocket launcher, Anderson then flings Enzo into the ropes, trying to set him up top, nearly killing him. Anderson covered for the win and even though the ref seemingly only counted two, he called for the bell. Gallows & Anderson defeated Enzo & Cass @ 11:03 via pin [*¾] Rough match (the arm wok annoyingly went nowhere) that felt way longer than it really was and the botchy ending didn't help things, but I do feel that the right team (at this time) won.
MIZ TV with Dean Ambrose: Miz tried to kick off his show, but Ambrose arrived to interrupt him; that is very rude. Ambrose proposes that they set their ill feelings aside since they are in Ohio and are both from Ohio. Ambrose leads the crowd in an Ohio chant before making fun of Miz's wardrobe. Miz fires back and claims Ambrose is a disgrace, Miz makes them look like stars, an Ambrose makes them look like RASSLERS and suggests he wears a fanny pack and some Zubaz. Miz then says Ambrose had everything handed to him, and then six-months later Ambrose was on the Mania pre-show. Miz says Ambrose is lazy and complacent. Ambrose says a lot of guys care about image and branding, he's not a brand, he's Dean Ambrose and he does this because he loves it. Ambrose then reminds Miz that he took the IC Title from him; Maryse calls Ambrose a dirty street rat, and says that the man makes the championship. Ambrose puts down the title, empties his pockets and takes off his coat. Miz says that the IC Title is a joke, just like Ambrose. They brawled and Miz escaped running away to run away another day. On one hand, I don't like jumping back into Ambrose vs. Miz, but if we can get the IC Title back on Miz, I am all for it. Overall a good segment, but it lacked the fire and emotion to make it great.
– BRAUN drags Kalisto's carcass out of the building and tosses him into the trash. Big Show makes the save, body checking him into a giant garage door.
TJ Perkins vs. Jack Gallagher: These two had a very good match on last week's 205 Live; of course they got nearly 16-minutes to do so. Neville makes a special appearance to watch his new charge, TJ Perkins. Austin Aries also made his way out to take in the match. They worked back and forth, using some nice grappling exchanges, leading to Gallagher grounding Perkins and scoring a near fall. Perkins looked to fight back and pick up the pace, but Gallagher frustrated him. Perkins grabbed William the III and threw it to the floor, proving that he is in fact a scoundrel. Perkins they sent Gallagher to the floor. Post break, Perkins worked the heat until Gallagher fired up with uppercuts and suplexes, which got a near fall. Gallagher then hit the head butt, sending Perkins to the floor, the Mary Poppins dive followed. Back in and Perkins again rolls to the floor, Gallagher follows but Perkins shoves him into Aries. Neville then takes out Aries, and back in and Perkins hits the detonation kick for the win. TJ Perkins defeated Jack Gallagher @ 9:55 via pin [***] Pretty good match, these two work together, but it lost focus once it became more about Neville & Aries.
– Old friends Apollo Crews & Akira Tozawa meet backstage, and Titus O'Neil interrupts. O'Neil says that Crews should join the Titus brand.
– Interview time with the Hardys. Matt puts over the new group of WWE stars, as he and Jeff discuss their grand return at Mania. Cesaro & Sheamus arrive, and welcome them back to WWE. They put over the Hardys, with Cesaro saying a match with Jeff is a dream come true. Sheamus says it will be an honor to defeat them for the titles.
#1 Contender's Match: Alexa Bliss vs. Mickie James vs. Nia Jax vs. Sasha Banks: First pin or submission wins. Banks tosses Bliss into Jax, and Jax slowly starts to fight off everyone. Jax hits a corner splash on James, and covers for 2. Bliss slaps Jax, begs off and tries to run, allowing James to dropkick Jax the floor. Bayley watches on from backstage. James and Banks work back and forth, nice back and forth with James hitting a RANA and neck breaker for 2 as Jax pulls James to the floor; Banks hits a suicide dive onto both of them. Post break, Bliss and James battle in the ring, with Bliss covering for a near fall. Jax back in and takes out Bliss, James and then banks with ease. Jax hits a corner splash on James, and then tosses Bliss across the ring. Jax then works a bear hug on Banks, but Banks uses a guillotine to counter but Jax hits a suplex and covers for 2 as James makes the save. Jax chokes her out, but James counters into an arm bar; Jax powers out and tosses James onto Banks. Bliss up top, but hops down to the floor; Jax then posts herself, Bliss tosses banks to the floor and battles with James. Banks cuts off the DDT, she hits dropkicks and then slams James into Bliss, hits the double knees on Bliss but Jax makes the save. James pulls Jax to the floor, but Bliss sends James onto Jax. Bliss and banks now battle; Banks statement on Bliss and James makes the save. James lights up Banks with rights, hits the flapjack and heads up top. Banks cuts her off, follows her up and Jax returns and snags Banks off the ropes and hits James with her, hits the Samoan drop but Bliss sneaks back in, takes out Jax and pins Banks to pick up the win. Alexa Bliss defeated Mickie James, Nia Jax, and Sasha Banks @ 14:00 via pin [***½] This was a very good match, if a bit slavish to the typical four-way formula, but they made it fun. The formula is what it is, and WWE rarely diverts from that, but they played Jax well as the monster and Bliss winning works as we build to the eventual Banks heel turn on Bayley, likely heading into Summerslam.
– Big Show wants to give BRAUN a dose of his own medicine.
– Curt Hawkins issues an open challenge.
Finn Balor vs. Curt Hawkins: Looks like Balor is cleared. Hawkins tried to attack, strikes and a sling blade by Balor; the shotgun dropkick and double stomp all connect and Balor wins. Get in, play the hits, and get out.Finn Balor defeated Curt Hawkins @ 0:30 via pin [NR] Squash
– Chris Jericho discusses his loss to Samoa Joe, puts him over, and admits that he's obsessed with Kevin Owens, and calls him ugly; he says that America deserves the face of Jericho. If he wins, he goes to Smackdown; he'll go to Raw, Smackdown, NXT, velocity or Sunday Night Heat, because the friends of Jericho will be there. He keeps calling Mike (The Interviewer) Tom, and then teases putting him on the list as The Drifter casually walks through playing a tune. Jericho then puts the Drifter on THE LIST. I am all for The Drifter randomly appearing for months with no real angle and not wrestling.
– Bray Wyatt cuts a spooky promo on Randy Orton & the house of horrors match. Bray promises to burn the house of horrors with Orton inside, it all burns and in the end they will all burn.
– Alicia Foooooooooooox is upset about her gift blowing up on her last week. She was speaking with Dana Brooke and Emma arrives and claims that Brooke laughed at her. Fox gets pissed at Brooke as Emma stirs the pot, Fox doesn't want to be friends anymore. Evil Emma is evil.
Jeff Hardy vs. Cesaro: Matt & Sheamus are at ringside. After some back and forth, Jeff sent Cesaro to the floor and then hit a high cross off of the apron. Back in they go, and Cesaro starts to use his power advantage, catching Jeff and hitting a powerslam. Jeff rolled to the floor, and Cesaro followed, attacking with uppercuts and then picking up a near fall. Post break, Cesaro was in control, sending Jeff to the floor as he sidesteps a charge. Cesaro tosses him back in and covers for 2. Jeff manages to fight to his feet and hits the desperation clothesline; Cesaro battles back with the running uppercuts for a near fall. They trade strikes, off the ropes and Jeff hits the clothesline, leg drop to the balls and a dropkick; the cover gets 2. Cesaro counters out of the twist of fate, hitting an uppercut and covering for 2. Jeff fights off the swing but walks into the springboard uppercut, which gets a near fall for Cesaro. Cesaro tries the swing again; Jeff hits the mule kick and heads up top only to eat another uppercut. Jeff fights off the superplex, crotches Cesaro on the ropes and then dropkicks him to the floor. Cesaro back in, and Jeff hits whisper in the wind for a near fall. Cesaro avoids the corner dropkick, but Jeff counters out of the neutralizer and hits the twist of fate and swanton for the win. Jeff Hardy defeated Cesaro @ 13:00 via pin [***] Jeff Hardy is still Jeff Hardy enough that they had a good and fun match; it was a little off at times, but nothing bad overall and they covered well. The only negative I have is that we couldn't get an in his prime Jeff vs. Cesaro. Because Jeff at full health and speed, against possibly the best basing wrestler I have ever watched, would have been magic.
– Everyone shakes hands post match.
– Kalisto, Goldust & Truth are all headed to the local medical facility. Rhyno and Slater arrive as Rhyno eats cheese-wiz and crackers. BRAUN walks and scares the shit out of them.
– TJ Perkins vs. Austin Aries is set for tomorrow's 205 Live.
– Sami Zayn vs. Luke Harper vs. Dolph Ziggler vs. Erick Rowan vs. Jinder Mahal vs. Mojo Rawley face off in a #1 contender's match on Smackdown tomorrow night/
BRAUN vs. Big Show: They brawl around ringside to begin, and then back into the ring. Show hip tosses BRAUN to the floor and hits a strolling baseballs slide dropkick. Back to the floor, Show slams BRAUN to the steps and back in the ring, BRAUN hits a dropkick for 2. Show then works the arm, but BRAUN rolls through and kips up, hitting arm drags. LUCHA BRAUN! Show finally slams BRAUN after an intense battle, but BRAUN fights off the chokeslam and hits a suplex on Show. BRAUN then clubbed away at Show, keeping him grounded. Show countered the powerslam and hit the corner splash. They battle up top, but BRAUN fights him off, only to jump into a chokeslam for a Big Show near fall. BRAUN avoids the KO shot and hits the powerslam for a near fall. BRAUN up top now, Show cuts him off and follows him up and looks for the SUPERPLEX, but BRAUN fights him off. BRAUN then jumps off into the KO punch, but BRAUN kicks out. Show now heads up top, BRAUN over to cut him off and hits the superplex for the big ring break spot. Someone on twitter called that earlier in the night, noting that there were no LED boards on the ring tonight.BRAUN vs. Big Show went to a no contest @ 13:22 [***¼] Good hoss battle of a main event, with the memorable ending that popped the crowd, although I liked their first Raw match more. Near the end of the year, I'd be all for BRAUN running through and retiring Kane, Show and Henry to take the crown as the true monster of WWE.
– BRAUN gets to his feet and celebrates.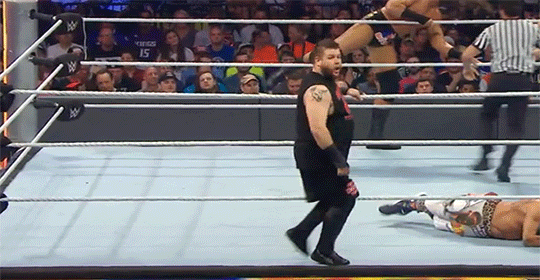 "Mama says these my magic shoes. Mama said they would take me anywhere…"
URGENT NOTICE: For the time being, please access the site using 411WRESTLING.COM. Bookmark that URL and only access the site via that address. You'll notice that all the article links already go to 411wrestling.com URLs. Please only use that domain until further notice. Thanks.
7
The final score: review Good
The 411
An overall good show with a nice amount of good wrestling, BRAUN running wild and killing folks, and good attention to building to Payback; it was nice for the show to feel as if it had a real sense of purpose.
legend