Csonka's WWE Raw Review 7.10.17
July 10, 2017 | Posted by
Csonka's WWE Raw Review 7.10.17
Csonka's WWE Raw Review 7.10.17
OFFICIAL RESULTS
– Finn Balor defeated Elias Samson @ 10:10 via pin [**½]
– Anderson & Gallows defeated The Hardys @ 4:25 via pin [**]
– Sasha Banks & Bayley defeated Nia Jax & Alexa Bliss @ 9:40 via pin [**]
– Goldust defeated R-Truth @ 5:42 via pin [*¾]
– Akira Tozawa & Cedric Alexander defeated Neville & Noam Dar @ 9:43 via pin [**½]
– Bray Wyatt defeated Seth Rollins @ 17:02 via pin [**¾]
---
– We get highlights from the WWE Great Balls of Fire PPV.
Big Cass Talks: Cass makes his way to the ring to the sweet sounds of generic big man heel theme song #27. He broke down his ass kicking of Enzo at the PPV, and was actually getting some solid heat from the crowd. He puts the roster on notice, and says not to jump on the bandwagon now, because he's the future of WWE and will win the universal championship. He of course made the mistake of saying that no one is on his level, and that no one can like him in the eyes. This brings out Big Show, who had been involved in the split between Cass & Enzo, with Cass trying to pin things on him. Cass talked shit, so Show head butted him and kicked his ass until Cass ran away. Solid opening segment, Cass tried but was really rough early on. He'll have to pick up his game now that he's a solo act. The transition to Big Show makes sense considering his previous involvement with the two, and like I sad when the split happened, Cass working the house show loops with Show is a good thing, look at how it helped Strowman. Show has repeatedly said he knows he's about to be done and wants to help prepare the next generation of WWE big men to take over for when he's gone.
Finn Balor vs. Elias Samson: Samson used his power advantage early, but Balor had enough of that and make a comeback, using his speed and teasing the double stomp ; Samson powdered to the floor and we took a commercial break. Post break Samson kept control, using the power game. Balor would take control back, but Samson cut off the apron PK and attacked the shoulder of Balor. Samson took control for a while, but honestly didn't do much with his control. It was fine, but lacked any real aggression. Balor fought back with one arm, but did so with ease and hit the Coup de Grâce for the win. Finn Balor defeated Elias Samson @ 10:10 via pin [**½] I found this to be a perfectly average match; Samson got some time to dominate and they got time, but it felt a bit too laid back in terms of the intensity. Graves, who "hates Samson," always notes that while he doesn't like him that he's not someone to mess around with in the ring. He just lacked intensity and believability in his work here, and in a match where he had a great opponent and could have really shined as a heel.
– Post match, the Hardys came out and paid respect to Balor before heading to the ring.
– Baron Corbin faces Shinsuke Nakamura tomorrow on Smackdown.
The Hardy Boys Talk: The Hardys are here to discuss their failure to win back the tag team titles at the WWE Great Balls of Fire PPV. Jeff said that the other teams are thinking that they are done and that maybe they should fade away and classify themselves as obsolete. Matt delivers a proclamation that they aren't done and are just starting to make magic again in the WWE Universe. Anderson & Gallows arrive and say that they are the one who said that they were done; they aren't the Hardys of old, they're just the old Hardys. Matt says that they are battered, bruised and a bit… broken. But lays out the challenge for a match. I liked that the Hardys just didn't jump back into the title scene, but had to admit that they failed while teasing some broken fun. The good brothers decided that now was the time to pick the bones and try to get themselves back into the tag title mix.
The Hardys vs. Anderson & Gallows: The Hardys run wild at the bell and clear the ring so that we can take a commercial break. Post break, the good brothers (not to be mistaken with the Hardy Brothers) worked the heat on Jeff; Matt got the hot tag and ran wild. Gallows got in a cheap shot, and the magic killer finished Matt. Anderson & Gallows defeated The Hardys @ 4:25 via pin [**] This was short and the in ring was perfectly fine. What I did like is that Anderson & Gallows picked up an important win, and we're going to move on from the Hardys as title contenders. They also took it a step further with the Revival coming to the ring and laying the Hardys out to make sure that everyone knew that they were back and in the mix as well. The Hardys lose nothing is loss, partly because they were banged up and because they're the Hardys.
– The Revival then arrived and put the beat down on the Hardys. Jeff got laid out with shatter machine. #TopGuysOut
Move over, #Oscars…
It's time for the FIRST-EVER #TheMizzies RIGHT NOW on @USA_Network! #RAW @mikethemiz pic.twitter.com/uCUwdYLrK0

— WWE Universe (@WWEUniverse) July 11, 2017
MIZ TV – The Mizzie Awards: Miz, Maryse & The Goof Troop (Axel & Dallas) are in the ring. I appreciate Dallas' Barry Windham cosplay effort. Dallas & Axel tied for best supporting actor. They thanked the Miz for changing their lives. Maryse of course won best leading actress. Maryse sheds some tears and thanks the Miz. Miz won the award for greatest man in WWE; I for one am shocked. Miz says that others promised big things, but he delivered and beat Ambrose. He put Ambrose over as tough, possibly the toughest man in WWE which makes The Miz the toughest man in WWE. Ambrose arrives, and I guess this feud will continue because he attacks Miz. The numbers got to Ambrose, but Rollins made the save. The segment was solid, but I wish they would do Miz TV a little less often. The segments have been really good in the past, but are coming off as filler a lot of the time. There are certainly entertaining parts, but as of late they have felt a lot less special. They have been teasing Shield reunions at house shows with tag matches, so I wonder if that will become a thing or just something they toy with.
– Ambrose and Rollins meet backstage, and Ambrose is pissed and says he doesn't trust Rollins, noting that there will be no Shield reunion. Hmmmm…
Sasha Banks & Bayley vs. Nia Jax & Alexa Bliss: This is a rematch from last week; in that match Bayley was taken out and Banks won on her own. Bliss runs from Banks early and tags in Jax to do her dirty work. Banks and Bayley clear the ring so that we can take our commercial break. Post break, Banks and Bayley work over Bliss until Jax tags in. Bayley works over Jax, attacking the knee but Bliss distracts her and that allows Jax to cut off Bayley and take control. Bliss and Jax take the heat, working over Bayley and keeping her isolated in their side of the ring. They work quick tags, drawing Banks in and causing her to accidentally distract the ref. Bliss hits twisted Bliss on Bayley, but Banks makes the save. She gets sent to the floor, Jax misses a charge and Bayley rolls up Bliss for the win. Sasha Banks & Bayley defeated Nia Jax & Alexa Bliss @ 9:40 via pin [**] This was a solid bit forgettable tag match, with Bayley picking up a much needed win. We could be headed to a multi-woman match at Summerslam if they decide to continue to rehab Bayley.
– Goldust promo time. Truth tried to ruin his premiere last week, but the Shattered Truth was still a success. He will give an encore performance, a sequel, because the golden age is back.
"Grab your popcorn and enjoy The #ShatteredTruth PART TWO! The #GoldenAge is BACK!" – @Goldust #RAW pic.twitter.com/u40ykHUcT0

— WWE (@WWE) July 11, 2017
– We get highlights from the ambulance match from last night's WWE Great Balls of Fire PPV.
– Kurt Angle will have an update on BRAUN later tonight.
– We get a WWE 2k18 trailer, where Kurt Angle investigates Seth Rollins' arson of the WWE Warehouse.
Goldust vs. R-Truth: Goldust cheap shots Truth right away and they battle back and forth. Goldust quickly cuts off Truth, and beats him down. Goldust takes the heat, slowly working over Truth. Truth cuts off the corner-mounted punches with a powerbomb. Truth follows with clotheslines, but Goldust chops blocks the knee to take control back. Truth battles back with a leg lariat and axe kick for 2. Goldust takes out the knee, posts Truth and hits the curtain call for the win. Goldust defeated R-Truth @ 5:42 via pin [*¾] The right guy won, and while solid, it felt really flat with very little investment from the live crowd. I still think that Goldust has a lot to offer, but outside of his entrance, WWE has given the crowd no reason to care about Truth.
BROCK TALK: Kurt Angle arrives and puts over from last night's WWE Great Balls of Fire PPV. BRAUN is hurt and he has no idea when he will return. He brings out Universal Champion Brock Lesnar and Paul Heyman. Angle brings up Brock beating him at WM 19 and says that Brock keeps getting better and better. They even shake hands. Angle brings up Summerslam and the Universal Title match, but Heyman didn't think he was here for a creative meeting. Roman Reigns arrives as Heyman and Brock looked to leave. Angle is pissed that Reigns tried to murder BRAUN last night, but says that the guys in the ring were part of the attitude era and blew up anything and everyone. He took out BRAUN when Angle couldn't deal with him and Lesnar is never around to do it. Reigns feels he is owed one and wants Brock at Summerslam. Brock calls bullshit on this idea, because Reigns doesn't deserve shit. Samoa Joe is now here and claims that they are all living in a fantasyland. He's here to bring them back to reality. Brock says the reality is that he kicked Joe's ass last night, but Joe vows to put him to sleep. Joe says Brock escaped at the PPV and Reigns has never beat him. Heyman says Joe will never get another title match. Joe says Heyman is protecting Brock from him because he knows Joe is the man and will beat him. Reigns mocks Joe for losing to Brock and Joe says Reigns is awful talkative after losing to BRAUN last night. Angle books Joe vs. Reigns for next week, and the winner Gets Brock at Summerslam. This segment had some great stuff from all involved, Joe continues to come across so well in these interactions with Brock; the main issue I have, that hurts this is the booking of two guys that lost at the PPV are getting a shot at the top title. I guess BRAUN returns to take them both out and takes what he deserves, but otherwise, I am not a fan of booking the two losers up in a top contenders match.
– Corey Graves gets a mystery text and has to bail on commentary.
– Angle meets with Graves, Angle says he can't "let this get out" and afraid of losing his family and career, he has to go public with the issue next week. Graves supports him and feels it will be fine. I wonder if they actually have this planned out or will scramble all week to figure something out.
Akira Tozawa & Cedric Alexander vs. Neville & Noam Dar: Dar faces Alexander in an I Quit match on tomorrow's 205 Live. Alicia Fox is out with Dar. Alexander worked over Dar to begin, leading to he and Tozawa working him over and taking early control. Neville tags in, but Tozawa attacks and has control unto Neville slams him to the buckles. He and Dar work double teams and take the heat as we take a commercial break. Post break, Neville has Tozawa grounded and maintains control. Tozawa manages to take out Dar and hits a knee strike to Neville. Alexander gets the hot tag, and runs wild on Neville but Dar distracts him. Neville crotched Alexander, but then Alexander crotched Neville and tagged Tozawa back in. Alexander wipes out Dar with a dive, Tozawa kicks the ropes into Neville's balls, hits the senton and picks up the big win and revenge from the PPV loss against Neville. Akira Tozawa & Cedric Alexander defeated Neville & Noam Dar @ 9:43 via pin [**½] Booking wise they helped to build the match between Alexander & Dar on 205 Live, and also gave Tozawa revenge on Neville, setting up a rematch for the title. The match was fine action wise, but just lacked in drama and gave very little to get invested in.
– Rollins & Wyatt cut pre-match promos. Rollins says Wyatt can't hang with him, Wyatt thinks he's God and will punish Rollins for his sins.
Seth Rollins vs. Bray Wyatt: So they take possibly the company's least interesting feud, which resulted in a completely average PPV match, and decide that is what to come back with to headline Raw. Hopefully they have something interesting planned besides Rollins getting his win back. After some basic back and forth, Wyatt teased sister Abigail but Rollins escaped and looked for a dive. Wyatt fought off the dive, but missed a punch and hit the post. Rollins then attacked the hand of Wyatt, slamming it off of the steps and leading to a brief floor brawl. Back in the ring and Wyatt knew the commercial was coming, so he hit a uranage and we got our commercial. Post break and Wyatt has Rollins grounded while the heavily invested crowd does the wave. Rollins escaped but was quickly cut off, as Wyatt hit the corner splash and they then traded strikes until Wyatt planted Rollins with a DDT for 2. Wyatt again grounded the action, keeping control. They battle dup top, Rollins fought back with kicks and they did a double down. Rollins fired up, attacked the hand and hit sling blade. Wyatt took a powder and Rollins hit shitty looking dive, why is everyone trying to deflect his dives, they look so bad when they do. Rollins got a near fall off of the blockbuster, and then did the deal, hitting a falcon arrow for the near fall. Wyatt head butted Rollins in the bad eye from last night, hits sister Abigail and won. Bray Wyatt defeated Seth Rollins @ 17:02 via pin [**¾] The good news is that Rollins didn't just get his win back. The match was a bit better than the PPV match, but felt overly long as they really failed to fill the time well. This feud continues to do nothing for me.
– Bray disappears, as Miz, Axel and Dallas arrive and circle the ring Shield style and then attack. They beat him down, but Ambrose makes the save with a chair, laying into Miz with several shots. Ambrose stands tall.
– The final tease for next week…
"Why don't you come here next week and we'll tell the whole world together… I love you." Who could @RealKurtAngle be talking to!?! #RAW pic.twitter.com/BYdfPVq5z8

— WWE (@WWE) July 11, 2017
– End scene.
– Thanks for reading.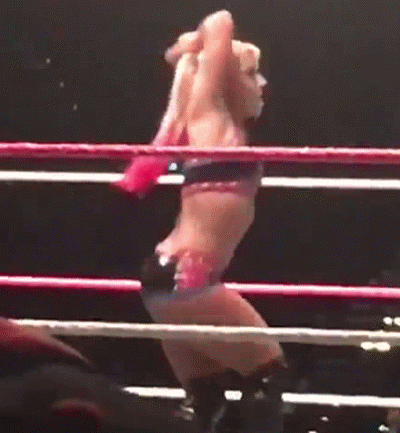 ~GLORIOUS~
5.5
The final score: review Not So Good
The 411
After what I felt was a good WWE Great Balls of Fire PPV, Raw felt completely flat and lackadaisical. The in ring really lacked, and the only really interesting things were the Brock, Joe, Reigns face off and the tease of the Angle reveal next week. Overall not a very good show tonight.
legend