Csonka's WWE Raw Review 9.12.17
September 11, 2017 | Posted by
Csonka's WWE Raw Review 9.12.17
Csonka's WWE Raw Review 9.12.17
OFFICIAL RESULTS
– Roman Reigns defeated Jason Jordan @ 15:20 via pin [***]
– Sasha Banks defeated Emma @ 7:23 via submission [*]
– Bray Wyatt defeated Goldust @ 2:05 via pin [NR]
– Elias defeated Kalisto @ 4:15 via pin [*¾]
– John Cena defeated Braun Strowman @ 13:20 via DQ [**]
– Non-Title Match: Enzo Amore defeated IC Champion The Miz @ 3:03 via DQ [DUD]
– Dean Ambrose, Seth Rollins, Matt Hardy, & Jeff Hardy defeated Cesaro, Sheamus, Anderson, & Gallows @ 13:50 via pin [**½]
---
– Follow all of my reviews at this link.
– We get a moment of silence for the anniversary of 9/11.
#RAW pic.twitter.com/ht48ykNGuD

— Italo Santana (@BulletClubItal) September 12, 2017
Roman Reigns vs. Jason Jordan: This directly plays off of last week's show, where John Cena defeated Jason Jordan @ 11:50 via pin; Reigns then ran Cena down for taking over 20-minutes (it wasn't) to beat a rookie. Reigns is looking to play anything you can do I can do better with Cena. Cena is watching on from backstage as the match begins. Jordan looks to work his amateur wrestling game, but Reigns will have none of that and works strikes. Reigns takes early control until Jordan snatches him up with an overhead belly-to-belly suplex. Reigns cuts him off, hits corner clotheslines and follows with the big boot. Jordan counters the superman punch and transitions into the crossface, but Reigns makes the ropes. Reigns powders to the floor as we take a break. Post break, and Jordan is firing back with strikes, but Reigns puts an end to that and whips Jordan to the corner. A suplex follows, and Reigns grounds the action with a chinlock. Reigns then hits a Samoan drop, covering for 2. Reigns again grounds the action, but Jordan starts to fire up and works to his feet. He escapes, and then hits a capture suplex for the double down. They work to their feet; Jordan sends Reigns to the buckles and hits a clothesline for 2. They trade strikes now, Jordan hits forearms and a dropkick, and the cover gets 2. Jordan slams Reigns to the corner, but Reigns fights back but gets caught with a Saito suplex for 2. Jordan hits a corner spear, drops the straps and hits rolling northern lights suplexes for 2. Jordan applies the crossface again, Reigns fights and makes the ropes. Reigns fights off Jordan, hits elbows and avoids the charge as Jordan posts himself and falls to the floor. Reigns follows with the drive by kick, and back in, hits the superman punch and then the spear puts Jordan away. Roman Reigns defeated Jason Jordan @ 15:20 via pin [***] This was another good outing for Jordan, but with Reigns taking longer than Cena to beat Jordan, it allows Cena to head to the ring to deliver a message.
– Reigns offers Jordan a handshake post match.
– John Cena makes his way to the ring. Cena tosses Reigns a mic and says he's excited to hear what he has to say. Cena reminds Reigns of his words from last week, and says that "the rookie" almost beat Reigns here tonight. Cena knocks Reigns' promo ability, and Reigns says he was having a great match, something Cena knows nothing about and says he's had more great matches in two-years that Cena has had his entire career. Cena puts over Reigns' skill, but says Reigns is burying himself, but has his head up his ass. Cena is here to cut him down to size, while he is always trying new things, while Reigns stops when he feels he accomplishes something. Cena promises to teach Reigns what failure is all about; he takes Reigns to school week after week and Reigns fails and doesn't step up. If you're the guy, at No Mercy you'll sow me something, but as of now, you don't have it in you. No Mercy will be a cakewalk. Reigns tells Cena to bring his bitch ass back here. Reigns says Cena came to Raw because he's selling the tickets Cena hasn't sold in 5-years; WWE can make it without Cena. Reigns says Cena can't break into Hollywood (BAD line considering all of his new projects), and says he knows a guy that can help. He then says Cena can't back up his talk. Cena then says that at No Mercy, consider me like a drug test, you ain't getting past me. These promos between the two are doing nothing to help Roman, it appears he's getting his balls cut off every week and his comebacks are simply poorly written. But "he's the guy…"
— TDE Wrestling (@totaldivaseps) September 12, 2017
Sasha Banks vs. Emma: So since we have a four-way coming up, we're going to burn through as many combinations of the match as possible before the PPV. Emma also got the jobber's entrance while Bliss is out on commentary. Emma looks to control early, but Banks hits a lucha arm drag and they trade pin attempts. Bug knee by Banks, but Emma hits a lariat; Nia Jax arrives in street clothes and makes her way over to commentary as we take a break. Post break and Emma has the action grounded. Emma then follows with a butterfly suplex, but Banks hits a jawbreaker and roll up for 2. Banks makes a comeback to a scary amount of silence, but Emma cuts her off and works her over in the tree of WHOA. Emma then hits her corner splash, covering for 2. Banks then quickly comes back with the Banks statement for the win. Sasha Banks defeated Emma @ 7:23 via submission [*] This was a lifeless match, gutted by Jax's entrance and the commercial break. Add onto that the fact that the live crowd didn't care at all, and this was a failure. It's hard to blame them though with Emma's booking, why would they care?
– We get a music video for last week's BRAUN vs. Show cage match.
Paul Talks, Brock Jumps Around and Makes Millions: Heyman arrives and introduces himself and discusses the BRAUN vs. Brock match at No Mercy. Heyman explains that for the first time that Brock is heading into a match as an underdog. He even then takes time to detail the ass whoopings that BRAUN gave the champion. Braun may be bigger and stringer, but is he badder than the beast? Heyman says that Brock has beaten and victimized everyone that mattered, and questions if he can monster handle Cena tonight? Will he cross the border from sports entertainment into Suplex City? Heyman says that Brock is ready and gives Braun his excuse to come to the ring and yells fight! BRAAAAAAAAAAAAAAAAAAAUN is here! He hits the ring and they brawl, Brock escapes the powerslam and Germans Braun, who pops right back up! Braun then chokeslams Brock and then follows with the big powerslam. Braun poses with the Universal title, and stands with one foot on top of Brock. This was an overall great segment, with Heyman hitting the hard sell and Braun standing tall. But I do have the feeling that we haven't seen the last of Brock tonight.
– Commentary comes back from commercial and discusses the issues with the recent hurricanes, wishing everyone well. Booker talks about how it impacted his home area, but people pulled together to help each other. He thanks WWE and the fans for their donations and support.
Bray Wyatt vs. Goldust: WHERE THE FUCK IS GOLDUST'S NEW MASTERPIECE? Wyatt rambles on about Goldust being a man like Balor, hiding under his paint. They brawl at the bell, spilling to the floor with Goldust initially controlling until Wyatt cuts him off and lays in some ground and pound. Wyatt misses a senton, allowing Goldust to send him to the floor and Goldust hits the cannonball off of the apron. Wyatt posts Goldust, and back in Wyatt hits the running cross body; Sister Abigail finishes it. Bray Wyatt defeated Goldust @ 2:05 via pin [NR] This was a fun and energetic squash match with the right guy winning, as Wyatt is heading towards a rematch with Balor.
– Post match, Wyatt wipes off Goldust's face paint, and Balor arrives to make the save from cosmetic removal.
– Charly talks with Sheamus & Cesaro. They face Anderson & Gallows tonight. They will take back their tag titles at No Mercy, because they are a real team unlike Rollins & Ambrose.
– Rollins and Ambrose are out on commentary. They brawl with Sheamus & Cesaro, as Anderson & Gallows tonight. They will take back their tag titles at No Mercy, because they are a real team unlike Rollins & Ambrose. Join the battle. EVERYONE FIGHT EVERYONE. Agents and refs separate them. They started the set up last week, and it looks as if we're going to another multi-participant match at No Mercy.
– Backstage, the champs want to face them all tonight. Angle tells them to find two tag partners and they can have an eight-man tag tonight. I wonder what delightful fellows they may find.
– They announce that Asuka is coming to Raw. Nia Jax sees the promo video and is not impressed. Alexa arrives and rants about her coming, and then says he and Jax should be having a classic one on one match instead of a four-way. Bliss says Angel doesn't appreciate their friendship, and Jax says they aren't friends. Bliss kisses ass and apologizes and wants to be best friends again. Jax reveals that she got Angle to book them in a one on one match for next week.
– The Drifter is here to debut a new song, burying Anaheim.
Elias vs. Kalisto: Apparently the only guy Elias is allowed to face these days is Kalisto. This is like their 5th meeting between Raw & Main Event. Kalisto runs wild early on, but gets cut off and Elias lays the boots to him in the corner. Elias overpowers him with ease, grounding the action. Kalisto makes the comeback, but Elias counters and plants him with a powerbomb. Elias hits drift away for the win. Elias defeated Kalisto @ 4:15 via pin [*¾] They worked the same sub par and bland match the always win, they have no clue what to do with either guy.
Braun Strowman vs. John Cena: Strowman overpowers Cena early forcing Cena to try and pick up the pace, which fails as Strowman continues his attack. Roman Reigns watches on as Strowman works over Cena with ease. Cena hits a desperation dropkick but Strowman answers with one of his own. The corner splash connects, as Strowman keeps the pace slow and continues to work over Cena. Cena tries to fire back, but Strowman hits the sack of shit slam and we take a break. Post break, Strowman is still in control but Cena manages to take things to the floor. They work back in, Cena look for the AA but Strowman was too big and Cena collapsed to the mat. Strowman then misses a charge to the corner, Cena looks to fire up again but gets cut off with a spinebuster. Strowman misses another corner charge; Cena hits an AA but Strowman rolls to the floor. Cena follows and eats the steel steps because Strowman is done fucking around. Back in the ring, Strowman powerslams Cena onto the steps and that's a DQ. John Cena defeated Braun Strowman @ 13:20 via DQ [**] I absolutely hate that they did this, in any form, on TV with no build what so ever. They will claim some bullshit about fighting MNF for ratings, but I feel that it was completely stupid to give away one of the few first time matches you have left like this. You can't unring the bell, you already gave it away, it was rushed, flat and now means nothing. This should have been saved for a PPV or at least for a Raw with several weeks of build (at the very least). The finish wasn't even that impressive.
– Rollins & Ambrose try to find tag team partners and run into Noble & Malenko; Dean marks out for Malenko, but says they aren't dressed to fight. They run into the Hardys and have their partners for later tonight.
Miz TV w/Enzo: Maryse, Dallas, and Axel are out with Miz. Miz says he and Maryse have big news to announce, and reveals that Maryse is having a baby (congrats to those two!). Miz starts to read something special about fatherhood, but Enzo interrupts him. Miz is pissed that he interrupted him, and Enzo says he is here to celebrate the great news. Miz scolds him for "how you doin" his wife. Miz says v was the next big thing, but now he's being kicked off tour buses and out of the locker rooms. He was sent to 205 Live because there was nowhere else for him to go. Enzo says he's been in his shoes, but he regrouped and earned respect from the roster. Miz is sick of seeing Enzo make mistake after mistake. All Enzo cares about is hanging out with 3rd rate rappers, while the 205 roster keeps improving and wowing the audience. And now he lost he 7-foot tall meal ticket and now he's a con artist with a couple of catch phrases. Enzo says if Miz wants to get real, he's the realest guy in the room and that they have nothing in common. Enzo says Miz copied everyone, while he is an original, and will beat Neville for the cruiserweight title. He calls Miz a paper champion, so Miz runs him down for having no friends. Enzo says he'll fight Miz right now. Miz says Enzo has no idea what he's getting into. Enzo calls him sawft. Miz shined here again, I just wish that they had something solid for him to do from week to week instead of being just a guy with a belt. He's too good to be just that. Enzo came off as annoying and unlikable as usual.
IC Champion The Miz vs. Enzo Amore: Amore dances like a fool, they work to the ropes and Amore drops to the floor. He grabs a mic and says Miz's wrestling goes straight to DVD, like he should talk. Miz attacks on the floor, grabs a mic and commentates as he beats on Amore. Back in they go, Miz up top and Amore crotches him. Amore then talks more, and makes a joke about the baby not being Miz's (the hilarity of Enzo joking about others cheating when he allegedly cheated on Liv Morgan is rich). Miz attacks and lays the boots to Amore and sends him to he floor. The Miztourage attacks for the DQ. Enzo Amore defeated IC Champion The Miz @ 3:03 via DQ [DUD] This was a completely useless segment that did no one any favors.
– Miz lays out Enzo with the skull-crushing finale to stand tall.
– Enzo stumbles around backstage, and runs into Neville, who is not impressed. Neville then laughs at him and walks away.
Dean Ambrose, Seth Rollins, Matt Hardy, & Jeff Hardy vs. Cesaro, Sheamus, Anderson, & Gallows: The faces charge the ring and we get the big brawl to begin. Jeff & Cesaro officially start things off, that quickly transitions to Matt vs. Sheamus, with Matt sending Sheamus to the floor. Jeff tags in and hits poetry in motion to the floor as we take a break. Post break and Ambrose is working over Anderson. Gallows tags in and Ambrose maintains control, but Cesaro distracts him and Gallows superkicks him to the floor. Back in the ring and Gallows maintains control, and then takes him to his corner and tags in Sheamus. Sheamus & Cesaro work quick tags, and then double team Ambrose and pick up a near fall. Sheamus continues to control, hitting a knee strike and tagging in Gallows. Gallows tags in Anderson, they work double teams and pick up a near fall again. They continue to isolate Ambrose, Cesaro and Sheamus back in, more double teams follow and then Cesaro grounds Ambrose with a side headlock. Ambrose escapes into a backslide, Sheamus in and cuts him off and he and Cesaro hit the double team white noise for 2 as Matt makes the save. It breaks down with Matt being sent to the floor. Ambrose makes a comeback, scoring a near fall and then hitting a neck breaker. Gallows takes out Jeff, Anderson in but Ambrose fights of the magic killer and looks for a tag but Sheamus cuts him off. Ambrose keeps fighting, Sheamus misses a charge and posts himself and Ambrose fights off Cesaro and gets the hot tag to Rollins. He runs wild, and hits a suicide dive to Gallows. The springboard clothesline connects on Anderson. The superkick follows, it breaks down with the Hardy staking out Anderson and Gallows. Sheamus & Cesaro take a walk and Rollins and Ambrose hit the ripcord knee/dirty deeds combo on Anderson to pick u the win. Dean Ambrose, Seth Rollins, Matt Hardy, & Jeff Hardy defeated Cesaro, Sheamus, Anderson, & Gallows @ 13:50 via pin [**½] This was a house show main event at best, slow, sloppy at times and just no real energy to it. It was a match.
– End scene.
– Thanks for reading.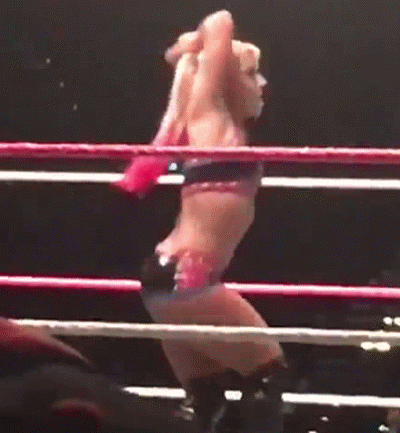 ~GLORIOUS~
4.5
The final score: review Poor
The 411
I thought that last week's show was really solid and had things moving in the right direction, but they didn't follow up well at all this week. The Reigns vs. Jordan match and follow up with Cena was good, as was the Brock vs. Braun segment. The rest of the show just sort of existed, or had poor booking decisions as it felt as if WWE gave up against the MNF double header…
legend