Csonka's WWE Smackdown Review 3.12.19
March 12, 2019 | Posted by
Csonka's WWE Smackdown Review 3.12.19
Csonka's WWE Smackdown Review 3.12.19
OFFICIAL RESULTS
– Aleister Black, Ricochet, & The Hardys vs. Sheamus, Cesaro, Rusev, & Nakamura went to a no contest @ 11:05 [**¾]
– Non-Title Match: Champion Asuka defeated Sonya Deville @ 2:45 via submission [NR]
– Rey Mysterio & R-Truth defeated Samoan Joe & Andrade @ 6:20 via pin [***]
– Daniel Bryan & Rowan defeated Kevin Owens & Mustafa Ali @ 9:45 via pin [**¾]
---
– Follow all of my reviews at this link.
Shane Explains: Shane arrives and has his sweet Saudi money approved best in the world trophy with him. He also makes the ring announcer announce him as best in the world and even threatens him to say it like he means it. He attacked Miz because he's sick of it; sick of having to help others get ahead. That all stopped on Sunday. He's the best in the world because he was born that way. Now he will start doing things for him, and it felt good when he beat down Miz in front of his father. It was liberating. Get used to this. He tells Miz that he demands a match at Mania so that he can continue kicking his ass. This was a solid promo from Shane, and set up another Mania match.
Aleister Black, Ricochet, & The Hardys vs. Sheamus, Cesaro, Rusev, & Nakamura: This was set up last week. Nakamura and Black begin. They trade kicks and strikes, Ricochet tags in and double teams follow for 2. Matt tags in, as does Sheamus. Matt fights him off, hits an elbow off the ropes and Jeff joins in for double teams for 2. Sheamus cuts him off, Cesaro tags in and works over Jeff. Rusev now tags in and works over Jeff in his corner. Jeff tries to fight back, but Rusev stops him and the heels work quick tags. Jeff finally cuts off Rusev and tags in Ricochet. The head scissors and dropkick follow. Nakamura distracts him, allowing Rusev to knock Ricochet to the floor. They roll him back in, and Sheamus tags in. He works him over, tags in Rusev and he maintains control. Tag to Nakamura, and knee strikes follow. Nakamura grounds things, and tags in Cesaro who lays in uppercuts. Rusev in and cuts off the tag, and then tags Sheamus back in. Ricochet dumps him but Cesaro is in and Ricochet fights him off and tags in Matt. Matt runs wild, tags in Jeff and poetry in motion connects. It breaks down into the big move buffet as Jeff hits a twist of fate. The swanton gets 2. They all brawl, New Day hits the ring and joins in for a no contest. Aleister Black, Ricochet, & The Hardys vs. Sheamus, Cesaro, Rusev, & Nakamura went to a no contest @ 11:05 [**¾] This was a pretty good match but a good overall angle, connecting the recent issues and heating up the tag division
– They all brawl and New Day stands tall.
– Randy Orton arrives. Orton says that he doesn't understand why this is AJ's house. He was here in 2002, while AJ was working bingo halls for $10 and Orton was winning world titles. Orton mocks AJ for getting a tan in Florida with Dixie Carter, and that's why this is the house Orton built. AJ arrives, and says Orton followed his career closely for someone who hates the indies. Orton may be built for WWE, and he wouldn't have made it in AJ's world. AJ says that the RKO is a rip off diamond cutter. Orton mocks his indie friends, but AJ says Orton is surrounded by them now and their dad didn't get them a job. AJ says Orton has always had help, but Orton says he did more at 24 than Orton ever will. AJ reminds him of Evolution, Legacy, Rated RKO, and the Wyatt Family. AJ says Orton uses everyone and tosses them aside. AJ refuses to be a victim. Orton says as long as AJ rents a room in his house, rent is due and AJ can make it out to RKO. AJ challenges him to a match at Mania. This was a good segment, setting up another Mania match.:
Champion Asuka vs. Sonya Deville: Mandy is at ringside. They lock up and work to the ground, Asuka pulls a heel hook, but Sonya makes the ropes and follows with kicks. Asuka now fires back, she lays in kicks and then misses the dropkick; spear by Sonya gets 2. Sonya follows with a knee strike and that gets 2. They trade strikes, pop up knee by Asuka and Sonya bails. Asuka takes out Mandy, and Mandy "accidentally" trips Sonya, and the Asuka lock finishes Sonya. Champion Asuka defeated Sonya Deville @ 2:45 via submission [NR] The problems between Mandy & Sonya continue in a solid segment.
– The IIconics challenge Sasha & Bayley to a tag title match.
Becky Lynch Talks: Lynch says it feels good to walk to the ring, Everyone got brave when she got hurt, suspended, and arrested, but she's back now. She's back in the main event of Mania, she set this match in motion, which she earned her way into twice while Vince shoehorned Charlotte into. She out smarted Rousey and Rousey did her bidding. She's going to take Rousey's title and arm, and is taking what's hers. Charlotte arrives and says Lynch finally made it into her main event. Charlotte says she's been putting in all the work, she's been hot for four years, while Lynch has been hot for 6 months. The fans feel sorry for Lynch, like Charlotte & Rousey do. She says Lynch got a handout, but still takes credit. Charlotte will make Lynch & Rousey relevant. Lynch says Charlotte did nothing for four years, we don't need a queen, we need the man. This was another good segment, adding to the build for another Mania match.
– Daniel Bryan just met with Vince to talk about Kofi. He and Rowan will face Owens & Ali tonight.
Rey Mysterio & R-Truth vs. Samoan Joe & Andrade: Truth and Andrade to begin. Truth runs wild early, tags in Rey and the RANA follows. Rey looks for 619, but Joe tags in and cuts him off and dumps him to the floor. Joe works him over, rolls him back in and locks on the crossface. Andrade tags in, and follows with rolling suplexes. Rey cuts him off with a code red, Carmella stops Vega from getting involved and Truth tags in. He does the Cena tribute moves, but Joe saves Andrade. Truth cuts him off, but eats a superkick. Rey tags in, hits a missile dropkick. The 619 to both opponents connects. Rey then cradles Joe and picks up the win. Rey Mysterio & R-Truth defeated Samoan Joe & Andrade @ 6:20 via pin [***] This was good as these four continue to work really well together. Rey finally beats Joe, and possibly sets up a US Title match.
– Joe lays out Truth & Andrade post match.
Kevin Owens & Mustafa Ali vs. Daniel Bryan & Rowan: Bryan and Owens begin. Owens hits shoulder tackles and a senton. Bryan bails and tags in Rowan. Rowan hits shoulder tackles, but Owens tags in Ali. He hits an enziguri but Rowan runs him over and takes out Owens. Bryan back in and works over Ali with suplexes, covering for 2. Post break, and Rowan is working over Ali, and then tags Bryan back in. They work up top, and Bryan hits the super butterfly suplex for 2. The LeBell lock follows, but Ali makes the ropes. Bryan follows with chops, but Ali cuts him off and looks for the tag. The backstabber follows and Rowan makes the save. Owens in and superkicks Rowan. They brawl to the floor, Ali fights off Bryan, but Rowan cuts him off and hits the facepalm slam for the win. Daniel Bryan & Rowan defeated Kevin Owens & Mustafa Ali @ 9:45 via pin [**¾] This was pretty good overall, with Rowan looking better than usual.
Vince has a WrestleMania Opportunity For Kofi: Vince arrives, and says he has a WWE Championship opportunity for Kofi tonight. Vince says he never said Kofi was in the WWE Fastlane match for the title. He provided Kofi with a teachable moment. New Day arrives now. Big E says they aren't in the mood for lessons. They jump through hoops for WWE, never complain, and still get treated like garbage. Kofi deserves better, and more. Vince disagrees, and says no one deserves anything. Big E says this is bigger than Vince's ego, but Vince says that's not true. Woods says they have earned their chances; Kofi beat WWE champions, but never got his shot. The WWEE fans demand that Kofi gets his chance. Vince says that Kofi isn't worthy of a WWE Championship match, and if he was it would have happened a long time ago. Vince sys he's impressive, will be in the hall of fame, but only as part of New Day. At your age, you have these young guys doing all the work while Kofi steals the glory. Vince says that Bryan called Kofi a B Plus player. Kofi says that he doesn't want a free ride or a hand out. 11 years ago he came to WWE with a dream and now lives a blessed life. He thinks he's proven he's worthy, doesn't complain, busts his ass, while others get opportunities first. He misses special events and has never taken his a kids trick or treating because he's here. "You have never allowed someone like me to compete for the title, but I have never complained. What do I need to do to get it?" Randy Orton arrives and Vince says Kofi has to beat him. Joe now arrives, and Vince says he has to beat him as well. Rey, Bryan, Rowan, and The Bar arrive. Vince says if Kofi can run the gauntlet next week, he's in. They all rush the ring and New Day fights them off to stand tall. This was a really good segment with Vince being a supreme asshole, while Big E & Woods played their roles well and Kofi delivered with passion.
– End Scene.
– Thanks for reading.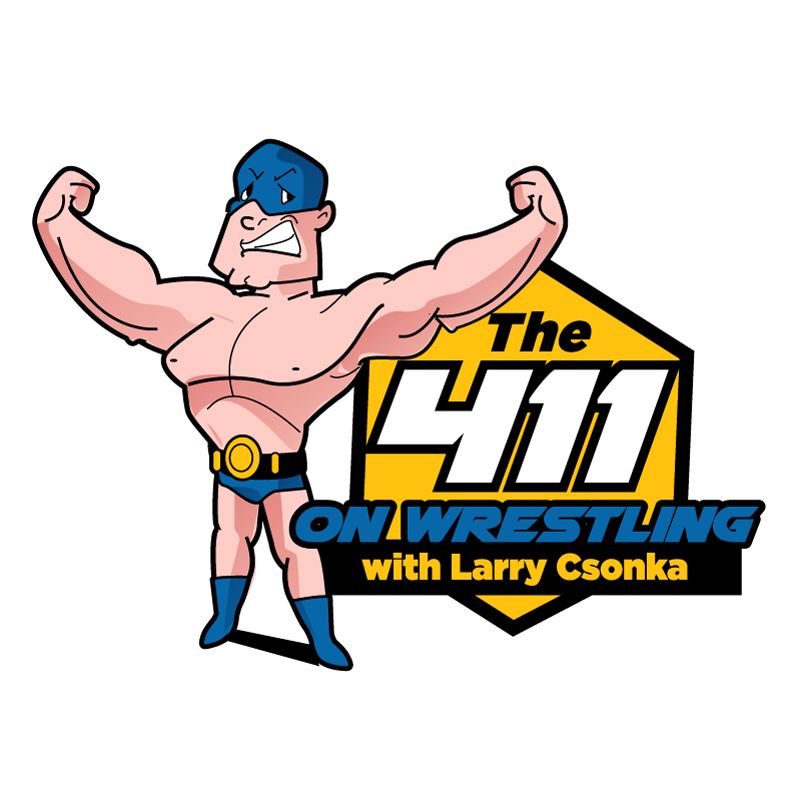 The 411 on Wrestling Podcast returns to the 411 Podcasting Network for episode 2. On today's show, 411's Larry Csonka discuses some WWE Fastlane thoughts, comments on the first round of the 2019 New Japan Cup & gives second round picks, gives quick picks for Friday's ROH Anniversary PPV, previews the weekend EVOLVE shows, does a listener Q&A, and more. The show is approximately 25 minutes long.
Intro & Thanks
WWE Fastlane – 3:30
New Japan Cup – 5:45
ROH Anniversary Show Picks – 9:00
EVOLVE Weekend Previews – 11:05
Listener Q&A – 18:00
You can subscribe and listen to the 411 on Wrestling Podcast via the
above player on Transistor, or on the following platforms:
7.5
The final score: review Good
The 411
I thought that this week's episode of WWE Smackdown was a good and focused show, highlighting the build to WrestleMania and also locking in new matches.
legend