Full Recap of Today's WrestleMania XXX Announcement From New Orleans: Cena and Rock Face Off
February 18, 2013 | Posted by
Credit: James Caldwell and pwtorch.com
— Live from New Orleans, Matt Striker and Josh Mathews set the stage for today's WrestleMania 30 announcement. Alberto Del Rio walked into the interview shot to discuss the current World Hvt. Title picture heading into WM29. A hype video for WM29 followed.
Back to Striker and Mathews discussing WM29 in New York City. Mathews then took it back to WrestleMania 28 for a look at the top moments last year in Miami. After the video aired, Mathews said they are moments away from the "special announcement."
— New announcer Tony Dawson walked out on-stage to say they are moments away from starting. This was followed by WWE's corporate hype video.
— Suddenly, Brodus Clay's music played to bring out Cameron and Naomi, followed by Brodus Clay to dance and start the press conference. The media in the crowd looked very confused.
— At the podium, WWE executive John Saboor welcomed everyone to the Superdome. Saboor said they have some "special people" here today to share some big news. Saboor introduced the mayor of New Orleans, Mitch Landrieu.
At the podium, Landrieu said it's a big day and thanked Vince McMahon and some partners in New Orleans for helping make this happen. Landrieu said they're coming off an unprecedented number of events. In the last 14 months, N.O. has hosted some of the biggest events, he said. Landrieu noted they will have the NCAA Women's Final Four, a jazz fest, the 2014 NBA All-Star Game, and the reason why they are here today.
Landrieu said they will host WrestleMania 30 on Sunday, April 6, 2014. Landrieu said they do sports entertainment better than any other city, and WWE will be in New Orleans for the entire week. Landrieu noted WWE was here in New Orleans last night and he's thrilled that they're coming back next year. Landrieu welcomed out Vince McMahon.
— At the podium, McMahon said WrestleMania is a "cele-br-ation." He said it's a rock-concert, soap opera, and all forms of entertainment rolled into one. McMahon said this is a little different press conference than what most people are used to, which reflects they put smiles on people's faces. McMahon then talked up New Orleans and said it's a "perfect tag team of WWE and New Orleans combined for WrestleMania." McMahon closed, "Let the good times roll."
— Saboor returned to the podium to note the months of negotiations to get to this point. He then noted this would not have happened without the support of the NFL stadium. Saboor welcomed out Rita Benson LeBlanc, owner and VP of the New Orleans Saints. Benson said they believe McMahon and his whole family are their kind of people to partner with. She said everyone in Louisiana loves WrestleMania, so it will unite the Gulf Coast region.
— R-Truth's music played to bring out Truth to "loosen" everyone up.
— Saboor returned to the podium to promote a "week-long series of events" next year. He said they estimate 125,000 people will participate in WM Week in New Orleans. Saboor then talked about "cornerstone partners" who made this possible, including the GM of the Superdome, Alan Freeman.
At the podium, Freeman plugged WWE at New Orleans Arena last night. He claimed a sell-out with over 13,000 in the building. Freeman then took wrestling back to the 1980s when McMahon turned wrestling into a national promotion. He followed by listing Reliant Stadium, MetLife Stadium, SunLife Stadium, Ford Field, and University of Phoenix Stadium as venues that have hosted or will host a Super Bowl and sold out WrestleMania.
Freeman noted they first submitted a Mania bid in 2009. He said he asked Saboor why there was no answer, and Saboor told them to sit tight. Freeman said a few years later, they were asked to visit WWE Corporate to pitch Mania. Freeman recalled Vince McMahon sitting at the table and deciding on the spot that New Orleans got it. He said it was tough keeping it a secret for that long. Freeman said he anticipates 70,000 people at the event, and they will come from all 50 states.
— Back to Saboor at the podium to note WWE's "pro-social" events during their time in New Orleans. He said WWE will also use social media to promote Mania. This brought out Stephanie McMahon, who said she needs new theme music.
Stephanie referenced Saints QB Drew Brees tweeting last Friday about a rumor of WWE coming to New Orleans for WrestleMania. She said that's the power of social media reaching nine million people through one tweet. Stephanie then talked about giving back to the city of New Orleans during Mania Week, including Superstars and Divas visiting schools, hospitals, hosting a Make-a-Wish event, and being in the community. Stephanie it's "one heck of a party" 30 years in the making.
— Saboor next introduced Stephen Perry of the New Orleans Convention & Visitors Bureau. Perry started with a question asking what this is about. Perry said it's about passion and energy, which is what WWE and New Orleans are all about. Perry said they welcome tens of thousands of people to enjoy "pure raw passion." He said he's never been more nervous than when they flew up to Connecticut to sit across the table from Vince McMahon and his crew, but they were thrilled when they got the WM30 bid. Perry thanked McMahon and said they are ready to "lace it up."
— Back to Saboor, who paused to acknowledge "two special guys" who were part of the team that made this possible. Saboor noted two New Orleans representatives on the front row.
Saboor then turned his attention to WrestleMania 29. Saboor said this man will defend the WWE Title against John Cena at MetLife Stadium, then plugged G.I. Joe 2 before welcoming out The Rock.
Rock, dressed in a gray leather jacket and black shirt, came out holding the WWE Title belt and placed it on the podium before surveying the crowd. "Thank you," Rock said before teasing leaving. Rock thanked everyone for their welcoming before noting his roots in New Orleans. The Champ said he's had great matches and moments in this city, including shooting G.I. Joe and other movies. He said N.O. is the "Hollywood South" now.
Rock said well before that time, his roots as a 20-year-old kid were established when he competed for the National Title in the Superdome. He said it was Miami vs. Alabama…and they lost. Rock lingered and said he's not over that yet. Rock said he remembers practicing and preparing for that game while trying to establish goals. He said he will never forget that experience.
Rock then talked about the WrestleMania Experience for the fans, performers, and the city. Rock said the city will never forget an event like this. He said the bottom line is it's fun. Rock said he is so happy and proud to bring WrestleMania to New Orleans. Rock said he will leave everyone with this. He started singing, "Oh, when the Saints…go marching in…oh when the Saints go marching in. Oh how I would love to be in that number when the Saints go marching in." Rock started to leave, then teased singing some more, but then left.
— Saboor returned to the stage to introduce John Cena, who will challenge The Rock for the WWE Title at WrestleMania 29. He said it is "arguably the most highly-anticipated re-match in history." Cena came out on-stage and said Vince McMahon can be hyped and excited, but he is also "very humble." Cena said he can't think of a better building to celebrate Mania's 30th Birthday than in New Orleans. Cena painted a picture of the Superdome overcoming adversity and rallying around a building. He said WWE is "the greatest piece of entertainment in the world," and the people of New Orleans have always shown the ability to band together.
Cena said Mania coming to New Orleans is like a Super Bowl, NCAA Final Four, or other championship event on paper. But, Mania is more than that, he said. Cena promised that when WWE comes to New Orleans in April 2014, they will give the city a celebration worthy of this city.
Before Cena left, Rock's music played. Rock came out on-stage to pose with Cena in front of the WM30 banner to promote their WM29 encounter. Rock and Cena shared a smile as the press snapped photos of Rock and Cena's showdown.
Big Show and Mark Henry then joined the stage, followed by Alberto Del Rio, Brodus Clay and his dancers, and Great Khali. Saboor then returned to the podium to thank everyone for attending. He invited everyone to stay for one-on-one interviews and lunch. He said they will see everyone on April 6, 2014 in New Orleans.
— Back to Mathews and Striker at the back of the press conference room. Mathews referenced Drew Brees's WM30 tweet on Friday before plugging today's announcement. Mathews thanked everyone for joining them on YouTube and Facebook before signing off by noting WM30 is coming to the Superdome on April 6, 2014.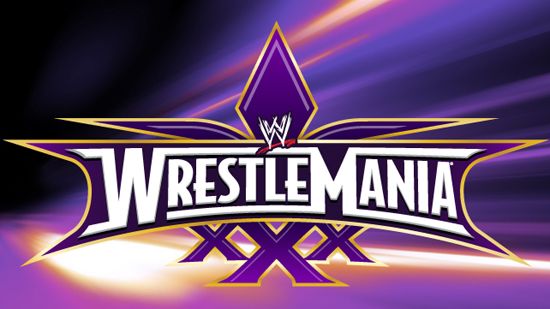 Must-read wrestling news:
* More on Bruno Sammartino's potential WWE Studios biopic
* WWE planning big spectacle for Raw this Monday
* Paul Heyman comments on CM Punk's obsession with the WWE Title
* Updated TNA Lockdown card
* How much longer will three-hour Raws last?
* 411 WWE Elimination Chamber report