Hidden Highlights 04.09.07: Issue #84… LIVE!!!
April 9, 2007 | Posted by
Hidden Highlights
By JP Prag and James "JT" Thomlison
Issue #84… LIVE!!!
Intro

Hello everyone who is still suffering through a wrestling hangover, and welcome back to Hidden Highlights!!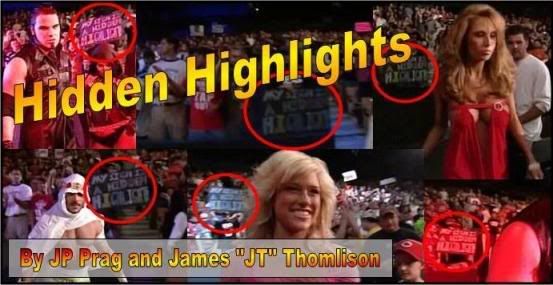 There are very few positive things on the Internet. It's more about everyone's negative view of what everyone else is trying to do.
— Eric Bischoff, Controversy Creates Ca$h
Hidden Highlight (n) – a small, hardly noticeable point that makes a big, positive difference. This could be anything from a wrestler putting extra emphasis into his moves to make it believable to a person in the background reacting while not the focus to the cameraman shaking the picture to create an effect. There are just so many unsung heroes of wrestling that it is impossible to cover them all.
Every week we take the top 3 Hidden Highlights from the biggest shows on television (RAW, ECW of SciFi, iMPACT, SmackDown!, and a PPV or television special if there is one). Plus we turn to you, the readers, to let us know all the Hidden Highlights you saw this, last, or any week in history. On top of all that, we explore the other issues that prove why this is the most positive article in the IWC.
Except this week we are mixing it up a bit with our life at WrestleMania 23 weekend and beyond!
And who is this mysterious we, you ask?
Why none other than JP Prag and James "JT" Thomlison, of course!
We bring you Hidden Highlights with one goal in mind: to appreciate all those little things that make a huge difference. JT?
JT: What an awesome weekend… but so wiped out!!!
JP: Couldn't agree more. Of course, you all know that we were the Hall of Fame thanks to our thorough Live Report.
JT: Yeah Larry, thanks again for making us do that. Nothing better than writing a Live Report at 4am!
JP: Well, sadly, we totally missed writing our Live Report for WrestleMania…
JT: But our excuses were totally worth it!
JP: This is true. Readers, you should have been there. I have to say, we really do need to thank Vince McMahon.
JT: You read that right. Vince gets some thanks for us. Want to tell them why?
JP: Absolutely! JT and I managed to get invited to the special VIP party for big wigs and family and friends before WrestleMania. We were lounging with some of the highest placed people in the WWE, eating needlessly expensive (but free to us) food, and taking all the free drinks that Vince's bar tenders could serve out.
JT: That's right WWE! 411mania invaded your private function… at your own invitation!!!
JP: See, we're not such bad guys.
JT: Yes we are!
JP: Ok, so true. Anyway, we'll get to the actual show in a minute, but after the show we all returned back to my sui—
JT: JP's had this giganormous killer suite that he got for free, that bastard!!!
JP: All to impress the ladies.
JT: Which we got to come back to the hotel with us. The entire row sitting in front of us. Of course, it's just another story no one will believe.
JP: That's ok, JT, we have video proof.
JT: Yeah, but the video will only play in New Zealand.
JP: This is true. You want to tell them what else happened? Another physical encounter you had?
JT: I HUGGED MEAN GENE OKERLAND!!!!!
JP: Tell me that that is not cool.
JT: His hands were full, what was I to do? I just walked right up and hugged him instead.
JP: Was that the same night you peed your pants?
JT: I did not pee my pants!
JP: The dude walks into the bathroom, is in there for about five minutes, and comes down with wetness stretching from his crotch to his ankle.
JT: You know, no normal man – even drunk (which oh yes, I indeed was) goes to the bathroom to pee all over himself. I told you it was the beer man!
JP: Then where was the beer?
JT: We've just established this! It was in my stomach and all over my pants! Thankfully the guests had left by that point, because I was quite a safe and non-messy drunk up to that point. Ahhh well, if you can't share your beer with your pants (seeing how SOMEONE doesn't drink), who can you share it with?
JP: Yeah, but that doesn't explain your desire to pee in the trunk of my car after the RAW/Heat tapings.
JT: I told you, I just wanted to use the trunk as a cover!
JP: But you would still be peeing on my car!
JT: It was a rental! You were the one who was in a rush to leave.
JP: Because you took an hour to stop and solicit every 12 year old or younger we came across.
JT: I was not soliciting children! They saw my World Heavyweight Championship belt and wanted to have their picture taken with it. I could see it in their little beady eyes and in their parents' eyes. They wanted to hold the belt.
JP: Still, we didn't get back until after 4am… again! Man, what a long, crazy, great weekend it was!
JT: Of course, while yours got back to normalcy, I was driving to Ft. Wayne the next night for SD! Then on my FIRST day of what was supposed to be *recovery time*, sadly my grandmother passed, thus consuming the five days after that. R.I.P Grandma, we will love and miss you. You know, we've been talking for three pages and have not really talking about anything wrestling yet… I keep forgetting how utterly exhausted I am.
JP: Good point, and I want to give you major props for going through with this issue and letting the yucks fly. You are a real trooper JT, and you have my utmost condolences. And now, let's get on with the Hidden Highlights… LIVE!!!
Hidden Highlights for WWE RAW, SmackDown!, and ECW present WrestleMania 23: Sunday, April 1, 2007 by JP… LIVE!!!

JP: I've been to SummerSlam, Royal Rumble, Survivor Series, and various other PPV's, television tapings, and house shows. This, though, was my first every WrestleMania. Whether or not the card was subpar or the action lived up to expectations, nothing compares to being in an arena of 80,000+ screaming wrestling fans. More than that, though, was the spiritual experience of it all. As wrestling fans, we already know we are the outcasts of society, those oddballs still clinging on to something unpopular. Yet, walking around Detroit it was obvious that we were surrounded by our people. There was something incredibly… comforting about that.
(5) Still the boss:
If you have ever been to a live television taping, you know that the announcers also get an introduction before the show (and the King's and JR go extra long now that both are in the Hall of Fame). At this show, we got quite a few introductions for the announcers, but nothing beat the SmackDown! team. As Cole and JBL came down to the ring, not only did JBL continually cut off Cole so that he was in front, but he kept putting his cowboy hat in front of Cole's face to cut him off. The was absolutely great as JBL continued to play the same character he always has since his current incarnation, even when it's just a normal walk to the ring to start announcing that nobody else will ever see.
(4) I must do something here:
Speaking of things that did not make TV, the live crowd was treated to an inter-brand lumberjack tag team match pitting Ric Flair and Carlito against Chavo Guerrero and Gregory Helms. Meanwhile, the rest of the entire roster of all three brands (who didn't have a match) were on the outside. Most just stood around waiting for someone to throw in or punch, but not William Regal and David Taylor. Those two argued with the ref continually, even after the match was over and they were walking up the ramp. Sure, Regal and Taylor could have phoned this one in, nobody is going to see it until the DVD, and even then the cameras were never focused on them. Yet again, here was another moment when wrestlers continued their characters and lived in the moment instead of just doing a job.
(3) E-C-Dub:
After the Undertaker defeated Batista for World Heavyweight Championship, he continued to celebrate in the ring (celebrate for lack of a better word). Suddenly to my left, an "R-V-D" chant started up. Then, to my right, a "Dreamer" chant started. Why was this going on during the Undertaker's celebration? Well, it was because the ECW Originals were lining up in the crowd, and they started right where our seats were! Totally a personal Hidden Highlight that was great fun. It also goes to show how much more… organized… less spontaneous… the WWE is. I mean, these men were in position a good ten minutes before they were needed, especially considering their match was eight minutes long!
(2) Dangling on a string:
I'd be remise to not give a Hidden Highlight to the production crew, especially considering I was there to witness their action first hand. Now, we all know the WWE uses spotlights in their shows, but nothing prepared me for what I saw at WrestleMania. The crew literally set up scaffolds that were suspended by the ceiling and the with a spotlight and a single crew member on each. I just want to give major props to those crew members. First, they had to be extremely brave to spend all that time suspended from wires a hundred feet in the air. Second, they were up there for at least five hours, no breaks, no food, no bathroom time! Then, after all of that, they could not leave until the set was broken down! I talked to some production guys the next day at the hotel, and they said the ring crew packed up and left right after WrestleMania. How crazy is that?
(1) Let me move my monster:
Of course, the most talked about match in the mainstream world was the Battle of the Billionaires that saw Mr. McMahon get his head shaved. Seeing Vince get his head shaved, though, was not the highlight for me. No, the best part actually happened before the contest between Lashley and Umaga even got underway. Donald Trump made his way down to the ring with the former Ms. USA, the latter of which waved to the crowd. After doing her greetings, Ms. USA started walking out of the ring and down the steps… RIGHT TOWARDS UMAGA!!! That, to me, showed a real lack of concern for her own well being. Luckily, Mr. McMahon spotted Ms. USA headed toward Umaga and took the monster out of the way. Quick thinking by Vince knowing that he needed to move Umaga so it would not look ridiculous to just have Ms. USA walk right up to him!
That's right, I gave my top kudos to Vince McMahon. I mean, I did have to repay him for that nice party he threw us.
JT: That really was a fantastic party, I'm scouring my camera for pics of the place as we speak, but we'll get to that. As for WM, JP is right, the whole city felt like wrestling fans and it really was an amazing atmosphere. I personally had to chuckle as the entire roster of lumberjacks made it's way down to the ring, Cryme Tyme stayed at the top of the ramp for a minute to garnish a little solo love from the crowd. How fitting for those two to do that in Detroit! Tommy and RVD being eight feet from us on both sides kicked ass.
I have to thank some people here before we move on. First, the whole NZPWI.com crew. They were awesome the entire weekend, filmed us for one of their shows back in New Zealand, and added to us having an absolute blast. Secondly, I want to thank Duane, my agent who ended up being our 6th. He knows his way around Detroit like the back of his hand; he was a real asset to the party, and I was glad he could go because he is an old school guy who digs heavily on both Taker and HBK.
Lastly, I have to thank the three girls in the row in front of us! Had they not returned to the hotel with us, they'd have never inquired about the Michelob Ultra and Smirnoff, thus myself and Duane would not have went downstairs to head to the store across the street, and I would have never hugged Mean Gene!
JP: I still can't believe you just up and hugged him like that.
JT: Hey, like I said, his hands were full. There was no alternative course of action. It was read and react! Besides, him and his crew all got a kick out of it, as did I. Now, I believe our weekend didn't end there!
Hidden Highlights for WWE RAW/Heat Tapings: Monday, April 2, 2007 by JP… LIVE!!!

JP: A three and half hour drive later, and JT and I found our way down to Dayton, OH in a little 8,000 person arena. Yet this little arena was louder and more ruckus than the 80,000 the night before. I'm sure it wasn't the case, but the acoustics based on the size of this place were clearly more in their favor than a place the size of Ford Field. I found this crowd overall to be more appreciative of the show, clapping at any video and cheering every wrestler that came out. When you think about WrestleMania, it takes someone who can afford (or is willing to go into debt for) to go and an understanding enough to get good tickets. So those people have much higher expectations and requirements to be entertained. But in Dayton there was a house a third filled with kids and crowd that doesn't normally get much of any entertainment. It was a real treat, and the crowd let the WWE and its performers know that they were most grateful.
(5) Because winning is… aw screw it:
*** SPOILER ALERT ***
On Heat, Val Venis and Kenny Dyksta fought a fierce contest that saw young Kenny pick up the 1-2-3. After the match, Val slowly made his way up the ramp, saddened by his victory. Then, at the top of the ramp, he turned around, took a look at the situation, and gave the crowd a "huh, oh well" look and shrug. Excellent work by Val showing that he was not going to let his fluke loss to Kenny get him down, and also to play to the crowd and continue to be a pro, even when he is just living on Heat.
(4) Get rid of him:
Speaking of Val Venis, it was just not his night. During the second battle royal, Val Venis was teamed with Viscera. Immediately, everyone went to Viscera to knock him out of the ring; his size being a huge advantage. After a few moments of struggle, a few of the wrestlers got an idea. They turned around and just knocked Val Venis out of ring, forcing Viscera to leave as well due to the rules! I thought this was very smart moment and showed some good thinking by whoever booked the battle royal (I'm going to guess Pat Patterson). Nice little moment.
(3) My buddy:
Speaking of battle royals, during the first one we got the reunited team of Hacksaw Jim Duggan and Eugene. What happened to Eugene's heel turn? Ah well, it went the way of the original Hurricane heel turn, and again some little kid is wondering why the fun loving wrestler hates him and only him. Anyway, Eugene was thrown over the top rope, thus eliminating his team from the action. When the refs told Duggan to get out the ring because he was eliminated, he was upset but made his way out. Unlike the other "second persons" to be told to leave the ring who just took off for the back, Duggan gave a look of concern. He could not find Eugene! So he went looking for him and helped his little buddy to the back. I thought this was a tremendous touch by Duggan to show what a caring character he is and how he legitimately cares about Eugene's well being. Excellent showing by Duggan there.
(2) It's been a hard day's night:
As I stated above, I'd be remise to go through a live show and not talk about the production crew. During the main event of Umaga vs. Bobby Lashley for the ECW Championship, the camera man took up station right in front of me to gather some crowd shots (I saw the red light turn on once, which means I was most likely on TV, but that is not the Hidden Highlight). While waiting for the cue from the truck, I took a look at the camera man's face. He looked so beaten down and sullen that I had to think what could make him that way. That's when I realized that he's had the worst schedule the past few days. Most likely he had to come out to Detroit on Thursday and start filming, and he's been working 12-20 hours a day, every day. Worst of all, he had to leave and go to Fort Wayne, IN that night (as we discussed in the first piece about the production crew leaving right after the show). We talk about the hard lifestyle of the wrestlers all the time, but the production crew has it just as bad, if not worse. At least the wrestlers generally only appear for 10-15 minutes on a show. The cameraman has to work all 4-6 hours, plus pre-show testing. There is no rest for them, and they are not nearly as well compensated for their efforts.
(1) What's going on:
Our main Hidden Highlight for RAW LIVE, though, goes to a kayfabe breaking moment of unintentional comedy. Earlier in the evening, Mr. McMahon hid under Lillian Garcia's dress, which was promptly ripped off by Bobby Lashley (and somehow this made Lillian the 4th most searched term on Yahoo this past week). Lillian was then replaced with Todd Grisham while she took 40 minutes to put on a new skirt. While she was in the back changing, Mr. McMahon changed the main event to a handicapped match by having Armando Alejandro Estrada tag up with his Samoan bulldozer. But Lillian, since she was in the back, never heard the change in the match plans! So when she announced Umaga to the ring, she completely left our Armando was his tag team partner. All of a sudden, a production member jumped up and raced to the ring to tell Lillian to announce Estrada as Umaga's partner. Lillian did not understand the request (how could she know that he was supposed to wrestle, he never wrestles) and botched her way through the announcement. Then, she turned to the referee who explained to her the match change and what was going on for the next couple of minutes. I thought this was an absolutely amazing thing to catch, a real breakdown in communication and the crew trying to change/save the moment.
But just not to be totally mean to Lillian, she continued to wave to anyone in the crowd that waved to her all night long, so I have to give her props for being such a good sport and a solid entertainer.
JT: Yeah, the crowd was definitely LOVING her and how about those seats? With a little help from the wind, I probably could have spit on the ringpost! Although, I will say that walking halfway around the arena to the ONLY place you can smoke kind of sucked. But hey, overall it was a blast so I can't really complain. Oh, and we forgot to mention that my belt had its own seat!
Hidden Highlights for WWE SmackDown!/ECW Tapings: Tuesday, April 3, 2007 by JT… LIVE!!!

JT: **Please bear in mind folks that going to SD and ECW fell on Day 6 of my non-stop, hectic journey that was WrestleMania weekend, so these may be a bit weak as I was running on complete fumes to this point. Then due to the services, watching the actual shows between Wednesday and Saturday was out as well so I had to roll with what I could remember.**
Thankfully, Duane offered to again accompany, and this time even drive… BOTH WAYS! While I was willing to eat the ticket as I was just so tired, we both really wanted to go because my boss' base of operations is in Columbia City, a mere 20 minutes from the venue, so off we went. We met up with him, talked a little business, and then off to a restaurant where my boss bought me the most expensive steak I've ever eaten. Let me tell you, that steak was worth every F'N penny – especially his pennies.
We eventually made it to the arena, and it was kind of funny because I was so tired, when we finally reached our seats and sat down, I had a mild case of vertigo for about the first half hour. A couple of beers in though and I recovered (btw, Club Seating OWNS) Really excellent view of everything going on, and because we were sitting in the first row, we could basically sit the whole time (something which came in QUITE handy for me!). Crowd was hot, show was really good, and we were pleasantly surprised when we saw that only a handful of people left before the ECW taping. For the most part, the arena stayed full, and that has to make the boys on the ECDub roster feel good about what they're doing.
Alright, I've rambled on long enough, let me get to it!
(5) I'm a beast! …but I'm a beast who sells…:
Well, in honor of smoking a cigarette with Snitsky's brother at the HOF ceremony, I'm going to give him some love! To start his match with Hardcore Holly, he missed the boot and Holly proceeded to give him seven or eight punches to the face. Snitsky countered this by hitting Holly with a pretty sick clothesline. Then, before proceeding to attack, he took a half second to wipe his brow and shake his head to dust of the cobwebs! Look, Snitsky the character is being booked as some monster beast who doesn't give two shits about anything. He could have easily done nothing after the clothesline and continued his path of destruction. By Snitsky the professional wrestler took the half second to sell the shots from Holly, thus making him appear to be a formidable opponent. Now, he may have completely decimated him from that point, but still, taking the time for something like this is one of the many moves we miss each week that wrestlers do to help sell their opponent as legitimate, no matter what booking may have in store for the match.
(4) Gimme that green:
What a better way to kick off a show than with Mr. Money In The Bank? And what better way to kick off Mr. Money In The Bank than with green shorts!? Look, I know we've seen them once or twice before, but how fitting of Kennedy to break out a mere 24 hours after becoming such an appropriately titled championship contender (which, upon review of WM 23, I realize that he wore them for the PPV as well! Lucky shorts maybe?).
(3) Hair Pulling!? No f-hair!:
During the match between CM Punk and Stevie Richards, Punk managed to get himself out of an abdominal stretch. Stevie still had a hold of him though, so he turned to face him, planted his knees into his chest, and went down to his back to flip Punk over (I'm sure there is a name for it but it's late and I'm not thinking clearly). Now, Punk almost managed to make it to his feet, but didn't quite get his legs over him. At first I though maybe he just missed, but no! In fact just as he was almost over and in a position to make the complete flip, Richards gave a little tug on his head, altering his momentum and ensuring that Punk would in fact hit the mat. Nice little move on Stevie's part to not only recognize the counter, but prevent it. Really hope that came through on TV.
(2) Enjoying the show:
Before the match between London / Kenrick vs. Chavo / Gregory Helms, Deuce and Domino (with Cherry) came out in their car to scout the champs. Now, I'm sure that during the match they probably showed a random shot of them jawing with each other, but the fact is they did not stop ONCE throughout the entire match! All three of them, just sitting in the car yacking and pointing and gesturing, they did not break character even once for a brief breather. We give credit to people sometimes for doing something while ringside briefly with the camera off of them, but staying in character for an entire match while up on the entrance ramp while not anywhere near a microphone or anything was a great job on their part.
(1) Fire hazard!:
Once again, the new World Heavyweight Championship The Undertaker was joined by his druids as he made his way to the ring. Now, anyone who has been to a SmackDown taping knows that based on where you are sitting, you can sometimes see behind the SD ramp. Well, despite them trying, a bit of the backstage area was indeed visible to JT. Now, to the original point. Once Taker had made it to the ring, his druids turned around and walked off-stage. And as SOON as they did, you could see some of them start to dump the flames into buckets of water while others had backstage hands throwing wet towels over them. Guess those druids aren't that magical after all! Look, don't get me wrong, I'm in no way trying to spoil the mystique that is the UT or anyone else for that matter; it was just a great little reminder (which I wasn't supposed to see no less) that the whole thing really is just one big show that takes a lot of people we don't see behind it.
JP: Kind of reminds me at the Hall of Fame how we were watching Dusty Rhodes pace around backstage waiting to be called out. Sorry I couldn't attend the show, but my presence was needed on the east coast for a Passover Seder (ok, so I missed the first one and broke Passover by eating two things of nachos, what can you do?). Glad to see Duane drove because you had drive quite enough by that point! Get some rest buddy… at least for two more sections.
Hidden Highlights for TNA iMPACT: Thursday, April 5, 2007 by JP

JP: This was taped two weeks ago, so it's not like I could have gone LIVE!!! Give me a break, will you? Anyway, the road to Lockdown continued with two gimmick matches and a DQ on the same one hour show. I'm not saying that's a lot to handle… I'm just saying I watched this after all of the above!
(3) Quick Change:
Since we have seen Meehan in the iMPACT audience on multiple occasions, we do know that TNA has the tendency of recycling footage. Unfortunately, it usually comes back to bite them since there are always tell-tale signs. This week was no different as we got a shot of Mr. Backlund doing his Harvard Step-Test near the entrance ramp. During the intro, he was wearing an orange shirt with black trunks. For the rest of the night, though, he was wearing a black t-shirt with red trunks! Sorry guys, I caught you right in the act.
(2) Get down:
In our "normal" contest of the evening, Senshi took on THE Austin Starr, his opponent at Lockdown in just a few weeks (by the way, why did Senshi look surprised when Bob Backlund was announced as referee for that match? We've known that for weeks!). Late into the contest, Senshi was crotched on the top turnbuckle and Starr was attempting some type of suplex. Then Senshi managed to lift him up and throw him down to the mat. Here's where the bonus comes in: as Starr was propelling downward to the mat, Senshi gave him a little extra shove so that he would fall faster and hit harder. Super kudos to Senshi for putting that extra effort into a move that would most likely go unnoticed yet certainly added to impact of the move.
(1) Where did this come from?:
Our "main event" of the evening was a company meeting with Jim Cornette and the entire locker room. Per usual, Christian was upset about… well, everything. That said, Christian added a huge amount of continuity that absolutely made the segment for me. He said that his team was on its way out the door for a party when they were stopped and told they had to attend the meeting. This was absolutely great, as Team Cage should have left the arena a half hour beforehand (and left without Abyss). Christian pulled the story back in and in one little line gave the perfect explanation of why they were still there and how Abyss caught back up with them. Excellent work by Cage to think of the continuity of the show and the prior segments (that were probably taped much earlier or later) and how they fit into the big picture. Certain writers may not think of continuity like that, but at least wrestlers like Christian Cage are trying to keep it together.
JT: You're damn right he is. Complete bias aside, I obviously was unable to get to this over the weekend and that makes THREE WEEKS I have missed now. I need to get back on it! My boy is tearing through TNA and I'm missing it!
Reader Write-in Hidden Highlights

Hidden Highlights aren't just for us to find and tell you about, but for you to spot and share with us. Don't just sit there and stare, but be a more active, attentive, and engaged viewer. Appreciate all the hard work that goes into making the wrestling we have the privilege to watch and then let us know what you caught this and every week.
This week JP gets to pick our Reader Write-in Hidden Highlights of the week.
JP: Another large batch, but not as large as last week (thank goodness). So, *GENERAL WARNING*:: some parts of the following Reader Write-in Hidden Highlights may be edited for grammar, spelling, and English translation…
We'll kick it off with my brother from a different mother (and first timer) JP Martinez:
Though I usually catch quite a few, this is the first time I've ever written in.
Last night on Mania after Taker beat Batista, Cole was talking about the win. In doing so he said "The Undertaker! Once again, rather, WINNING the World Heavyweight Championship." I thought it was nice of him to catch himself on that one being that while Taker is a 5 time champ, 3 of those were the WWF title and the 4th was the Undisputed belt. This would be his first reign as this World Championship belt.
Just thought I'd point it out! Keep up the good work!!
JP: Michael Cole certainly does not get enough respect for all of his dedication and hard work in there. He is rather good and this is one of the moments I like to hear about. Hope to get more from you, JP, but next time use capital letters. Speaking of JP, here's Jay P with one from ECW a couple of weeks back:
There was a lot of focus this week on the March 27th ECW match featuring the MITB match participants, particularly the positioning of Edge and Matt Hardy on the ring apron. However, there was one hidden highlight that folks seem to have missed. When Matt Hardy went for his patented "yodeling leg drop" from the corner, Edge cheered on Matt by mimicking the two-handed "pistol" gesture Matt Hardy uses in conjunction with the yodel to signal for the move. Edge even had a big grin on his face while doing it and synchronized his "pistols" with Matt's. Despite the bad blood between the two men, the little gesture seemed to indicate that Edge was willing to be a (tag) team player…until he bailed on them just minutes later.
Mr. Kennedy also had a great HH during the same match. At one point, when Randy Orton muscled C.M. Punk into the heel corner, Punk and Orton briefly blocked the referee's view of Mr. Kennedy. Mr. Kennedy took the opportunity to blast C.M. Punk with one, hard rabbit punch to the kidneys. Typical heel stuff, but what really made it a HH for me was the way Kennedy popped up on his tiptoes to peer over Orton and Punk to see if the ref had caught him. I bet Kennedy was also scouting to see if he could get away with it again. It seemed like an unplanned spot, and I loved the quick thinking on the part of Mr. Kennedy……..Kennedy.
JP: That Edge one is hilarious, I can't believe I missed it! And as for Kennedy, well, we talk about him quite a bit. Oliver would like to talk about WrestleMania, though, instead:
I hope a Freudian slip of the tongue counts.
Umaga-Lashley match. If I remember correctly this HH occurs about the time when Vince gets tossed/bounced to the ground near the barber table, please listen to JR and hear him label Vince as "Vince McMadMan". I wish I recorded/tivod the PPV because that was the best line ever. This slip of the tongue, even minor by good ol' JR was priceless and a true behind the scenes HH….
JP: Whether intentional or not, definitely a good catch. I'm not the biggest JR fan, but sometimes the man can deliver or his mistakes can be funny as hell. Next up we have an Australian named Brett. Should I let Brett know I'm picked up a lot of prejudices against Australians from the New Zealanders?
One thing I noticed during the various shots of the Hardys in ring and during the promo with the tag belts was that Jeff had the belt with HBK's name on it. Nice little call back to 2001 (ironically the last time the Hardys held the tag titles) when Jeff was being called the next HBK.
JP: Although I'm not sure if this one is true or not, I'm glad you found something in there for yourself to enjoy. Personally, I just think it was a coincidence. First timer Vito J (who worried about his format; no worries so long as you use capital letters and a spell checker, which you did) brings up a more interesting point about Eugene/Duggan:
This is from tonight's (April 2nd) RAW. During the first 20 tag-team battle royal, they announced who was teaming with who. Included was the tag team of Eugene and Hacksaw Jim Duggan. I'm fairly positive (as in 100%) that these two lost a match in which the stipulation was that the two could never wrestle together again. Now, I could care less for these two if they teamed up or not, but continuity is always a nice thing, especially something so recent as this.
JP: No, you are right. Where is the continuity here? Maybe the Coach made a special stipulation just for the night. There breakup is what was led to the beginning of Eugene's heel turn. Sigh. Forgotten angles. Bobby21 comes up with a new angle of his own that helps something else make sense:
Hello JT or JP or JT and JP. Hope you enjoyed the big show. I noticed a cool little HH from RAW. During the second Battle Royale. Who's partner was Johnny Nitro? Not Joey Mercury? Who then? The Miz. Completely random? Not at all. It makes perfect sense. Why? Because in Kayfabe world Nitro and Miz are both Hollywood types. Even if only D-List hanger-ons. So he needs a partner now that Mercury is gone so he calls up an old pal in The Miz.
JP: Now that is a Hidden Highlight reasoning if I ever saw it! You get kudos stars this week! Speaking of those two, RB starts off a string with them:
I noticed three HH tonight. First Miz and Nitro were wearing same color outfits. Lawler plugged AT&T again and finally Shelton showed his support for the troops with the yellow ribbon on his boot. Also during Mania I thought it was a nice homage to Andre and Hogan's WM3 moment to have Kane bodyslam Kahli. Best part of the one of the worst matches on the card
JP: One of the worst? There were only eight matches! The crowd popped pretty big for the bodyslam (at least live it sounded like that). I guess they are building Khali up for Cena, maybe at SummerSlam or the PPV right before it? Sticking with RAW, regular Chris P goes with:
Now I'm not sure if this was a thing put there on purpose or just a simple coincidence but during the Edge segment while he was standing on the stage as he paced back and forth I noticed on of the lights in the silver grating stuff, looked a lot like the "star of David" so whether this was intention as a note of Passover or not, who knows.
JP: Being Jewish (and being a bad Jew eating arena nachos during Passover), I have to say you were seeing things. That said, time for a history lesson! The Star of David (or Magen Daav-id in Hebrew) is only a few hundred years old. There was no real symbol for the Jewish people outside of things like the Torah or the Ten Commandments. So, in Prague (whatever country it was in at the time), the community there came up with a symbol for a Jewish national flag. And that is the story of the Star of David, as it has nothing to do with the Torah, Jewish traditions, or David himself. Anyway, Chris Jacobs would like to share another conspiracy theory:
This one refers to Micheal Cole telling the referee that there is four minutes left. Now this is the sequence I believe I heard, this is for Raw. Now this is for J.R. to talk to the ref, when he is going off down at ringside if he holds his pen up in the air, as if explaining something with hand motions, that means five more minutes, if J.R. is pointing to the ring as in showing the King what he is supposedly talking about that means, the match is sucking and start the finish spots and end it. If JR is fixing his hat, as in getting excited and it is starting to come off, that means this match kicks ass, we got time we can use up, and extend the match, if that happens, then the ref just waits for the Pen to come up when McMahonagement wants it to end.
JP: I'm going to have to say this is a bit too much. First of all, WWE matches are well planned in the back with the agents. Also, JR has explicitly stated that he prefers to just watch the show and react naturally, not get involved in the action or know what's coming next. Third, the refs wear ear pieces to keep them in tune with the back, and there are about ten production people are ringside who can transfer directions if something went wrong. Last, remember for a long time JR and the King were off on the stage, so the ref could not see them. Plus most of the time the ref has his back to JR, so how is he going to catch those subtle nuances? I'm going to have to chalk this one up to smark over-thinking. Alexander Seussavich brings us back to reality with some that make sense:
Just a couple of hidden highlights I spotted:
During Vince's pre-entrance, the angrier the voice over got, the more the camera shook. The only way it could have been more of a Mr. MacMahon's eye-view of the world was if it was pointed only at Maria and Candice's boobs the entire time he spoke to them.
When Mickie James ran in on Melina's photo-op, could she have been doing more than just reigniting their feud? Perhaps she was showing off to get into Tim's video, just like Melina was… after all, they both hail from VA baby, believe that!
JP: Works for me! Also, I have a corporate apartment in VA, so I guess I hail from there, too. Eric Quattro (returning after a long absence) does not hail from there, but has an interesting one:
I've noticed on Smackdown that Ashlee always wears wristbands with a skull and crossbones on them. Well, during the MITB match, I noticed on Matt's pants, he had the skull and crossbones too. While they may not be linked on TV, they are in real life, so it makes sense for them to have something that connects them.
JP: I think they broke up in real life, though. On good terms, unlike the last one. I have the same schedule wrestlers do (4 days on the road, 1 day other work, 2 days at home) and I can't say dating co-workers is a good idea, especially multiple times. Then again, how else are you supposed to meet people? Well, aside from sitting behind them at WrestleMania. Speaking of WrestleMania, here's one from there:
At WM23, at the end of the Undertaker/Batista match, they show the fans where this one fan is holding up a sign stating 15-0 . This should seem like a norm, yet with a closer look, I realize the sign is actually a dry erase board, so the highlight there is for the fan who came prepared ready be able to change the sign as they needed to so they never can be wrong.
JP: I've actually seen people do that quite a few times, but always a good choice. Especially when you write "My Dry Erase Board is a Hidden Highlight". Moving over to iMPACT and wrapping us up this week, Adam Nelson says:
At the end of the Team 3D promo on Impact, when Bubba said "Team 3-D", he was doing the RVD thumb points with his free hand. Do you suppose that was a little message from TNA to Rob?
JP: His contract is coming up fast and furious. I'd like to see it!
Well kids, another full batch. Keep them coming and we'll consider printing them!
JT: Are we done yet… I can feel my eyelids hailing the Sandman like a cab… or a hooker… no, more like a cab.
Do you have a Hidden Highlight from this or any week in history that you would like to share? Please e-mail JP..erT…er…us at [email protected] with your thoughts! Send them by Saturday afternoon to be considered! And remember, they can be from any show, live or taped, or any house show, or anything you saw… we just like to know!
That Other Section

This week, JT has something for That Other Section.
JP: Well JT, I figured since I wrote some pretty hefty sections this issue, I'd give you…
Other Random Thoughts of WrestleMania Weekend
JP: Take it away!
JT: Uhhh…. ok… nice of you to ask… well, I'll try and give you some random thoughts, but mostly I'm just going to give you some random pictures! You see kids, apparently I own a camera who is not on good terms with the creature known as the zoom feature. So I got some pretty, pretty shitty pictures, and want to share them all with you so we can point and laugh at my pathetic camera together! And you know, I told JP this too, yet here he is setting me up with this "random thoughts" thing like I'm supposed to be prepared! Shame on you! I suppose I could give you a few random thoughts before we get to the pics though… let's see.
– JP is a short man. A really, really short man. Not that I'm particular tall; in fact, I'm quite short myself, but meeting him made me okay with my shortness. So thanks for that JP.
JP: You jerk. This is revenge for the peeing in the trunk thing, isn't it? I knew you were going to mention something abou—
JT: Hey hey hey! These are my random thoughts, not your random I think I'll interject myself wherever I want comments, got it. Now then. Random thoughts.
– Wow… 81,000 people is a …..LOT….. of people.
– Although the show is starting, I'm still feeling good about having started the evening on Vinnie Mac's tab. No, that warm and fuzzy feeling had nothing to do with the fact those drinks had alcohol in them, or the fact that they let us stock up with one in each hand and leave with them to our seats. This was JP's idea. Good man, JP.
– Am I the only one that noticed that the winner of the Money In The Bank, Kennedy, saw less action than anyone else? Hell, I think even Edge got more time in than he did before he left.
– ……….okay, those two chicks in the pink shirts hitting on Duane are SO looking for a rich husband and care nothing about wrestling……..
– Alright, I think this is enough of the random thoughts, because I'm already a page deep and only 10 minutes in… time to SWITCH GEARS! I now present: Lousy pictures from my non-zoom camera! Good stuff!
Well… not even lousy pictures. Just more of a panoramic view from left to right out of my shitty camera to give you guys an idea of how packed it really was and what a huge place Ford Field really is! Yay shitty pictures!
Starting to my left!
Moving right!
About center!
Moving more right!
The stage!
Finally all the way right!
JP: I guess I could post the picture I took with my cell phone, but those are even crappier. Let's take it home!
Exit, stage left!

JT: "Hi. JT cannot come to the column right now. He is passed out on something as great as a bed, or as bad as a bathtub, depending on where he finally laid out. Leave your name, number, and a brief message after the beep, and he'll try to get back with you when he wakes up in three days. For now, he says have a good week his little cavities!"
JP: Good thing I live two doors down from a dentist… and above a chiropractor… and in the vicinity of 12 lawyers…
All right kids, we'll return to normal format next week! Hope you enjoyed this special live edition. Now I need to write about this again for the office newsletter. No joke!
Thank you for joining us for THE 84th ISSUE of Hidden Highlights, and the Special Live Edition at that! Be sure to drop us a line and let us know what you think and all the other Hidden Highlights we missed. Plus, we want to hear your Reader Write-ins for all the moments you see this and every week.
We'll catch you next time in the reader approved most positive article in all of the IWC: Hidden Highlights! Until then!

NULL