Hidden in Plain Sight: 10.17.12: PWG & DGUSA Predictions, Interviews with Heath Hatton & Sue Jackson, More
October 17, 2012 | Posted by
Welcome to the third issue of Hidden in Plain Sight. This is a monthly column that takes an in-depth look at independent wrestling. Each issue tackles several topics, organized by the promotion that the topic is most related to. By clicking on the banner of each promotion, you will be taken to the promotion's website where you can learn more about said promotion.
In Issue #1, I reviewed Chikara's recent iPPV, conducted three interviews, and wrote several other features. Issue #2 had interviews with Player Uno and Jon Davis, a review of the ROH Best in the World iPPV, and more. Please discuss your thoughts on any of the topics or matches in the comments section.

PWG's Failure to Communicate Preview
Pro Wrestling Guerrilla World Championship Title Three-Way Match
"Mr. Wrestling" Kevin Steen (Champion) vs. "Unbreakable" Michael Elgin vs. Ricochet
During BOLA, Ricochet pinned Steen, and Elgin then pinned Ricochet. Thus, both men get a title shot. This should be a super entertaining match. With Adam Cole vs. Kevin Steen already being built to, it doesn't make sense to do a title change here, and I would be disappointed if they did.
Prediction: Kevin Steen
Eddie "Eddie Edwards" Edwards & Roderick Strong vs. The Young Bucks (Matt & Nick Jackson)
I would rather see PWG book the American Wolves as a tag team, but I can't really complain too much about this matchup. It's disappointing to not see the PWG Tag Champions booked, but at least this match should be insane. Going with a mild upset…
Prediction: Roddy & EEEE
Brian Cage vs. Willie Mack
This is a grudge match that I think most fans expected to happen sometime during BOLA. This is a big test for both guys, as their best singles matches are usually with more experienced guys with a long history of great matches. I hope they pass this test with flying colors, but it wouldn't surprise me if this match was somewhat of a letdown.
Prediction: Willie Mack
Sami Callihan vs. Davey Richards
These two just had an awesome match together in AAW, and I expect them to try to steal the show here. Their AAW match featured a lot more subtle work than either guy is known for, and I would hope they do something similar here. Davey has to be the favorite, but…
Prediction: The Callihan Death Machine
El Generico vs. Rich Swann
Rich Swann is making his PWG debut here, and he couldn't have asked for a better opponent to debut against in Reseda. Of all the contracted guys in the WWN universe, AR Fox and Johnny Gargano would have been better options for PWG, but I do expect Swann to excel in PWG.
Prediction: Generico
B-Boy & Famous B vs. RockNES Monsters (Johnny Goodtime & Johnny Yuma)
Yea, I have zero interest in this match. Where is Chris Kadillak?
Prediction: RockNES Monsters
Joey Ryan vs. Ryan Taylor
Speaking of matches I don't have interest in. I'm glad that Joey Ryan got a TNA contract, so that he's no longer allowed to be filmed for independent releases. I actually think Ryan is very talented, and he's a great tag team wrestler, but PWG has not been booking him well for a year now. I'm ready for him to move on.
Prediction: Ryan Taylor
This event takes on October 27 in Reseda, California. Buy tickets for the event here.
For more information on PWG, check out their:
Facebook
Twitter
DVD Store
Youtube Page

DGUSA: Tripleshot Preview
November 2nd – Everett, MA – Fearless 2012
Respect Match: AR Fox vs. Ricochet
I've seen three singles matches between these two in various promotions over the last 20 months. They obviously have a lot of chemistry, but they have yet to have a great match. I'm hoping this is the time that the great match finally happens, and this match could very easily be the main event of this show. Ricochet beat Fox clean in September, and I'm guessing Ricochet will have to cheat to win this time.
Prediction: Ricochet
Winner Gets DGUSA Tag Title Shot On Nov. 3rd: Genki Horiguchi & Ryo Saito vs. The Super Smash Brothers
Since Genki and Saito may not come back to DGUSA for years after this weekend, I would imagine that they will get the tag title shot the next night. This should be a good match.
Prediction: Genki & Saito
Akira Tozawa vs. Jon Davis
These two had a solid 8-9 minute match over a year ago, but Davis has improved a lot since then. The keys to this match are how much time they get and how seriously the crowd takes Davis. The Chicago crowd in July didn't take Davis seriously in his match where he went over YAMATO. If the same thing happens here, this match will underachieve. Davis needs to win this match.
Prediction: Davis
November 3rd – Voorhees, NJ – Uprising 2012 – Live iPPV At WWNLive.com
Open The United Gate Title Match: CIMA & AR Fox defend vs. Horiguchi & Saito/Super Smash Brothers Nov. 2nd Winner
We don't know who will be the challengers, but I expect that champs to successfully defend them for sure. The match is pretty much a lock to be very good, if not great. This will be the champs' third defense, as they have successfully defended the belts twice in Japan in the past month.
Prediction: Fox & CIMA
Ricochet & Rich Swann vs. Horiguchi & Saito/Super Smash Brothers Nov. 2nd Loser
There's no need for the Swann/Ricochet team to be kept strong. Much like the other tag match, whatever this match ends up being, it's a lock to be very good, if not great.
Prediction: SSB
2/3 Falls Match: El Generico vs. Sami Callihan
At Evolve 13, Generico defeated Sami clean, but then Sami attacked Generico after the match (and was "suspended"). This is the rematch (which is happening for no particular reason in my mind), but Sami should be very over with the Voorhees crowd. Thus, this may end up being the best match on the show. Sami has essentially turned tecnico, but he lost his first match back to Masada in convincing fashion. I guess the storyline may be that he's turning back rudo if he keeps losing, but I can't imagine that's the case. Sami is definitely losing the next night to CIMA, so I also can't imagine he's getting his "big win" in this match since he'll just lose the next day. The point is, this match should be great, but I don't think it was good to book it unless Sami wins (and then wins the next night, which is absolutely not happening. Sigh).
Prediction: Generico
Akira Tozawa vs. Samuray Del Sol
These are the types of fresh matches that you can't get anywhere else besides Dragon Gate USA. Matches like this are still the biggest draw that DGUSA has for me, and I hope that this match is as good as I envision it being. Samuray Del Sol probably needs this win much more than Tozawa, but with Tozawa getting a title shot the next day (and with him losing the night before in all likelihood), I envision Tozawa going over.
Prediction: Tozawa
November 4th – Long Island, NY – Freedom Fight 2012 – Live iPPV At WWNLive.com
Open The Freedom Gate Title Match – Four Way Elimination: Johnny Gargano© vs. Akira Tozawa vs. AR Fox vs. Ricochet
While this match is like going to be awesome (and I am very much looking forward to watching it), this is a very lazy match to book Gargano in for his only defense of the weekend. DGUSA took great strides by telling a simple and logical story for determining the United Gate Title challengers for this weekend. This match makes me less confident in DGUSA's ability in telling logical stories about their championships going forward. Ricochet just defeated Fox at Evolve 17, and now they are having another match on November 2nd. Fox has been booked as a 50/50 singles wrestlers and most of his victories are against men that are lower than him on the card. Why not do a triple threat, number one contenders match on November 2nd or 3rd just so there is some sort of rhyme or reason? Why not have them all compete in singles matches on November 2nd or 3rd with the winners of those matches being put into the title match? If they're concerned about not having an announced main event for the show, then something at the last DGUSA or Evolve shows should have made the next challenger for the title very clear (like Ricochet defeating AR Fox clean in the semi-main of Evolve 17…oh wait). Having great matches is only one part of making a great promotion. It's not even the most important part.
Prediction: Gargano
Genki Horiguchi & Ryo Saito vs. El Generico & Samuray Del Sol
With Genki and Saito unlikely to become DGUSA regulars, I would hope that Del Sol and Generico would go over here. Regardless, this match should be awesome, and I am very much looking forward to watching it.
Prediction: Generico & Del Sol
CIMA vs. Sami Callihan
This is a HUGE test for Callihan, as he has to have a great match here. Throughout DGUSA's history, CIMA has seemingly always been game to have great matches with the American workers, and I think Sami has a chance here to solidify himself as one of the main DGUSA guys. With all that said, CIMA is definitely winning this match.
Prediction: CIMA
Overall Thoughts: I think the announced matches for these three shows show a lot of progress for DGUSA in terms of the booking making sense. I'm specifically referring to the United Gate Tag Title situation. They have established that a bunch of teams are looking to challenge for the belts, and now, those teams are going to have to compete to earn a shot. Revolutionary stuff, I know. Between that and the three to four awesome matchups already booked for all three shows, I can pretty much guarantee that I will be watching all the shows. However, while that is nice, there are still some annoying things going on. First, The Scene's presence loom on every card, and the knowledge that their matches will soon be announced only brings down my enthusiasm. The act has been given a year, and the act clearly, and without question, doesn't work. One of DGUSA's biggest problems since 2009 has been building up challengers for their titles, and while the United Gate situation is good (for now), the Freedom Gate Title is still booked with a complete lack of inspiration. As I said though, I'm looking forward to the shows, and I hope to have time to write about them.
AUTHOR'S NOTE: The early preview was written before the release of the video announcing that ACH was coming to DGUSA for the whole tripleshot. This is excellent news and a long time coming. I hope his appearances are not wasted.
HIPS TV: PAC & Masato Yoshino vs. Naruki Doi & Ricochet from United: Philly 2011

DGUSA recently made another match available for free. You can legally download this match here. Get alerted to future free DGUSA/Evolve matches by signing up for their Email News Alerts.
Blood Warriors just turned rudo right before this match. Doi had also recently turned rudo on Yoshino, so there was also some tension there. Brodie Lee, CIMA, and Dragon Kid were with Doi and Ricochet.
Ricochet sent PAC to the floor early and hit a Sasuke Special. Both teams traded control for a while, with neither team getting a decisive advantage. Eventually, the Blood Warriors members on the outside were able to help Doi and Ricochet get an advantage. Yoshino eventually came back with a Sling Blade on Doi, and he then tagged out to PAC. PAC effortless hit a corkscrew Asai moonsault onto Ricochet. Doi came back with a springboard senton onto PAC's back. PAC came back with a double stomp and a standing corkscrew shooting star press. Ricochet then hit Yoshino with a standing moonsault senton for a nearfall. Yoshino locked Ricochet into a From Jungle, but Ricochet escaped. Doi hit Yoshino with a springboard senton. PAC caught Doi with a superkick and then hit a middle rope Phoenix Splash. Ricochet hit PAC with a 650, and Yoshino had to break up the pinfall attempt. Ricochet went to the top rope, but PAC hit him with a super German suplex. PAC then hit Ricochet with a corkscrew shooting star press, and Doi had to make the save. Doi hit Yoshino with a Doi-5, but Yoshino came back with a Lightening Spiral. PAC hit Ricochet with a 650 and Doi with a Fosbury Flop. Yoshino the hit Ricochet with a Torbellino and locked in Sol Naciente! Ricochet verbally submitted!
I often find myself saying this about big Dragon Gate tag matches, but this match was exactly the effort and product that you would expect from these guys. If you watched too many of these matches in a row, it would probably feel repetitive, but when it's the main event of a show in a promotion that doesn't run often, it stands out as something special. There isn't a reason in the world for you to not watch this match.
Match Rating: ****
For more information on DGUSA, check out their:
Facebook
Twitter
DVD Store
Youtube Page
HIPS TV: Adam Peace© vs. Heath Hatton for the NWA Heavyweight Title on AAPW TV

This match is for Pearce's NWA World Heavyweight Championship. Hatton has been feuding with Ax Allwardt, and as a result, Allwardt has been banned from ringside. Allwardt's manager, Gaylord Stevens, is on commentary (and he was very amusing).
AAPW has a pretty old-looking ring announcer, and Pearce just shoved him down. RUDO. Epic spot that was. The crowd was totally behind Hatton. Hatton hit a big chop early on that caused Pearce to retreat to the floor. Pearce went back to the ring, but Hatton took him right down with a dropkick. Pearce tried to go to the back, but Hatton chased him to the back and pulled him out by the ear. Back in the ring, Pearce cut off Hatton with a spinebuster. Pearce worked Hatton over after that. Pearce got a nearfall after he hit a lariat. Pearce called for a piledriver, but Hatton avoided the attempt and hit a swinging neckbreaker. Hatton made a big comeback and they ended up on the floor. Back in the ring, Gaylord Stevens tried to hit Hatton in the head with his umbrella, but Hatton blocked the attack. Pearce then rolled up Hatton with a handful of tights: 1…2…3!
Ax Allwardt came out to celebrate with Stevens and Pearce. Hatton got on the microphone and challenged Allwardt and Stevens to a tag match at the Zero Hour show. They accepted the challenge. Hatton then informed them that his partner will be Colt Cabana. The rudos flipped out.
This was a dam fine TV main event. Pearce's rudo character is perfect for AAPW crowd, and Hatton played his role very well. The only real disappointing thing about this match was the finish, but at least the finish made sense in the context of the feud. I hope to see Pearce vs. Hatton II one day before Pearce completely retires.
Match Rating: ***1/4
HIPS Interview: Heath Hatton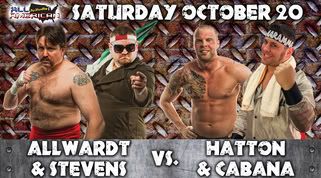 TJ Hawke: You've got a big tag match coming up at AAPW's Zero Hour show on October 20th. You have had an issue with Axe Allwardt and his manager, Gaylord Stevens, for a quite a while now. This weekend, you will be taking them on in a tag match with international superstar, Colt Cabana, as your partner. What are your thoughts on this match?
Heath Hatton: The ass kicking me and Cabana are going to be giving at "Zero Hour" has been a long time coming .
Ax Allwardt and Gaylord Stevens have been a huge thorn in my side all year. I overcame both of them at "Summer Chaos," and I planned to move into the title picture. They screwed that up and made it a point to let me know they're not going away until I physically make them.
At "Zero Hour," they have bitten off way more than they can chew. They may have three men on their side, but the guy I found to stand in my corner and fight – Colt Cabana – is possibly the best wrestler on the planet.
So to answer your question about Saturday, I CAN NOT wait to do the things me and Cabana are going to do to Ax and Gaylord as we put them away for good.
TJ: You recently challenged Adam Pearce for the NWA Heavyweight Championship on AAPW TV. What was that experience of working with Adam Pearce like? Did it feel surreal to be challenging for a title that, despite recent NWA struggles, still has an incredible history?
HH: Words cannot describe how awesome working with Adam Pearce was.
Wrestling for the belt was surreal, but the crowd, the boys in the back, the atmosphere itself at the arena, it all made it even more amazing.
Plus Adam Pearce, have you ever seen this guy wrestle? He is so good, so smart, best of the best. To hang in there with him and blow the roof off the place is something I'll never forget.
That moment, that match, is by far my favorite match of all time.
TJ: Back in April, you actually got a chance to appear at the WWE PPV, Extreme Rules, where you and a partner unsuccessfully challenged The Ryback. Did you have any interesting experiences during your night with the WWE? Can you give the readers of 411mania any insight into the mystery that is THE RYBACK?
HH: Working for WWE was a dream come true. My one-and-only goal when I first got in wrestling was to set foot in a WWE ring. To have a match on a PPV was something I never dreamed could happen.
I don't have any real cool stories, but just getting to meet Vince McMahon was probably a once-in-a-lifetime moment that I'll never forget.
Thousands of wrestlers live their wrestling dream trying to get to WWE. I got there and had a match on a PPV that will live forever on a DVD that happens to have John Cena and Brock Lesner in the main event. Pretty cool if you ask me. Ha ha.
Well, Ryback is for sure not a mystery. He is simply one badass dude. What you see is what you get.
If Ryback walks up to your girl in a bar and hits on her and says he wants to take her home, you look him dead in the eye, lower your head, say "Sure thing, buddy" and walk away! He is that intimidating.
Follow @Heath_Hatton on that fire breathing Twittah Machine.
The complete card for AAPW's upcoming Zero Hour, which takes place on October 20th:
AAPW Heavyweight Championship: Mike Masters defends against Edmund "Livewire" McGuire inside a steel cage
AAPW Tag Team Championship: Matt Cage and Christian Rose of Team Overkill defend against Brandon Espinosa and Ace Hawkins in a ladder match
Ax Allwardt and Gaylord Stevens vs. Heath Hatton and Colt Cabana
AAPW No Limits Championship: KC Jackson vs. Joey O'Riley to crown the first-ever champion
Bull Bronson vs. Mississippi Madman
Alex Castle with Angelus Layne vs. Kyle Sykes
10-Man Anniversary Battle Royal
For more info on AAPW, check out their:
Facebook
Twitter
DVD Store
Youtube Page

Charade Charity Event
At the Beyond Wrestling September show, Armory Amore, Charade attempted a top rope move, and well, it did not go as planned. The video of the near fatal crash was so disturbing that the video managed to get over a thousand views on Youtube while remaining unlisted (ie: someone had to give you a link to see the video). Charade was taken out on a stretcher and then went to the emergency room. Somehow, he will make a full recovery, and he should be okay in 2-4 months. With that in mind though, he still has a ton of medical expenses from the incident, and Beyond Wrestling is running a charity dinner/wrestling event on Sunday November 4th, in Bridgewater, MA. Purchase tickets or donate right here. For updates on the event, go here.
I also strongly urge all of you to read Charade's account of his near-fatal experience. It's a great read.
For more info on Beyond, check out their:
Facebook
Twitter
DVD Store
Youtube Page
AAW Marathon: What is AAW doing right and what do they need to work on?
After watching five of the last six AAW DVDs, I thought I would share some of the big picture thoughts I've had on the promotion.
The Positives
Booking Multiple Unique Main Event Quality Bouts for Every Show
On the last four shows, I've been able to see Davey Richards vs. Sami Callihan, Michael Elgin vs. Kyle O'Reilly, Davey Richards vs. Fit Finlay, BJ Whitmer vs. Sami Callihan, ACH vs. Silas Young, Davey Richards & Kyle O'Reilly vs. BJ Whitmer & Sami Callihan, and a forty minute "I Quit" match between Michael Elgin vs. Silas Young. These are the types of matches that promotions that are serious about expanding their audience reach need to book. AAW needs to continue to book these types of matches.
@AAWWeAreComing
Is an invasion/uprising angle original? No. Are there too many of them happening in wrestling right now? Absolutely. However, I have liked their appearances on the last two shows. Kevin Harvey seems to have the gift of gab, and I like the way Keith Walker & Lamar Titan are used in the group. This group has some kinks to work out, but I think this angle is definitely going to be a positive.
The Heavyweight Championship Scene
Perhaps the biggest positive for AAW (and this started long before I watched any of their DVDs) is how they've played their part in helping Silas Young become a fantastic wrestler. Silas Young was the AAW Heavyweight Champion for the better part of three years (Michael Elgin just won the belt), and he has done a fantastic job of carrying AAW on his back. Even if AAW only had an OK show, they could always rely on Silas Young delivering something worthwhile. I don't expect this to change with Michael Elgin as champion.
The Negatives
The Tag Title Scene
Early in 2012, Jimmy Jacobs & Arik Cannon won the tag titles, despite the fact that they spent the better part of 2011 in a blood feud. For a few shows, Jacobs and Cannon managed to produce entertaining matches with a mixture of good wrestling and their colorful interractions. However, it's October now, and their run as champs clearly peaked many months ago. Jacobs and Cannon are really not getting along during their defenses to the point that every team that they defeat seems all the weaker for losing. Essentially, the tag team division is being buried, and the champs are not really providing great entertainment to compensate. It's time for this to change.
Too Many Uninteresting Matches
While AAW is seemingly able to book 2-3 matches every show that I am really interested in, their midcard and undercard matches rarely, if ever, interest me. I believe this problem has two main causes. First, a lot of wrestlers (Mr. Miller comes to mind) who are very talented are not given enough time or opportunities to truly put together something special on every card. Second, the matches underneath the main event are filled with too many guys who are never really going to excel. I'm talking about guys like Mason Beck, Marion Fontaine, Darin Corbin, everyone but Mr. Miller in The CLASH, etc. AAW needs to fill their shows with hungrier talent (guys like that in the area that come to my mind include Joey O'Riley, Matt Cage, Christian Rose, and there are plenty more), and then that talent needs to be put into a position to excel. Because I watched four AAW DVDs in a week (as opposed to one every month), it was really apparent how dull and repetitive their undercards are. I'm sure that they are concerned with crowd burnout, but they also have to become more aware of the DVD audience. This to me is clearly AAW's biggest problem. I often found myself wondering during the early matches, why should I even watch all of these DVDs when I can get just the "Best of" at the end of the year and get the same amount of satisfaction. I would recommend that they explore the idea of booking their shows like PWG did in 2009. Almost every show only had six matches, but they are almost always given a chance to succeed. I think that booking strategy would make AAW DVDs much more appealing.
For more information on AAW, check out their:
Facebook
Twitter
DVD Store
Youtube Channel
HIPS Interview: Big Sue Jackson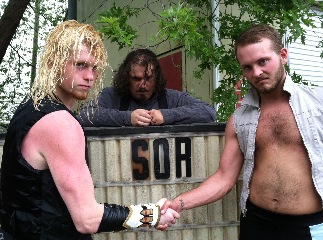 TJ Hawke: It's been announced that The League will compete in the first TRIOS TITLE TOURNAMENT QUALIFYING BOUT against the group of Heidi Lovelace, Dale Patricks, and Trevor Court. After The League lost to Heidi and Dale in a 2/3 falls match, why should fans of Class Wars be confident that The League will once again reign supreme in Class Wars?
Sue Jackson: Well, the first answer to this is easily we don't have to worry about that opportunist Remi Wilkins making his unwelcome presence known. He's been dealt with, and will no longer be sticking his nose where it doesn't belong. As for The League reigning supreme, you could say we're having a few growing pains. As in Reed Bentley for some reason has decided to not stick by The League's mantra of Maul, Kill, Consume, and has been instead following in the footsteps of Billy Roc. It's pretty apparent that this has thrown off our game a bit recently, but I assure you that come October 27, we WILL all be on the same page, or there will be consequences. When The League is on top of our game, we are unstoppable.
TJ: 2012 has been a breakout year for everyone involved in Class Wars, and one of the biggest opportunities a lot of you had was a School of Roc showcase trios match in Chikara back in April. What was that experience like? How did working for Chikara that day make you a better professional wrestler?
SJ: Chikara was a personal goal of mine from the very beginning. Honestly it was quite the humbling experience, even for me. It's the biggest stage that any of us had had a chance to perform on up to that point in our careers, and it was a launching point for Tripp Cassidy into Young Lions Cup X. Chikara is a well-oiled machine, completely professional, and just being there makes you want to step up your game. Actually, not just want to step it up, but to actually give more than you believe you had, lest you make a complete fool of yourself.
TJ: Unfortunately You suffered a serious injury during the Chikara match, and you had to sit out some time as a result. Was this your first major injury from professional wrestling? What was the recovery process like?
SJ: This was indeed my first injury in wrestling to keep me out for any period of time. I broke my wrist and had to get surgery to put everything back into place. I now have a metal plate and ten screws holding my radius together, and they will be in there for the rest of my life. As for the recovery process, it's still ongoing. I had to sit out of wrestling for three months because I had no strength or mobility in my wrist. Now I've regained all my mobility, but I'm continuously working to make sure that I can get it back to 100% strength. I'm coming close, but I don't think it's quite there yet. The time away from the ring just because you don't want to re-injure or hurt yourself even more is a very necessary evil, but it can be frustrating because you don't want your momentum to slow. Fortunately things are back on track and moving full steam ahead now.
TJ: Finally, I'm seeing a whole bunch of new faces popping in the Class Wars Universe. Do you have any words of advice for these youngins who will presumably be looking to make an impact sooner, rather than later.
SJ: Absolutely. And it's very simple. Stay out of League business.
Here is where you can contact Big Sue Jackson:
His Facebook
@BigSueJackson
His Youtube Page
Booking: [email protected] or send me a message right on my facebook page.
Words/Scramble with Friends and DrawSomething: Bigsuejackson
A Preview of the Main Event of The School of Roc's Class Wars'TWO TURNTABLES & A WRESTLING RING
***SOR TRIOS TITLE TOURNAMENT QUALIFYING BOUT***
The League ("Bulletproof" TRIPP CASSIDY, "Cutthroat" REED BENTLEY & BIG SUE JACKSON) vs. HEIDI LOVELACE, "The Phoenix" DALE PATRICKS & "The Greatest Show on Earth" TREVOR COURT
This is the big match on the show, and I would assume that this match would be the main event. The League was the breakout act during the first season Class Wars, and they have appeared in many other promotions as a unit since their stable was formed during the season. Despite The League dominating Class Wars throughout most of the season, at the end of the first season, Reed Bentley lost a "Street Fight" to Nate Stone, and Sue Jackson lost to Remi Wilkins to determine the first winner of the SOR Class Wars Cup. In some "off-season" matches, there have been some cracks in The League, as they managed to lose a match again Heidi Lovelace and Dale Patricks in a 2/3 falls match. You can watch that match right here. The League will look to rebound from those setbacks by winning the first match in a tournament to determine the first SOR Trios Champions. Heidi and Patricks will be teaming with Trevor Court, who is making his Class Wars debut at this event. I expect this match to be a lot of fun, and I definitely hope to watch it when the show is released on DVD. With The League showing cracks in the foundation, my guess is the tecnicos are going to come out on top.
Prediction: Heidi, Patricks, & Court
The rest of the card:
International Television Wrestling Star U-GENE (aka Nick Dinsmore) vs. "Sexy" SHAWN COOK
***SPECIAL TAG TEAM ATTRACTION***
"The King of Indiana" BILLY ROC & MAT RUSSO vs. The Social ("Classy" CHRIS CONWAY & FABRICE)
***ROOKIE CHALLENGE MATCH***
"The Zombie" ROB RAMER vs. 2012 SOR Graduate JOE PITTMAN
**ROOKIE CHALLENGE MATCH***
GUY LOMBARDO vs. 2012 SOR Graduate RIPPER THOMAS
***ROOKIE CHALLENGE MATCH***
MARC HOUSTON vs. 2012 SOR Graduate BUCK BOULDER
For all the information you would ever need to know about this show, check out this link.
For more information on Class Wars, check out their:
Facebook
Twitter
The Full First Season of the Class Wars Web Series for Free
A Full List of Free Class Wars Matches
PROGRESS Wrestling started running shows in 2012, and they are quickly gaining a great reputation for awesome crowds and exciting shows. I really liked their first show, and I can't wait to watch their next two shows. PROGRESS just released this match from their second show.
HIPS TV: The London Riots (James Dahmer & Robbie Sincaide) vs. The Velocity Vipers (Alex Esmail & Will Ospreay) from Progress Wrestling Chapter 2

I have never seen, nor heard of, any of these men before. The Riots jumped them at the bell, but the Vipers managed to send them to the floor. Esmail wiped them out with a somersault plancha. Ospreay went for a tope suicida, but Lynch blocked him with a forearm. Back in the ring, the Riots worked over Ospreay. This beatdown went on for a while. Ospreay finally came back with a couple of kicks and a hurricanrana. Esmail tagged in and hit a springboard cross-body, but Lynch cut him off with a big spear. Lynch proceeded to destroy Esmail. The rudos allowed Ospreay to tag in for some reason. He hit Damher with a handspring enzuigiri. He then hit Lynch with a Code Red for a nearfall. Esmail was carried to the back. Ospreay hit Dahmer with a rolling snapmare. He then went for a double rotation moonsault, but Dahmer avoided it. Lynch then killed him with a lariat: 1…2…3!
Lynch got on the microphone after the match. They say the riots are now back in London. He calls out anyone in the back.
This was pretty much an extended squash for The London Riots, but it was a very entertaining one. The Vipers did get some offense in, and their offense was usually very exciting.
Match Rating: **3/4
For more information on Progress Wrestling, check out their:
Facebook
Twitter
DVD Store
Youtube Channel
Besides 411mania, there are some other places around the interwebs that you should check out for great independent wrestling coverage. I definitely recommend that you check Pro Wrestling Ponderings and Free Admission (For Real!) for great articles and podcasts.
411's Kevin Ford also has two great Chikara resources that you should check out: The Chikara Special Blog and a Chikara Tumblr.
Here are some great, must-read sites to help you with all things Dragon Gate:
Open the Garoon Gate: Reviews of every single Dragon Gate related show/match.
I Heart Dragon Gate: The absolute best coverage of Dragon Gate news and information.
Open the Tumblr Gate: The Tumblr that collects great Dragon Gate and DGUSA related links and photos. Good times are had here.
Over at my own site, FreeProWrestling.com, we post a legally free wrestling match every weekday. Some of our most popular recent posts include:
The Briscoes vs. Super Smash Bros. vs. First Class
The Mysterious & Handsome Stranger vs. The Shard from Chikara 2012
NULL