My Take On 5.01.13: My Top 10 Favorite Tag Teams (Currently)
May 1, 2013 | Posted by
WELCOME!
Welcome back to another edition of My Take On! If you guys have read my work at all over the last eight years, you know that I love tag team wrestling. While some of the kids that need to get off my lawn have little to no appreciation for that form of wrestling, I have and likely always will love it. So this week I will keep it simple once again and list the top 10 tag teams I currently enjoy watching the most. REMEMBER, these are my favorite teams. If you have a difference of opinion, please share your top 10 in the comments section! Of note, some teams are three man units, and will be mentioned as such. You'll understand when we get to those teams. The beauty of making my own rules.
BY THE WAY: I will take suggestions for future top 10 lists, so leave suggestions in the comments section.
AND NOW….

My Top 10 Favorite Tag Teams at This Time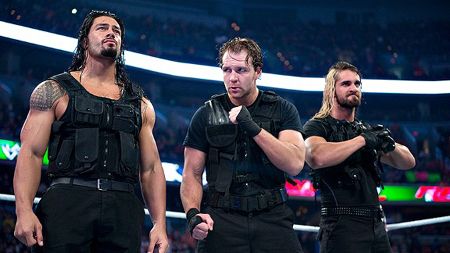 #10. The Shield (Dean Ambrose, Seth Rollins and Roman Reigns)
We kick off the list with the first of two three-man units that will make the list, The Shield (Dean Ambrose, Seth Rollins and Roman Reigns). First of all I have been a fan of Ambrose and Rollins for some time, and in his limited time in WWE, I have really enjoyed the work of Reigns. He is green and needs to grow, but he has done very well in the role he is asked to play, has a great look and if he progresses and learns, could be a big deal in a few years. While I will never claim that the booking of the Shield has been flawless, because it hasn't, they have been booked to succeed. They are working with the right guys, they are winning their matches as a unit, and they have delivered in those matches. The other big thing is that the Shield is really what many of us have been asking for, young guys getting TV time, winning and looking important. They have done that with the Shield, and right now, their matches are must see TV for me. The trios match on the April 22nd edition of Raw against the Brothers of Destruction 2k13 was a ton of fun and one of my favorite TV matches of the year.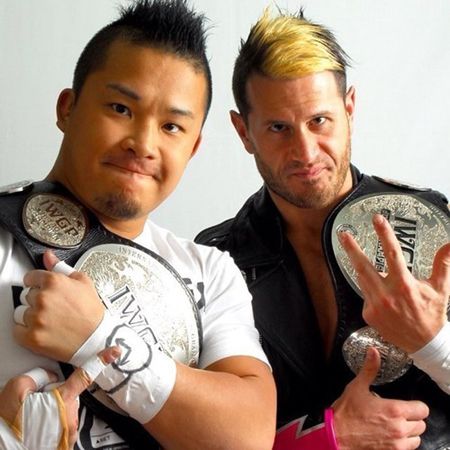 #9. The Time Splitters (Alex Shelley and Kushida)
After eight long years, Alex Shelley was done with TNA as they did not renew his contract. I hated this news, because Shelley had been a great part of the X-Division, and of course, his team of the Motor City Machine Guns with Chris Sabin was always a highlight for me. But TNA's loss is New Japan's gain, because Shelley headed to Japan and has found a new tag team partner, Kushida; and together they make the Time Splitters. The Time Splitters are your current, reigning and defending IWGP Junior Heavyweight Tag Team champions since November 11th. The Splitters quickly won me over, and their matches against Forever Hooligans (Alex Koslov and Rocky Romero) and Prince Devitt and Ryusuke Taguchi have been a ton of fun. I am glad Shelley landed on his feet and didn't go to WWE as previously rumored, because his run in New Japan has been damn good, and will likely only get better. And that's not a shot at WWE, but the facts are that he would have been sent to Florida for a while, and instead of that, I have got to see him in a lot of good tag and single matches. The Time Splitters aren't just a good junior tag team; they are a good tag team period and one that is entertaining each and every time out.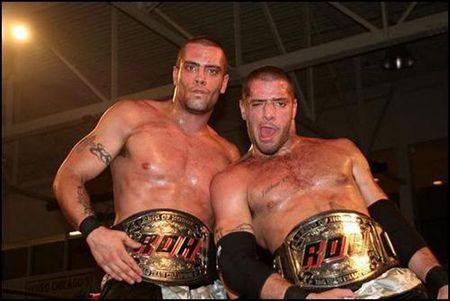 #8. The Briscoe Brothers (Mark and Jay Briscoe)
It all started on day one, and the Murphy Rec Center, the day that the Briscoes look back on as the day they started being an institution for Ring of Honor. Mark and Jay have been with the company since then, minus a break, and when you look at the history of tag team wrestling for the company they have been the standard. Do not get me wrong, there have been other great ROH tag teams, but the Briscoes have always been THE ROH team. While I like the Briscoes and they have had a lot of great matches over the years, I like their out of ring stuff even more. The brothers, cutting promos on their opponents while shoveling chicken shit, dead chickens and or shooting things is wildly entertaining to me. And that is what it is all about, being entertained.
#7. The American Wolves (Eddie Edwards and Davey Richards)
I know I will get some shit for this, judging by the comments on my year-end stuff, but yes I am a fan of The American Wolves (Eddie Edwards and Davey Richards). I like tag team wrestling, and I like different kinds of tag team wrestling, and while I do not want to watch a whole card done in the style the Wolves work, I do enjoy it from time to time. I like the striking based offense, I like mixing in MMA styled hybrid stuff (in proper doses and with the right guys doing it) and I like the break neck pace that they work. I find them very enjoyable as a team; I do not want either man main eventing like they did at one time, but as a tag team they work for me. My one main criticism of the American Wolves is that they sometimes do not know when enough is enough. They work some damn fine matches, but they need to learn when the match hits the climax that you need to GO HOME. All too often matches of theirs hit the peak, then they do some stuff, then they do some more stuff and then the match ends up ending anticlimactically. Their match with reDragon at the ROH Supercard of Honor VII iPPV is a prime example of that, in my opinion. Many people thought that was a MOTY candidate, which is completely their right to think so.
#6. Team Hell No (Daniel Bryan and Kane)
Up next on the list is the odd couple pairing of Kane and Daniel Bryan, better known these days as Team Hell No. I will freely admit that I am not as into them as I was near the beginning, but yeah, I liked the initial anger management series of vignettes. I especially loved the self-aware Kane segment where he was telling his life story in a completely calm and rational tone. But while they aren't as close to the top of the list as they once were, I still find these guys damn entertaining. The pairing with Bryan has lit a fire under Kane as far as work in the ring, and a revitalization as far as his character goes. Bryan gets the rub by being paired with a guy that has the respect of the long time WWE fans. It's a pairing that I did not think would last all that long, but it has and it has been very entertaining. And while they may not constantly deliver matches I love like the Time Splitters or other teams, they have had some very good outings in six-man matches with the Shield over the last few months. It's just a shame that during the long run that didn't have a good foil that they could constantly work with and have good matches with. But maybe that is coming with the rumored Shield feud.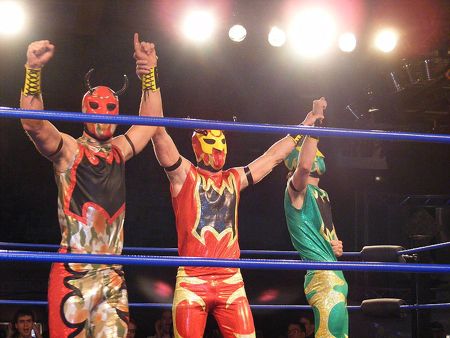 #5. The Colony (Fire Ant, Green Ant and Soldier Ant)
If you've followed my writing for any amount of time, you know that I am a big fan of CHIAKRA. I find the product fun, the LIVE CHIKARA event is a great experience, and it is something that I can have a good time watching with my wife and daughter, because they both enjoy it. Ever since we started watching the product, our favorite team has been The Colony (Fire Ant, Green Ant and Soldier Ant). This is the second "unit" on the list along with the Shield. Now while there has been a lot of chaos with the ants over the last year (The Swarm, The Colony Extreme Force, Wink Vavasseur mixing up the teams) our favorite still remains the trio shown above. I highly enjoy their matches, their crowd interaction and they have been successful as well. The trio won the King of Trios in 2011, while Fire Ant and Soldier Ant are former holders of the CHIKARA Campeonatos de Parejas (their tag team titles). What sealed the Csonka family's love for The Colony was at the first CHIKARA show we attended. After The Colony won the main event, they celebrated with the crowd; which included picking up my daughter and carrying her around the arena for a victory lap. Those ants are good guys.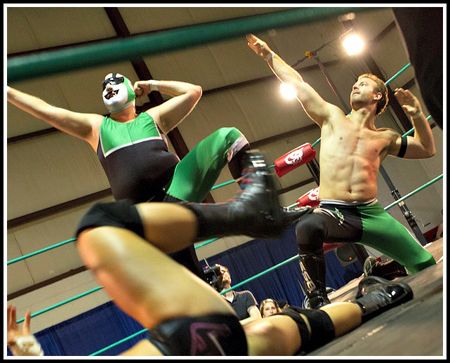 #4. Super Smash Brothers (Player Uno and Player Dos)
Over the last two years or so, when you talk tag teams on the independent scene, one of the tag teams that always comes up in conversation is the Super Smash Brothers (Player Uno and Player Dos). They had runs in CHIKARA and ROH, which had their moments, but were nothing special. But in 2011 they caught the eye of many when they hit the scene in PWG. In PWG they got to work with the RockNES Monsters, the American Wolves and the Young Bucks, and good things started to happen. They won the DDT4 in 2012 and also won the tag team titles from the Young Bucks. They finally started having good success, and along with that came critical acclaim. But what got even more people talking was when they got more east coast gigs with EVOLVE and DGUSA. While PWG has a strong fan base, not everyone wants to wait for the DVD product. But with the SSB working with a company that has iPPV, and is available to so many people, that is when they started to get more love, which they deserve. I have really enjoyed their PWG work, and I love the fact that I get to see them more with the WWNLive (EVOLVE, DGUSA) promotions. These guys consistently have good matches; they are a lot of fun and to me only seem to be getting better.
#3. Bobby Roode and Austin Aries
Coming in at #3 are Bobby Roode and Austin Aries. While they haven't been a team for long, and while I personally would prefer them as singles stars in TNA; the bottom line are that these men are awesome. In my opinion, Bobby Roode and Austin Aries are two of the best guys on the TNA roster as far as overall performers go. They are entertaining on the mic, they are always reliable for putting on great matches, and they always make others look good. Again, while they are great as singles performers and I feel they should be in the mix in the world title scene, the TNA tag team division is in dire straights, and it needs help; and Roode and Aries are the guys that can help. Roode and Aries are proven tag team workers, and with the recent runs on top in TNA, they add instant credibility to the division. Now if TNA can properly build a division and get things back on track, I am positive that Roode and Aries will be a huge part of that. They are easily one of my favorite parts of TNA, along with AJ Styles and Bully Ray, who I discussed last week. Hell, the simple fact that they make me care about matches with Chavo and Hernandez alone make them list worthy.
#2. The Young Bucks (Matt and Nick Jackson)
While this list reflects my favorites, I have a feeling I will get shit for this pick. But coming in at #2 are the guys that pay their mortgages with superkicks, the Young Bucks. While I can unstressed people not liking the Bucks as people, which is all personal preference, these guys are insanely entertaining to me. While I firmly believe that both TNA and ROH dropped the ball with these guys, that has been to the gain of independent wresting fans. On top of their PWG work, which is pretty excellent, they have also made appearances for CHIKARA, EVOLVE and DGUSA. They previously held the CHIKARA Campeonatos de Parejas, and are the current Open The United Gate Champions The Young Bucks. They won those titles on WrestleMania weekend on the Dragon Gate USA Open The Ultimate Gate 2013 iPPV in a very good match with CIMA and AR Fox. While I can fully appreciate that not everyone likes the team, I personally find them very entertaining, and they are a purchase point for me as far as many iPPV and DVDs go. Plus, I get fun shit like this from them…
Again, not for everyone, but damn its fun!
#1. Bad Influence (Daniels and Kazarian)
And coming in at #1, Christopher Daniels and François Kazarian, Bad Influence. These men have been with TNA (on and off) just about since the beginning, and I have been a fan of them that whole time. While Daniels and Kazarian have certainly shine don various occasions as singles performers, they have gone to en entirely new level as Bad Influence. Since they have been a regular tag team, they have been so entertaining inside and outside the ring. Daniels, who could always talk, has a new confidence with his character, and makes the dance, the appletini, and the ring general gimmick work with ease. Kazarian, who had always been shaky at best on promos, also has vastly improved and plays off of Daniels very well. On top of that, they continue to deliver, as they always have, in the ring. Last year they had some very great PPV outings, and this year have been an in ring highlight for Impact. With less traditional PPV, and more wrestling on their TV most weeks, these are the guys you need to work on a consistent basis, and when called upon, they seem to always deliver. Add in the fact that during the whole Claire Lynch deal that they were the only redeemable things to come of it, and that says a lot for their work. When Daniels and Kazarian come out to talk, I pay attention. When Daniels and Kazarian are wresting, I am glued to my seat. Daniels and Kazarian are a great tag team, and like the other teams on this list, they make me love tag team wrestling.
---
NEXT WEEK I PRESENT…
MY TOP 10 MATCHES OF THE 80s!
TWITTER
Your heart is free. Have the courage to follow it…TO CSONKA'S TWITTER!
http://www.twitter.com/411wrestling
http://www.twitter.com/411moviestv
http://www.twitter.com/411music
http://www.twitter.com/411games
http://www.twitter.com/411mma
BONUS COVERAGE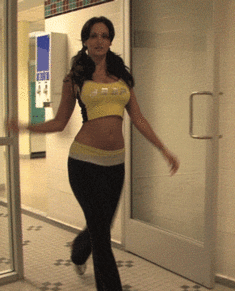 Have you checked out the Csonka Podcasting Network? If you haven't, you should We run anywhere from 15-20 shows a month, discussing pro wrestling, the world of MMA, the NBA, general sports, popular TV series of the past, bad movies, battle rap, interviews, MMA & Wrestling conference calls and more! Around 10 different personalities take part in the various shows, which all have a different feel; so you'll likely find something you like. All of the broadcasts are free, so go ahead and give a show a try and share the link with your friends on the Twitter Machine and other social media outlets! Running since May of 2011, there are currently over 300 shows in the archive for you to listen to.
Larry Csonka is a Pisces and enjoys rolling at jiu jitsu class with Hotty McBrownbelt, cooking, long walks on the beach, Slingo and the occasional trip to Jack in the Box. He is married to a soulless ginger and has two beautiful daughters who are thankfully not soulless gingers; and is legally allowed to marry people in 35 states. He has been a wrestling fan since 1982 and has been writing for 411 since May 24th, 2004; contributing over 3,000 columns, TV reports and video reviews to the site.
NULL