News From Cook's Corner 12.25.12: Christmas Edition
December 25, 2012 | Posted by
Hi, hello & welcome to a special Christmas edition of News From Cook's Corner! I'm Steve Cook, and I know exactly what you're thinking. Yes, I had my last ride back in August. Yes, this is a one shot deal just like that time Rob Van Dam randomly appeared on an episode of Raw in 2007. So the question likely popping into your mind is this: Why did I choose today for a random reemergence?
I feel that there are no more loyal fans of 411wrestling.com than the ones that visit us during Christmas Day. Many 411 writers have tons of activities planned on the holiday, usually involving family gatherings. Maybe you don't have that. Maybe Christmas is just another day for you, or maybe you've gotten sick of your family after listening to them all day and are hopping online for a few minutes to get away from it all. There are a lot of websites out there that offer wrestling opinion & pictures of attractive women, so the fact that you've chosen 411 to be your home for that means a lot to us. There might not be as many visitors to this website on Christmas Day as compared to most days, but those that take time out of their Christmas to see what we have to offer deserve something special.
Since management's calls to Scott Keith, Chris Hyatte & Jake Chambers went unreturned, you get me.
So what have I been doing since stepping back from the Corner? Most of it wouldn't be of interest to you unless you find my work life interesting. I don't, so here's what I've been doing with my Internet time:
-I've still been hosting Fact or Fiction every Thursday here in the Wrestling Zone. Some weeks it's a pain in the butt coming up with questions and waiting for people to get their stuff done, but some weeks I get to ask questions about Cody Rhodes' mustache and people get stuff done early. Kind of a mixed bag.
-Trent Howell & I have done 16 episodes of The Ocho Fantasy Football Podcast. Every Thursday at 8:30 we've been discussing the top NFL news and making our fantasy predictions for the upcoming weekend while covering the Official Offtheteam.com Fantasy League. If you love football and you think I'm entertaining for some reason you'll love the show.
-Jeremy Lambert & I reviewed all five seasons of Friday Night Lights via podcast. I'd never watched FNL before doing it for this project, and I was missing out on a great television show. If you've never watched it I recommend getting on the Netflix or Amazon or whatever & checking it out, then you can listen to Jeremy & I talk about the show. I imagine you could listen to these shows without having watched the TV show, but it'd be a bit confusing.
-Larry Csonka has been busy with a move, so The 411 on Wrestling hasn't been around. Life happens sometimes, even for Internet wrestling writers. We could be back as soon as this Friday, if not then we'll be back at some point in 2013.
-When not doing that stuff, I mostly hang out on Twitter & flirt with ESPN ladies. There are worse reasons to be on Twitter, that's for sure.
Today we'll take a brief look at the current wrestling news & post pictures of attractive women. Two things I'm known for. Since I'm posting this before my family gathering on Christmas Eve Evening there won't be any Raw Thoughts. I'm hoping to catch part of the show because the spoilers sounded so goofy I want to see how it plays out on television. Reading spoilers isn't always a bad thing.
And now, the fake news!
Ric Flair is not under contract to WWE at the moment. Apparently he was brought in one time to get some attention for Raw, which worked well since his segments drew the highest ratings of the evening. I wouldn't be surprised to see Flair back in the WWE fold sooner rather than later, as long as that pesky TNA lawsuit isn't too much of a problem. Tommy Dreamer's return on Raw was also a one-shot deal, and he says that he didn't even know it was going to happen until 3:30 that afternoon when he got the call. Good thing Tommy didn't have to watch the kids or something.
Some former WWE employees are expected to return to the company in 2013. Shelton Benjamin recently asked for his release from Ring of Honor, so the speculation is that he'll be on his way back soon. John Morrison is reportedly in talks to come back, and MVP has been dropping hints that he'll be coming back. None of these individuals have confirmed being in talks with WWE, but allegedly the interest is there. Al l three of these guys fit into the same category for me…you can't build a promotion around them, but they're serviceable mid-card guys that WWE can use to put some of their younger talent over. WWE can always use more of those guys.
Sin Cara is expected to be back from injury in time for WrestleMania, where he is scheduled to wrestle current tag team partner Rey Mysterio. Emphasis on "scheduled", as the WM schedule has reportedly been changing by the day as of late & who knows if Cara or Rey will be healthy by the time WM rolls around. I know the typical punch line is Sin Cara's health, but Rey's just as prone to injury or Wellness violation.
In fact, the inconsistency of Rey & Sin Cara is part of the reason Alberto Del Rio is slowly being turned face. ADR's had one of the stranger face turns in recent memory…he defended Ricardo Rodriguez from an attack by 3MB & teamed with The Miz & Brooklyn Brawler against them at the TLC PPV. The next night on Raw he teamed with Miz & Tommy Dreamer, then he was seen on the Tribute to the Troops show getting killed by Ryback. I kind of like that they're not making him a total good guy overnight, and the fact is that he really needs a reboot since he hasn't been terribly interesting in a long time. The problem is that they don't seem to have a plan for ADR that goes beyond "Let's make him a good guy and see how people react".
The same could be said for The Miz, who is in the same boat as Alberto in a lot of ways. They'd run out of stuff for Miz to do as a heel and he'd been mostly treading water for most of 2012. He had an Intercontinental title run and some decent matches with Kofi Kingston, but it was mostly mid-card filler. So they decided to randomly turn Miz a little while back. I've noticed a lot of online folks aren't really on board with this, because Miz is just as annoying as a face as he was as a heel. I don't buy that, as I believe the best heel/face turns are ones where the wrestler doesn't change all that much. Their situation changes. Miz has been annoying ever since his first appearance on WWE television, but you gotta give the guy credit for the hard work he's put into his wrestling career. He's won most of WWE's championships & has been one of their better media guys over the past couple of years. Yeah, he's still annoying, but now he annoys people we don't like.
One line from Miz on Tribute to the Troops stuck with me over the past week and I think it's the right way to approach this turn. When Kermit the Frog told Miz that he thought he was supposed to be a good guy now, Miz replied that he wasn't a good guy, he wasn't a bad guy, he's the Miz and he's…well, the crowd chimed in with "awesome". Turns don't have the same impact if the character loses everything that made him what he was before. Miz is still The Miz, and Alberto Del Rio will still have a lot of his previous characteristics. Circumstances have changed for both men, and now the fans see them in a different light.
The key is that WWE needs something for them to do & give fans more reason to cheer them other than they've changed opponents. I'm not sure they've gotten to that part yet.
The Kiss of the Year Award got the highest number of votes during the Slammy Awards edition of Raw. This doesn't surprise me at all since I downloaded the WWE app so I could vote on the awards & the only award I was actually able to vote for was the Kiss of the Year. Before that the damn thing wouldn't load and I gave up on it by the time the later awards came around.
Yes, I downloaded the WWE app so I could vote on the Slammy Awards. I'm just that big of a mark.
The Tribute to the Troops re-airing on NBC drew 1.31 million viewers, which was good enough for last place among the four major broadcast networks in the timeslot. If you wonder why NBC doesn't fall over itself to air WWE programming, that's why. Though nobody should be surprised that a wrestling show that already aired on Wednesday did poor ratings-wise on Saturday, and it doesn't mean that WWE's going out of business anytime soon. I assume the comment section still has people saying it is a few times a day.
That being said, the ratings trend for WWE this year certainly hasn't been good. It should pick up for WrestleMania Season, which looks like its going to be pretty interesting on paper, but it remains to be seen whether or not they can carry that momentum after the big show in March.
WWE is planning on moving their developmental operation from Tampa to Orlando. They've been very happy with how the NXT tapings are going at Full Sail University and the scuttlebutt is that they've purchased property to build a new developmental facility on. I remember reading reports from when they built the FCW facility in Tampa about how they didn't have working bathrooms and things were generally a mess, so hopefully things go better this time.
And yes, it's a little interesting that they're looking to run their developmental territory out of the same city TNA runs their television shows, though with all the theme parks & whatnot it's not like Orlando is your typical city. Sure, people live there, but it's a tourist destination more than anything else. I don't think the citizens of Orlando have a particularly strong connection with TNA, but people from there can feel free to correct me if I'm wrong. Hulk Hogan's been talking about moving Impact out of Orlando since he got there, so obviously some people within TNA don't care to be there anyway.
Of course, the days of wrestling promotions having a strong connection with the localities they operate out of have ended since everybody started going national. Ring of Honor's TV show doesn't air in the markets they've run most during their existence. Connecticut has a connection with WWE, but it's not strong enough to get Linda McMahon elected into the U.S. Senate.
The Fandango character has been put on hold. I suspect it will remain on hold indefinitely, which is a shame because I always enjoy people that dance during their wrestling matches. There's an idea for Napier or Byers, or even the 411 Wrestling Top 5! A list of the best dances during wrestling matches would be fun, especially if you could get GIF images or YouTube videos of them.
I haven't had the opportunity to watch a lot of TNA the last few months. It's not that I have some sort of bitter hatred towards the company…despite what some people might believe, I don't really hate anybody. Except the Pittsburgh Steelers. And the Kentucky Wildcats. And the St. Louis Cardinals. Sports-related hatred is ok though. Sports are the reason I've missed most TNA lately, as I do a fantasy football podcast while Impact is on. I'll usually have the show on in the background, but don't have much of a chance to pay attention since I have to keep Trent Howell in line.
Or he keeps me in line. One or the other.
I will admit that the whole Jeff Hardy as champion thing has been a pretty big turnoff. But I may not have to worry about that much longer since the next TNA Champion has emerged from the shadows. That's right, the man destined to save the company since he arrived will soon be in good enough shape to be champion and take the company to the next level…brother! Hulk Hogan recently did an interview with The Guardian where he…
Wait a minute.
Am I actually reporting something Hulk Hogan said in an interview as news? Have I forgotten that you have to take several thousand grains of salt with anything Hulk Hogan says to the media? Damn, I'm slipping. No wonder I went out to pasture.
TNA has decided to drop their February PPV event and will be taping a couple of shows the same weekend as their January PPV to replace it. One show will be centered around tag teams while the other will feature an Ultimate X match & and an X-Scape cage match. Nothing really happened the last four times TNA said they were going to focus on the X Division & bring in more talent for it, but maybe the fifth time will be the charm. Hopefully it'll be a fun show, and I'm all about more wrestling on television.
There will be no TNA in Orlando this February, as they're taping their television for the month during their tour of the United Kingdom. There will be house shows held in the Carolinas, Louisiana, Mississippi & West Virginia during the first half of the month, so the talent will be kept busy a good portion of the time.
Kurt Angle was pulled from some house shows after tearing his groin at the Final Resolution PPV. He did work the Impact tapings that week, including a lengthy match with Devon that aired on Thursday. That probably didn't help the old groin tear, which from what I'm told is a groin tear the likes of which you've never seen. Hey, who am I to doubt Kurt Angle's doctors?
The son of the Man Called Sting will be playing football for the University of Kentucky. Sting, where did you go wrong? Obviously this kid of yours needs to be set straight.

Awesome title, right?
With my reduction of duties in the Wrestling Zone, people have been wondering if the 411 Wrestling Hot 100 will return next year. Rumor has it that if I'm not around there are several people on staff that want to do the list. Tony Acero already has one hundred pictures of AJ Lee set aside for his Hot 100. Ryan Byers is working on his Hot 100 Joshi Wrestlers list. Greg DeMarco's planning his version of the Hot 100 where all seven of his DeMarcettes tie for the top spot. Stephen Randle's trying to figure out if there's any women in the wrestling business that aren't in WWE.
They're all wasting their time. I'll be back.
This week I thought it'd be fun to take a look at what the top ten would be like if we were doing the Hot 100 list this week. You may disagree tremendously with this list, but if nothing else it's ten beautiful women to stare at during Christmas. You're probably not doing that unless you married into a hot family….and if you did, you probably shouldn't be looking at your wife's family like that. Sicko.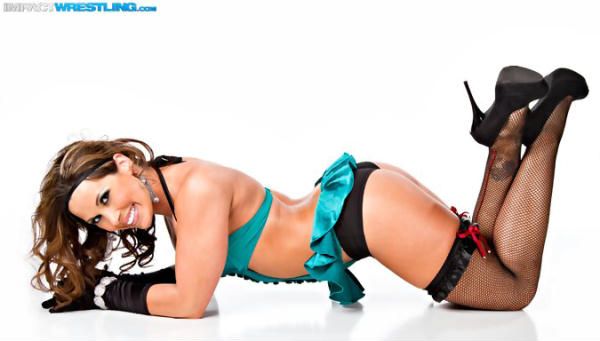 10. Mickie James
This slot came down to Mickie & Velvet Sky, another lady that recently returned to TNA. I give Mickie more credit for her reason for being gone (a benign tumor) than Velvet's (front office stupidity). She's come back in good shape and had solid matches with Tara on PPV & Impact, so hopefully this will be the start of a nice run for Mickie.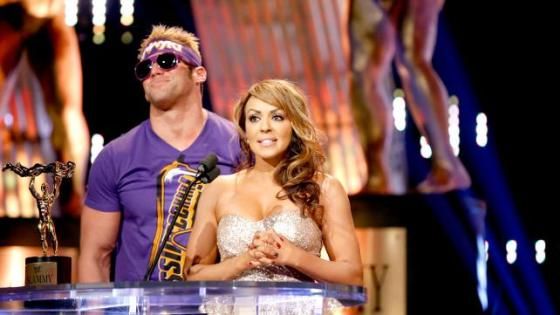 9. Layla
Sadly Layla's return didn't go over nearly as well as her fans were hoping for…the main problem was that the people that aren't diehard Layla fans didn't give a hoot about her as Divas Champion. The WWE fans have been conditioned not to care about Diva matches, so the women without storylines outside of the matches have a pretty tough row to hoe. She still makes the top 10, but needs a little something to keep her spot there. The blonde hair is a nice touch.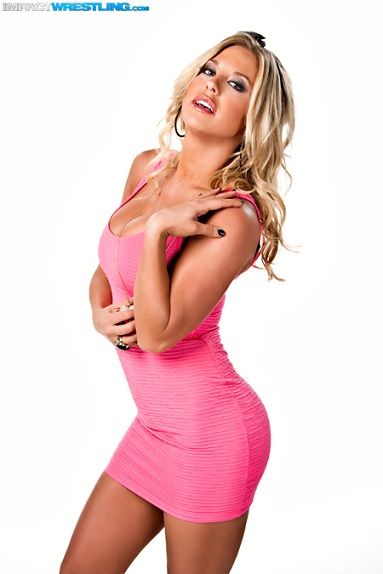 8. Taryn Terrell
I used to think that Taryn was a bit overrated but the lack of tan blondes as of late has made me grow to appreciate her. I also held the whole Drew McIntyre burial against her, but at least he's found a home as part of the wonderfully annoying 3MB crew. Another thing helping her is the fact I saw her in person and was basically stupefied. Getting more TV time than most of the other Knockouts due to being the official Knockout referee helps her cause.
7. Taeler Hendrix
Taeler returned to Impact on Thanksgiving and really stepped her game up for her rematch with Tara. She regained the OVW Women's Championship from Taryn Terrell at the last Saturday Night Special, but after the match she ended up covered in dog excrement. Gotta love Southern wrestling. Taeler's working hard down in Louisville and I expect a lot of great things from her before the next Hot 100.
(Side Note: I went down to Louisville for a U of L basketball game a few weeks ago and it turned out that the Saturday Night Special I mentioned in the blurb was on the same day, so I checked that out after the game. I had some mixed emotions going on that night, as it was cool to see Taeler wrestle & win the title, but the whole dog poop thing…ewww. All the fans trying to get a closer look was quite the sight.)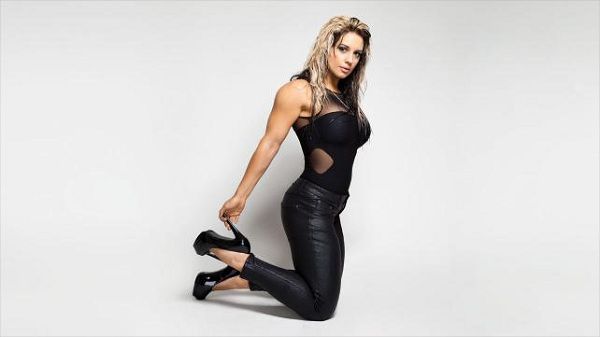 6. Kaitlyn
It's no secret that Eve Torres has had a lack of interesting challengers for her Divas title. The one I'm currently most interested in is Kaitlyn, a nice young girl that didn't have much going on for most of the past year other than being AJ Lee's on-again off-again BFF. She seemed motivated by AJ's betrayal this week, so we'll see if that's what she needs to step up to championship level.
5. Paige
One of the main complaints I got from people on the Twitter machine about the 2012 list was that I rated Paige too low. The fact was that I hadn't seen enough of her work, so I got on the YouTube and got caught up. There might not be a better lady wrestler on television than Paige. She's a natural in the ring thanks to her family full of wrestlers, and who isn't a sucker for the dark haired kinda goth look? I fear she may be a casualty of WWE giving up on the Divas as wrestlers, and hopefully she'll get a chance to shine on the big stage before they throw in the towel.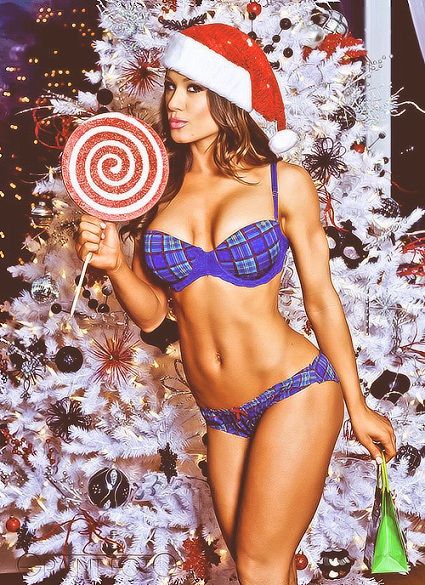 4. Miss Tessmacher
The lady formerly known as Brooke has been working really hard at the craft of wrestling over the past year and it's shown in her work. She actually got quite a few Women's Wrestler of the Year votes in the upcoming 411 Year End Awards, which is something I don't think most people would have expected this time last year. If she gets a really good push from TNA sometime in the next few months she could move up the list.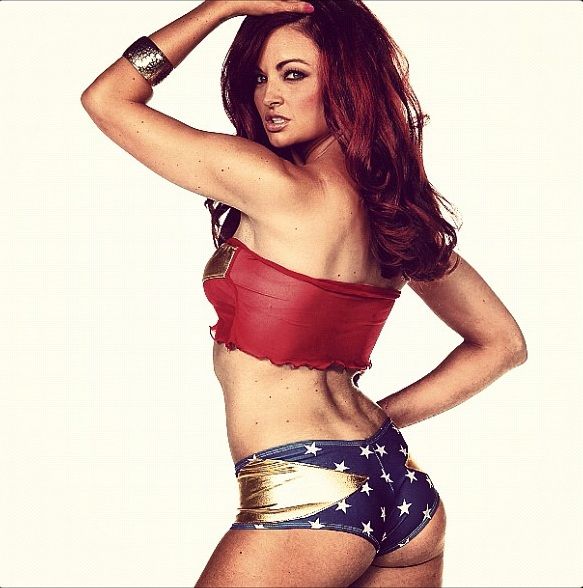 3. Maria Kanellis
There haven't really been a ton of highlights of ROH television lately, but Maria has definitely been one of them. She's shined in the heel role that WWE never allowed her to play, and has actually made Mike Bennett watchable. I'm kidding, I actually like Bennett. I'm just trying to get him to yell at me on Facebook like he did to the great Ari Berenstein. And you gotta respect a guy that can get the lovely Maria to agree to marry him.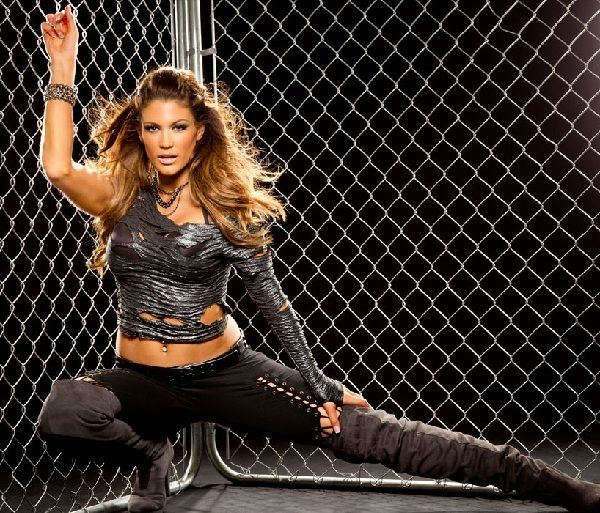 2. Eve Torres
The defending Hot 100 #1 has had herself a pretty solid few months. Not only is she the current Divas Champion, she also won the "Stars Earn Stripes" competition, which was a reality show that ran on NBC in the late summer months. She's also been an integral part of Booker T's administration as the Assistant to the General Manager. Not only that, but she's marrying a Gracie. Poor Zack Ryder…I don't like his chances against the Fighting Gracies. I think I'd pay to watch that fight though.
1. AJ Lee
From what I remember of the comments on the 2012 Hot 100, AJ's placement at #2 was very controversial. While there were many that thought she was overrated, there were also many that were peeved that she wasn't #1. While the whole looks thing is always in the eye of the beholder and some people don't like her look for whatever reason, it's tough to argue that there's a female character that's been more important to their promotion's storylines than AJ has been to WWE in 2012. She's been involved with five of WWE's top superstars on television, she had a stint as Raw General Manager, and has gotten over with the people at a level that other Divas of the recent past could only dream of.
Well, that's all for the Christmas Edition of News From Cook's Corner. Thanks for reading! Nick Marsico will be back next week, and maybe I'll be back next year! Until then…

I love Christmas & the Dropkick Murphys, so this is good times.
NULL