Ranking Sheamus' WWE TLC Matches
December 5, 2015 | Posted by
WWE World Heavyweight Champion Sheamus picked the perfect opportunity to cash in his Money in the Bank briefcase at the end of Survivor Series a few weeks back. Roman Reigns had already competed twice in the same night and was an easy target for the Celtic Warrior. Even though there was a 5:15 rematch on Raw that failed to earn Roman his title back, Sheamus will have to face off against him in a TLC Match at the upcoming WWE event of the same name.
Looking back at Sheamus' match history at that event, he's routinely competed for major prizes. Even though there are only four matches on this countdown, three of them were for either a major title or the chance to compete subsequently for one. It's no surprise that the 2015 edition of this show will have him defending the top title in his company because that's seemingly what he does at this December Pay-Per-View.
Sheamus' record currently stands at two wins and two losses for TLC, so his match with Roman will serve as a tie-breaker for him. It's also worth pointing out that he has competed in a Tables Match, a Ladder Match, and a Chairs Match on three of the cards. His 2015 TLC Match will be his first combination of all three stipulations into one match at this event. It should also be noted that out of the six years that WWE has hosted this event, Sheamus did not wrestle on the two most recent cards. Both the 2013 and 2014 absences were due to the fault of injuries.
So what were the good and the bad of each of his matches? And which bout stood out as the best? We'll find that out soon enough, but first up on the list is the bottom ranking Sheamus match in TLC history…
4. Sheamus vs. Jack Swagger
December 18th, 2011
It's hard to put any sort of context in this match since it was unannounced prior to the 2011 TLC event. It also doesn't help that I was a very casual viewer at this particular point in WWE history – I wouldn't fully reinvest in the product for almost a year after this. I honestly don't know if there was any sort of backstory for why these two fought each other or if they were simply thrown together just because time needed filled. At least Vicki Guerrero was at ringside for Swagger – I miss her and her shrilly voice.
This bout was very short, which kept the story that they were trying to tell from really achieving any sort of depth. Swagger targeted the leg of the Irishman in an attempt to stop any Brogue Kicks, but it was futile. Sheamus was able to connect with his finisher and then pinned the future Real American in under six minutes.
Despite the seeming irrelevance of Sheamus' role on this card, he would go on to win the Royal Rumble one month later. Then, he would advance to WrestleMania XXVII to defeat Daniel Bryan in that infamous 18 second victory. TLC 2011 was just a pause before a push, apparently.
3. John Cena (c) vs. Sheamus
Tables Match for the WWE Championship
December 11th, 2009
Sheamus wanted to be the first Irish-born WWE Champion. Very early in his run with the company, he would get that chance. Mark Cuban was driven through a table in the buildup to this Tables Match, which is notable, I guess.
The Tables Match gimmick is kind of blase and has been for a while. People have been going through endless tables in about every way imaginable long before this night in 2009, so champion John Cena and challenger Sheamus had their work cut out for them to make this one something special. There was effort for sure and the match was okay if you forget the stipulation, but the table break teases were fairly hokey.
Confusion abounded after the match-ending table break. Both men were atop the corner turnbuckle and Cena was prepared to Superplex Sheamus through a table in the ring. After a struggle, Cena went flying off of his perch and crashed through the table by himself. Sheamus fell to the ground on the outside, bouncing off the apron on his way down.
The quickness of Sheamus' music being played, the graphic that popped up that announced him as the new WWE Champion, and the ref handing him the belt without delay suggests that this ending was exactly what was planned for. However, an internet search with some combination of Sheamus, Cena, table, and botch leads to many who have speculated that this wasn't according to script.
The ending was supposed to come across as a fluke as to protect Cena, so job well done to WWE in that regard. He lost the match but didn't get pinned or made to tap out. The announce team even speculated on whether Sheamus shoved John or if he simply lost his balance, so extra layers of protection for this loss were given to him. All of this confusion did not leave a good aftertaste but might have been forgiven if the match ahead of time was more engaging.
This match was hindered mightily from the stipulation. A regular singles match would've been far better.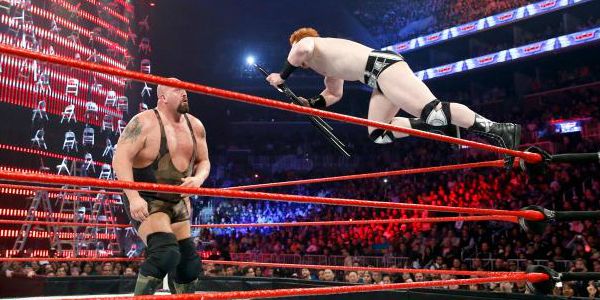 2. Big Show (c) vs. Sheamus
Chairs match for World Heavyweight Championship
December 16th, 2012
At the previous month's show, Survivor Series 2012, Sheamus and Big Show faced off in a match that ended in a DQ after the ref inadvertently took a Brogue Kick. Sheamus retaliated after the match with a steel chair that he used to whack the giant, 31 swings in total. There was a no contact clause that prevented Sheamus from getting any sort of revenge against the evil Big Show coupled with an assault on William Regal to bridge the gap between Survivor Series and TLC.
This size disparity was the easiest story to tell in this match and it worked really well. Big Show dominated much of the action, making the sparing moments of offense by the Irishman all the more valuable.
Sheamus' biggest glimmer of hope came when he was able to connect with his White Noise maneuver against Show through a couple of chairs that were set up in the ring. This led to a failed Brogue Kick attempt that caused him to receive a KO Punch. In an exciting nearfall moment, Sheamus kicked out before three on the subsequent pinfall. A comically massive steel chair was then pulled out from under the ring to be used against Sheamus for the final strike of the match.
This was a very above-average match and I love how much they benefitted from this stipulation. I was pretty negative towards the previous Tables Match with John Cena but really digged this Chairs Match against Big Show so much more.
Both guys brought the right amount of physicality and they told a story that worked. Big Show was the bigger, meaner, bad guy. Sheamus took his lumps and drew the crowd in for his offense. If the match didn't work, I probably would've been pretty harsh on the goofy supersized steel chair. Since everything clicked before that final shot to Sheamus' back, it felt like a moderately memorable ending to a match worth recommending.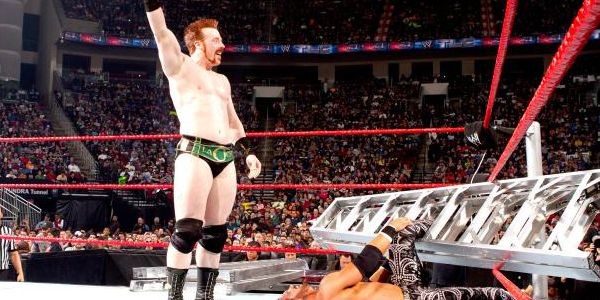 1. Sheamus vs. John Morrison
#1 Contender Ladder Match WWE Championship
December 19th, 2010
At this point in 2010, Sheamus was just a few weeks removed from his King of the Ring tournament victory. At TLC, he was given the opportunity to compete for a shot at the WWE Championship. Hoping to foil his chances of climbing the ladder to secure a title shot was none other than the man he defeated in the King of the Ring finals, John Morrison.
Before breaking down a few key moments from this contest I'll preface everything by saying that this was something special. The Ladder Match is a gimmick that's been done too many times to count, so competitors need to bring something special to the table for their match to stand out. King Sheamus and John Morrison absolutely did that and then some.
Sheamus dominated much of the action early on. Some very creative uses of the eponymous prop showcased the Irishman's ability to be brutal, particularly on his opponent's legs. One example of this was when Morrison was in a Tree of Woe setup off of the ladder. Sheamus went to the other side and tipped it over, causing John to pancake on the ground with the ladder on top of him.
Most of the bumping came on Morrison's end, but Sheamus did one as well. From a ladder inside of the ring, Morrison was able to shove Sheamus off of his perch. Sheamus landed back-first through a ladder that was propped up between the ring and the announce table, destroying it in the process.
In the end, Morrison won the match and claimed the #1 Contender contract for himself. Morrison's willingness to take a ladder beating from Sheamus was a big reason why this contest clicked so well. It was a memorable blend of creativity and violence and is rightfully the best match that Sheamus has competed in at the Tables, Ladders, and Chairs event…so far.
Final Thoughts: It can be a blessing or a curse to fight under a Tables, Ladders, or Chairs match stipulation. Only in one of those cases listed above did I think that Sheamus faltered. The Ladders and Chairs matches were both highly entertaining. Focusing forward again to his upcoming bout with Roman Reigns, I'm optimistic for what will be seen. Win or lose, it should be enjoyable.
Even though it's probably too early to make a prediction, I think Sheamus will hold onto the WWE World Heavyweight Championship a little longer. Roman will eventually get his chance to be the man but WWE shouldn't squander this time to establish Sheamus and his League of Nations. A little longer with that belt just might raise the stock with many of the heels in that group.
Follow me on Twitter @MitchNickelson
Listen to the podcast that I do with my wife, Wrestling Date Night. Find us on iTunes under Demarco Wrestling Radio or Download this episode (right click and save)