SmackDown Is Shinsuke
April 6, 2017 | Posted by
It was the debut we've been waiting for since January 6, 2016.
That was when Shinsuke Nakamura told Tokyo Sports that he would leave New Japan Pro Wrestling for the only sports entertainment company larger in size: World Wrestling Entertainment. New Japan fans were understandably upset, and a lot of online fans grew afraid of the idea of WWE horribly misusing Nakamura the same way many Japanese talents have been misused here in America.
I was pleased by the news. I don't watch a whole lot of Japanese wrestling, but what I had seen of Nakamura I had liked tremendously. He had a charisma about him that was different from anybody else I'd seen over there, or over here for that matter. He could rip off Michael Jackson dance moves and not look like a complete tool. He had the type of style that could translate whether he worked Strong Style or not.
He was officially signed to NXT on February 22 & debuted at NXT TakeOver: Dallas the night before WrestleMania in a match against Sami Zayn that was considered by many (myself included) the best match of the weekend in a WWE ring. We wondered why Nakamura was relegated to NXT duty.
Well, we didn't really wonder that. NXT, while still considered a developmental territory, is now WWE's third touring group mainly used to draw independent wrestling fans away from Ring of Honor & other smart mark-friendly indy promotions. Nakamura was used as a drawing card for NXT, and from all accounts did a good job in that role. The one criticism of it that I feel is fair is from people that feel that NXT should be a developmental territory at heart, and plugging in guys like Nakamura, Bobby Roode, Roderick Strong & other veteran wrestlers into the top spots takes away from the whole idea. Which makes sense, but at the same time it's nice to have guys like that around for the younger talent to learn from. All in all, Shinsuke Nakamura spending a year in Florida wasn't the end of the world.
Nakamura needed some time to acclimate to America, no doubt. Remember when the original Sin Cara made his way to WWE and he went to the main roster right away and everybody said it was a bad idea because he would need time to grow accustomed to the WWE style & America in general? Yup, he should have done that. Times have changed a bit since then, and Nakamura's style is more similar to the current WWE match style than Sin Cara's was. It didn't take long for him to get it.
So we grew impatient. Why were they wasting Nakamura on random Florida house shows with nobody in attendance? Why wasn't he on Raw or SmackDown now? Why can't we see Nakamura against Styles or Cena or Owens or Zayn or whoever? We want our Nakamura, and we want it now!
Waiting is tough. There isn't a fanbase of anything in the world that's overly patient. Maybe Chicago Cubs fans. They waited over a lifetime to get what they wanted. Wrestling fans, not a chance. If we don't get what we want right now, we complain endlessly. And then when we get what we want, typically we complain about not getting it the way we wanted. We're a picky bunch. We admit it!
The wait is over. And I don't see too many people complaining about the way we got it. I'm sure there are some, but anybody complaining about this doesn't deserve to be listened to anyway…
It feels like every week I'm changing my mind on who has the best entrance in wrestling, or the catchiest theme music. Heck, I'm pretty sure I was telling people it was Finn Balor on Monday night. But does it get any better than Violin Dude playing Shinsuke Nakamura to the ring? I don't think so. Nakamura didn't need to beat anybody up to get over upon his debut. All he needed to do was the thing that he's excelled at for most of his career & perfected during his year in NXT…enter the arena.
Honestly, had he done anything else on Tuesday night it would have been anti-climatic. His moves, the fans woahing along with the music…it was sports entertainment at its simplest & finest.
Nakamura's first obstacle upon his arrival?
Surprised?
You shouldn't be.
Miz has always been the best choice for this sort of thing, going back to when he was Daniel Bryan's Pro on NXT. He's a great talker and will be able to get the feud and his opponent over whether Shinsuke's promos translate to the WWE Universe or not. Everybody loves to hate the Miz. Casual fans don't like him because he's obnoxious. Hardcore fans don't like him (usually, the John Cena feud was an exception but work with me here) because he isn't a five-star in-ring guy. Both groups will join together in hatred of the Miz & support of the new, fun Japanese wrestler with a unique charisma about him.
Nakamura vs. Miz might not reach the six-star level, but it will be absolutely fantastic.
There is only one potential downside of Nakamura debuting now, and that's the SuperStar ShakeUp next week making it tough to analyze what might be in store for Nakamura here in the next few months after he goes through Miz like a hot knife through butter. One would assume that they would keep Nakamura & all of the new talents that just debuted on the shows they debuted on, but the thing that I worry about is that persistent rumor that won't go away of AJ Styles getting moved to Raw. I wouldn't hate it for AJ, he'd get some new opponents and three hours every week would give him plenty of time to do his thing. If it happens, more power to him. He's going to do well wherever they put him and whoever they have him wrestle. That Shane McMahon match ended up working out all right, I'd say.
The bad thing about the potential of Styles moving is that we would miss out on Styles vs. Nakamura. They met at Wrestle Kingdom 10 and it was one of the best matches I've ever seen. We need to see that happen at least one time in WWE before this whole crazy world comes to an end. Let's hope & pray that it does.
Until then, let's rejoice in the splendor that is WWE SmackDown Live with Shinsuke Nakamura. All is right with the world.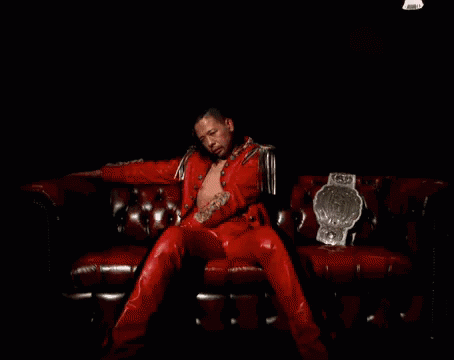 For more of Steve Cook's thoughts on pro wrestling, along with his thoughts on the Cincinnati Bengals, Cincinnati Reds, Nashville Predators, Tottenham Hotspur & University of Louisville sports teams, follow him on Twitter!