The 411 Wrestling Top 5 2.06.13: Week 206 – Top 5 Non-WWE or TNA Talents
February 6, 2013 | Posted by
Hello everyone and welcome to 411 Wrestling's Top 5 List. What we are going to is take a topic each week and all the writers here on 411 wrestling will have the ability to give us their Top 5 on said topic, plus up to three honorable mentions.
So, on to this week's topic…
TOP 5 WRESTLERS NOT SIGNED TO WWE or TNA!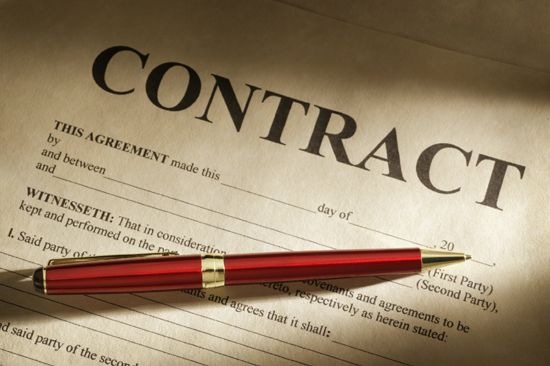 TJ Hawke
I'm just gonna go ahead and assume El Generico has signed his contract by the time this gets published. Regardless, Generico is the best wrestler in the world, so he's number one on all the lists.
5. The Young Bucks – Yes, I am very blatantly cheating with this selection. It's my list though, so I don't care. In my opinion, The Young Bucks have been the best team in the world since 2009. Other teams have been greater for stretches since that time, but in terms of being consistently great, no team can match the Bucks. They should be one of the hardest pushed acts in all of the WWE.
4. Prince Devitt – Devitt has become the backbone of NJPW's Junior Heavyweight Division the last three years, and he has held the IWGP Jr. Heavyweight Championship and IWGP Jr. Heavyweight Tag Team Championships on multiple occasions. He's also won a Best of the Super Juniors Tournament. During this time, he has been one of the most reliable wrestlers in the world in terms of producing great matches when his promotion needs him to produce great matches. He is quite simply, one of the best wrestlers in the world, and I think he could be a star in any promotion that he was under contract to.
3. Akira Tozawa – Much like the next name on this list, Tozawa is somewhat of a late bloomer, as he did not come into his own until the second half of his American excursion in 2011. Since that time, he has delivered outstanding matches in Japan, America, and Europe. While his look would probably hold him back from being a big time star in the WWE, I think he's someone who would have success no matter where they were booked. He is that talented.
2. Kazuchika Okada – RAINMAKER!!! Need I say more? Ok, fine. After a run in TNA that could charitably be described as "forgettable," Okada returned to NJPW. Since his return, he won the IWGP Heavyweight Championship and became one of the best main eventers in the world. The man simply has great matches all the time now, and he is very clearly the future of NJPW, if the powers that be want him to be.
1. Shingo Takagi – Shingo Takagi has been one of the best wrestlers in the world for a few years now. While he's had some great matches in his home promotion of Dragon Gate, he's also traveled overseas and had absolutely unbelievable matches in ROH, PWG, DG:UK, and DGUSA. While he's not that tall, he has a fantastic build, and he could be a great monster heel in the WWE or TNA.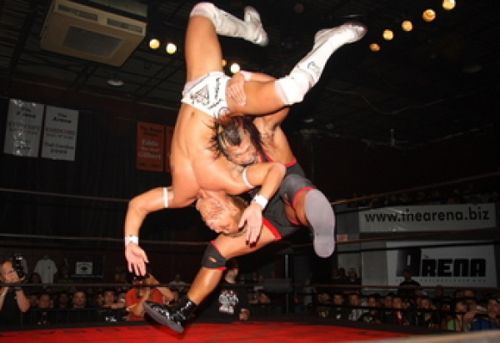 ---
Francisco Ramirez
5. Kevin Steen – One reason why he isn't number one on my list, his look. Aside from that, there is no reason for this man to not be in TNA or WWE. He's incredible on the mic, he can wrestle his ass off, he's a tested and proven Indy main eventer, and great in a tag-team scenario. I restate it, his look is the only thing holding him back.
4. Karl "Machine Gun" Anderson – It baffles me how Tensai was picked up instead of Karl Anderson. Currently this man is a machine in Japan. Never making huge waves in the states, usually he was present in NWA cards, but in Japan it's a completely different story. Possibly this generations Stan Hansen, in the sense that he is an American, making a big name for himself in Japan, as opposed to the states. Perhaps best known as one half of the IWGP Tag Team Champions alongside Giant Bernard/Tensai, he's got a perfect look and technical abilities for either TNA or WWE. At the very least bring him to the WWE and have him reunite with Tensai and cut them loose on the tag division.
3. Alex Koslov – I was glad to hear he was in FCW as Peter Orlov, and I was disappointed when he was cut. Alex Koslov has earned his stripes in Mexico, he was over big time in CMLL, and was extremely popular in AAA, holding the AAA Cruiserweight Championship. He has been a part of the TNA World X-Cup, and in 2012 became one half of the IWGP Jr. Heavyweight Tag-Team Champions alongside Rocky Romero. The man is an international talent, a legit Russian, and one hell of a wrestler. What more is needed? Unfortunately for Koslov, if he was active during the cold war, he'd be over huge as a Russian villain.
2. Hijo del Fantasma – Just because Mistico was on top at the time, it didn't exactly make him the best choice for the WWE. Case in point, El Hijo del Fantasma, second-generation wrestler. Standing at 5″11, he already towers over the 5″7 Sin Cara, he has a good technical ground game, and he can also fly. The exclamation point, and one of the major reasons El Hijo del Fantasma may fit in the WWE is as simple as this, due to his studies in International Relations, he is a fluent English speaker. Something that arguably is a hindrance to anybody in the WWE, how different might Sin Cara be right now if he could cut a promo?
1. Mascara Dorada – The greatest high flyer I have ever seen! Seriously, I used the above video multiple times when I was writing the weekly Lucha column here. Each time I see it, I'm still astonished. Granted, Sin Cara himself is a great high flyer, yet he hasn't exactly fit in the WWE. Well, for me, it comes down to the X-Division, have Mascara Dorada go out and do his thing, and put that division on his back.
---
Steve "The Living Legend" Cook
5. Kevin Steen – Mr. Wrestling is obviously one of the best wrestlers outside of these two companies and I can see an argument for rating him higher. His character work in ROH this year has been as good as anything else going on in that company and he's had some solid matches, but he's not the in-ring worker he was a few years ago. Hopefully Steen can get in better shape and use his friendship with The Rock to move up in the world.
4. Adam Cole – This guy's been pretty solid everywhere he's gone and is currently the PWG Champion & ROH TV Champion. Cole's been on the radar of the big 2 for quite some time and people won't be surprised when he gets signed. His promos are up & down but he pretty much always delivers a good match and would fit right in with most of the smaller guys in WWE or TNA. The girls especially seem to like him, which helps.
3. Archibald Peck – Archie's decent enough in the ring, but what he excels at is playing a character. Whether he's Marchin' Archie, Mixed Martial Archie, the Mysterious & Handsome Stranger or the Barrister R.D. Evans, this man never fails to be entertaining. He'd do very well in either WWE or TNA and have a spot as a comedic character for years.
2. Sami Callihan – I don't expect this to last very long, as he's doing well in TNA's Gut Check voting thing and is on WWE's radar. I remember Callihan starting out in HWA as a fat kid that wasn't good for much other than getting harassed by his fellow heels. Now he's running around all over the indies and doing completely insane stuff. Doesn't get a lot of love around these parts because he's a CZW guy, but I think people will be surprised when he gets his shot in the big time.
1. Karl "Machine Gun" Anderson – Hell yes it's a homer pick. Those who have been reading my work for a long time know that I saw this man wrestling at the Richwood Flea Market several years ago and he was the main standout on the show. I thought Anderson had potential, but I can't say I thought he'd achieve what he has in Japan. He seems happy there, but I'd sure like to see him get a run in the U.S.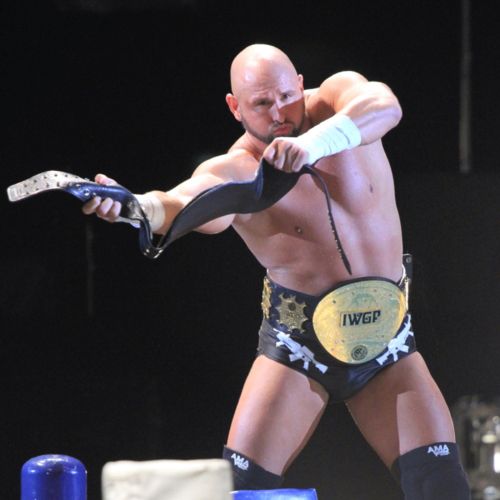 ---
Larry Csonka
5. The Briscoe Brothers – DEM BOYS! I love the Briscoe Brothers, I love the whole presentation of them just being them, and that they aren't fake. I like their matches, and they are simply a fun tag team. They have done it al in ROH, and I would love to see them get a run elsewhere. WWE likely isn't going to be the place, because of "cosmetic issues," and they have admitted that. But in TNA, feuding with Daniels and Kazarian, that is a good time waiting to happen. DAY ONE. MURPHY REC CENTER. CAMPBELL'S CHUNKY BABY!
4. Kevin Steen – Kevin Steen is a guy that people like to mock, because "he doesn't have the look." Steen is a great promo, and can go in the ring with a wide variety of workers, but the one thing the even he admits has held him back is the look. If he decided to get motivated and get in shape, something he has admitted he has to do, Steen could deliver in WWE or TNA. I am not saying he is the next Punk or Daniel Bryan, but I do believe that the man would be a valuable part of either roster if he was motivated and had the chance.
3. Johnny Gargano – Johnny Gargano has been on WWE's radar, and for good reason. He was one of the very best PPV performers in 2012; he works well with a wide variety of opponents, and has continually grown as a performer, both as a wrestler and on the mic. He is the top guy for DGUSA-EVOLVE, holding their title for well over 400 days at this point, and has become a must see performer over the last few years.
(TIE) 1. Kazuchika Okada & Hiroshi Tanahashi – These guys, these fucking guys are what New Japan has been abut for me. Okada and Tanahashi has been feuding and having the best matches for the company for some time now, and they are two performers who do not let me down. The shame of it all is that a lot of people will never know, either because they cannot watch NJPW, or because they have some notion that Japanese wrestling sucks because it isn't WWE. Whatever the case, these are two of the very best wrestlers on the planet right now, and they are also responsible for the resurgence of NJPW over the last two years. Tanahashi as the super face, Okada as the "Rainmaker," his nemesis.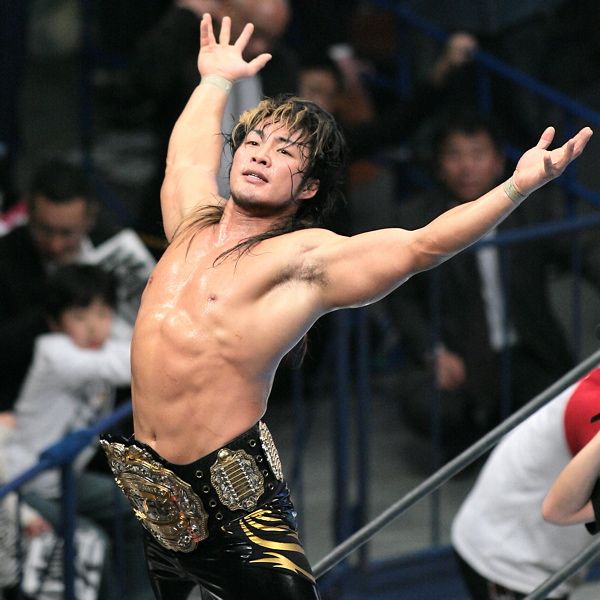 ---
SCOTT RUTHERFORD
5. X-Pac/Sean Waltman – Too me this is an easy answer. Waltman still has plenty to give and if he can lay off the booze and the drugs, he has a good mind for the business and much to give. His best use would be working with new guys coming up that that are a smaller teaching them the tricks on how to be a good, small man whether as a heel or face. This is a guy that managed to remold himself as a worker after suffering service neck injuries and becoming more over in the process. Like everyone I pick on this list, he would serve a specific purpose that has as much to do with position on the card, what he offers in terms of the promotion itself by filling a need and his ability to teach others around him.
4. Steve Corino – People may baulk at this but I think a short-term program with John Cena would make for decent entertainment. Start him off as this bitter old school type that is sick of the flash and pandering that John Cena peddles and the fact he appeals to kids. You could do half a dozen vignettes with Corino running down the WWE/Cena in such a way that he would likely piss everyone off. Have him just destroy a bunch of undercard guys all while jawing at Cena about being a pussy. A couple of key wins to earn his shot and you can get a couple of PPV's out of it. You don't need to keep him around for much more than 6 months because you would essentially be feeding him to Cena to help and in the process help freshen up the main event for a spell and give someone unique for Cena to work against.
3. The Colony – With the WWE focusing so heavily on children, I could not think of a better "act" that would appeal to kids. Sin Cara for all intents and purposes is dead in the water unless some form of miracle happens. Something like The Colony would be perfect for the undercard as they can work with pretty much anyone, have decent spot-filled matches, offer great merchandise opportunities and just be generally entertaining. They would have to know they would never be as a main event propositions and likely never rock the boat about their position on the card. I would pay money to watch Daniel Bryan lose his shit over wrestling The Ants and their shenanigans.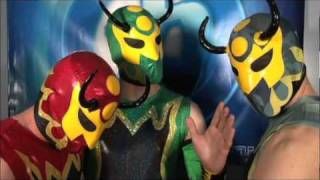 2. John Morrison/MVP/Shelton Benjamin – It makes sense to group all three of these guys into pick since they have been all interchangeable on the rumor mill recently. Word in the 'hood is that the WWE is looking to bring back mid-card talent to bolster their ranks and when you think of mid-card talent you think of these three. All are good in ring workers, all know about the "WWE Style", all have had an extended sabbatical from the WWE and are fresh and any one of the three does have the potential to break into the main event if they catch on. Personally MVP would be the pick of the litter since his style is more ground based, is the best talker amongst the three and had the most potential to develop as a worker after leaving the WWE ranks. In a perfect world all three would be a good fit for the WWE. Now only if Carlito could get motivated again.
1. Adam Pearce – Pearce may seem like a far out choice as my number one but his value extends beyond the ring. For starters he has the size that the WWE like in a performer and actually is a decent worker. Does have the potential to be a main eventer? Unlikely. He would be a solid mid-card guy that can work with just about anyone but the lack of something "special" would see him hover in that role. His real value would be backstage. HHH is slowly assembling his crew for when he takes over WWE and having a lieutenant like Pearce would not be the dumbest move. He's already had vast experience booking promotions and running ROH TV. Sure it's not the WWE but the general principles are the same. By brining in a guy that HHH can mould who has an old-school mentality that can book, be an agent and help run TV…that's gold right there.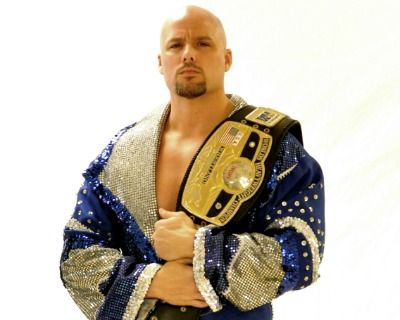 ---
YOUR TURN KNOW IT ALLS
List your Top Five for this week's topic in the comment section using the following format:

5. CHOICE: Explanation
4. CHOICE: Explanation
3. CHOICE: Explanation
2. CHOICE: Explanation
1. CHOICE: Explanation
TWITTER
Your heart is free. Have the courage to follow it…TO CSONKA'S TWITTER!
http://www.twitter.com/411wrestling
http://www.twitter.com/411moviestv
http://www.twitter.com/411music
http://www.twitter.com/411games
http://www.twitter.com/411mma