The 411 Wrestling Year-End Awards: Part Four – The Worst Major Shows/PPVs of 2016
January 5, 2017 | Posted by
Welcome back to the Wrestling Top 5, year-end awards edition! What we are going to is take a topic, and all the writers here on 411 will have the ability to give us their Top 5 on said topic, and the end, based on where all of these topics rank on people's list, we will create an overall Top 5 list. It looks a little like this…
1st – 5
2nd – 4
3rd – 3
4th – 2
5th – 1
It's similar to how we do the WOTW voting. At the end we tally the scores and get our overall top 5! It's highly non-official and final, like WWE's old power rankings. From some of the best and worst, the 411 staff is ready to break down the awards! Thanks for joining us, and lets get down to work.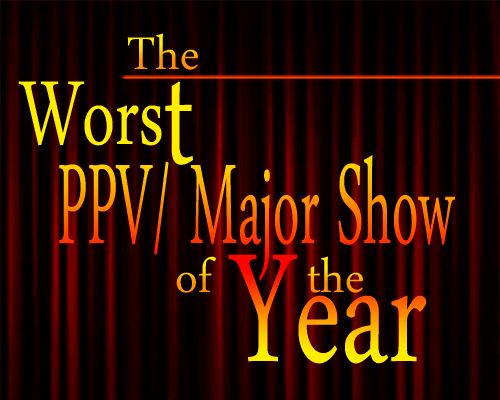 Jake Chambers
5. WrestleMania 32
4. TNA Slammiversary
3. ROH Best in the World '16
2. ROH Global Wars
1. WWE Fastlane – The whole "Road to Wrestlemania" conceit is about as lame as a Money in the Bank cash-in at this point. Was there any point to the Triple Threat Match main event at Fastlane? Didn't even little children assume that Roman Reigns was winning that match in order to face Triple H at Wrestlemania after being screwed by him at the end of the Royal Rumble? I wish they'd just go straight from the Rumble to Wrestlemania because most years they are stuck with this dopey PPV slot where they have to put on the most predictable main event in order to set up a couple of Wrestlemania matches we all knew were happening months ago anyways. With the exception of AJ Styles first WWE singles match (which was surprisingly just okay), the rest of the card was typical 2016 WWE harmless-enough mediocre wrestling that you forget the next day.
JUSTIN WATRY
5. NXT Takeover: The End
4. Roadblock (March)
3. Payback
2. Roadblock (December)
1. Anything TNA Impact Wrestling related – No explanation needed.
Chad Perry
5. NJPW Destruction in Hiroshima 2016
4. WWE WrestleMania 32
3. ROH/NJPW Global Wars 2016
2. EVOLVE 67
1. EVOLVE 70 – I felt wrong writing that EVOLVE put on the worst major show of 2016. EVOLVE has been one of my favorite promotions for a few years now and has not had any really bad shows for a few years now. I tried looking around my archive of other shows, seeing if I made a mistake, but no other "major" show could take the spot except for House of Hardcore 21, which was broadcast on FloSlam. Honestly though, all of the shows on my list had something worth watching, which says a lot about wrestling in 2016. With the exception of Ethan Page vs. Timothy Thatcher, nothing on the show was actively bad. However, Page vs. Thatcher was THAT bad. Bad enough that I would go so far as to call it the worst match in EVOLVE/DGUSA history. Along with some terrible wrestling, we also got the wrong result and the terrible Thatcher run has continued.
Jack McGee
5. NJPW Destruction in Hiroshima
4. TNA One Night Only November 2016
3. ROH Global Wars
2. AAA TripleMania XXIV:
1. WWE WrestleMania 32: I was so excited, I was set to love this show. But then it felt as if it lasted 13 hours long with a largely disinterested crowd. The women's title match was great as was the IC Title match. Jericho and Styles was no good and the main event will go down as one of the worst; it made me want to turn off the show and not return.
Kevin Pantoja
5. WWE WrestleMania 32
4. ROH/NJPW Global Wars
3. Evolve 67
2. NJPW Destruction in Hiroshima
1. WWE Roadblock: End of the Line – Honestly, there weren't many straight up bad shows this year. Most of these feature at least one match that would be classified as really good or even great. Still, the biggest chore to get through (even more than the nearly seven hours of Mania coverage) was Roadblock: End the Line. Raw Pay-Per-Views, and Raw in general, can certainly be tough to sit through. This was just a drag. Outside of a strong Tag Team Title match, the rest of the show ranged from bad to decent at best. Roman Reigns vs. Kevin Owens was a house show main event with a Raw finish, Charlotte and Sasha ended their feud in a 30+ minute match that was my least favorite of their lengthy series, Chris Jericho and Seth Rollins had a solid but forgettable match, the cruiserweights were kind of just there and everything just felt hollow.
Paul Leazar
5. Wrestlemania 32
4. EVOLVE 67
3. RoH/NJPW Global Wars
2. NJPW Destruction in Hiroshima
1. WWE Roadblock: End of the Line – 2016 has been a great year for wrestling, so there aren't a ton of shows that obviously stick out as stinkers. RAW since the brand split has just been a giant chore to sit through, and there PPV's don't feel overly special. The wrestling, however, usually turns out to be pretty great. Roadblock was not so. I had problems with finishes, some of the matches were just straight up boring, and Owens/Reigns was just so damn long, I might have aged more during that match than I did all year. EVOLVE certainly deserves a special mention here, because after a great 2015 for Timothy Thatcher, most of his work this year has been down right awful. I understand his style, and sometimes it work out very well. However, with a lot of the leaves either having already left or are leaving EVOLVE for the WWE, guys who can work that style with him are going out the window fast. It's shown a whole lot this year. Roadblock might serve as being the most recent, and thus why it gets my vote, but certainly EVOLVE (while fun and entertaining most of the time) hasn't been a bed of roses either.
Mike Hammerlock
5. TNA Bound for Glory
4. WWE Roadblock: End of the Line
3. NJPW Destruction in Hiroshima
2. WWE Hell in a Cell
1. WrestleMania 32 – Worst WrestleMania of the 21st century. There were only two good matches in the bunch. Charlotte winning the WWE Women's Championship over Sasha Banks and Becky Lynch (dropping the "divas" moniker in the process) was the clear highlight of the night. Zack Ryder winning the Intercontinental Championship was also a fun moment, though it got seriously undermined when Ryder's reign lasted all of one day. Beyond that we got hours of crap, like the WWE was clearing out its digestive tract for a colonoscopy. The pre-show featured a pile of forgettable filler. Chris Jericho and AJ Styles tried way too hard to have a great match and instead fizzled in the ring. The hottest act on the roster, the New Day, inexplicably lost to the train wreck that was the League of Nations. Brock Lesnar made Dean Ambrose look like an idiot who was way over his head. The Undertaker and Shane McMahon engaged in a 30-minute borefest with Shane taking one insane bump. I still don't know why they fighting or why anyone was ever supposed to believe Shane could win. Baron Corbin won the Andre battle royal to the excitement of no one. The Rock, Steve Austin, Shawn Michaels and Mick Foley came out to bury various members of the full-time roster. And it all finished with the least popular guy on the roster, Roman Reigns, getting what was booked as a babyface victory in a match that seemed to go on forever against HHH. The only thing it should be remembered for is the WWE set the record for ripping off the most fans at a single event.
Jack Stevenson
5. EVOLVE 68
4. EVOLVE 75
3. WWE Fastlane 2016
2. Evolve 70:
1. WWE Wrestlemania 32: It's literally only been a couple of days since I last wrote about Wrestlemania 32 and why it was such a dismal spectacle, so I'll try and keep this brief. The purported greatest show of the year, the one event that captures the imagination of every wrestling fan, the wrestling equivalent of Christmas Day… this year, it consisted of a largely forgettable, sometimes outright bad series of matches in which everyone we didn't want to win managed to do so and joy and celebration were at an absolute premium. It was an interminable five hours long, seven hours with the pre show, and the night just became more and more depressing until you were sent to bed consumed with dark thoughts. It was still Wrestling Christmas, but this year Santa Clause did something unspeakable down your chimney and your parents announced they were divorcing and it was entirely your fault. Bah humbug.
Larry Csonka
5. TNA One Night Only December
4. TNA One Night Only November 2016
3. WWE WrestleMania 32
2. AAA TripleMania XXIV:
1. ROH Global Wars: In the year of our lord 2016, with the WWE Network priced at $9.99, New Japan World priced at around $9, and iPPV events priced at $10; Ring of Honor asked their fans to pay $45 for a PPV. On that PPV they hyped the return of a company hero, who was getting a world title shot in his hometown. And on that PPV, they pulled a card out of the 1996 WCW playbook and did an nWo ending on Nitro, where the main event had no finish and the only payoff was a superkick tribute. I like the Young Bucks, I like Adam Cole, I like the wacky amount of superkicks; but this was bullshit. You can't expect people to drop $45 on a show like this and do that. The show was largely solid, with some good highs, but ROH coming off as second-class citizens to the NJPW performers, who came across as the real stars. This came off as a $45 embarrassment, an ROH should be ashamed of themselves for producing it. Word is that there is frustration among the talent with Delirious as booker, well, that includes a lot of their loyal fanbase as well. Do not waste your money on this…
AND 411's Worst Shows/PPVs of 2016 ARE…
T5. Evolve 67 & 70 – 9 points
4. NJPW Destruction in Hiroshima 2016 – 13 points
3. WWE Roadblock: End of the Line – 16 points
2. ROH Global Wars – 20 points
1. WrestleMania 32 – 23 points
THE 2016 411 WRESTLING AWARDS:
* The Biggest Disappointment of The Year: The WWE Cruiserweight Division – 28 points
* The Best Non-Wrestler: Dario Cueto – 45 points
* The Best Tag Team of The Year: The Revival – 45 points
* The Worst PPV/Major Show of The Year: WrestleMania 32 – 23 points
* The Best Female Wrestler of The Year: TO BE DETERMINED (JANUARY 6)
* The Best PPV/Major Show of The Year: TO BE DETERMINED (JANUARY 7)
* The Best Promotion of The Year: TO BE DETERMINED (JANUARY 8)
* Most Outstanding Performer 2016: TO BE DETERMINED (JANUARY 9)
* The Best Match of The Year: TO BE DETERMINED (JANUARY 10)
* Most Overrated Performer 2016 : TO BE DETERMINED (JANUARY 11)
* Most Underrated Performer 2016 : TO BE DETERMINED (JANUARY 12)
* The Best Wrestler of The Year: TO BE DETERMINED (JANUARY 13)