The 8-Ball 11.16.12: Top 8 Most Improved Wrestlers of 2012
November 16, 2012 | Posted by
Welcome, ladies and gentlemen, to the 8-Ball. As always, I am your party host, Ryan Byers, and, after a few weeks of more lighthearted columns, we are shifting gears and covering a bit more serious of a topic.
This is the time of year that many websites, this one included, start thinking about a variety of "year in review" type columns, and, though some might think that it is a little bit premature, I'm going to kick off that bandwagon this year, hopefully with some more unique topics that you don't often see discussed when writers are wrapping up the prior twelve months.
It all begins with . . .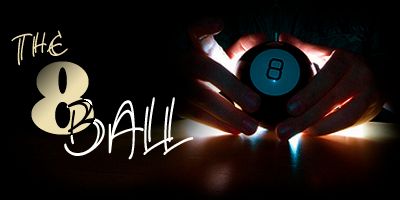 Top 8 Most Improved Wrestlers of 2012
Oftentimes, when you're reading year in review columns, you will see lists of best wrestlers of the year, and you will see lists of worst wrestlers of the year. However, it's much rarer to see a list of the sort that we're seeing here, i.e. the folks who significantly upped their games during the course of the past twelve months and made themselves into better overall performers.
So, this week, we count down the top eight most improved professional wrestlers over the course of the past twelve months. Before we get into the list itself, I feel the need to issue a bit of a disclaimer: Just because somebody is on this list, it does not mean that I think they are a great professional wrestler or even necessarily a good professional wrestler. It just means that they're a person who I have seen marked improvement in during the course of 2012, even if it means they started as an awful professional wrestler and improved to the level of merely being a bad professional wrestler, which is still an upgrade.
With that said, here's the list . . .
8. Heath Slater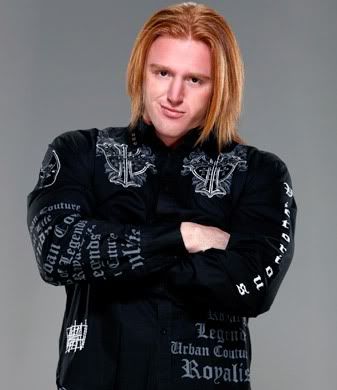 I remember watching Heath Slater when he first became part of the main WWE roster through his appearances on NXT on the SciFi Network. Frankly, he, like a lot of the wrestlers on that show, was awful and nowhere near ready for prime time. In addition to being no great shakes at the technical aspect of things in the ring, he was cast as a babyface despite having virtually no idea of how to play the role, and he had a finishing maneuver that strained the limits of credibility. Fast forward to 2012, and just about every aspect of Slater's game has been heightened. In the ring, he is still not exactly a worldbeater, but he is perfectly competent and managed to have a run of television matches against past-their-prime "legends" which were all perfectly acceptable despite his opponents' limitations. As far as character is concerned, he has really found his groove as an obnoxious, semi-comedic heel, so much so that he's been put into a position to carry the uber-bland Drew McIntyre and Jinder Mahal along with him. I don't think that he should be main eventing anytime soon (if ever), but Heath Slater is currently a very enjoyable part of the WWE lower card.
7. Lance Archer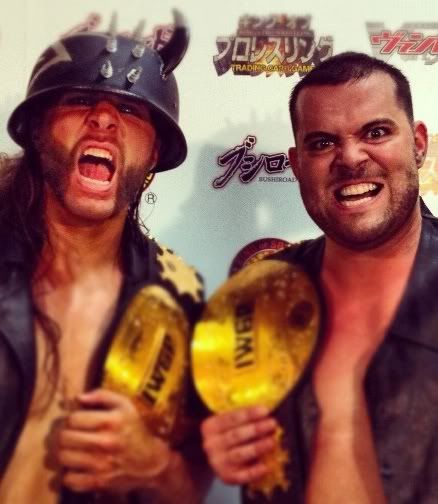 First he was Dallas. Then he was Lance Hoyt. Then he was Vance Archer. Now he's combined his two most popular names and is known as Lance Archer, and it is under that name that he competes for New Japan Pro Wrestling as their new "big man" American heel in the wake of Giant Bernard's departure to become Lord Tensai. And, much like Bernard once he jumped to Japan after his A-Train days, Mr. Archer has benefited significantly from his time in the Land of the Rising Sun. When I first started watching Lance Hoyt, he appeared to be another in a long line of clones of Kevin Nash and Test, sporting a similar look and wrestling virtually identical matches. Eventually he evolved a bit and tried to reinvent himself as "that tall guy who does high flying moves," including moonsaults and other manners of dive. Still later, he became "Generic WWE Style Wrestler #233," acting and wrestling exactly like a Ted DiBiase, Jr. or a Wade Barrett. Now, though, Hoyt is slowly coming into his own under the tutelage of New Japan's trainers and roster, and it will be interesting to see whether he can keep that magic alive when and if he returns to the United States.
6. Ricochet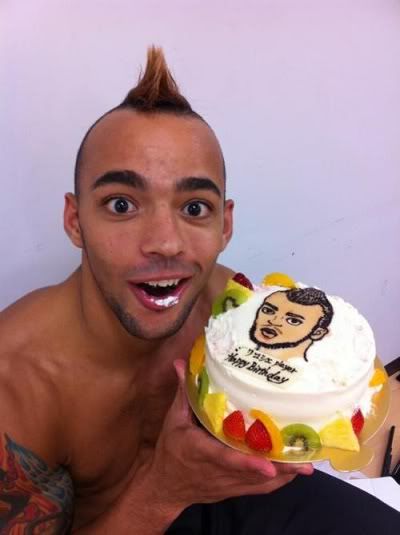 For years, Ricochet has been considered one of the most spectacular high flyers in all of professional wrestling. However, as is often the case with independent high flyers, there were several criticisms lobbed at him as well, particularly that he was an inconsistent in-ring performer and that, though his flips were spectacular, there was not very much substance put into his matches. However, that has begun to change. Much of that change can likely be credited to Ricochet's time in Dragon Gate over the course of the past several months. For years, Dragon Gate has been known for its innovative style of professional wrestling which has combined spectacular high flying with solid psychology and grappling, which has helped to polish numerous American professional wrestlers who have been featured there as guests, including the likes of El Generico, the Young Bucks, and Matt "Evan Bourne" Sydal. Ricochet appears to be the latest to benefit from that trend, particularly because DG's top name, CIMA, has taken a fair amount of interest in him and groomed him as his tag team partner. Ricochet, much like PAC before him, has been transformed from flippy western indy guy into a well-rounded professional wrestler, and I look forwarded to seeing what the wrestling world has in store for him now.
5. Brock Lesnar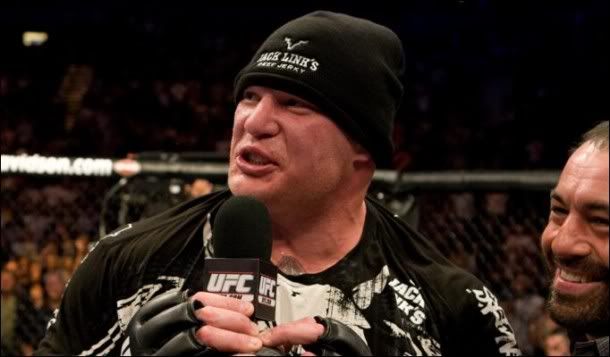 This might seem like an odd choice to some, but hear me out. When Brock Lesnar left WWE, he was already an elite level professional wrestler. He wrestled a few matches outside of WWE before committing himself to mixed martial arts, and it appeared that there was no real degradation of his skills (though he wasn't always quite as motivated as he was in the big leagues). So, is it really all that surprising that, when he returned, Brock Lesnar was still awesome? It actually was surprising to me, because, as great as he was when he left World Wrestling Entertainment, he came back and he was significantly BETTER. What made him better? Though he was always a very good technical performer, Lesnar seemed to return to wrestling with a much better idea of how to project himself and come off as a bona fide star. When he was involved in wrestling in the past, Brock Lesnar would enter an arena, fans would see him, and they react to him as though he were a good wrestler. After his return, though, Brock Lesnar would enter an arena and he had the ability to project an aura that made him seem like something beyond the standard WWE main eventer, somebody who was legitimately dangerous and therefore bringing a dose of realism to his matches and storylines that everybody else in the promotion was lacking. It may seem like a relatively minor skill to learn, but it is one that makes a significant difference.
4. Jenny Rose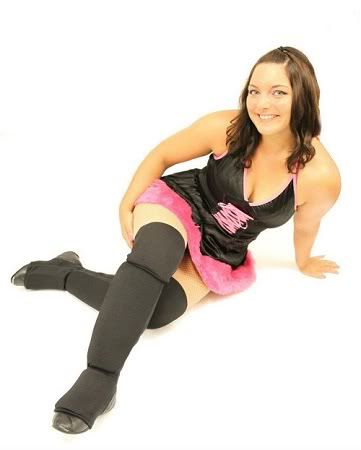 Jenny Rose is a bit of an obscure selection, but she is still a selection that I believe strongly in. Growing up in Philadelphia, Pennsylvania, Rose started training at the Ring of Honor/SHIMMER wrestling academy under the tutelage of Delirious and Daizee Haze when she was just a teenager. She debuted as a wrestler for the promotions that trained her under the name of "Jumpin'" Jamilia Craft, wearing a mask and some gear that seemed to be inspired by Kyoko Inoue. Craft's early rep was that she was incredibly talented for her level of experience, but, after making a name for herself on the American independents, she seemed to disappear off the face of the earth. Fans were temporarily confused as to where exactly she could have gone, but then, seemingly out of nowhere, a new American wrestler showed up in Japan. She looked oddly familiar, she moved oddly familiarly, and, before long, people realized that Ms. Craft had been repackaged. She has ditched the mask and is now Jenny Rose, competing regularly for the joshi promotion Diana and having essentially relocated to Japan for the foreseeable future. As noted above, Rose/Craft was already a talented wrestler, but, wrestling in Japan and being exposed to veterans like Jaguar Yakoto and the previously mentioned Inoue, Rose has really upped her game and will automatically be one of the five best female wrestlers in the United States should she ever choose to return.
3. The Prime Time Players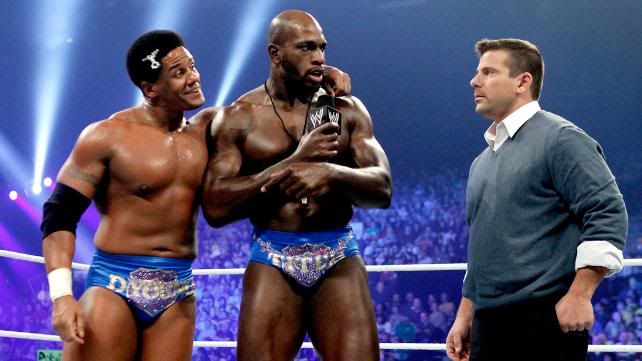 Much like Heath Slater, Darren Young and Titus O' Neil are two wrestlers who were introduced to the world through NXT and two wrestlers who were probably introduced to the world far too early in their careers. Both men looked completely lost and, despite having been eliminated very early in the competition on NXT Season 2, O' Neil still made such an impression that he was voted "Worst Wrestler of the Year" in 411mania's Year End Awards for 2010 (an "honor" that has also been bestowed on luminaries such as the Great Khali and Pac-Man Jones). Thus, when the two men were paired together as a tag team and when they were matched up with Abraham Washington, whose WWECW talk shows remain some of the dirt worst segments in televised wrestling history, I was planning on changing the channel every time they hit the ring. One day, though, I decided to give them an opportunity, and, much to my surprise, it turned out that they weren't too bad after all. Originally I thought that it had to do with the fact that they were being given talented opponents, like Rey Misterio, the Colons, R-Truth, and Kofi Kingston. However, on repeated viewings, I began to realize that it wasn't just a case of the PTPs' opponents carrying them through matches. O' Neil and Young were actually making a fair account for themselves, typically being in the right place at the right time and almost never being responsible for a bungled spot or a mistimed move. With the state of tag team wrestling in 2012, the Players will probably never be as fondly remembered as a Demolition or a Nasty Boys, they are a fine tag team for their era.
2. Damien Sandow
Recently I wrote an installment of this column in which I made some reference to Damien Sandow and mentioned that he, in the past, had gotten less than stellar reviews for his in-ring performance. A few folks in the comment section immediately jumped on me, attempting to argue that Sandow had never been criticized heavily for his in-ring performances. Frankly, I think those individuals are not particularly familiar with the background of Sandow's career. Despite not being a relatively new character on the WWE roster, Sandow is not new to professional wrestling at all, having debuted in 2001 and wrestling the majority of his career under the moniker of Aaron "The Idol" Stevens (or just Idol Stevens). Idol was part of WWE's developmental program for many years, and, for the bulk of that time, he was considered one of the dirt worst wrestlers in the entire developmental system, whether it was Ohio Valley or Deep South. In fact, after several years, people were questioning why he was even still under contract; basically concluding that he was never going to improve if he hadn't by that point. Even when he first came up to the main roster under the name of Sandow, he didn't look particularly impressive, even when he was put up against talented performers like Yoshi Tatsu. However, after a couple of months of squashes, Sandow started to appear in more competitive situations and, when he did, he absolutely held his own. Now, though he is not exactly a Dean Malenko or a Jushin Liger, he is still a skilled grappler who has managed to have decent matches with guys like Kane, who aren't exactly ring generals themselves.
1. Kazuchika Okada
Perhaps no wrestler on the planet had a better year in 2012 than Kazuchika Okada, who literally went from being a persona non grata to being one of the most important world heavyweight champions in the industry and one of the greatest in-ring performers of the past several years. Okada spent the bulk of 2011 on a somewhat pointless "learning excursion" to the United States, technically being a part of the Total Nonstop Action wrestling roster but failing to even once make television in a significant capacity. Then, 2012 rolled around, and New Japan Pro Wrestling decided that they were going to push him. Scratch that. They didn't just decide they were going to push him. They decided that they were going to strap a rocket to his ass like no man had ever had a rocket strapped to his ass before. After one major show bout against the lowly YOSHI-HASHI, Okada immediately received a shot at the prestigious IWGP Heavyweight Title. Even more surprisingly, he won it. Even more surprisingly than that, despite the YOSHI-HASHI match and subsequent angle almost largely being considered a flop, Okada delivered and delivered big time in his championship match against Hiroshi Tanahashi in a manner that virtually nobody expected. Okada did not stop there, though. He continued working like a legitimate tip-top of the card main eventer for the rest of the year, putting on ****+ matches with a variety of opponents, including rematches with Tanahashi, title and tournament bouts against Tetsuya Naito, and even crossing the language barrier to have some awesome battles with "Machine Gun" Karl Anderson. Though everybody knew that Okada was good, few to no observers thought that he would have anywhere near this level of talent or fame when New Japan pulled the trigger on him.
He's not just a great candidate for most improved wrestler of the year. He's reached the level where he is a very viable candidate for wrestler of the year, across all promotions and all countries.
That's it for this week's 8-Ball. If you can't get enough of Ryan, follow him on Twitter here.