The 8-Ball 12.28.12: Top 8 Raw Moments of 2012
December 28, 2012 | Posted by
Welcome, ladies and gentlemen, to the 8-Ball. As you know, I am your party host, Ryan Byers, and I am back with yet another installment of everybody-but-Gavin-Napier's favorite countdown column.
Before we get going, I have a bit of a plug. In case you missed it the other day, for the next month or so, I will be filling in for Mathew Sforcina on Ask 411 Wrestling in addition to my normal 8-Ball duties. So, if you like my work but don't normally read Ask 411, you might want to give it a shot over the next couple of weeks. (Even if I'm not writing it, you should probably check it out. Mat is good people.) Also, if you've got an Ask 411-style question that you would like my perspective on as opposed to Mat's, feel free to send it my way in the next couple of weeks.
However, just because I'm writing Ask 411 these days, it does not mean that I'm going to focus any less on our beloved 8-Ball . . . so let's get to it!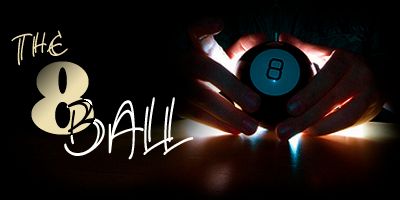 Top 8 Raw Moments of 2012
I'll be the first person to admit that I have a love/hate relationship with Monday Night Raw. I have been a wrestling fan since my childhood and, because of that, I have literally watched Raw since the very first episode back in 1993. Because of my long history with the show and with professional wrestling in general, Raw is one of the few shows these days that, for me, is "appointment television," i.e. a program that is part of my weekly schedule that gets planned around except for the most pressing of social or professional engagements.
However, I have to admit that, for the past year or so, I have not been the biggest proponent of the show. For reasons that I have discussed in this column before, the current WWE product isn't my favorite wrestling product in history. Despite not particularly caring for the presentation as a whole, there are still individual moments on Raw that entertain me, and I have made sure to hang on to those moments to keep from absolutely going insane as I watch wrestling.
Because I've been keeping such a close eye on those great moments, I'm in a position where I'm able to count them down. So, please join me as I look back at the eight best moments of Monday Night Raw in what, unfortunately, has been one of the weaker years of the show from both critical and business standpoints.
8. The Punk/Bryan Encounters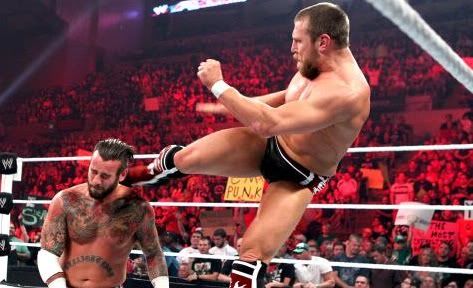 I've been watching CM Punk and Daniel Bryan wrestle on and off for the better part of ten years, whether it's been Ring of Honor, Punk's time in ZERO1, Bryan's runs in NJPW and NOAH, Punk's stopover in TNA, and, of course, the big stage of World Wrestling Entertainment. Due to their many years of experience across the world, they've blossomed into exemplary performers . . . and they weren't exactly slouches when they started out, either. Both have claimed to be the "best in the world" at various points in their careers and, frankly, both of them now have a legitimate claim to that title. (My personal vote would go to Hiroshi Tanahashi, but that's another story for another day.) Thus, whenever Daniel Bryan and CM Punk lock horns in the 2010's, you know that you're in for something special. Fortunately for WWE fans, that exact match occurred not once but twice for free on episodes of Monday Night Raw in the early months of 2012. Though fans of these two from their ROH days probably imagined that they would wind up on wrestling's main stage at some point and probably even wrestling each other on Raw at some point, there was one interesting twist to these matches that I don't think even the biggest Punk/Bryan fanboys could have predicted seven years ago. When this dynamic duo went at it on January 30 and February 27 of this year, they were simultaneously holding the two biggest championships in all of professional wrestling. Furthermore, both times out, they put on performances that were not only worthy of those championships but also worthy of their reputations from the independent circuit and Japan. They were perhaps the most memorable traditional matches of Raw in 2012 and will likely be coming to a compilation DVD near you very soon.
7. Big Show Begs for his Career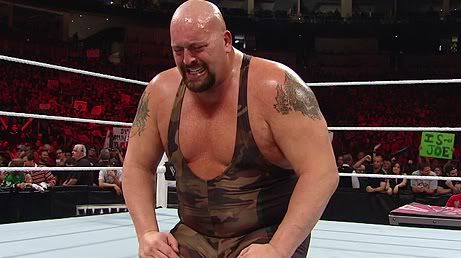 From what I can tell, this segment was polarizing. In a bit of a look behind the curtain, I can report that those of us on the 411 Wrestling staff have been working on our annual Year End Awards and this segment has picked up some votes for "worst promo of the year." This surprised me because, quite frankly, I thought it was excellent. What the hell am I talking about? I'm talking about the biggest segment on the May 14, 2012 episode of Raw, in which John Laurinaitis (who for the sake of ease I'm just going to call "Johnny Ace" from here on out) threatened to end the WWE career of one Paul "The Big Show" Wight and thus his entire wrestling career because, in WWE canon, no other promotions really exist. Yes, Johnny Ace's bits of the segment were nothing we haven't seen a thousand times before from a thousand other heel authority figures, and, yes, the angle that it resulted in is an one that we've seen a thousand times before. However, neither Johnny Ace nor the angle are the reasons that I've placed this segment on the list. The reason this angle on the list is the Big Show's performance, which is one of the single most believable acting performances by a professional wrestler that I have ever seen. This isn't just a pro wrestling promo in which the speaker is attempting to convince you into a buy a ticket to a live event. This is actual, conventional acting, with Show trying to convince us that he is feeling a real human emotion. He's acting, and he's great at it. You actually believe that this is a man who is about to have his life's passion ripped away from him and that he would do anything to save it. If you weren't big on the segment the first time around, take a look at it again and try to appreciate Show's performance apart from the silliness of the rest of the product. You almost certainly will.
6. Jericho Returns . . . Again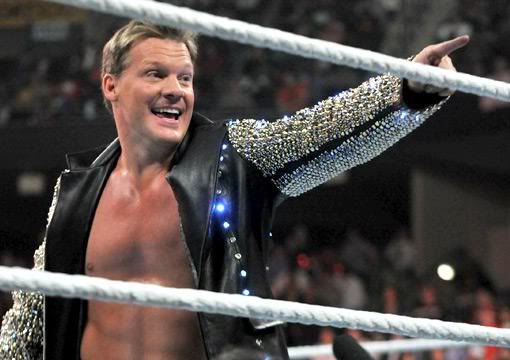 It's rare that the very first show of the year contains a moment that holds on for all twelve months to make a "best of" list at the end of the tunnel. However, 2012 was a bit of a weak year and Chris Jericho is more than bit of an awesome performer, so, if any segment was going to accomplish that goal, it would be this one. The date was January 2, and a series of creepy vignettes promising the end of the world had been airing on WWE programming for several weeks. Speculation about the man behind the promos ran rampant and, though many had figured out that it was Chris Jericho by the time that he eventually appeared, that still didn't reduce the "mark out" factor when the man himself stepped out from behind the curtain. Even more brilliant was the way that Jericho handled his return, as he exuberantly mugged for the crowd for seemingly an hour before being overcome by emotion and departing without saying a single word. It was a stark contrast to his WWE debut and his first return to the company, which were all about the silver-tongued Jericho showcasing his verbal skills. It went against expectations in a clever way and, quite frankly, came off as a heel Jericho and his ridiculously awesome "Lite Brite" style jacket essentially "trolling" the live and television audiences. Unfortunately, the rest of Jericho's WWE return didn't do that much for me, as his feud with CM Punk was forced to play second fiddle to the likes of the Rock, the Undertaker, and Brock Lesnar and his subsequent babyface turn felt rushed and like an unnecessary rehash of his Attitude Era persona as opposed to an evolution of his character. Despite the later letdowns, the return segment itself was still awesome.
5. Punk vs. McMahon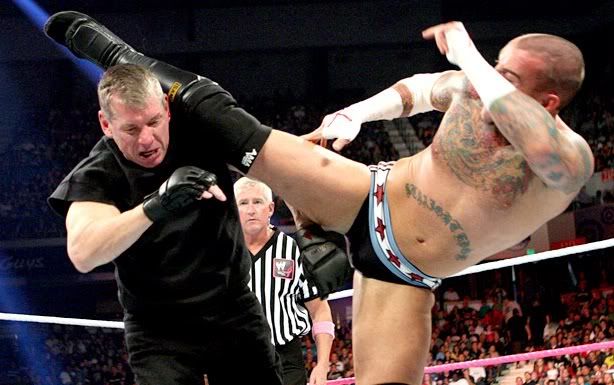 Count me among the people who loudly and frequently bemoan Monday Night Raw's expansion to three hours. It's just too much pro wrestling in one shot for a weekly program. A regular television show (as opposed to a PPV or live event) needs to be perfectly paced and have something very special in order to not drag at that length, and just about any crew of writers and bookers is going to have difficulty coming up with a show that has the right formula. However, every now and again, the WWE team does come up with something that manages to captivate me and prevents the typically-too-long three hour Raw from slipping into the doldrums. Perhaps the best example to date of an engaging three hour Raw came on October 8, 2012, when the show was booked around an issue between CM Punk and the chairman of the board, Vincent Kennedy McMahon. The two men first confronted each other verbally in the early part of the show. It came off well, which was not particularly surprising given that these two are among the best promos of the business and they were aided by the always-excellent Paul Heyman. As these promos usually do, a physical confrontation for later in the evening was set up, though, somewhat surprisingly, the match wasn't between Punk and a Vince McMahon surrogate. The match was between Punk and Vince McMahon himself, and it was given the added benefit of being a no disqualification match. The match being booked was a pretty big surprise given McMahon's age and physical condition. The even bigger surprise was the fact that the match went for an extended period of time as opposed to simply being a minute long schmozz followed by an angle. Moreover, the match was AWESOME. Don't get me wrong, it wasn't a ***** technical masterpiece, but it was an entertaining brawl and the physically damaged McMahon worked his ass off, taking bumps and weapon shots that I never would have imagined him taking at this stage of the game. Perhaps the highlight of it all was his half-hilarious, half-badass bellyflop over the announcers' table, which is a spot that's going to be burned into my memory for years to come. Unfortunately, not every three hour Raw can have an angle and a match this awesome, but the world would be a much better place if it could.
4. Breaking the Game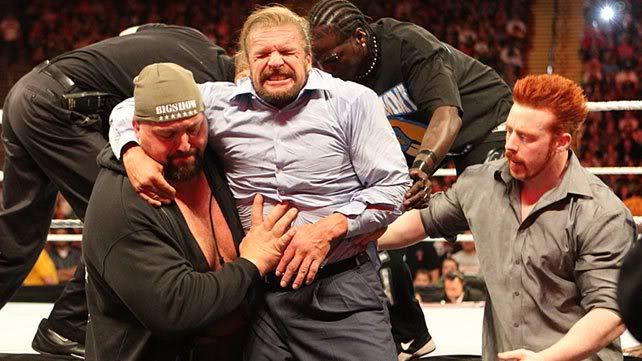 I've said many times in this column and others that one of my big problems with the WWE product these days is that there is far too much comedy used in the promotion. Don't get me wrong, I'm not opposed to all comedy in wrestling, but, when almost every feud on the card has at least some comedic element and nothing is taken seriously, you're going too far. That's one of the big reasons that Brock Lesnar's return was so appealing to me, because you knew that you were going to get a performer and a series of angles and matches that were deadly serious. The culmination of Lesnar's run in 2012 was his Summerslam matchup with Triple H, which he not only won but won decisively, breaking the Game's arm in the process. That match and that moment were recapped heavily on the following edition of Monday Night Raw, broadcast on August 20, 2012. Bookending those recaps and setting up a heavily rumored rematch for this year's Wrestlemania were two of the best damn promos of the entire calendar year, both related to HHH. In the opening segment of the show, Lesnar's "representative" Paul Heyman delivered a scathing rundown of the defeated Triple H, recalling the time that he saw Trips finish a match with a severe injury before laying in the ultimate burn, "A torn quad couldn't stop Triple H, but Brock Lesnar could." Later in the show, HHH's best friend, Shawn Michaels, appeared via satellite and gave his analysis of the match. The normally boisterous Heartbreak Kid seemed despondent, as though he was mourning the loss of not just his friend's career but also his health. In a pivotal moment that you will likely see time and time again if the Lesnar/HHH rematch happens for WM, Michaels finally admitted that, "I should have told him the truth. I should have told him that I didn't think he could beat Brock Lesnar." It was great storytelling, both following up on the events of the prior evening and also planting seeds that will likely blossom into something great in the coming months.
3. "That Makes You a Coward."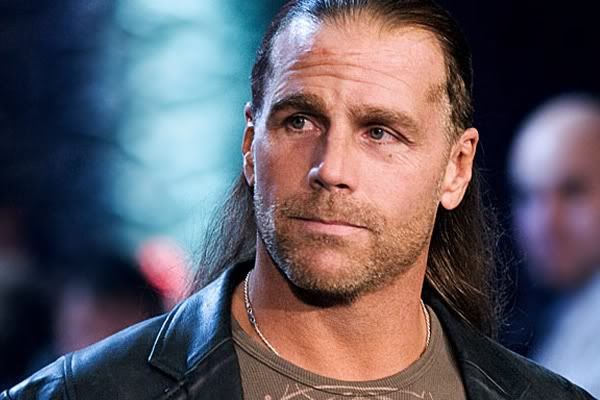 Yes, it's another moment involving Shawn Michaels and Triple H, and it's another moment involving one of the more "serious" angles of 2012, this one the buildup to the Hell in a Cell match between Trips and the Undertaker at Wrestlemania XXVIII. Though in my opinion it wasn't quiet as great as the buildup to the Undertaker/Michaels matches at Wrestlemanias past, this year's "End of an Era" encounter was still preceded by a fine bit of storytelling. The Undertaker, after winning last year's match with HHH but feeling that he was a still a loser because he had to be hauled away from the ring on a stretcher, demanded a rematch. Triple H, due to his new corporate responsibilities in the WWE hierarchy, didn't want to put the match on because he feared destroying the Undertaker's legacy and the money that he could make off of it. Triple H had to do a lot of soul searching about whether he would accept the fight, and, as most of it do when we're soul searching, Hunter went to one of his very best friends for advice. He went to Shawn Michaels, and, on the February 13, 2012 edition of Monday Night Raw, Michaels gave HHH some advice that he may not have wanted to hear. Michaels informed his former D-Generation X teammate that, where he comes from, when a man challenges you to a fight and you say no, that makes you a coward. The entire promo and that line in particular were excellently delivered, and they were a strong, believable catalyst to Triple H changing his position and moving headlong into a Hell in a Cell encounter with the Deadman.
2. Here Comes the Pain . . . Again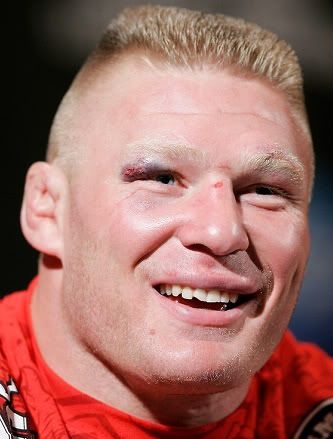 I wrote earlier about the outcome of a prolonged angle with Brock Lesnar; months and weeks of storytelling that culminated in a lengthy match that set events into motion that probably won't pay off for another three months yet. This moment also involves Brock Lesnar, but, in just about every other way, it is the opposite of the moment that we discussed earlier. What we're talking about here is Brock's return to WWE, occurring on the Monday Night Raw immediately following Wrestlemania XXVIII. Whereas the Triple H story was carefully planned out and methodical, Brock's return was sudden, it was brutal, and it evoked a visceral reaction from professional wrestling fans (and, in particular, one guy in an Affliction shirt). Upon setting foot in the arena, Brock immediately went after the biggest dog in the WWE Universe, planting John Cena with a massive F5. This not only immediately put Lesnar into a feud with WWE's top star, but it also established him as an alternative to the wrestling fans who had become somewhat disillusioned with the fact that WWE is presently headlined by the squeaky-clean, kiddie friendly Cena. It was smart marketing, because it meant that Lesnar, who due to his limited availability was only going to be on a small number of shows, was essentially going to be an anti-hero with his own following. This would, in theory, lead to spiked ratings and buyrates for shows that Lesnar was on, as there would automatically be a portion of the audience that would be more inclined to tune in specifically for his matches. Plus, Lesnar's return featured that great moment when he decided that he was going to kick John Cena's baseball cap into the audience. I don't know why everybody loved that one little detail so much, but I was right there vociferously cheering it along with the rest of the viewing public.
1. Jerry Lawler's Life is Saved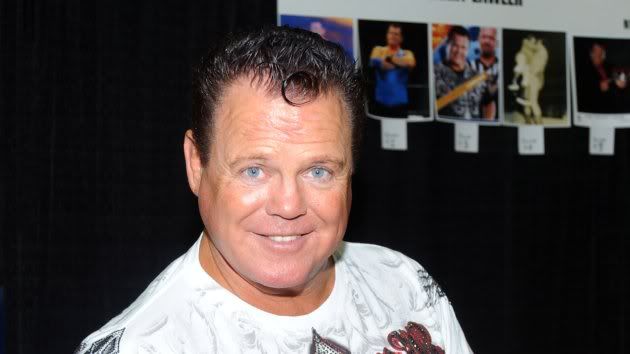 Everybody knows what happened here, so I'll spare you a breakdown of the events that lead to Jerry Lawler's life being saved while the September 10, 2012 episode of Monday Night Raw was ongoing. It was really a no-brainer to put this moment on the top of the list. Everything else on the list is an entertaining moment from a professional wrestling storyline. This is a beloved legend within the professional wrestling industry almost literally being brought back from the dead by a skilled medical staff. There's not much more to say than that. This was an awesome thing to behold, and, as a fan, I will never forget it.
That's it for this week's 8-Ball. If you can't get enough of Ryan, follow him on Twitter here.