The Chrononaut Chronicles: Clash of the Champions XXVII
April 10, 2012 | Posted by
The Chrononaut Chronicles: Clash of the Champions XXVII

Thanks to the infinitely talented Kyle Morton for the logo. Check out his Etsy account, where he does custom artwork and commissions… you'll be glad you did!
The Chrononaut Chronicles
WCW Clash of the Champions XXVII – June 23, 1994
– Ten years after the Hulkamania phenomenon rocked the WWF, the unthinkable occurred. Following months of rumors and negotiations, Hulk Hogan signed with WCW as the new public face of the company in their strongest attempt yet at competing with Vince McMahon. While many long-time WCW supporters were dismayed by this development, it was a brilliant marketing coup to get the WCW brand into mainstream consciousness, opening doors that would otherwise have remained closed. Despite the perception that the Hulkster was over the hill after his last stint in the WWF, his arrival in WCW generated more attention and interest in the company than they had ever experienced on a nation-wide basis.
– As a result of Hulk Hogan entering the title picture, WCW decided that now was the time to finally unify their two World Heavyweight Championships since it was basically a foregone conclusion that the Hulkster would be holding the Big Gold Belt in short order. To set up that scenario, tonight's Unification Match pits International World Champion Sting against WCW World Champion Ric Flair, as the opening video rewrites history and notes that "for the first time ever" Flair and Hogan will be in the same building. Other gold up for grabs at the twenty-seventh Clash of the Champions includes Larry Zbyszko defending his recently-won TV Title in a rematch against Lord Steven Regal, Johnny B. Badd challenging Steve Austin for the US Championship, and the Nasty Boys battling Tag Team Champions Cactus Jack & Kevin Sullivan!
– LIVE from the North Charleston Coliseum in Charleston, South Carolina! The production values have been greatly improved, with superior lighting, graphics, and overall presentation of the TV product. There are also two video walls, similar to what the WWF was using at the time, bookending the entrance curtain near the runway. Tony Schiavone and Bobby "The Brain" Heenan are on commentary, and they open the show with Mean Gene Okerlund hyping the arrival of Hulk Hogan. They also mention that Sensuous Sherri (formerly known as Sensational Sherri in the WWF) will introduce her new man this evening and the Brain speculates that it will be the Hulkster himself.
– WCW World Tag Team Championship: The Nasty Boys (Saggs & Knobbs) vs. Kevin Sullivan & Cactus Jack (w/Dave Sullivan) ©
Since our last Clash, the tag team landscape had changed a bit, as Kevin Sullivan returned to WCW and the terrible wrestler known as The Equalizer was revealed to be his younger, mentally-challenged brother Dave who suffered from dyslexia and spelled his name "Evad". Fun Fact: during a promo in the late '80s, Kevin had actually mentioned he had a brother named Dave who was locked away in an institution, so this was some pretty amazing continuity. When the Nasty Boys attacked Dave and injured his knee, Kevin formed a team with the equally insane Cactus Jack, who had been left partnerless when Maxx Payne left WCW, and they won the World Tag Team Title from the Nastys in a Broad Street Bully match at Slamboree '94. Clad in a bathrobe and a homemade "HULK SELUR" shirt, Evad is on crutches as he accompanies the new champions. Due to the uncontrollable nature of the participants, two referees have been assigned to officiate this rematch, but that doesn't stop Cactus & Sullivan from wildly double-teaming their challengers in the early going, including one instance where Kevin slams Jack off the top turnbuckle into both Knobbs & Saggs. The Nastys briefly take control of Sullivan, but he tags out and Cactus unloads on both Boys and knocks them out to the floor. However, when Cactus launches himself backward off the apron toward them, the Nastys move and Cactus crashes into the guardrail and floor with the back of his head. Ouch. Saggs posts Jack's shoulder and back-suplexes him on the floor to further damage the shoulder, but Cactus avoids a double-team back inside and makes the tag. As expected, chaos reigns as Kevin brawls with the Nastys at ringside and Evad gets involved. While Saggs struggles with the Sullivans on the floor, Cactus plants Knobbs with the double-arm DDT to retain the WCW World Tag Team Championship in 10:35. **¾ Schiavone accurately described the match as a "controlled brawl" at one point, and it was a good one as these four had a weird chemistry where they just went out and beat the hell out of each other every time.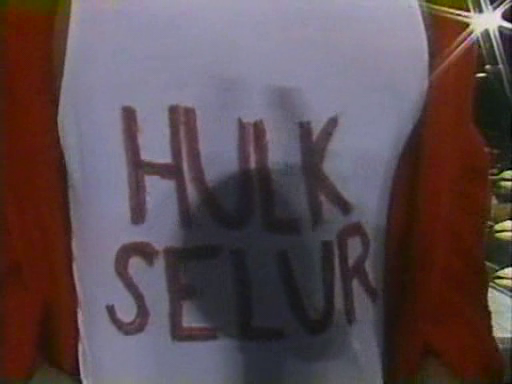 This is so diputs.
– After plugging the WCW Hotline, Mean Gene interviews Sting regarding the Unification Match tonight. The WCW International World Champion speculates that Ric Flair is employing psychological warfare against him, but it has no effect because he is a 24-foot Great White Shark and he's hungry. The "psychological warfare" was in reference to a major fuck-up WCW had made on the previous weekend's TV shows, where they accidentally showed a promo video that gave away the result of the Flair/Sting match. Without getting into detail, it was inferred that Flair ran the video to mess with Sting's mind.
– The Guardian Angel vs. Tex Slazenger
Although WCW shortened his name to "The Boss" and dressed him in a dark blue police uniform, Ray Traylor was still basically using the Big Boss Man gimmick and the WWF threatened legal action since it was their intellectual property. The storyline solution was to have WCW Commissioner Nick Bockwinkel strip him of his handcuffs and nightstick after he assaulted Harley Race, so in a logical progression of his character, the man formerly known as The Boss went to New York City and trained to become a member of Curtis Sliwa's Guardian Angels, an unarmed vigilante group of citizens who patrol the streets to combat criminals. Before the match, a video package recounts the activities of the Guardian Angels and shows Traylor on safety patrol along with the other members. On the other side of the ring, Tex Slazenger was an outlaw from Amarillo, Texas, who would go on to achieve a certain level of stardom in the WWF, first as a pig farmer named Phineas I. Godwinn and then as a cult member/nude streaker named Mideon. The Guardian Angel adheres to a strict "three strikes" rule now, as he allows Tex to strike him three times before erupting in a flurry of rage that ends with the Bossman Slam in 1:44. * The gimmick itself wasn't bad, but "Guardian Angel" was a weak name for a wrestler.
– Bobby Heenan makes his second OJ Simpson reference of the show as we are shown a limousine, containing Hulk Hogan, arriving at the arena with a police escort. When Hogan and Jimmy Hart emerge from the limo, the live crowd greets this scene with resounding boos.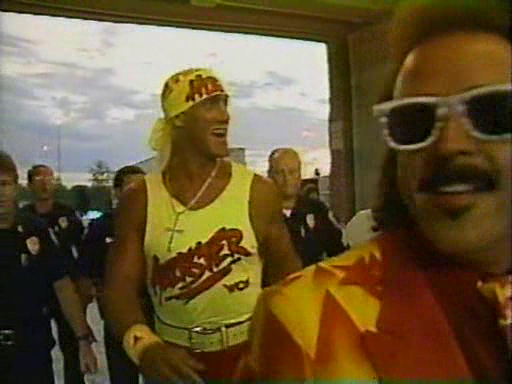 Hulkster, you ain't in Kansas anymore.
– WCW World Television Championship: Lord Steven Regal (w/Sir William) vs. "The Legend" Larry Zbyszko ©
Serving as a color commentator since his retirement in late 1992, Larry Zbyszko returned to action after he had enough of Lord Steven Regal's anti-American rhetoric and proceeded to capture the World TV Title from the British blueblood on the May 28 edition of WCW Saturday Night. His Lordship enters wearing a redcoat and powdered wig, and Jesse "The Body" Ventura (sitting in on commentary with Tony for this match and the next one) explains that they belonged to Regal's great-great-uncle, Lord Rupert Regal, who was on the other side of the Potomac River when George Washington threw the silver dollar; according to Jesse, Lord Rupert caught the coin and spent it. Lord Steven is in total control from the opening bell until he makes the mistake of repeatedly slapping Larry the Legend in the face. The crowd breaks into "Larry" chants as Zbyszko unleashes more offense in two minutes than he did in his entire AWA run, scoring near-falls with a piledriver and a swinging neckbreaker. Regal takes Zbyszko down in a chinlock and they trade the advantage on the mat, but Larry catches him in a bearhug and slams him down for a Boston crab. However, Sir William interferes to reverse the crab into a pinning situation for his man and Regal grabs the top rope for leverage to pin Zbyszko and regain the WCW World Television Championship in 9:25. *** Despite being an arrogant and cowardly heel for most of his career, Zbyszko was crazy over with the crowd and established a bond with WCW loyalists that would one day lead to weekly "Larry" chants on Nitro. The match told a good story, with Regal initially wanting to teach Larry a lesson for coming out of retirement, and Larry coming back with moves that hearkened back to different periods of his career: the neckbreaker was his finisher during his NWA stint in the late '80s and he used the piledriver in the AWA, and the bearhug was reminiscent of his trainer and nemesis, Bruno Sammartino.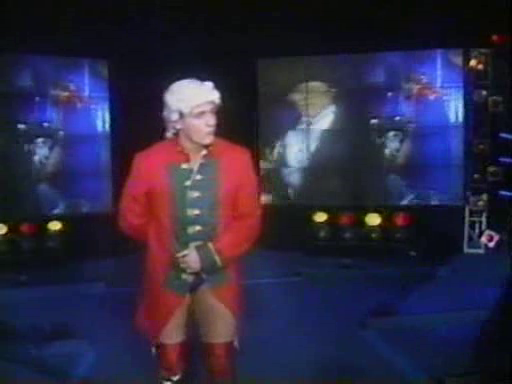 The lack of pants really completes the ensemble.
– Mean Gene Okerlund interviews Arn Anderson and Dustin Rhodes. Finding himself outnumbered against Colonel Rob Parker's Stud Stable, Dustin had recently asked Arn to be his partner for an upcoming tag team showdown against Terry Funk & Bunkhouse Buck at Bash at the Beach. The Enforcer provides his answer in the affirmative and promises to "bring back the old Arn Anderson" for the occasion. That's code for "I'm going to turn heel on your dumb ass at the PPV."
– WCW United States Heavyweight Championship: Johnny B. Badd vs. "Stunning" Steve Austin ©
This is a rematch from Slamboree, and Steve Austin is no longer accompanied by Col. Rob Parker after an amicable parting, although the Colonel still owns his contract. Looking equal parts Stunning Steve and Stone Cold with his hair, goatee, angry sneer, and "U.S. Champ" trunks, Austin bumps his ass off to make Johnny B. Badd look good while Tony and Jesse put Austin over big-time on commentary, noting that the only title he hasn't held is the World Heavyweight Championship. Things worked out pretty well for Steve in the long run, but I often wonder what would have happened if he had received the Ric Flair push as the top heel World Champion, fending off all comers by hook or by crook. In a nice touch to add to the sports-like tone of WCW, Schiavone mentions Austin's array of finishers, including the Stun Gun, the Hollywood & Vine toehold, and another new hold he's been working on, and Ventura explains that you have to keep coming up with new maneuvers to stay on top of your game. The momentum shifts from challenger to champion when Austin catches Badd with a boot to the face as he's charging into the corner, and Austin forces a prone Badd to wave to the camera while Stunning Steve screams about being in the ring with the US Champion. Austin cuts off Badd's bursts of offense, but Johnny mounts a comeback and unloads on the Stunning One as now it's Austin who can't get anything going for himself. Johnny misses the flying sunset flip and Austin covers him for a near-fall, but the Badd Man decks him with a big right hand for a near-fall of his own. Badd punches away in the corner, but Austin pulls a set of taped knucks out of his trunks and slugs Badd in the gut before small-packaging him for the apparent pinfall in 10:25. Austin tucks the knucks under his armpit to hide them, but referee Randy Anderson runs in and reveals them to the original official, Nick Patrick. Before another decision can be made, Badd rolls up Austin from behind and Anderson administers his own three-count, and Johnny leaves with the US Title belt. ***¼ Johnny B. Badd was one of the most improved wrestlers in WCW (or the WWF, for that matter) and Stunning Steve was busting his ass to earn the top heel slot he was being groomed for. The result was a good match between two highly motivated workers, marred by a wonky finish that was never clarified. The following weekend, it was announced that Austin lost via disqualification, thereby retaining the United States Championship.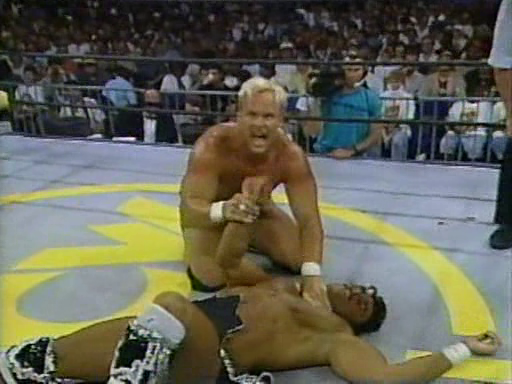 Wave to the camera!
– Mean Gene brings out Hulk Hogan, accompanied by Jimmy Hart, for an interview and he receives the most mixed reaction from a crowd that he had likely ever heard. In typical Hogan fashion, he puts himself over as he references his bodyslamming of Andre the Giant and his five previous World Title reigns. However, the Hulkster claims that the only way his career can go any higher is to win WCW's World Heavyweight Championship, so he plans on targeting the winner of tonight's Unification Match. Appearing on the video wall, Ric Flair interrupts Hogan and they shout at each other to build up their eventual "first match", as Sting quickly becomes an afterthought in our main event of the evening. The whole idea that Hogan and Flair have never wrestled each other or even been in the same building before is just absurd, and I think having Jimmy Hart as his own personal cheerleader took away from Hogan's babyface aura. I never understood why Jimmy Hart became his permanent on-screen manager, aside from their real-life relationship. It made sense for the Money Inc. angle in the WWF, but the Mouth of the South was widely known as one of the top heel managers of the '80s and had no business being part of the Hogan babyface package.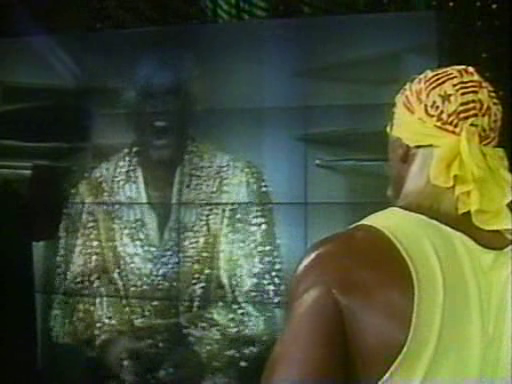 Just in case you still thought Sting had a chance, this should clear it up.
– WCW Unified World Heavyweight Championship: "Nature Boy" Ric Flair [WCW World Heavyweight Champion] vs. Sting [WCW International World Heavyweight Champion]
Before the entrances, we are treated to a pre-recorded promo featuring Shaquille O'Neal putting over Hulk Hogan and "the Hulkamania". Bobby Heenan is back on commentary with Tony Schiavone, and WCW Commissioner Nick Bockwinkel is also stationed at ringside to observe this historic Unification Match. Following Michael Buffer's ring introductions, Sensuous Sherri sashays down the runway before revealing that she is wearing Sting's facepaint, which is enough evidence for Schiavone and Heenan to conclude that the new man she has selected is Sting, even though he looks just as confused as everyone else. While Tony recounts all of the classic battles between Sting and Ric Flair, they start off slow and engage in some chain-wrestling until Flair bails out to the runway and flexes his biceps. Heenan blames the presence of Hulk Hogan for throwing Flair off of his game, and when he steps back inside, Sting press-slams him twice in a row and Slick Ric flees the ring again. The Stinger continues to stymy the Nature Boy, no-selling chops in the corner and countering a figure-four attempt with an inside cradle for a two-count, and Flair bails out yet again. Even though the crowd is obviously chanting for Flair, Heenan claims they are chanting "Sting" and credits it to Sherri's cheerleading at ringside. Sting pounds away and goes for the Stinger Splash, but Flair moves out of the way and then tosses Sting over the top rope while referee Randy Anderson decides to yell at some fans for some reason. Sherri tends to Sting on the floor and encourages him to get back in the ring, but I don't know if anybody is buying that she's Sting's new manager. She was also primarily known as a devious heel, and it's worth noting that Flair was basically the only wrestler on the entire show that Tony didn't guess would be Sherri's choice.
This is still less makeup than she wore during her WWF run.
The Nature Boy drops his famous knee and controls Sting, but the International World Champion breaks out of a sleeperhold and mounts a comeback that culminates in a flying splash off the top turnbuckle. Flair rolls out of the way to avoid the splash and suplexes Sting, but Sting pops right back up and unloads on Flair with dropkicks and a press slam. Sting clotheslines Flair over the top rope and dives out himself, but Slick Ric pulls Sherri into harm's way and the Stinger flattens her instead. Holy crap, that was a man-sized bump. Back in the ring, Sting catches Flair in a backslide to earn a visual pinfall, but the count is late because referee Randy Anderson was checking on Sherri and Flair kicks out. The distraction of the injured Sherri at ringside causes a remorseful Sting to fall victim to a roll-up from behind, as Flair grabs a handful of tights to score the three-count and become WCW's Unified, Undisputed Heavyweight Champion of the World in 17:17. After the match, Sherri staggers into the ring and embraces Flair, revealing that they were allied all along. Sting has a problem with this turn of events, but Flair and Sherri turn on him and lay him out, as the Sensuous One lands a couple of splashes off the top turnbuckle. Hulk Hogan marches out to make the save and clears the ring, but not before threatening to punch Sherri while Jimmy Hart screams "HIT HER, HULK! HIT HER!" on his megaphone. Flair grabs Sherri's ankles and drags her out to the relative safety of the floor before serial woman-beater Hogan can pound the snot out of her like he did night after night for a year in the WWF. **** combined for the match and the angle that followed it. Sting and Flair had such great chemistry in the ring that they never really had a bad match, but this one felt anticlimactic due to the spectre of Hulk Hogan and the "first-ever" Hogan/Flair showdown that WCW was already building. The involvement of Sherri also detracted from the match until she 'accidentally' got wiped out by Sting, which totally made sense for her character since she always was a willing human shield for her men in the past. Still, this main event was well-worked and it told a good story, as Sting had Flair's number for most of the match until his sense of remorse kicked in after inadvertently nailing Sherri. The defining trait of the pre-Crow Sting character was that his basic morality was always his downfall, since he was known for being too trusting and more concerned for the safety of others, often at great detriment to himself.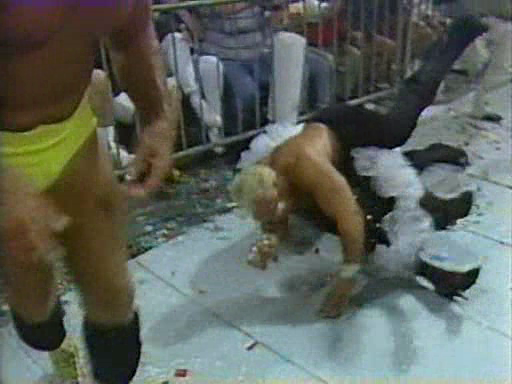 Ding-dong, the witch is dead.
– After a commercial break, Mean Gene interviews Hulk Hogan in the ring to close the show. The Hulkster announces that he'll be bringing Ted Turner to WCW Saturday Night this weekend and intends to twist Ric Flair's arm until he signs the contract for a WCW World Title bout. Yeah, fuck all those guys who have been working hard to improve WCW's in-ring product all year! Hogan deserves the first shot at the Unified World Championship without even wrestling one match in WCW! The crowd is less than enthused, as Hogan receives the John Cena treatment in the form of cheers from kids, women, and casual fans, while the older male fanbase loudly voices its displeasure.

The 411: In his first live appearance for WCW, Hulk Hogan managed to overshadow the company's previous top babyface, Sting, and render the result of the historic Unification Match a foregone conclusion. On top of that, the reaction was less than impressive, as the WCW fanbase viewed the Hulkster as an interloping glory hound who had no business being in their ring. Things got so bad in his first few months with the company that WCW planted large numbers of "fans" (employees, family members, and paid models) to ensure that Hogan wouldn't be completely booed out of the building during television tapings. Nor did his heavily-hyped appearance on the Clash help to spike ratings, as this was the fourth-lowest rated Clash yet and the other TV ratings hadn't shown any improvement, either. Although the rest of the show featured a strong card, the emphasis was obviously on Hulk Hogan, and so far the experiment was deemed a failure.

 
Final Score:  7.5   [ Good ]  legend