The Contentious Ten 10.15.12: Top 10 Best Managers
October 15, 2012 | Posted by
Welcome back to the Contentious Ten. I'm the recently MIA Gavin Napier, mostly recovered from a stomach virus for your weekly countdown. Breaking away from matches for a couple of weeks in preparation for a huge November feature (bet you can't guess what that will be), this week is dedicated to the men and women outside the ring – managers. Here is my criteria for The Top 10 Wrestling Managers so that we're all on the same page:
-Memorability. I may have made this word up.
-Entertainment value.
-"Success" in the kayfabe sense.
-Personal taste .
Coach John Tolos won't be appearing here. Why? Because he arrived and departed pretty quickly, and didn't make much of an impact. Guys and gals that were memorable – Elizabeth, Jim Cornette, and so on – are much more likely to appear. It doesn't hurt if the manager had a notable gimmick to help them endure, but it wasn't entirely necessary for inclusion.
The entertainment value is a nice tiebreaker between legendary managers. For instance, when splitting hairs between Mr. Fuji and Jimmy Hart, Jimmy Hart tended to be a lot more animated and vocal, both at ringside and in promos. He bumped like a madman on the occasions when people got their hands on him, and was more entertaining overall than Fuji. To me, at least.
This is one of, if not the only, occasion in which I'll use kayfabe as a measuring stick. Why? Because it's fun and it makes sense. Look at the guys they managed and how much success they had, and line them up against each other. Sure, the people playing the parts had no control over such things, but the fact that their "clients" were rewarded with pushes or title reigns is pretty indicative of how well the manager was helping to draw heat for them.
And finally, this is subjective as always.
Managers that just missed the cut: "Classy" Freddie Blassie, Bill Alfonso, Elizabeth, "Precious" Paul Ellering, Slick
X color=red>size=8>
Paul Bearersize=6>
Paul Bearer is the first real character switch I remember from my youth.
-Managed as Percival Pringle III in World Class
-Notable clients: Rick Rude, The (Ultimate) Dingo Warrior, Eric Embry, The Undertaker, Kane, Mankind

Seeing World Class Championship Wrestling on ESPN makes up some of my earliest wrestling memories, and the transition from Percy Pringle to Paul Bearer is the first real character switch I remember from my youth. I distinctly remembered the blonde, loud, slightly effeminate Percy Pringle managing in World Class, specifically with Eric Embry through his multiple heel and face turns. He had a hand in Rick Rude's formative years as the World Class Champion, and was the go-to guy for young talent in WCCW, as Gen. Skandor Akbar tended to align with more veteran hands. Once he arrived in the WWF, though, he truly found his niche. Drawing from his real life experience as a funeral director, William Moore became Paul Bearer. He was the manager for The Undertaker, which made perfect sense. He hosted the Funeral Parlor, which was used to set up several key angles in the early 90's. Later, Kane and Mankind would be added to Bearer's clientele, as well as Terry Gordy for a brief run as The Executioner.
IX color=red>size=8>
Mr. Fujisize=6>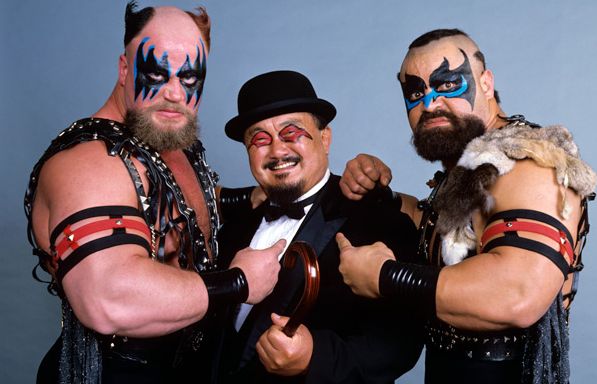 Arguably the most successful wrestler on this list to become a manager.
-Famous for throwing salt in the eyes of his wrestlers' opponents
-Notable clients: Yokozuna, Demolition, Don Muraco, The Powers of Pain

After retiring from the ring in 1985, Mr. Fuji took on the role of a heel manager. His first client was George "The Animal" Steele. However, Steele would soon make a face turn and leave Fuji, which allowed Don Muraco to take his spot. Fuji and Muraco clicked immediately, starring in vignettes called "Fuji Vice." Muraco would fail to regain the Intercontinental Title he had already captured twice, though, and would eventually move on from Fuji after a face turn. Fuji also managed Jim Neidhart as a singles competitor before "selling" his contract to Jimmy Hart, allowing the Hart Foundation to form. Fuji's greatest successes came as the manager of Demolition, who he guided to a lengthy WWF World Tag Team Title reign, and Yokozuna, who defeated Hulk Hogan for the WWF Championship under Fuji's guidance. His own tag team title reigns with Toru Tanaka combined with his success with Demolition and Yokozuna make Fuji arguably the most successful wrestler on this list to become a manager.
VIII color=red>size=8>
Sherri Martelsize=6>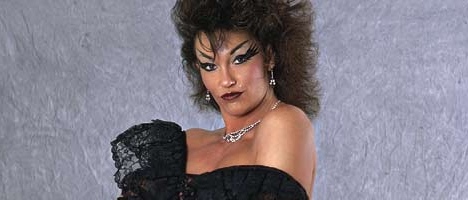 Remember when I said arguably?
-Multiple time AWA and WWF Women's Champion
-Notable clients: Randy Savage, Shawn Michaels, Ric Flair, Shane Douglas, Harlem Heat

Remember when I said arguably? Well, this is why. Sherri Martel was one of the most accomplished and decorated female professional wrestlers in the world before she became a manager. The same charisma that set her apart from the pack of women's wrestlers helped her stand out as a manager, too. Her experience as a wrestler also uniquely qualified her to become physically involved in matches on behalf of those that she managed. Her most memorable run was likely with Randy Savage as "Queen Sherri", replacing Elizabeth after Savage and Hulk Hogan split. She was also instrumental in the early goings of Shawn Michaels' singles career, helping to establish him as an egotistical jerk. Sherri briefly managed Marty Jannetty before he was let go due to substance abuse problems. Her last prolonged run as a manager occurred in WCW, where she was in Ric Flair's corner during his feud with Hulk Hogan, and then managed Harlem Heat to seven WCW World Tag Team Titles.
VII color=red>size=8>
Jimmy Hartsize=6>
Hart has long been wrestling's most versatile manager.
-Managed in Memphis, AWA, NWA, WWF, WCW, TNA
-Notable clients: Rick Rude, King Kong Bundy, Eddie Gilbert, Adrian Adonis, Greg Valentine, The Hart Foundation, Honky Tonk Man, The Nasty Boys, The Natural Disasters, Hulk Hogan, The Giant

Whether serving as a weaselly heel manager or a constantly exhorting face manager, Hart has long been wrestling's most versatile manager. He first found success in Memphis, feuding with Jerry Lawler and managing the "first family" in a long running feud. He was successful even in the early years, as Austin Idol and Eddie Gilbert captured singles titles in the AWA and NWA regions. Hart would become iconic during his time in the WWF, though. While not his first clients, the Hart Foundation truly put Jimmy Hart on the map by capturing the WWF World Tag Team Titles and feuding with the British Bulldogs. Shortly thereafter, Jimmy Hart had claim to The Honky Tonk Man, who would go on to become the longest reigning Intercontinental champion ever. Hart would eventually turn face and accompany Hulk Hogan to WCW, where he would manage Hogan against Ric Flair and other nefarious heels for a while. Hart's final major success as a manager would be managing The Giant – later The Big Show – early in his career and the Dungeon of Doom against Hulk Hogan in what would be the close of the pre-nWo era for WCW.
VI color=red>size=8>
James J. Dillonsize=6>
More than anyone on this list, JJ Dillon is synonymous with one group.
-Moderately successful regional wrestling career along the East Coast
-Notable clients: Abdullah the Butcher, Mongolian Stomper, Buddy Landell, Ox Baker, Ric Flair, Arn Anderson, Ole Anderson, Tully Blanchard, Lex Luger, Barry Windham
You'll see a lot of men and women on this list that managed a lot of different wrestlers. Some were early in their careers, some were later, and some were so brief that it's easy to forget that it ever happened. The same is true with JJ Dillon, who managed Abdullah the Butcher and Ox Baker early on. However, more than anyone on this list, JJ Dillon is synonymous with one group. That is, of course, The Four Horsemen. JJ Dillon, dressed in his grey suit, is an iconic image throughout the glory days of the Horsemen, orchestrating the charge against Dusty Rhodes, Magnum TA, The Rock n Roll Express, and anyone else that got in their way. The Horsemen remain the best booked most successful stable in wrestling history and Dillon played a huge role in that. He was a mouthpiece for men that didn't need mouthpieces. He ran interference. He drew even more heat than Flair and Tully did on their own. He bled buckets when necessary. The cover of Pro Wrestling Illustrated with all members of the Horsemen holding their titles and JJ holding up four fingers is a perfect example of why he ranks so highly on this list.
V color=red>size=8>
The Grand Wizardsize=6>
Ernie Roth set the standard for heel managers.
-Former disc jockey turned wrestling personality
-Notable clients: The Sheik, Stan Stasiak, "Superstar" Billy Graham, The Iron Sheik, Sgt. Slaughter, Ernie Ladd, Bob Orton, Don Muraco
Throughout the 1960's and early 1970's, the main event landscape was dominated in the then WWWF by ethnically oriented babyface champions such as Bruno Sammartino and Pedro Morales. Then along came The Grand Wizard of Wrestling. Under this persona, Ernie Roth set the standard for heel managers. Roth managed Stan Stasiak to the WWWF Championship over Pedro Morales almost immediately after arriving in the promotion, and while Stasiak's reign would last only nine days, The Grand Wizard would have another champion to his credit after "Superstar" Billy Graham defeated Bruno Sammartino four years later. Roth played his persona to the bone, embracing it completely by dressing in bizarre outfits, sparkling turbans, and visors that could have come from Star Trek: The Next Generation. There was simply nothing like him on the wrestling landscape at the time, and nearly forty years later, there still isn't.
IV color=red>size=8>
Paul Heymansize=6>
In his own right, Heyman has become as much of a main eventer as the talent he's associated with.
-Managed in Florida, Memphis, AWA, WCW, and WWE
-Notable clients: Austin Idol, Eddie Gilbert, Tommy Rich, The "Original" Midnight Express, The Samoan Swat Team, Steve Austin, Rick Rude, Arn Anderson, Bobby Eaton, Larry Zbzysko, Brock Lesnar, CM Punk
Paul Heyman's original name, Paul E. Dangerously, came from his resemblance to Michael Keaton in the movie Johnny Dangerously. It's an 80's classic, just in case you've never seen it. As Dangerously, he cut his teeth in Florida, working alongside men like Sir Oliver Humperdink, before moving to Memphis and doing what every heel does – feuding with Jerry Lawler. The feud between Rich and Lawler crossed from Memphis into the AWA, and Paul E. found himself a tag team in the form of Dennis Condrey and Randy Rose, the "original" Midnight Express. Once his time there ended, Dangerously moved into the NWA and took up a feud with the Midnight Express – the Eaton and Lane version. He led his version of the Express against Cornette's, and then introduced the Samoan Swat Team. He would become a commentator for a time, but then he rose to prominence leading arguably the second best heel stable ever, The Dangerous Alliance. The stable featured United States Champion Rick Rude, Television Champion Steve Austin, World Tag Team Champions Arn Anderson and Bobby Eaton, and rugged veteran Larry Zbzysko. They remain the closest thing we've seen to a revival of the Horsemen. Heyman stepped away from managing for a long while to become the operator of ECW, but his return to managing was impressive. He served as the "agent" of Brock Lesnar, who became at the time the youngest WWE Champion ever. He returned shortly after Brock did, and has taken to advising CM Punk. In his own right, Heyman has become as much of a main eventer as the talent he's associated with.
III color=red>size=8>
Jim Cornettesize=6>
Cornette established himself as one of the great talkers in the business.
-Best known for his trademark promos and tennis racket
-Notable clients: Dennis Condrey, Bobby Eaton, Stan Lane, Tom Prichard, Jimmy Del Ray, Vader, Owen Hart, British Bulldog, Yokozuna

Jim Cornette will always be my favorite wrestling manager of all time. That probably has a lot to do with the fact that he managed my favorite tag team of all time, the Midnight Express. "Corny" has a long, storied history in the wrestling business, with a career that stretches back thirty years. Cornette, like so many greats, got his start in Tennessee. It didn't take him long to move to the National Wrestling Alliance, though, where he took the Midnight Express to two NWA World and United States Tag Team Championships. It was in the National Wrestling Alliance that the Midnights established themselves through feuds with the Rock N Roll Express and The Fantastics, and Cornette established himself as one of the great talkers in the business. He played the wimpy mama's boy persona perfectly, and fans were always rabid to see him get his comeuppance, usually at the hands of Ricky Morton or a female valet such as Baby Doll. Cornette proved he could be an effective face as well in feuding with Paul E. Dangerously. Between his NWA and WWF appearances, Cornette established Smoky Mountain Wrestling. SMW was successful, but didn't last long due to finances. It was there that Cornette established his relationship with the WWF, which offered him a chance to continue his career. He briefly led an "NWA Revival" in the form of Jeff Jarrett, Barry Windham, and the Rock N Roll Express, but it never really got off the ground. Camp Cornette was much more successful, as Cornette abandoned many of the "mama's boy" mannerisms that had defined him and became an aggressive, cerebral manager that handled top tier talent. In the years since, Cornette hasn't been active at ringside, and has mostly taken roles as an authority figure. While I'm not holding my breath, I'd like to see Cornette have one more run as a manager. Unfortunately, his passion for burning bridges and ripping into anyone he disagrees with in the slightest is going to make that tough.
II color=red>size=8>
Lou Albanosize=6>
We can thank Bruno Sammartino for this.
-Managed over 50 wrestlers to over two dozen championships
-Notable clients: Mr. Fuji and Mr. Saito, The Wild Samoans, The Executioners, The Mongols, The Yukon Lumberjacks, The British Bulldogs, The Valiants, The Machines, The Moonogs, The US Express, The Headshrinkers, Ivan Koloff, Pat Patterson, The Fabulous Moolah, Dick Murdoch, Jimmy Snuka, Prof. Toru Tanaka

Lou Albano's wrestling career was nondescript to say the very least. He was a part of a moderately successful regional tag team called the Sicilians that drew the attention of the legitimate mafia in the midwest, and that was about the most you could say. So how did he get to be one of the greatest managers of all time? We can thank Bruno Sammartino for this. It was Bruno that encouraged Lou to abandon wrestling and start managing. Lou was a natural, ranting and raving and talking and screaming until people wanted to see him and his wrestlers get destroyed. It was Lou Albano that managed Ivan Koloff when he unseated Bruno Sammartino for the WWWF Championship. It was Lou Albano that managed The Wild Samoans to multiple WWWF Tag Team Championships. All told, Albano would manage over a dozen tag teams to championships in the World Wrestling Federation, and would gradually phase into a face after over a decade of working as a heel. He was heavily involved in the Rock N' Wrestling movement, appearing in Cyndi Lauper's video "Girls Just Wanna Have Fun" and playing a big role in the lead-in to Wrestlemania I as a result. His trademark voice, the rubber bands, the Super Mario Bros. show, it all plays a part in the legend of Lou Albano. I'm sure there are some that will argue he should be number one on this list. I wouldn't debate against you for very long.
I color=red>size=8>
Bobby Heenansize=6>
Wrestle like a manager, manage like a wrestler.
-A manager for nearly 30 years in regional promotions, the AWA, and the WWF
-Notable Clients: Nick Bockwinkle, Ray Stevens, The Blackjacks, Ernie Ladd, The Masked Superstar, Adrian Adonis, Big John Studd, King Kong Bundy, Andre The Giant, Rick Rude, Paul Orndorff, Harley Race, The Islanders, Hercules, The Barbarian, Mr. Perfect, The Brainbusters, Ric Flair, Nigel McGuinness, CM Punk

Bobby Heenan's quote from above is the reason that he's number one on my list. He understood the wrestling manager's role better than anyone ever has. "Wrestle like a manager, manage like a wrestler," Heenan said on a shoot interview with RF Video. It makes sense. Heenan managed with a big mouth, aggressively, and bold claims. He would get in the face of and talk down to anyone. When it came time to wrestle, though, Heenan was a coward and nearly helpless in the ring. It made people desperate to see him get mauled and especially satisfying when he did. Heenan enjoyed success in the AWA as manager of Nick Bockwinkel and Ray Stevens, but is most known by modern fans for his constant crusade against Hulk Hogan in the WWF. He led wave after wave of heels against Hogan, including Harley Race, Mr. Perfect, King Kong Bundy, and Andre The Giant. Heenan's greatest moment as a manager came when Ric Flair won the Royal Rumble, and the WWF Championship, in 1992. In the years since leaving the World Wrestling Federation, Heenan has appeared as a color commentator for WCW and served as a manager in Ring of Honor and other small promotions. He is a beloved part of the industry and one of the true giants of the sport, a remarkable accomplishment for someone who spent little time in the ring. Heenan's battle with mouth cancer has left him looking worse for wear, but his spirits have always remained high and his wit is as quick as ever. There's only one "Brain," and he's the best ever by my estimation.
If I goofed on something here, let me know. If I left somebody out, let me know. If they're out of order, let me know. I'm always interested in hearing what the readers have to say. Now, with the Disqus format in the comment section, it's easier than ever to respond to the article and for me to interact with you. I know the inclusion of kayfabe in this makes it a little tougher to firmly establish an order, but it seemed like a necessary evil for a list like this. So get to commenting, and suggest future topics, tell me what I missed, ask why certain things are where they are. While you're at it, you can find me on Twitter @GavinNapier411. See you in 7..6..5..