The Contentious Ten 11.05.12: The Top 10 Survivor Series Teams
November 5, 2012 | Posted by
As promised last week, the beginning of November brings with it a month full of lists centered around WWE's November Pay Per View tradition, Survivor Series. This week, I'll be focusing on teams. Through the years, there's been no shortage of great Survivor Series teams. Since the elimination concept is how the pay per view got started, it seems like a logical place to start. That said, here's my criteria for the ten best Survivor Series teams ever.
-Must have been a 4 on 4, 5 on 5, or 10 on 10 team
– Individual success of members
– Logicality (made that one up) of the team
– Personal preference.
That means no individual tag teams or six man matches, because those were always lame at Survivor Series. My personal preference has always been the 5 on 5 matches, but there have been some awesome 4 on 4 teams as well. The success of the wrestlers that made up the team is a big factor as well, because you need credible guys to make a good team. Logicality is also important, because a team of The Rock, The Headbangers, and Owen Hart would have been awful because those guys don't fit. An example of a team fitting together well is the Ultimate Warriors from 1990. That team had the Ultimate Warrior, Hawk, Animal, and Kerry Von Erich. Von Erich was a bit out of place, but still fit in as a big, powerful guy at the very least. Finally, as always, my own personal preferences have an impact on the rankings and I won't pretend otherwise.
Teams that just missed the cut: Hawk, Animal, Ahmed Johnson, Ken Shamrock -1997, The Perfect Team (Mr. Perfect, Ax, Smash, Crush) – 1990, The Legends (Ric Flair, Dusty Rhodes, Sgt. Slaughter, Ron Simmons) – 2006, Team Guerrero (Eddy Guerrero, Big Show, Rob Van Dam, John Cena) – 2004

Edge, Christian, Matt Hardy, Jeff Hardy – 1999size=6>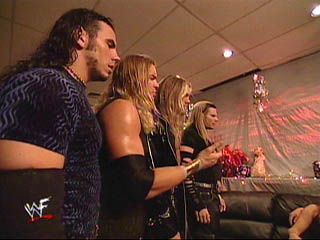 Two of the WWE's greatest tag teams working together.
-20 WWE/World tag team titles among the four men
-3 World Champions
-And Matt Hardy

The idea behind this team is pretty clear – give the fans two of WWE's greatest tag teams working together. These four men would craft an unbelievable rivalry through the late 1990's and early 2000's, and seeing them all working together in the ring is somewhat surreal. We're so accustomed to seeing them try to kill themselves and each other with ladders and tables and chairs that seeing these four work in concert feels somewhat off. Still, the pairing makes sense. The teams would quickly begin feuding over the servies of Terri Runnels – managerial services, that is – and the rivalry would begin in earnest. The team lost at Survivor Series to the team of Too Cool and the Holly Cousins. Looking back at booking in a vacuum doesn't make a lot of sense sometimes.

Team Bischoff (Chris Jericho, Randy Orton, Christian, Scott Steiner, Mark Henry) – 2003size=6>
One of two matches to see both teams involved listed on this countdown.
-4 former WWE/World Heavyweight Champions
-1 former WCW World Champion
-20 world singles championships
-26 world tag team championships
If this list were based strictly on personal preference, this team would likely move up a few spots. It can't rank as my favorite all time, because of the presence of Randy Orton, but I'm a huge fan of the other three guys. Jericho, Christian, Steiner, and Henry are all awesome in their own ways. Jericho and Christian are among the most versatile performers of the modern era, and there are few better monster heels than Scott Steiner and Mark Henry. The team was representing Eric Bischoff in his feud with Steve Austin. This comes from one of two matches to see both teams involved listed on this countdown. The winning team's captain would retain their position as General Manager on RAW. Team Bischoff came out on top when Randy Orton scored the winning pinfall after interference by Batista.
The Hulkamaniacs (Hulk Hogan, Ax, Smash, Jake Roberts) – 1989size=6>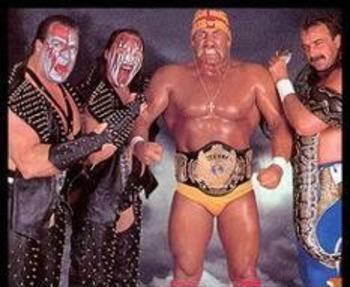 I loved 3/4 of this team as a kid.
-12 world championships for Hogan
-Demolition the second 3 time WWF Tag Team Champions ever
-Jake regarded as one of the best wrestlers to never win a world title

Everything about this team works. It worked then, it would work now. You had the WWF World Champion, the WWF World Tag Team Champions, and one of the coolest guys ever. It was babyface heaven. I loved 3/4 of this team as a kid, but I was never a Hulkamaniac. Even so, I knew there was absolutely no way they were going to lose. The team made sense because their polar opposites were on the other side of the ring – Ted DiBiase, Zeus, and the Powers of Pain. The match itself was full of surprises, as Warlord and Barbarian actually pinned Ax and Smash in the match. Hogan pinned DiBiase to be the sole survivor, which nobody was surprised about. However, it remains one of the best booked and most entertaining Survivor Series matches of all time.
The All Americans (Lex Luger, Undertaker, Rick Steiner, Scott Steiner) – 1993size=6>
So close to being color coordinated.
-10 world championships
-21 world tag team championships
-3 world champions
-And Rick Steiner

Luger was in the midst of his "All American" push that would see him come dangerously close to winning the WWF World Heavyweight Championship at Wrestlemania. The Steiners were fresh from WCW and regarded widely as the best team on the planet. Those three alone made for a natural combination in the ring. The Undertaker was the odd man out in terms of appearance and style, but he was also dominant. The addition of 'Taker made this team seem unbeatable, especially when you considered that Ludvig Borga was on the other side of the ring. The team won their match, with Lex Luger as the sole survivor, appropriate for his push at the time. The only thing that bothers me? They were so close to being color coordinated.
Team Austin (Shawn Michaels, Rob Van Dam, Booker T, Bubba Ray Dudley, D-Von Dudley) – 2003size=6>
Austin's team wasn't bad, either.
-12 world championships, 24 tag team championships between HBK, RVD, and Booker T
-23 tag team championships for the Dudley Boys
-A top 5 all time worker and top 5 all time tag team on the same team

I mentioned Bischoff's team earlier, and that there was another half of that match that would appear in this countdown. You see, Austin's team wasn't bad, either. He managed to put one of the greatest wrestlers of all time on the same team with one of the greatest tag teams of all time, then rounded it out with RVD and Booker T. On paper, this team is even better than Bischoff's, despite the fact that they lost. This is the sort of dream team that a 12 year old would have come up with in 2003 if you needed a team to beat up some heels. As far as the teams involved go, it remains the second best Survivor Series match of all time. Everything made sense, the work in the ring was good, and the crowd was hot for it. You can't ask for a whole lot more.

Team D-X (Triple H, Shawn Michaels, Jeff Hardy, Matt Hardy, CM Punk) – 2006size=6>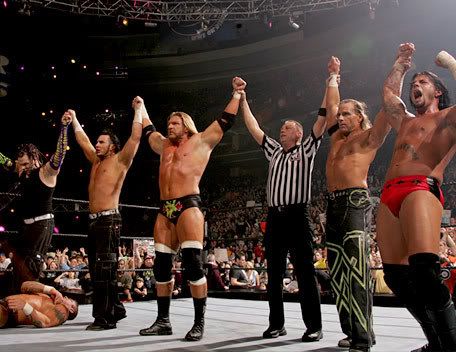 This may be the idea mix of talent for a Survivor Series team.
-28 world championships among 4 members
-24 tag team championships
-Iconic stable
-Iconic tag team
-Emerging talent

There are a lot of people that would call this team the best ever. I would obviously disagree, but this may be the ideal mix of talent for a Survivor Series team. There were two genuine, bonafide, certified main eventers on the team in Triple H and Shawn Michaels. They were the clear leaders. Matt and Jeff Hardy were an iconic tag team at this point, but hadn't become main event talents on their own just yet. Their time was coming, and Jeff would win his first singles world championship the following year. Finally, you had the new kid on the block that was talented but could certainly use the rub from hanging out with the big dogs in CM Punk. It didn't hurt that at this point in their careers, all five men were well above average in the ring. The match itself amounted to a glorified squash. Orton, Edge, Knox, Nitro, and and Helms never stood a chance. All five men hit their finishers, and the match was over in a rare 5-0 sweep in just under 12 minutes.

The Radicalz (Chris Benoit, Eddy Guerrero, Perry Saturn, Dean Malenko) – 2000size=6>
Remember how exciting this group was?
-3 world championships between Benoit and Guerrero
-15 world tag team championships
-8 cruiserweight and light heavyweight championships

I was always an NWA/WCW fan. The realism appealed to me more than the characters of the World Wrestling Federation. Things remained that way for the most part until WCW went under. This group of guys was a big reason why I hung in with WCW for so long. Think back to when all four men appeared on Raw for the first time. Remember how exciting this group was? One of the four best pure wrestlers in the industry had jumped ship. They stuck out like a sore thumb in WWE, where they were five or six inches shorter and fifty or sixty pounds lighter than most "superstars." They were quickly established as dominant, though. At Survivor Series, they took on "D-X", which was really the New Age Outlaws, Chyna, and K-Kwik (now known as R-Truth). It's not like they took down Triple H, HBK, and/or X-Pac, but that's okay. The Radicalz had arrived and half of them would be a force to be reckoned with for years to come. As a unit, they were almost unstoppable.

Team Alliance (Steve Austin, Rob Van Dam, Kurt Angle, Booker T, Shane McMahon) – 2001size=6>
Dammit, Shane.
-25 world championships among four men
-25 world tag team championships among four men
-And Shane McMahon

Don't get me wrong. I respect and enjoy what Shane McMahon does when he's around. He's fearless, takes huge bumps, and usually puts on a great show. Still..considering the pedigree of the other nine men involved in this match, I can't say anything except….dammit, Shane. Lance Storm, Raven, or William Regal would have been a great fit here. Still, Shane does lend a "big match" feel to things by virtue of being a McMahon. As poorly as the whole InVasion angle was booked, this was a high quality match that benefited from a vast collection of main event level talent. Austin is arguably WWE's biggest star of all time. Kurt Angle is one of the best pure wrestlers ever. Rob Van Dam and Booker T are legends in their own right, even if they're a notch below Austin and Angle. As for who was on the other side of the ring, we'll discuss that shortly.
The Ultimate Warriors (Ultimate Warrior, Hawk, Animal, Texas Tornado) – 1990size=6>
My personal favorite team.
-2 world championships between Warrior and Von Erich
-4 world tag team championships for the Legion of Doom

This is my personal favorite team on the list. The Ultimate Warrior was a genuine phenomenon in professional wrestling at this point. He was only 7 months removed from his win over Hulk Hogan at Wrestlemania VI, and epitomized the 90's – bright colors, face paint, steroids. The Legion of Doom's shoulder pads never looked as cool in the World Wrestling Federation, but they were still awesome. Arguably the greatest tag team of all time, Hawk and Animal just looked like they could steamroll anyone and everyone in their way. Putting them on the same team as The Ultimate Warrior seemed almost unfair. They then topped off the team with "Texas Tornado" Kerry Von Erich, a former NWA World Heavyweight Champion. They were squaring off against Mr. Perfect and all three members of Demolition. The 10 year old me wanted this to be the moment where the Legion of Doom showed they were better than Demolition, and crushed the imitators. That didn't happen, and the match generally degenerated into a brawl that saw no clear winner between those members of the teams. The Ultimate Warrior would be the sole survivor after pinning Mr. Perfect.

Team WWFsize=6>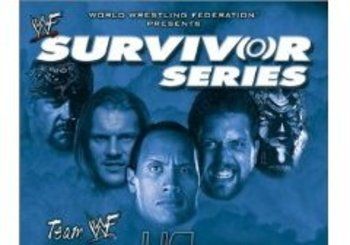 I have a logical explanation for this.
-30 world championships
-40 tag team championships
-Perfect representation of the WWF

This may not look like the best team ever when you simply look at the names involved. Don't worry, though, I have a logical explanation for this. This team, more than any other, lives up to it's name. The All Americans had one oddball. Jake Roberts didn't really seem like a Hulkamaniac. Shane McMahon wasn't really a wrestler. Kerry Von Erich lacked the "painted" theme that the other three members of his team wore. This, though, is perfect. Member by member:
The Rock is one of the biggest stars of all time, and he's as much a WWE guy as Sting was a WCW guy. He's a part of their brand. He's had more mainstream success away from wrestling than anyone in the history of the business. Even at this point, he was clearly one of the top three guys in the promotion at any given moment, along with Austin, Angle, and Undertaker. Speaking of the Undertaker..
The Undertaker is WWE's "franchise." He's as identifiable as any wrestler has ever been, and a true legend. Even at this point in his career, when he had strayed from the "dark side" gimmick, everyone knew and respected him both in the ring and back stage. There are few men that the term "icon" applies to, but The Undertaker is one of them. His place here was well earned. As was Kane's.
Kane may be the MVP for WWE over the last fifteen years. He has done literally anything and everything asked of him. He's the ultimate company man. He's put people over, he's been dominant, he's worn a mask, taken it off, and put it back on. He's come up in big spots, he's filled in the gaps, and he's done it all while earning the admiration and respect of his peers as a great, and safe worker.
Jericho and Big Show fit in here, because they were former WCW guys that found their true homes in WWE. Jericho arrived after a bitter departure from WCW, and Big Show arrived as a major coup for Vince. They embodied what it meant to get away from everyone else and gravitate to Vince, which is what Vince is all about. He's about destroying and assimilating the competition.
Because of the talent involved, and the make-up of this team, it's my choice for the greatest Survivor Series team of all time.
What did I forget? What's out of order? Was this topic entirely asinine altogether? What are your best (and worst) teams from Survivor Series? Let me know in the comment section below. Now with Disqus, it's easier to comment and easier for me to interact. I enjoy hearing your thoughts and what your rankings would have looked like. Don't be bashful. You can find me on Twitter @GavinNapier411 and I'll be back here in 7..6..5..