The Contentious Ten 11.12.12: The Top Survivor Series Wrestlers
November 12, 2012 | Posted by
I'm putting the final touches on this one after the Falcons lost to the Aints, who I hate more than anything that has ever existed on this planet. I'm in no mood for chat and small talk, and if I hadn't obligated myself to turning in this column every Sunday would currently be drinking in front of a small fire then throwing the empty bottle into the fire pit. I should probably seek counseling. Anyway, here's the criteria for The 10 Winningest Survivor Series Wrestlers
-Overall wins, not winning percentage, are the main criteria
-Team matches only count as one win or loss, despite the number of eliminations the wrestler is responsible for.
-Multiple matches on the same card count as multiple wins
-Winning percentage is only used as a tiebreaker between wrestlers with the same number of wins.
These seem pretty self explanatory, with possibly the second one being a problem. For example, the Undertaker eliminated Jerry Lawler, Isaac Yankem, Triple H, and Mabel by himself one year. That doesn't count as four wins. It counts as one. The Rock winning the tournament at Survivor Series for the WWE Championship counts as multiple wins, because they were all separate matches. And, when wrestlers are tied in number of wins, their winning percentage determines who is ranked higher. For example, The Ultimate Warrior and Dolph Ziggler both have four wins at Survivor Series. Warrior was 4-0, while Ziggler is 4-1. Therefore, Warrior ranks one spot higher. See how it works? Good.
Wrestlers that just missed the cut: Mark Henry, Matt Hardy, Chris Benoit, Dave Batista, Hulk Hogan (all 4-2); Dolph Ziggler (4-1); The Ultimate Warrior (4-0)

Bret Hart (5-6)size=6>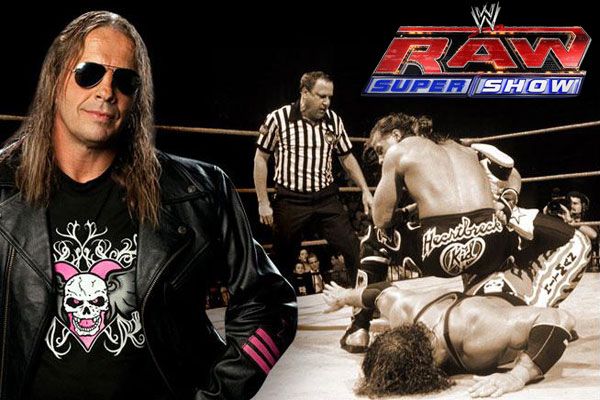 Absolutely responsible for one of Survivor Series' greatest moments.
-Wins in '88, '92, '93, '95, '96
-Losses in '87, '89, '90, '91, '94, '97

Even if Bret doesn't have the greatest won-loss record at Survivor Series, he's absolutely responsible for one of Survivor Series' greatest moments. Well, one of them, at least. The Montreal Screwjob angle remains one of the most talked about and debated matches of all time. Bret's resume goes beyond that, though. He was on the team that was opposite The Undertaker for his WWF debut. He lost the title to Bob Backlund in a great "I Quit" match in 1994. He captured the WWF Championship from Diesel in 1995. The "incident" in Montreal may be what defines Bret, and to an extent Survivor Series, but there's a lot more to the story than that.

Davey Boy Smith (5-3)size=6>
Never appeared as a singles wrestler at Survivor Series.
-Wins in '87, '88, '94, '95, '97
-Losses in '91, '96, '99
To me, Davey Boy is one of the most underrated workers of all time. He was always at least very good in the ring, and often times more than that. He gets overlooked a lot, however, for Dynamite Kid when the British Bulldogs are discussed. In terms of the Hart Foundation (the stable version), Bret and Owen get the lion's share of attention. Davey was a huge part of the Bulldogs' success, though, and was more than capable as a singles wrestler. His matches with Bret, Owen, Vader, and others are outstanding and not just because of who Davey Boy was working against. In his eight appearances, he never appeared as a singles wrestler at Survivor Series. He appeared on a number of teams, more than one of which appeared to be thrown together randomly. To me, it speaks to his versatility as a wrestler and reliability in making everyone that he worked with look credible.
Randy Savage (5-0)size=6>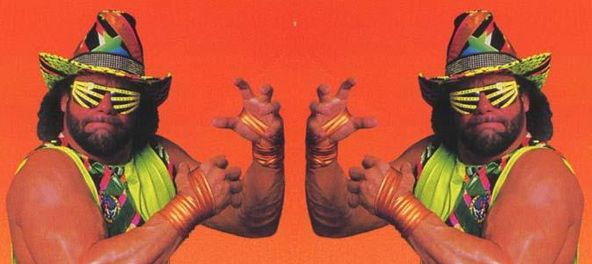 One of two men in the top ten to remain undefeated at Survivor Series.
-Wins in '87, '88, '89, '92, '93
-Four traditional wins, One tag team win

Freak out, yeah! Randy Savage is one of two men in the top ten to remain undefeated at Survivor Series. Had Macho Man come into his prime during the Attitude Era, things might have looked a little differently. He was in the World Wrestling Federation during a time when everyone was involved in a Survivor Series elimination style matchup. There were no Hogan vs. Savage classics, or Savage vs. DiBiase marathons to headline the November pay per views. Instead, he was on a team and playing a role as only Macho Man could play it. His one tag team win was teaming with Mr. Perfect to take on Ric Flair and Razor Ramon. Part of me wishes that Savage had come along a little later to see him in his prime against guys like Shawn Michaels, The Rock, and Stone Cold, but I wouldn't trade the greatness that Macho achieved for anything from a fan's perspective. edit: I had Perfect and Razor's names swapped originally. My bad.
Kane (6-6-1)size=6>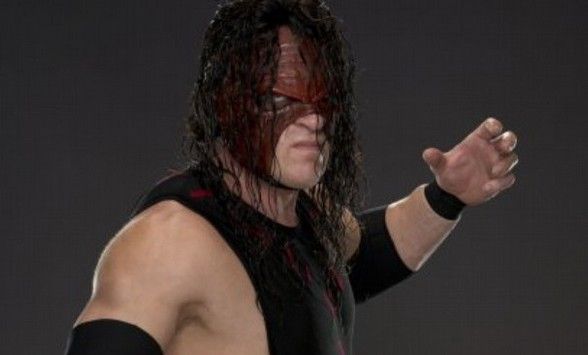 The only wrestler in the top ten with a no contest on his record.
-Wins in '97, '99, '00, '01, '03
-Losses in '95, 96, '98, '02, '05, '08
-Draw in '10

In 25 years of Survivor Series events, Kane is the only wrestler in the top ten with a no contest on his record. He fought Edge to a draw in 2010, giving him the distinction. He's also one of the few men on this list that has had more singles matches than traditional elimination style matches. His singles appearances outnumber the elimination matches by a total of seven to six. He's fared much better in the singles matches, going 4-2-1 in those, as opposed to 2-4 in the traditional Survivor Series matches. With every list that I make that includes the "most of" or "best of" in WWE, Kane pops up. Every time it happens, I make mention of how he's been a staple of the company for well over a decade and how he's arguably their most valuable guy. Looks like I've done it again. I'll probably do so again in the future, just out of respect for the guy.
Randy Orton (6-3)size=6>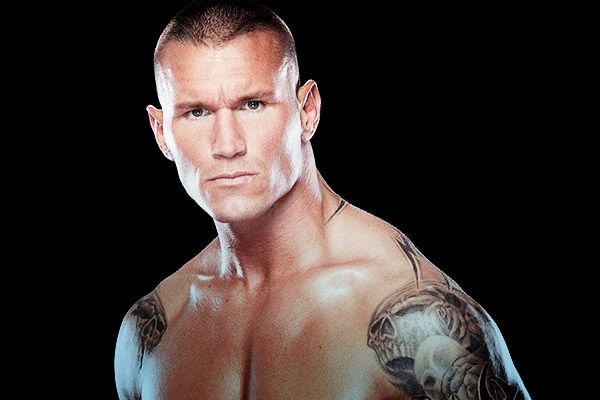 The most successful d-bag in wrestling history.
-Wins in '03, '04, '05, '07, '08, '10
-Losses in '06, '09, '11

Like him or not (and if you've read my columns you know I don't), Randy Orton is the most successful d-bag in wrestling history. He's managed to ride a dishonorable discharge and multiple wellness violations to sustained main event runs and huge pushes at the expense of guys that don't dislocate their shoulder while taunting someone in the ring. He's been a fairly steady presence through the years at Survivor Series, appearing every year since 2003. The majority of his matches have been as a part of a team, as only two of his nine matches were singles appearances. He won the World Heavyweight Championship from Shawn Michaels in 2007, and successfully defended the WWE Championship against Wade Barrett in 2010. This year, he's locked into another traditional Survivor Series match (for now at least), and has a chance to move up and join a very crowded 7 win club. edit: as mentioned in the comments below, he actually defended his title against Shawn in 2007, he did not win it as I stated above

Shawn Michaels (7-10)size=6>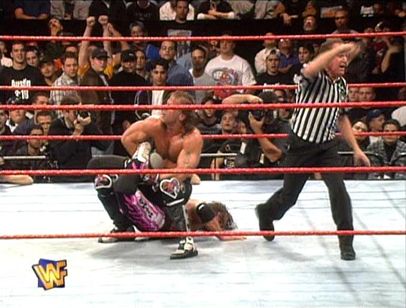 Like Bret, under .500.
-Wins in '88, '89, '95, '97, '02, '06, '08
-Losses in '90, '91, '92, '93, '94, '96, '03, '05, '07, '09
-2 wins and 4 losses in 6 World Title matches

Like Bret, under .500. Like Bret, responsible for more moments at Survivor Series than most wrestlers will be in a career. He's teamed with everyone from The Ultimate Warrior to Cryme Tyme. His World Title matches encompass Sid, Bret, Orton, and Cena. He's been in a triple threat and an Elimination Chamber. He's tied for the most Survivor Series appearances ever, which is pretty remarkable considering there was a five year gap between two of his appearances. He also owns a five match losing streak at Survivor Series, from 1990 until 1994. Of course, he's also got that Montreal thing going for him, which is nice. Shawn actually won the WWF Championship and the World Heavyweight Championship in back to back Survivor Series appearances…that just happened to be five years apart. As with everything else in his career, nobody is quite like the Heartbreak Kid when it comes to Survivor Series.

The Big Show (7-5)size=6>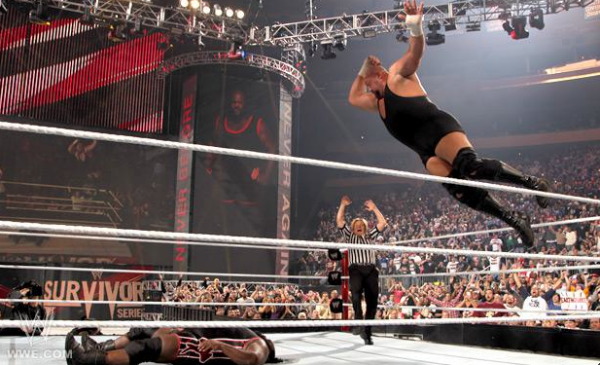 Two world title wins at Survivor Series.
-Wins in '99, '01, '02, '04, '10, '11
-Losses in '03, '05, '06, '08, '09

If you look at the math, Big Show only recorded wins on six Survivor Series events. How did he get 7 wins? At his first Survivor Series in 1999, he won a 1 on 4 match, and then found himself inserted into the main event for the WWF Championship after Steve Austin was run over by a car (REMEMBER THE ATTITUDE ERA AND HOW GREAT IT WAS?) and won that match, as well. Big Show has actually notched two world title wins at Survivor Series, also defeating Brock Lesnar in 2002. Big Show is another one of those guys whose longevity is pretty remarkable when you step back and take a look at it. In 1999, he was taking on Albert, Viscera, Midion, and the Big Boss Man. Last year he was on the same show that saw CM Punk beat Alberto Del Rio for the WWE Championship. Suddenly I feel old.

John Cena (7-0)size=6>
He has his own little streak going.
-Wins in '03, '04, '05, '06, '08, '09, '11

Sure, John Cena's won't get as much attention as The Undertaker's, but he has his own little streak going at Survivor Series. He's 7-0 since 2003, with some pretty big wins to his credit. He's won a WWE Championship there, defeating Chris Jericho in 2008. He's defended his title twice, against Kurt Angle in 2005 and against Shawn Michaels and Triple H in 2009. He teamed with The Rock last year as a part of their build to Wrestlemania. This year, he's booked to face CM Punk and Ryback for the WWE Championship in a triple threat match. I can't help but think that this will be the year that his own streak at a major pay per view ends, but people have been saying the same about the Undertaker for a while now. And really, why would anyone think that WWE was above a bad, rash booking decision?
The Rock (8-2)size=6>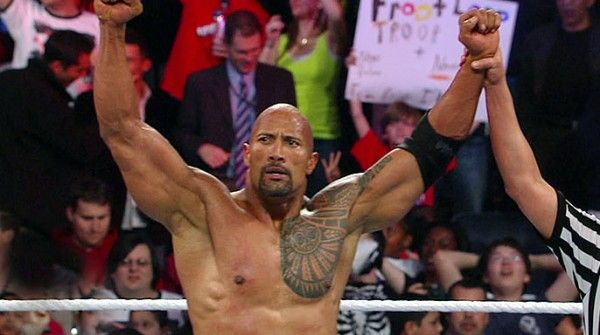 Don't rule out an appearance this year.
-Wins in '96, '98, '00, '01, '11
-Losses in '97, '99

Shawn Michaels went five years between wins at Survivor Series. Big deal. The Rock went 10. It's just what The Rock does. He was in traditional Survivor Series matches his for his first two appearances. The first was his WWF debut in 1996, the second was with The Nation of Domination in 1997. Then The Rock blew up. He became bigger than five on five or four on four matches. In 1998, he won four matches in one night to become the World Wrestling Federation champion, defeating Mankind in the finals. He lost his WWF Championship to Big Show at Survivor Series the next year, and made a return last year to team with John Cena against The Miz and R-Truth. When you consider where Miz and R-Truth are a year later, it's kind of astounding. There have been no rumblings, but don't rule out an appearance this year by The Great One. They've got that Royal Rumble appearance to promote, you know.

The Undertaker (12-5)size=6>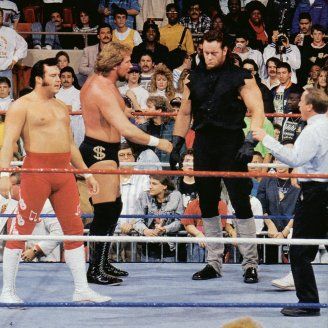 Of course.
-Wins in '90, '91, '92, '93, '94, '95, '96, '98, '01, '04, '08, '09
-Losses in '98, '00, '03, '06, '07

Who else did you expect? Of course it's The Undertaker. Like The Rock, he debuted at Survivor Series. Like The Rock, he's gone on to become one of the biggest stars of all time. His record of success speaks for itself. He won the WWF Championship from Hulk Hogan almost a year to the day after he debuted. He's introduced the Casket Match to WWE. He's taken on everyone from Kamala to Mankind to Heidenreich to Kane and come out on top. He's lost high profile matches to The Rock, Kurt Angle, Vince McMahon, and Ken Kennedy of all people. He's been a presence for 22 years, and he's seen and done everything imaginable. His place at the top of the card has been well earned, and it's fitting that the two major players that debuted at Survivor Series end up numbers one and two on this week's list.
Did I miss something? Let me know in the comment section below. Now with Disqus, it's easier to comment and easier for me to interact. I enjoy hearing your thoughts and what your rankings would have looked like. Don't be bashful. You can find me on Twitter @GavinNapier411 and check out my new podcast at www.thecasualheroes.com and I'll be back here in 7..6..5..