The Happy-Go-Sucky Wrestling Report 05.27.09
May 27, 2009 | Posted by
So this week, I gotta be honest. My heart's not really in this one. You see, right now, I could be on a boat in the middle of the Atlantic somewhere, preparing to land at on the Bahamas. That's what my better half is doing.
Not to mention that I totally forgot today is the day that I am supposed to write my news report. Holiday's always mess me up!
Anyway, I'm bitter and in need of sleep, so let's get this bad boy started. Cue banner!
News: Mick Foley is still TNA Champion.
Happy: Honestly, this was the right move for TNA. Foley is making a GREAT heel for TNA right now and the ratings have been fairly steady for Impact. They did drop last week from a 1.1 to a 1.2 but that's a lot more consistent than Raw's ratings losing big then gaining big and evening out.
The triangle of power between the Main Event Mafia, Jeff Jarrett, and Mick Foley has been entertaining to watch. It's a little more than the old NWO feud and it's hard to tell where it will go from week to week. Kurt losing his leadership over the Main Event Mafia will make it even MORE interesting, although predictably, I'm pretty sure we'll see the same mutiny angle we saw a month or two back. Regardless, TNA keeps shaking up the foundation while keeping it's main focus on the TNA World Title.
Go Sucky: The bad part here is that TNA has kind of forgot about everyone else. The match between AJ Styles and Booker T from all accounts that I've read was a fantastic match. Yet I felt like it was lost upon all the other ruckous going on around the Sacrifice match.
I know the AJ Styles/Booker T rivalry has been going on for sometime, but this latest match barely had any buildup. Or maybe I'm just fast forwarding on my DVR too much. TNA spent more time hyping up Sharmell/Jenna than they did this match, and that's a shame.
It's not really Foley's fault as champion, but I had always assumed that when Foley came to TNA, he was going to help some young unknown grow up to be a big time star. Instead, it's been all Foley, all the time. And as much of a Foley fan that I am, I'm REALLY starting to get tired of the flip flopping of Foley's personalities. (And no, I didn't care for the Dude Love/Mankind/Cactus Jack junk either).
At this point, the title will land on someone that doesn't need help getting over and Foley's "put overness" will be wasted. I'd really like to see the Frontline get involved in the feud again and really change the landscape of TNA. I'm even getting tired of AJ Styles and Samoa Joe in the upper card. Let's push someone different for a change.
News: Sting is now the leader of the Main Event Mafia.
Happy: Like I said before, the fact that Sting is now leading up the Main Event Mafia makes this little triangle battle more interesting. Kurt's headed this thing up since October and it's arguably TNA's most successful storyline/faction ever.
So what happens when the leader is no longer the leader and is taking orders from the guy who he feuded with for a few months? I think the answer is obvious but to the common wrestling fan (i.e. not you), it's different, and should help TNA's steady ratings.
Go Sucky: This could in fact be the final days of the Main Event Mafia. Over the last few weeks, the MEM has been nearly overshadowed by Mick vs. Jarrett and the war that was the MEM vs. Frontline has been all but forgotten.
With Sting in charge, I'm going to be more confused than ever as to what side the Main Event Mafia are on. Are they the good guys or the bad guys? Will Nash, Steiner, and Booker be good guys now just because Sting's heading things up? Or will the 4 of them eventually pull of mutiny and throw Sting out of the Mafia? It's hard to say but one thing is for sure. Kurt is what MAKES the Main Event Mafia. With Sting at the helm, it's going to seem almost cheesy and righteous.
News: Mr. Kennedy made his return to Raw.
Happy: It's good to see him back after what seems like an eternity away. Mr. Kennedy has the opportunity right now to really start off on the right foot by getting involved with the feud with Randy Orton. Although if there's anything we can take from people getting involved with fighting Orton, it's that a week or two later, the WWE forgets about it and puts them in a feud with someone else. (See: MVP)
Regardless of all that, Mr. Kennedy adds on to a Raw roster that, well, really needs some star power. After judging from last night's pop, Kennedy is apparently still pretty over. After seeing guys like Golddust, Hornswoggle, Brian Kendrick, and Festus in the same match, I can't help but to feel that maybe they needed a little help on the talent front.
Let us also not forget that the WWE is currently "re-arranging" itself. Guys like Mr. Kennedy who have been off TV for nearly a year are probably a blessing in disguise for this new initiative. Not only do you get a new face on TV, but he's still also over. Gotta love that!
Go Sucky: I can't write this next line without letting out a big…
Mr. Kennedy has already hurt himself. ON HIS FIRST NIGHT BACK! Hang on…gotta do it again….
Mr. Kennedy apparently injured his wrist after taking an RKO from Randy Orton Monday night. Wow..just wow. Now the WWE doesn't expect think Kennedy will need to take any time off for this injury, but still, it really shows just how fragile Mr. Kennedy is. How much of a risk does the WWE really want to take on a guy who, quite frankly is a liability. A tragic accident just waiting to happen. And what happens when the WWE finally does put some stock into Mr. Kennedy and they begin pushing him, only to have him hurt himself right before a major pay-per-view? Oh wait, didn't that already happen?
Thanks to that, we got this lovely moment.
I love Kennedy's mic skills and I truly belive he's a huge asset to wrestling, but I'm starting to think he'd be much better off in an announcers role, or a GM, or…
News: Shane Douglas, Raven, and Victoria are all expected to join TNA this week.
Happy: It will be good for long time TNA fans to see guys like Shane Douglas and Raven who, while they are veterans, aren't exactly WWE crossovers. Sure they wrestled in the WWE, but the last time they were on TV was for TNA.
I've always been a huge fan of Raven and think the guy, with the right kind of creative push, could make it pretty far again in a company that likes to focus on the veterans. He'd be great to put in a role to get the Frontline motivated again since Rhino is apparently MIA training that marine, whom I haven't seen in awhile. So would Shane Douglas.
Victoria will be AWESOME in TNA. In fact, Victoria probably should have left the WWE a couple of years ago to wrestle for TNA. The Knockouts division is just bursting full of talent…
No pun intended.
And with Victoria on board, it just got better. Now they FINALLY have a veteran other than Traci Brooks that can actually help some of these younger divas learn how to wrestle. I cannot wait to see Victoria vs. Awesome Kong and I hope it happens soon!
And who doesn't want to see Victoria re-unite with Stevie Richards!
Go Sucky: I surely hope that TNA isn't planning on putting all 3 of these people in the Main Event Mafia. You wanna talk about an overloaded roster full of over exaggerated champions. The only person that I feel could really belong in the Main Event Mafia would be former TNA Champion Raven. Sorry ECW fans, I don't feel Shane's ECW reign is strong enough to be considered a "World Champion". The same can be said about Victoria's WWE Women's Title reign. Never once was Victoria ever in a "main event".
Annnnnd of course we are left with the same ole song and dance. TNA signs older veterans and takes a spot away from the younger guys. In this case, TNA is signing two 42 year olds and a 38 year old. Really doesn't seem wise to build your house on eroded stones when you've got a lot of stronger, slightly weathered stones.
Ok enough metaphors. Quit building your company on the old folks TNA!
News: Serena Deeb (OVW/SHIMMER) has signed a WWE developmental deal.
Happy: I've been watching Serena in OVW for a long time. She was one of the first people to win the OVW Women's Title after defeating ODB. She's been a HUGE part of OVW for a long time and has proven that she can play not only the good girl role, but the bad one as well.
If you were paying attention, she was shown last week on ECW as Finlay was walking out for his match. This girl is SMOKING hot and talented in the ring. I'd go as far as comparing her to the aforementioned Victoria.
If anything, I believe Serena will provide a nice spark for the WWE women's division who, let's face it, is probably far less superior to TNA, ROH, and SHIMMER. So much that Vince recently has been disappointed in the way women's wrestling has gone that he's limited their matches.
He books matches like Vicki Guerrero vs. Santina Marella and puts it on a pay-per-view and wonders why the women's division is hurting. Hmmm…
Go Sucky: Nothing really bad about this. At least for you anyway. Sadly, this means I'll have to say farewell to my lovely Serena as she moves over to Florida Championship Wrestling.
My loss is your gain. Enjoy!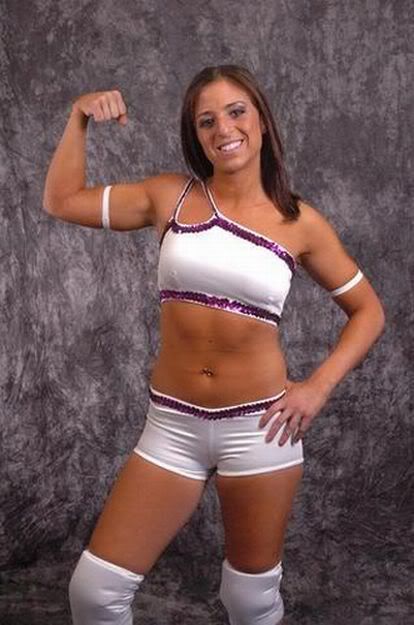 Rapid Fire!
News: At a house show this past weekend in Las Cruces, NM a nine year old boy jumped in the ring and hugged CM Punk following his match with Dolph Ziggler. Security pulled the boy out of the ring by his leg and he fell on his face on the floor. He and his family were then kicked out of the event.
That's right kids. CM Punk doesn't want your cooties.
News: TNA has a countdown clock on the main page of TNAWrestling.com, which counts down to the June 4th edition of TNA Impact.
Countdown to the debut of former World Champion….
News: TNA released wrestler/referee Shane Sewell.
I guess wrestling isn't as easy as 1…2…3! …..Anyone? Come on!
And with that, I'm outta here. Until next week my friends, may your lives be Happy…or Go Sucky!

NULL