The Magnificent Seven: The Top 7 WWE Elimination Tag Matches
November 15, 2015 | Posted by
Survivor Series season is upon us—the WWE PPV series that runs second only to WrestleMania in terms of continuous longevity. The show began with the theme of each match being an elimination tag team bout. Over the years, WWE has loosened that restriction, starting with the 1991 edition of the show headlined by a one-on-one encounter between Hulk Hogan and The Undertaker and continuing to shows like the ones in 1992 and 1998, which didn't feature a single elimination tag match. More often than not, though, WWE has remained loyal to the spirit of featuring at least one elimination tag team match, if not a card dominated by them, each year.
This week, I'm looking back at Survivor Series shows and beyond to count down the top seven elimination tag matches in WWE history.
#7. Hulk Hogan's Team vs. Andre the Giant's Team, Survivor Series 1987
The WWF purportedly created Survivor Series as an avenue to milk the Hulk Hogan-Andre the Giant program one step further without giving away another one-on-one encounter. In 1987, the WWF hadn't necessarily mastered the art of crafting elimination tag team matches, but of all of the matches featured on the show, this one demonstrated the most promise and potential for the concept. Andre collected a team of super heavyweights featuring King Kong Bundy and the One Man Gang, plus Rick Rude and Butch Reed. Hogan aligned himself with Paul Orndorff, Don Muraco, Ken Patera, and a budding young star by the name of Bam Bam Bigelow.
The result was a far better than average match in the WWF main event style of the day, highlighted by a superb closing sequence. The tandem of Hogan and Bigelow found themselves at a three-on-two disadvantage, only for things to go from bad to worse when Hogan suffered a (protected) countout elimination to leave Bigelow all on his own. Bigelow went on to defy the odds, though—beating Bundy and then Gang before he fell victim to a suplex from Andre.
The end of this match demonstrated one of the greatest aspects of the elimination tag team concept—the potential to push multiple stars at the same time. Though the WWF never fully capitalized on it, going toe to toe with three super heavyweight, fringe main event heels established Bigelow as fresh face on the main event level. More over, Andre picking up the win and shored up his spot as a viable main event threat for the better part of another year, on account of standing tall as the sole survivor of the first ever Survivor Series main event.
#6. Team WWF vs. Team Alliance, Survivor Series 2001
The InVasion storyline fell well short of expectations, but it did produce a handful of very good matches. If you can forgive the fact that that it's kind of preposterous the team representing WCW and ECW featured Shane McMahon and Kurt Angle who had never worked for either promotion (while guys like DDP, the Dudleys, and Lance Storm didn't make the team), the match was a fair enough culmination of the story the WWF opted to tell, complete with twists and turns and some solid in-ring action.
Team WWF had the size advantage, featuring the big man triumvirate of The Undertaker, Kane, and Big Show (who, ironically, each captured tag team gold with different permutations of each other before, after, or during this angle). The scrappier Alliance squad featured Shane McMahon constantly racing into the ring break up any potential elimination of one of his teammates in the early going of the match.
Later on, highlights included The Rock scoring a rare submission fall via the Sharpshooter over Angle (seriously, Bret Hart made everyone give up to the hold, but I'm pretty sure you could count on one hand the number of times The Rock made someone tap out) and Angle returning to the match post-elimination to turn on The Alliance. The match culminated in Austin and The Rock going one on one, at which point the WWF more or less conceded the InVasion wasn't worth continuing, when The Rock picked up the final pinfall—the final nail in the coffin for this angle.
#5. Team Raw vs. Team Smackdown, Survivor Series 2005
I will defend the concept (if not the execution) of the brand extension to the ends of the WWE universe. Having two separate rosters and shows facilitated WWE's ability to cater to distinctive audiences and keep major stars apart in a logical fashion to contrive dream matches and scenarios from within the same wrestling promotion. That said, the brand extension in reality tended to be clunky, with WWE arbitrarily blurring the lines between brands, and more often than not placing a clear emphasis on Raw over SmackDown.
For me, the main event of Survivor Series 2005, marks the apex of the brand split—a believable enough war of competitive spirit between two sets of athletes devolving into gang warfare. Each team mixed faces and heels, though the SmackDown was portrayed a bit more face-like with Raw good guys Big Show and Kane injuring SmackDown's lead face Batista in the build to the match. Just the same, the roles arguably flipped by the end of the match, left with Raw's face Shawn Michaels one-on-one with Smackdown's rising heel Randy Orton—but that's getting ahead of myself.
The Raw and SmackDown teams in many ways represented the identities of their respective brands. The Raw squad featured Michaels, Kane, and Show—veterans who would have been just as at home main eventing PPVs in the mid-to-late 1990s, plus Carlito and Chris Masters—top prospects who were more sizle than steak. The blue team had Batista and Rey Mysterio, each established but still on an upward trajectory in terms of star power, plus budding stars Randy Orton and Bobby Lashley, with long-time SmackDown champ JBL rounding out the squad.
The match itself saw the teams trade eliminations in the early going to wittle down to three-on-three before the Smackdown crew took control to gain a three-on-one man advantage. Michaels battled valiantly, as few others ever could, selling exhaustion brilliantly while still rallying to superkick Rey Mysterio, and seconds later JBL, before finally succumbing to an RKO.
This match probably could have been better with an extra ten to fifteen minutes, particularly to build the drama in the late stages; more clearly defined stakes for the match also might have helped. Just the same, it was an evenly matched encounter that featured some big names, gave some youngsters a chance to shine, and perhaps most importantly of all felt genuinely special for the degree to which WWE respected the brand split leading up to that point.
#4. Team Cena vs. Team Authority, Survivor Series 2014
From the very first Survivor Series main event, to the most recent one, a lot had changed but a lot had also stayed the same.
One of the key differences was the storyline surrounding the match. In 1987, the WWF television product was still rooted in squash matches meant to sell house shows, and a big PPV main event didn't require much in the way of stakes—indeed, when major stars clashed on TV, even if the audience had to pay for it, the fact that they didn't like each other was more or less reason enough to buy into a match.
Things were more complicated by 2014. Team Cena vs. Team Authority followed in the tradition of a number of other Survivor Series showdowns wherein clear stakes had been put on the line to make the elimination tag match just as if not more high stakes than a title bout. In this case, Vince McMahon had decreed that if Triple H and Stephanie McMahon's hand-picked team lost, then the twosome known as The Authority would be out of power. On the flip side, Triple H announced that if he stayed in power he would fire anyone who had backed Cena.
Given the topsy-turvy world of WWE contract law, there are always loopholes and subversions, thus it was realistic to imagine that either one of these teams might win and achieve short-term gains without truly altering the fabric of the promotion. Just the same, for one night, it was nice to get lost in the dream of what might be.
What followed was a well-wrestled, nicely structured elimination tag match that arguably featured more surprises than any such match that preceded it. First, there was the unexpected, almost comedic opening in which Triple H riles up Mark Henry, only for The World's Strongest Man to walk straight into a KO punch from Big Show, who played the part of righteously pissed off and fighting for his livelihood to a tee.
The match would pivot on Big Show again, though, in the later stages of the match, when eliminations had left the teams to a three-on-three situation, but Show recognized that his partners John Cena and Dolph Ziggler were both badly beaten, and he himself was fatigued, opposite a fresher Seth Rollins, Kane, and Luke Harper. Thus, Show did what Show does—he punched out Cena, shook Triple H's hand and walked out on his team.
I was sensing a Bam Bam Bigelow-like run for Ziggler from there—making a valiant effort and picking up an elimination or two before succumbing to the odds. Indeed, in one of the biggest showings of his career, Ziggler did score pins on Kane and Harper, and then had even Rollins beat, before Triple H intervened, taking out the ref and hitting Ziggler with Pedigree to seemingly end the match. All of this led to the biggest surprise of all—the WWE debut of Sting, who promptly dropped Triple H, draped Ziggler over Rollins, and handed the victory to the good guys.
You can argue that this match was overbooked, but if you let down your guard and have fun with it, it was a fun, dramatic, nicely executed match that did a nice job of riffing off Survivor Series staples while still breaking some new ground.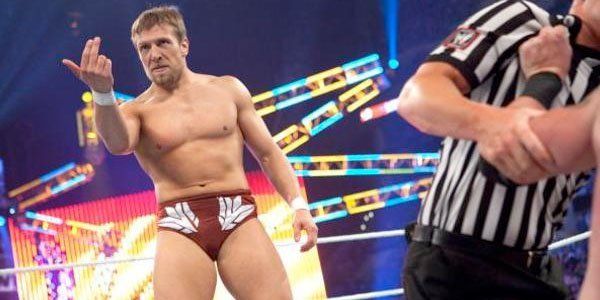 #3. Team Cena vs. Team Nexus, SummerSlam 2010
This is match is pretty polarizing, and to get this out of the way early, I do not like the way it ended and do feel that Wade Barrett should have gone over on the finish. In fact, were the match to have ended that way, I very well might have placed it at number two or even number one.
All of that said, this was one heck of a main event for SummerSlam 2010. The build saw the NXT rookie crew band together to dismantle John Cena and the ringside area, and go on to assault Vince McMahon and several visiting legends to get themselves over as an off-beat, vicious, and unpredictable new heel stable. The big elimination tag match was announced for SummerSlam and Nexus added additional layers of intrigue by taking out prospective members of Cena's team like The Great Khali, Tyson Kidd, and DH Smith. Moreover, WWE told the story of The Nexus—in many ways, a precursor to The Shield—as unstoppable for their united front and seamless teamwork, in contrast to Cena's band of all stars who couldn't get along, most obviously with Chris Jericho and Edge maintaining their arrogant heel personas and continually flirting with abandoning the team.
The build also featured The Miz, the reigning US champ and presumptive seventh man when Cena's team was one member short. Jericho and Edge in particular bowed to Miz in suggestion that he was there only hope. This angle continued to benefit from tremendous surprises when Miz did elect to join the team at the last minute, only for Cena to say he was out of luck and hand the spot to the surprise-returning Daniel Bryan.
Bryan picked up the first fall of the match in short order, making Darren Young tap out. Then John Morrison pinned Michael Tarver and Team Nexus retreated. In a brilliant mini-push, Skip Sheffield assumed a leadership role, telling his teammates "I will fix this." The Ryback-in-making stormed the ring and single-handedly took out R-Truth and John Morrison in the minutes to follow.
The match progressed nicely from there with Bret Hart suffering a protected elimination via DQ when he used a steel chair, Sheffield eating a finisher buffet to leave the match but remain a monster, Jericho and Edge revealing their heel colors post-elimination, and Miz reinserting himself in the picture to take out Bryan and set up their rivalry for the months to follow.
Then there's the ending—after a lot of excellent action and booking, there was still significant drama, but the wrong pay off with Cena surviving a DDT on the concrete floor, only go on and pin Justin Gabriel and make Barrett tap. The finish cut out Nexus's legs and prevented them from truly arriving as a heel super group and justifying their heavy promotion over the months to follow.
#2. The Shield vs.Evolution, Payback 2014
My biggest gripe against this match: despite this being a no disqualification, falls count anywhere match the guys still started out working a traditional tag match, in which one guy from each team got in the ring and they tagged in and out of the match.
That opening was completely illogical, particularly when the guys forewent tag rules for the latter two-thirds of the bout. Just the same, were it not for the tagging in and out, I'm not sure I could reasonably call this an elimination tag match.
Make of that what you will.
The Shield was pretty sublime at this point, operating as arguably the mostly smoothly functioning three-man unit in wrestling history, and suddently getting over at the main event level. They squeezed out a victory over the recently reunitied Evolution triumvirate at Extreme Rules 2014, and this was the hardcore rematch, to be contested under elimination rules.
The popular theory heading into this match was that The Shield would likely win to further cement them as heroes but that they'd suffer casualties along the way. I full anticipated that Roman Reigns would end up as the sole survivor as another step toward promoting him up the card.
WWE had other plans.
Throughout WWE history, there have been relatively few elimination tag matches that ended in sweeps—in which a whole team survived without any eliminations. When those instances have occurred, it has typically been a bit of a farce, such as the very, very over DX, Hardy Boyz, CM Punk team dominating a squad assembled by Rated RKO at Survivor Series 2006. But Shield-Evolution was different.
If anything, by the late stages of this match, Evolution was positively dominant, having incapicated Seth Rollins and Dean Ambrose alike, before ripping off Reigns' vest, stretching him across a set of steel steps, and positively whipping him with a kendo stick
.
However, in a flurry of action, Evolution's arrogance and not finishing off their beaten foes came back to bite them. Reigns hit a spear on Batista and Rollins was there to steal the pin. Then Ambrose hit Randy Orton with Dirty Deeds on a chair to score the second fall. Finally a tandem aerial attack from Rollins and spear from Reigns were enough to finish off Triple H.
While I'll contend that Shield-Wyatts at Elimination Chamber 2014 was ultimately better than either Shield-Evolution match, I will just the same argue that there was no match more instrumental in getting over all three members of The Shield, and preparing fans to take them seriously as three singles wrestlers than this one. It was a masterful piece of storytelling to put over The Shield's seamless teamwork and undeniable heart as a unit.
#1. Team Austin vs. Team Bischoff , Survivor Series 2003
Some argue that the premise of this feud was a bit silly, with Steve Austin and Eric Bischoff playing a wacky odd couple authority figure pair. I'd contend that Austin shares rarefied air with The Rock as one of very few guys who could pull off comedy at the main event level, and that his ongoing contentiousness with Bischoff, paired with the stipulation he could only get physical if someone physically provoked him added a sense of levity and entertainment value to an otherwise serious storyline as Austin and Bischoff struggled over who would control the Raw brand. The build to this match featured a fine sub-plot of whether Austin—a man who had risen using the mantra "don't trust anyone"—could, in fact, put his faith in a collection of guys representing him.
The match saw back and forth eliminations early on until Chris Jericho and Christian pulled off back to back falls against The Dudley Boyz to give them and Randy Orton a three on one advantage against Shawn Michaels.
The lone hole in this match for me is that Michaels sold exhaustion in this situation after having had minimal ringtime leading up to it. Just the same, few in the business are capable of selling exhaustion leading up to explosions of offense quite like HBK, and he worked that angle to perfection, working solo over the ten minutes to follow, superkicking Christian and eliminating Y2J with a small package. Michaels looked to have the best of Orton as well, until Bischoff interfered, which led Austin to attack him, paying off months of animosity with a righteous beatdown that popped the crowd, but also allowed Batista to slip in, powerbomb Michaels and hand Orton the victory.
This match was arguably Michaels' best at Survivor Series, helped further establish Orton as a top-level guy, pushed Batista, and paid off the big story arc from that fall. I'd argue it was the single best elimination tag match in WWE history.
Which elimination tag matches would you add to this list? Let us know what you think in the comments section.
Read more from Mike Chin at his website and follow him on Twitter @miketchin.