The Tuesday Communique 12.18.12: The End Is Nigh
December 18, 2012 | Posted by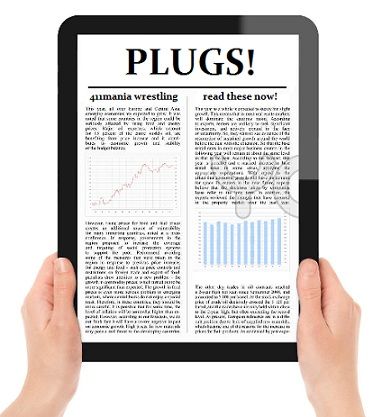 The Wrestling News Experience with Stephen Randle
The Wrestling 5&1: Diva Rumble Week 6 with Tony Acero
Thursday Sports Entertainment News Report with Sean Kelly
The Contentious Ten Starrcade Matches with Gavin Napier
The 8 Ball: Important Wrestling Lawsuits with Ryan Byers
Shining A Spotlight: 2012's Lumps of Cole with Michael Weyer
Larry's Take On: Evolve & DGUSA on iPPV with Larry Csonka

I should start my lists
If I decide to make some
Otherwise oh well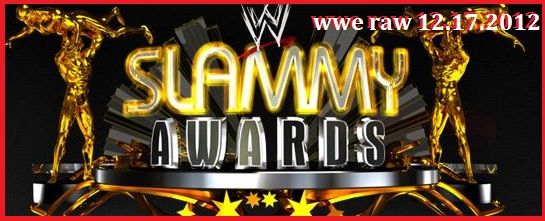 WWE RAW 12.17.2012 from Philadelphia, PA || TV Review
– I'm going to go with the bulletpoints this week.
– JBL made a reference to Errol Flynn and I don't think Cole had any clue who he is.
– Wow, Sandow gets the jobber treatment with no entrance and Mysterio beats him in under 3 minutes. Didn't Sandow and Rhodes beat Mysterio and Sin Cara to become #1 Contenders at the PPV? What's with the squash?
– The song they used for the first Slammy nomination package was horrendous.
– Boogeyman! What? Is he going to have a match? I guess not.
– Kofi's ridiculous handwalking moment from the Rumble gets the first Slammy. Brad Maddox was out there because he assumed that he won, and then he didn't attack Kofi from behind. WHAT KIND OF AWARD SHOW IS THIS?!?!?!?
– Kaitlyn beat Eve with the gutbuster. Non-title, of course.
– OH, YOU DIDN'T KNOW? I still mark out for this like the 12-year-old me used to.
– They keep telling me to vote for the Slammys during the commercial break. I thought the voting had been open for a few days?
– Shockingly, Jerry Lawler wins comeback of the year. Now I'm just waiting for his retirement. Look, I like Lawler and he seems like a really genuinely nice guy, but dude is just awful on commentary.
– The Tensai Jobber Tour 2012 continues! Kofi gets killed by Barrett afterward.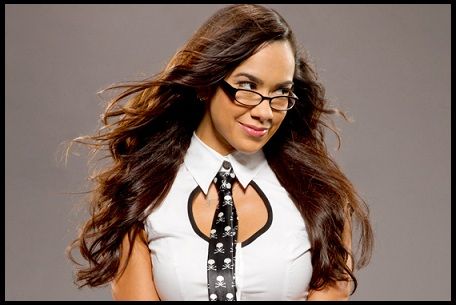 Figured I should break up the text a bit.
– Holy shit listen to this crowd! What a reaction Vickie gets. It really is amazing.
– HA! AJ gets every nomination for Kiss of the Year! That's awesome. AJ and Cena win. I was really hoping for Kane. And now she kisses Ziggler!
– Khali and Otunga waste some time in the ring. Thus far this show has been the absolute drizzling shits.
– That's one of my favourite sayings.
– Did they accidentally play the Flair soundbyte before the commercial?
– Superstar of the Year this early?
– Way to fuck it up Flair!
– Nice one from Cena: "Thank you… for all the noise."
– What? That doesn't even make any sense! Why is Flair the Superstar of the Year? Seriously. That doesn't make a lick of sense in any context!
– Thank you Punk for pointing that out.
– THIS is a great promo from Punk. He's a little bit deranged but still makes tons of sense.
– Rolox? Geez, Flair.
– Finally a good segment! Flair's falling apart and stumbling over his words yet he's still awesome.
– It's Punk Gowen! Figure Four on Heyman!
– So now that Flair's here, does that mean the door is open for Alex Shelley? Or Sheldon Alan. Something like that.
– The Shield! This just keeps getting better! Let's make believe there was no first hour. Shield's music rules, by the way.
– Team Hell No can't stop them! They can not be stopped!
– Ryback is here! The war from Sunday continues! Wow. That was awesome.
– Way to fuck up the Blockbuster bump, Brodus. All he had to do was fall backwards!
– I wish Cameron and Naomi would wear the same outfit that Brodus wears. His titties are falling out all over the place!
– Tensai can talk!
– Hey, Rhodes wins! JBL called him Freddy Mercury. Holy cow, he really does look like him.
– I thought Ryder was going to bitch about not winning the award. What does he have to lose at this point? The Philly crowd would have loved it.
– That chair is obscenely large. The crowd believes that Big Show is obscenely boring. The pop when Sheamus' music hit sounded suspiciously piped in…
– They don't realize that the chair comes off as comical and not threatening, do they?
– Dude, Cena is such a dick!
– Come on 3MB! Save this show.
– Ricardo looks like a statue.
– Miz and Del Rio is the most random pairing ever. Especially as faces. My mind has been successfully boggled.
– Dreamer? This is one heck of a weird team. They should do an endless feud between 3MB and Miz/Del Rio and a partner that has something to do with the city they're in. I would tune in every week to see that.
– Ryback namedrops Owen Hart. Who saw that coming?
– Cesaro v. Ryback. Interesting.
– And Cesaro walks out. It was going really well for the 2 minutes they were in the ring. I'd like to see that extended one day.
– This show just keeps dragging along.
– JR, Mean Gene and Ricky Steamboat. Still don't care.
– Match of the Year goes to End of an Era from WrestleMania. Triple H's head is here to accept the award. Wow… he's looking A LOT like Vince.
– Well Triple H just confirmed that Undertaker will be at 'Mania. Works for me.
– The Shield is killing Tommy Dreamer! Why the fuck is Ricardo Rodriguez trying to save Tommy Dreamer?
– JBL and Charlie Haas are Tweeting to each other during RAW. I find that to be incredibly weird.
– AJ is on top of a ladder. Philly is telling her to jump.
– She's about to reveal why she pushed Cena off the ladder. Vickie interrupts before she can. Who wants to bet they don't have any clue whatsoever as to why they booked it?
– Philly: "Ziggler's better!"
– Big E Langston? That's a surprise. I don't dislike it, either.
Overall RAW Thoughts
Possibly the worst of the 3 hour RAWs so far. Just a really, really bad show. The segment with Punk, Flair, Heyman, The Shield, Kane, Bryan and Ryback was fantastic. Triple H officially announcing that Undertaker will indeed be back is cool. Big E Langston randomly making his debut is interesting. This show was just sooooooo long. And dull. I was really hoping that great segment at the top of the 9 o'clock hour would begin a good final two hours of the show but boy oh boy was I dead wrong. Ouch.


TLC: Abbreviated Thoughts
**Disclaimer: I only saw the 6-man match and Cena/Ziggler. I'm judging everything else based on the booking and I am NOT judging the show as a whole.
Can't believe I actually have to clarify that. Anyway — I'm glad to see that Rhodes and Sandow are the #1 Contenders. Cesaro retained the US Title and hopefully he can get into a more fruitful rivalry going into 2013. I'm surprised that Kofi retained the IC belt — I'm still not sold that he's going to be getting any sort of push. He's probably just keeping the title warm for Barrett until the Rumble PPV. Big Show needed a humongous chair to defeat Sheamus. I hope the giant chair becomes a staple of TLC matches just like the giant ladders have. The Brooklyn Brawler! Mark out city! I wonder if Del Rio will be turning face indefinitely now. I also wonder if Miz will ever stop being a shitty face.
I did indeed check out the 6-man TLC, which was fucking badass. Just chaos for the entire 20+ minutes with bodies everywhere, people flying into, onto and through all sorts of shit and no lulls in the action at all. The crowd was amazing for the whole match (especially every time Daniel Bryan got the advantage) and I had a blast watching this. Great debut match for The Shield. I am very interested to find out what happens next.
Cena and Ziggler put on a fantastic ladder match, one that was completely different from the one Steen and Generico had in the next borough over earlier in the same afternoon. Very different matches, both awesome. I am very glad that Ziggler came out with the briefcase, although I was left wishing that he could have at least gotten the victory on his own. I also wish the PPV would have ended with him celebrating triumphantly as the last visual rather than Cena, but all-in-all it was a huge win for Ziggler and something that really needs to be capitalized on. He is HOT right now and if they keep it up, the fact that he was a scrub for almost all of 2012 will be washed away and appear to have never happened at all.


National Pro Wrestling Day: First Match Announced!
The first match has been announced for the massive undertaking that will be National Pro Wrestling Day on February 2, 2013. Announced on Monday, the first match will be presented by Wrestling Is Art and will be Colt Cabana versus Mike Quackenbush. The show will take place in two parts. The afternoon card starts at 1pm and the evening card is at 7pm. It's free to attend in Philly and the iPPV is $9.99 for each show or $14.99 if you buy them together. My personal feeling is that if you buy no other show in 2013, make this the one that you do buy, either one card or both.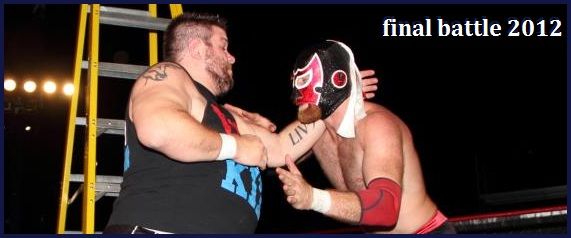 Ring of Honor Final Battle 2012 || iPPV Review
Ring of Honor's last show of the year is also traditionally their biggest, their WrestleMania, if you will. The card certainly fit the bill of a huge show and featured the culmination of a number of scenarios.
Roderick Strong defeated Michael Elgin in the opening match. It was the culmination of the House of Truth angle. The match was really fantastic and made for a nearly perfect opener. My only issue is the finish. I assumed, and it was set up as, the fall of the House of Truth (which it was) but the heel won! If this was the end of Truth Martini in ROH, though I doubt that it is, it was at least the perfect way for him to go. He's a scuzzball and he tried to weasel his way into being on the winning side by sliding his Book of Truth into the ring, but Strong wanted nothing to do with him, and then Elgin wanted to finally rip his face off, which happened indeed. Truth's last stand was great, too, with him saying that he knew he was about to die at the hands of Elgin, but he first had to show him how a slap in the face is supposed to look. I guess we'll get some sort of Fight Without Honor between Strong and Elgin that sees the Unbreakable One finally get his retribution, but I thought this would have been the best place to blow it off. No matter what, this was a really, really good match and got the show going very well.
Jay Lethal defeated Rhino in an okay effort. The match was there more as an angle than as a real match, which isn't a big deal. Rhino got the Gore on Lethal with the help of SCUM — does that mean he will be renewing his "old school" partnership with Steve Corino? Maybe he just did it for money, which is how he was introduced in the House of Truth angle. I would love to see Rhino as an eventual challenger for Adam Cole's TV Title. The fact that he was put in the second match of the night at the biggest show of the year in a largely inconsequential match just adds fuel to the fire of his perceived injustice. I am really looking forward to a heel run in 2013 for Jay Lethal.
RD Evans defeated Prince Nana in a match that was surprisingly good. I think most people, myself included, expected that the match was going to be straight comedy; it turned out being a very solid effort as pretty much a regular wrestling match. I forget sometimes that both men are trained wrestlers, Nana himself, although he doesn't wrestle a lot, was originally a wrestler and made his in-ring debut over a decade ago. This was another in a series of matches in which the heel won even though it seemed like a given that it was time for the babyface to get his measure of revenge. The appearance of Mr. Ernesto Osirus was a great touch and the surprise return of Tommaso Ciampa (even though he's just coming off surgery and isn't ready to wrestle yet) was exciting. Evans' new charge QT Marshall is almost exactly what Mike Bennett was 3 years ago just without any of the charisma or presence. I'm not excited to see a feud between Marshall and Ciampa but I would like to see Tomasso give QT a good shitkicking.
Haas and Benjamin defeated Titus and Whitmer when Charlie Haas dropped BJ on his head. Good lord that was brutal. Thankfully it appears that Whitmer will be fine, so in retrospect that insane finish was a really great way to cap off the match. This was really fun. They started off with some comedy stuff as Titus brought out the stockings, candy canes and Christmas trees. This match was just there to get these four men on the card in a fun garbage match to pop the crowd and they did just that. Nothing to complain about at all, but now I'm curious as to what happens next for these guys. Whitmer and Titus make for a very good team but they're kind of the odd men out in the title division right now. Haas and Benjamin (or at least Shelton) may be on the way back to WWE. Otherwise they're all kind of in limbo.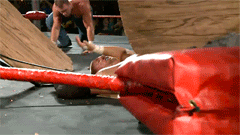 Mike Bennett defeated Jerry Lynn in Lynn's final match in Ring of Honor. The match itself was decent. Nothing special or anything to write home about, as they say, but certainly a fitting way for Lynn to go out. The contest was enjoyable and Bennett got the win, which I believe was the right choice. The important part is what happened after the match. Bennett got his quick comeuppance in the form of a cradle piledriver after cheating to win and Jerry Lynn got a really, really great send-off by the company that revitalized his career. He put over ROH and then Nigel McGuinness came out with the rest of the roster to put over Lynn. I absolutely loved this entire segment from beginning to end.
Jay Lethal demanded justice from Nigel McGuinness after Lynn had pretty much made his way to the back. I'm glad that Lynn didn't have his moment ruined by Lethal and based on the fact that he hasn't turned heel yet it was a good decision to keep Lethal at the very tail end of the segment, only coming out when he did because it was his opportunity to get in contact with McGuinness, who had allegedly been avoiding Lethal. This was a good way to get rid of the spectre of Lethal ruining the main event, as Nigel kicked him out of the building. I am really interested in finding out what happens with Lethal in 2013.
Mike Mondo's injury update was okay — he has gotten pretty over in New York and I guess they were hoping to capitalize on that but it was mostly a waste.
The American Wolves defeated Fish & O'Reilly in a fast-paced match that started the show off hot after the intermission. They did this one tornado style; unofficially I guess, as it wasn't announced that way but I don't remember any tags. I could be wrong. Either way, the match was a lot of fun but I wasn't as enthusiastic about it as a lot of other people seemed to be. It felt more like a showcase of some classic Wolves offense and a demonstration of what Fish and O'Reilly can do as a team. The most interesting thing coming out of this is the status of Richards and Edwards. Will they continue to team? Will they continue to be allied but not a team or will they go their own ways? I assume Fish and O'Reilly will become a regular team.
Matt Hardy defeated Adam Cole via nefarious ballkickery. The match was nothing special but Hardy played his part perfectly. Cole did great as the young lion, but honestly I think Hardy was the heart of this match. The crowd HATED him and everybody was all over him from the start and he used it to his advantage very well. I loved the series of 5 Side Effects in a row. The crowd absolutely loathed that. It was a perfect way for Hardy to get under the skin of a group of people who put a lot of stock into movesets. I was originally deflated by Hardy getting the win, but after letting it sit for a little while I am looking forward to seeing further appearances from him and another match that allows Cole to get his win back and send the loudmouth Hardy packing.
The Briscoes def. SCUM and Coleman & Alexander to win the ROH Tag Titles. The match was okay but it seemed to end quite abruptly and without much fanfare. I was really hoping to see Coleman and Alexander get the win, but the crowd wasn't really on their side. Obviously the Briscoes are the number one team in the hearts of the crowd (even though the crowd brutally turned on them a couple years ago), but C&C did not get the kind of reaction I was expecting. I was glad that Jacobs and Corino lost the belts and I was really thinking that this would be the downfall of SCUM but that was not to be when all was said and done after the Ladder War. Coleman and Alexander will get the first shot at the Briscoes' newly won belts, which makes perfect sense with the new "Honor Lives" slogan that ROH is promoting now that Nigel is the on-screen matchmaker/authority figure. I don't see C&C getting any sort of favorable reaction from the crowd going one-on-one with Jay and Mark, though, which is a shame. I do hope that Coleman and Alexander get a chance to shine in 2013.
Kevin Steen defeated El Generico in a brutal Ladder War. I was truly convinced that this was Generico's night but since he's not signed to a ROH contract and rumors have it that he won't be signing one and that he may be bound for WWE developmental (I don't know if there's anything at all substantial behind that claim, but who knows), it was definitely not to be. When Steen hit the package piledriver and grabbed the belt I was quite disappointed that Generico didn't finally get his big moment in ROH but it wasn't detrimental to the match. I actually made sure to order this show live so that I would get to experience the feeling of not knowing what was going to happen, and I was cheering so hard for Generico that it made the whole thing that much better. It's a great feeling to be so invested in something that it has you literally at the edge of your seat in anticipation of the outcome. This match was a very good way to end 2012.
Overall Final Battle Thoughts
I am very glad that I spent the 15 bucks to catch this show as it happened. I had no problems with the stream at all and the picture quality was quite good. The video was slightly choppy at times (which was a common problem for the show, it seems) but not bad to the point that it was significantly detrimental. As a wrestling show this one had almost everything. The only thing missing was the technical classic; we had fast-paced action, hardcore brawls, a little bit of comedy and some hard-hitting clashes. The show had tons of angle advancement, there was plenty of drama and it had a well done tribute to a man who deserved every bit of the adulation. This wasn't an all time classic of a show or a crazy blow-off, but it put the cap on a year that had some fantastic wrestling yet suffered creatively. The creative direction is hopefully about to be given a much-needed shot in the arm, and a lot of what is to come as 2013 begins was set up on the last show of 2012. This is definitely worth checking out if you have 15 dollars to spare.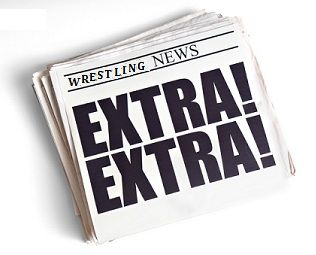 – Jeff Hardy says he has no hard feelings toward CM Punk and thinks the man has a ton of talent. I believe that roughly translates to: "I'm not piss drunk and high right now, so instead of acting like a moron for the camera I'll be intelligently diplomatic." Fair enough.
– Randy Orton has a dislocated shoulder. If he's not being struck down by wellness Orton is being bitten by the injury bug. Which used to have something to do with certain wellness violations of his more bulky years.
– Jim Ross said recently that they are still in the "planning stages" of WWE Network. Makes sense to me. I'm always still planning things out even though I'm past the deadline by over 8 months.
– John Cena is reportedly on borrowed time when it comes to being on the road full time. The insane schedule is finally taking its toll (dude really is superhuman) after 10 years with breaks only to rehab from injuries. I wonder what he'll do when he no longer travels with the company full time.
– Zack Ryder got an e-mail from WWE telling him that he wasn't needed for Sunday's PPV in Brooklyn. What a load of shit. If there's ever been a story of a guy who has a legitimate reason to piss all over a company due to their treatment of him, Ryder's story is it.

CHIKARA Pro Wrestling
F.I.S.T v. The Batiri || Klunk In Love – October 8, 2011
From TJ Hawke:
"At one point, they all were pulling on each other's hair, until Kobald ended that spot by biting Icarus's tattoo. This was as fun as you would expect. With both teams being heels, it was smart that they kept it short and sweet. I definitely recommend that you watch this."
For more, please visit FreeProWrestling.com

I'm going to be off next week. Third wedding anniversary next Monday and it's going to be a busy week leading up to Christmas. I'll be back for New Year's Day. Until then, Merry Christmas and Happy the rest of your Holidays!
– Nicholas A. Marsico