The Wednesday Wrestling Week That Was 10.10.12: Issue #6
October 10, 2012 | Posted by
It's me, it's me, it's the……. Sam Smith, back with another edition of The Wrestling Week That Was! I can't write an intro to save my life, so let's get down to business.
Remember kids, follow me on Twitter for more of my brain spewings.
Hogans to the rescue!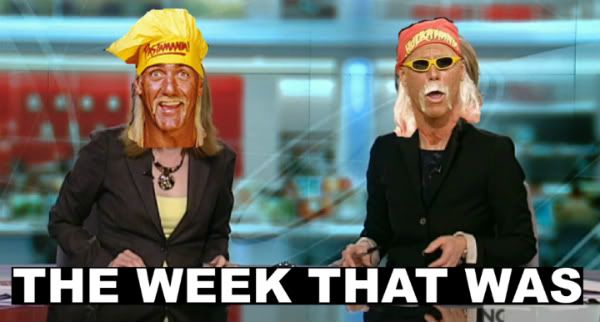 – The story of the week is about Hulk Hogan. Hulk Hogan news always takes priority. Because it is ABOUT HULK HOGAN.
By now it's common knowledge that the Hulkster had a sex tape leak onto the internet a little while back. A combination of good attorneys and fear of Hulkamania seemed to keep it on the down low for a time, but last week, Gawker.com posted a one-minute clip of the video after receiving it from an anonymous source, and now it's back in the spotlight.
Hulk is apparently readying a cease-and-desist against Gawker, but once something is out there in the wilds of the internet, I'm not sure anything can be done to get it back. Still, Hogan is threatening to rain down Hulkamania (sue) on any website that features the footage.
Hogan was on the Howard Stern show yesterday morning, and gave some details on the tape –
* The tape was done six years ago.
* He was still married to Linda at the time.
* Hulk says she drove him to have sex outside the marriage because she was so verbally and emotionally abusive to him.
* The woman in the video was Heather Clem, wife of Bubba The Love Sponge.
* Bubba gave Hulk his blessing to have sex with her.
* Hulk admitted his performance wasn't exactly "tip-top"
* He is working to find out who released the tape, and will press charges.
* Finally, he says he didn't know he was being recorded.
Oh, what sordid webs we weave. I do feel a bit sorry for Hulk – being filmed at your most intimate is a huge invasion of privacy, and must feel pretty horrible. At the same time, when you are wife-swapping with professional dirt-bag Bubba The Love Sponge, perhaps you should be prepared for the worst.
The best thing to come out of the situation was a letter sent by the imaginatively-named sex.com to the Hulkster, trying to reach a publishing and marketing deal over the tape. Take a look –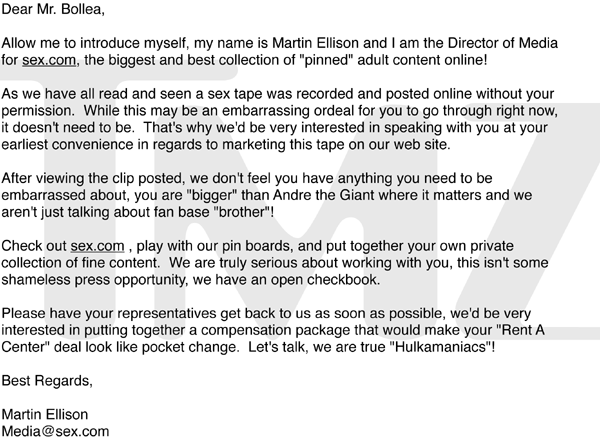 If all Mr. Martin Ellison does is write amusing letters to ashamed celebrities, I want his job.
Word broke later yesterday that there may be a SECOND sex tape swimming around that could be released at any time. Yeesh. Maybe Hulk needs to start being a bit more selective.
I think my favorite joke about all this is "that explains why the leg drop was so effective." Har.
– In other Hogan-related news, Linda Hogan was arrested in Malibu last week for a DUI. Linda, Hulk's ex-wife, was arrested at 1:34AM Thursday morning and released later on $5,000 bail, as well as being booked for driving on a suspended license. Trying to upstage your ex, eh?
– CM Punk got into an altercation with a fan as Raw went off the air this week. We have footage –
I'm not sure about this one. Punk was clearly being shoved in the back by some idiot, and that's not on. You do not, at any point, touch the talent. However, it seems that the guy that Punk backhanded was not actually the same guy who had been shoving him. Laura Cole from CBS-13 (whatever that is) Tweeted the following about the incident –
I wonder if @CMPunk actually hit the wrong fan. Oh no! This could get ugly in the world of popular opinion.
Just talked to the fan that says he was hit by @cmpunk. He says he never hit Punk. pic.twitter.com/ThvmbMsM
This fan says his face is a little warm after he says @cmpunk hit him. He also says Punk broke his glasses. pic.twitter.com/0SgQ5HtV
The fan is still filling out a report with law enforcement
I just found the guy and proceeded to ask him some questions. That's all
Later on, someone claiming to be the person who had been shoving Punk posted this on Twitter –
"bro I'm the one that was fucking with him lmao them he rocked an innocent fan. that guy is about to be a millionaire!!! I punched [Punk's] kidney and slapped his back hella hard. bro [Punk] straight pounced on a poor day white guy. I hit him ran away then ran back and stood next to him cause I saw the camera."
Gee, this piece of shit sounds delightful. Shame Punk didn't smack him in the head instead, eh.
It's very unfortunate this had to happen, especially during Linda's run for senator. Remember that time they fired Daniel Bryan? They are not going to fire Punk, but I can see him facing some repercussions, including maybe even losing the title. That would suck. They are clearly going somewhere with this story (The Rock), and I'd hate for it to be cut short because of one slip-up.
Also, if that was the planned end to the show, why was there no security around Punk? Most times a wrestler goes into the crowds, they have a few security around them to stop things like drunk idiot "fans" pushing the talent. I sympathize with Punk, and whoever was pushing him definitely deserved a smack in the mouth, but it's a shame he couldn't have kept his temper and rode it out for the short time until the show was over. It's also a shame that it had to happen literally directly in front of Vince McMahon.
– Especially as Vinny Mac was apparently in a foul mood before Raw. Vince is said to be unsatisfied with the current WWE product, stating that severe changes had to be made. These included Brian Gewirtz being removed as head writer, and Ed Koskey now working out of an office rather than being on the road. People backstage were said to be scared, and Vince allegedly told producers "I want results or I want resignations."
Gewirtz will stay on as a consultant, providing feedback on the shows. It is believed that the WWE cannot release him without paying a penalty, which is why he is still on the payroll for now. Eric Pankowski, hired in February as the Senior Vice President for Creative and Development, has been put in Gerwirtz's position. According to Wrestlingobserver.com, Brian Gewirtz was actually removed as the head of both Raw and Smackdown a few days ago when the rating came in from the October 1st show. Regardless, Vince is clearly not happy with the current state of what the WWE is producing.
– Another story broke about a "top talent" having a verbal exchange with Vince at this weeks Raw, in front of everyone in the back. The talent apparently told Vince that the writing sucks, he doesn't have his finger on the pulse of things anymore, he needs to start listening to people around him, or when WWE goes to "hell in a handbasket", it will all be Vince's fault. Apparently this attributed to the big changes Vince made, but who knows. This one is pretty much all rumor.
– Tammy "Sunny" Sytch has been arrested AGAIN, her fourth arrest in four weeks. Sytch was arrested after an alleged domestic dispute with her ex-boyfriend….. again. Police determined she had violated a restraining order he had against her, and she was arrested on charges of violating a protective order, disorderly conduct and criminal mischief. Criminal mischief? Is that a thing? That's fucking hilarious.
Sytch also posted the following on Twitter last week about a potential autobiagraphy –
writing my autobiography.. who wants first dibs to publish it???
hmmm publishers, publishers, where are you???? good stuff is brewing in my head….
I don't want to know what is brewing in your head Sunny, but I'm pretty sure I'd never describe it as "good." I wonder what CM Punk thinks of all this?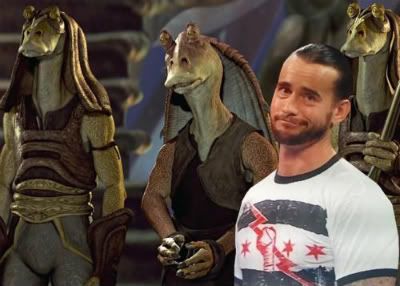 Exactly.
– Hornswoggle has been off TV for a while due to surgery to remove his gallbladder. Take as much time as you need, Swoggle. Heck, take more than you need! Take a year!
– Curt Hawkins announced on Twitter that he is also out with an injury –
Don't know why I haven't said anything. Maybe It was denial, but I wanted you all to know that I tore my PCL and Meniscus. Had to have surgery. Not sure of when my return will be but I can promise it will be a whole new look and attitude from Curt Hawkins this time around.
A new look and attitude? What about the stripper gimmick he did for one week with Tyler Rex?
– Christian will no longer be appearing for TNA during the Bound For Glory weekend. No word as to why.
– Hunter "Delirious" Johnson has apparently taken over as head of Ring of Honor creative. Jim Cornette and ROH came to a mutual decision on the change, and Cornette will remain with the company in a backstage role. The company did an angle on Saturday to write Cornette out as a character, with Jay Lethal attacking and injuring him backstage.
– And finally, Big Dave Bautista won his MMA debut in the first round. The match wasn't pretty, and neither was his opponent, but a win is a win. I have to give credit to Batista for achieving something he has always wanted to do, especially considering he is over 40. Here is the full match –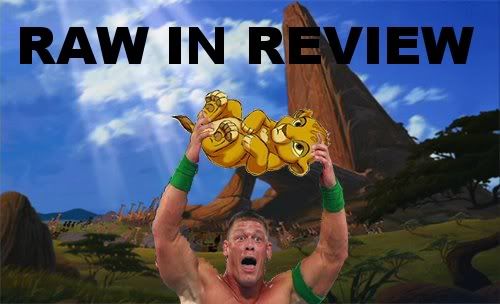 Cena cuts a fucking awful promo
Really, Cena? Antonio Cesaro's nipples? Seriously? Serious Cena can cut a great promo. Jokey Cena can't.
Ryback vs. Primo and Epico
RYBACK EATS TAG TEAMS FOR BREAKFAST
Brodus Clay and R-Truth in the worst segment I have ever seen
There is no excuse for this. None. This should be considered a war crime against humanity.
The State of the WWE Address
I bet this goes off without a hitch and nobody interru
Oh hey, CM Punk!
Punk slaps Vince! Worldwide reaction – OH NO HE DI-INT
A decent promo, both guys bringing the fire. A Punk/Vince match is actually a pretty big main event.
Rey Cara vs. The Prime Time Playas
As expected, Rey and Sin Cara win. We all know where this is gonna end up (Rhodes Scholars become #1 contenders), but I appreciate this tournament for making the whole thing seem more important.
Wade Barrett vs. Sheamus
A very good match, up until the inevitable DQ finish. Either one of these guys eating a loss right now isn't ideal. Hopefully they can have another go down the line with a real ending.
Antonio Cesaro vs. Tyson Kidd
DAT EUROPEAN UPPERCUT
Nice little showing from both guys here. A shame they didn't have more time, but they made the most of what they did.
Team Friendship vs. Alberto Del Ziggler
Quality tag team match with a decent length. Not much else to say.
Except it would have been nice if Alberto could have eaten the pin instead of Dolph for the millionth time. Way to build up the MITB winner, guys.
Larry King and things
So Kofi's big push is another Intercontinental Championship feud…. eh, it's a start I suppose.
The Rhodes Scholars vs. Team CoBro
I enjoyed Cody putting a stop to Santino's offence with one left jab. Amusing.
Here comes the Encore! Why? Why not?
divas stuff
CM Punk vs. Vince McMahon
I might get some flack for this, but holy crap. I enjoyed this immensely. It felt like an Attitude-Era main event. Lots of that can be attributed to the great crowd (I love the visual with the shaking camera.)
This was exciting, entertaining, and brutal. It actually made you believe a 67-year old man (albeit, one in extraordinary shape for 67) could stand a chance against the WWE champion. The standoff with Vince in the ring and Punk outside was great. The two going blow-for-blow with kendo sticks was great. Punk begging for mercy like a huge chickenshit heel and then hitting the low blow was freaking fantastic. And the crowd was so into it throughout, the whole thing just felt epic.
And when Ryback turned up, man, they went apeshit. There are certain moments in wrestling where the hype and excitement combine and I can't help but chuckle, and when Ryback hit Punk with that clothesline and the crowd ERUPTED, it was one of those moments. Say what you will about Ryback being ready or not for the main event, but he is clearly over enough. Which brings us to –
Not yet!
This was one of the best endings to a Raw in a long time, and reminded me of them good-old Attitude days. If the change Vince wants means more of this, I'm all for it. And if you didn't like it, remember –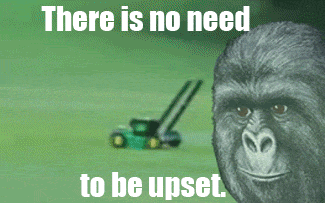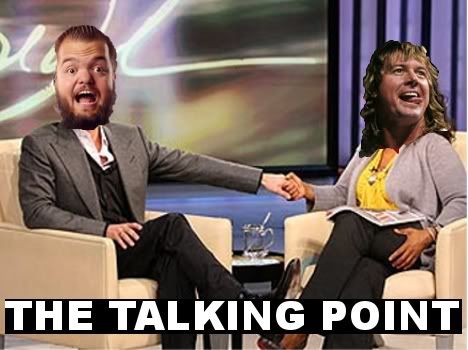 I'm going to change up this section a bit. Instead of giving you guys a topic to discuss, I'll just feature and reply to the best comments from the previous column from now on, regardless of what they are about. This is partly so I have a broader pool of comments to feature, and partly because I can't be bothered to come up with a new topic every week.
Jason King–
Fixing the Divas problem just seems so easy that it boggles my mind it can't be done. Hire GOOD women wrestlers from the Indies and just let them do their thing. In the meantime, let Beth and Natalya go out there and put on a good string of matches that's given time. Then let Beth and Tamina do the same. Then Natalya and Tamina. Start filtering in the Indy girls until BOOM…you have an actual, competent division of female WRESTLERS, not valets. Speaking of which, anyone NOT named Beth, Natalya, Tamina, or anyone else on their level…take them out of the ring as a competitor and have them be a valet, or do something like Eve does as executive assistant. She's PERFECT in that role and shouldn't be doing anything else except wearing those small tight business tops, skirts, and glasses.
And for the love of God ditch that stupid Butterfly belt.
Agreed on all counts. Including the bit about Eve. Very much so the bit about Eve.
Dr. Wiki –
I think the best way to improve the Divas Division is to make people care about them. AJ Lee got over thanks to her relationship with Daniel Bryan and sharing screen time with the male star. First they should get some more talented Divas such as Paige in FCW and pair them off with either WWE star or stables. Allow the girls to have a personality that either plays off with the superstar and have the Divas matches mean something be it to show stable dominance or to declare themselves the top female of the roster.
Paige and Wade Barrett as wither a couple of sibling group.
Audrie Marie as the valet of Ryback or Bo Dallas
Sara Del Rey with Heyman's Stable if he has one.
Charlotte Flair and Cody Rhodes
Alicia Fox with the Prime Time Players
If the fans associate with the girls with the OVER guys then the girls are considered over even if they don't spend too much time in the ring.
Another very good idea. AJ is probably the most over woman in WWE right now, and it's due to her association with D-Bry, Punk and Kane. It's a method that has been proven to work.
KipSmithers –
I can see that Miz poster as a possible tease for a face turn. Could the black/white idea be his transition from dark to light?
……..No. I'm pretty sure this is sarcastic, but still. No.
Porfirio Diaz –
I think we're missing the most important point here: which is better – Adventure Time or Regular Show? Tough tough choice.
I'm an Adventure Time man personally, but both are fantastic. If you ain't watching em, do so. Posthaste!
I'll leave it there for this week. Please leave a comment about whatever takes your fancy and I'll feature the best next week.
This is Sam Smith, reminding you all to follow me on Twitter. Thanks for reading, and I'll see you all next week – same Bat-time, same Bat-channel.

NULL