The Wednesday Wrestling Week That Was 11.21.12: Issue #12
November 21, 2012 | Posted by
Welcome, friends and neighbors, to issue 12 of the best damn wrestling column IN THE WOOOOORLD, The Wednesday Wrestling Week That Was!
Not much news this week, but so what! That just means more room for meaningless filler. Rejoice!
If you do one thing today, remember to follow me on Twitter and read my blog!
KA-ME HA-ME HOOOOOGAAANS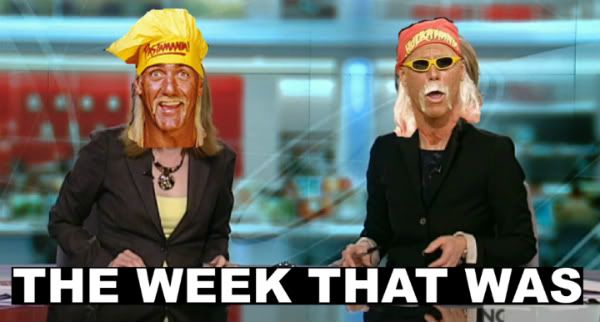 – Survivor Series happened, and it was thoroughly average. Not bad, not good, just there. This makes it difficult to write about – I can't whinge like a little bitch, nor can I praise it as the second coming (of Hogan). It merely existed.
Most of the matches were all right without ever being exciting, even the divas. The best of the night was probably Team Zigglestrom vs. Team Foley, and seeing Ziggler pick up the clean win over Orton was a nice treat.
But the big news is the debut of NXT wrestlers Dean Ambrose, Seth Rollins and Roman Reigns. Smarky fans have been waiting for months with baited breath for the introduction of Ambrose and Rollins. Ambrose looked to be starting a feud with Mick Foley earlier this year but the kibosh was put on it, for one reason or another. Rollins has been fantastic on NXT, and is still the NXT champion. I guess he'll be dropping that soon.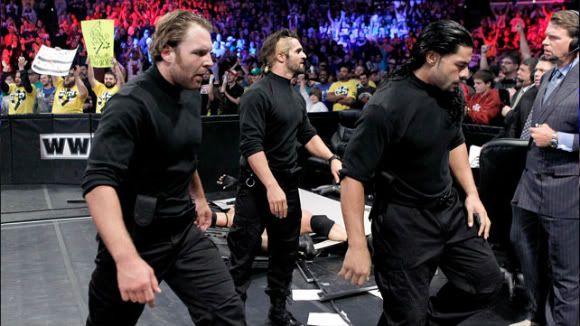 Speaking as someone who has enjoyed the indie work of the men formerly known as Jon Moxley and Tyler Black, I'm very excited to see them finally hit the main roster. I know less about Roman Reigns, and have heard some less-than-positive feedback on his ring work. Still, no point judging til I've seen for myself.
My only fear, and one shared by many online judging from comments, is that the three simply become squash-fodder for Ryback. I obviously don't expect them to be beating him one-on-one any time soon, but keeping them strong isn't too much to ask.
– The Miz's face turn continues. I like that they are taking it slowly – he still has many of the same mannerisms and isn't suddenly kissing babies and telling kids to eat their vegetables. Word is that WWE had a number of reasons for the turn. Miz as a heel was getting stale, no doubt. On top of that, he is one of the companies best media men, doing a ton of interviews to promote shows, and starring in a couple of movies releasing soon. Having Miz as a face could increase interest in the films.
I like the change. Sometimes the timing just feels right for an alignment change, and I think it's definitely the case here. I'd argue that the same is true for Dolph Ziggler, but I can't see two of WWE's top heels turning at the same time.
– Speaking of turns, Orton's heel turn continues to be rumored all over the place. Some are saying that his attempting the punt at Survivor Series is foreshadowing, but who knows. Here's to hoping.
– CM Punk will be appearing on The Talking Dead this Sunday. I like CM Punk, I like The Walking Dead, I like this news! Does CM Punk like this news?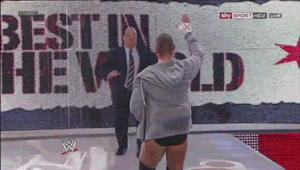 He likes this news!
– Alex Riley is recovering from surgery and is training for his return, noting on Twitter that he has been working out with Mason Ryan. In totally unrelated news, following Linda's campaign loss and a spate of development firings, many feel that some main roster releases can't be far behind. It has been quite some time since the last batch. Any predictions on who might get the boot? Leave a comment.
– Triple H is reportedly hoping that Sting turns down a new contract with TNA and lets his current one expire at the end of the year. WWE officials are planning to offer Sting a deal that would include video releases and their Mattel toys deal, as well as a likely Hall of Fame induction. I think 99% of wrestling fans would love to see Sting in WWE, even if for just one match, but I'm really not sure how likely it is at this point. Trips is said to have a very high regard for Sting, but Vince is less interested.
– Our hero Hulk Hogan had another bad week as his request to compel Gawker to immediately remove footage of his sex tape was shot down. A federal judge in Florida ruled against the Hulkster's request, agreeing with Gawker's defense that the footage was newsworthy because of Hogan's celebrity status. The judge wrote –
"Plaintiff's public persona, including the publicity he and his family derived from a television reality show detailing their personal life, his own book describing an affair he had during his marriage, prior reports by other parties of the existence and content of the Video, and Plaintiff's own public discussion of issues relating to his marriage, sex life, and the Video all demonstrate that the Video is a subject of general interest and concern to the community."
Ouch, legal smackdown. I'd have loved to see that delivered in a wrestling promo style. It's all pretty true of course. I think Hulk gave up any right to a private life when he okayed "Hogan Knows Best." What do you think, CM Punk?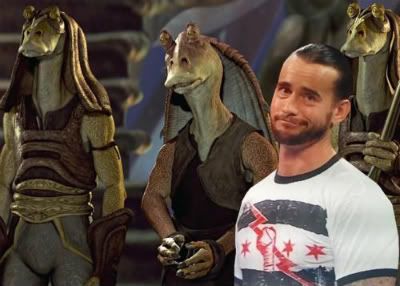 Exactly.
– Sales are in for WWE '13, and the game sold around 250,000 copies in its first week in the US. This is down a bit from last year, but still considered a success. THQ need all the small successes they can take at the moment. The company makes around $30-40 million a year from the WWE license, but has a $100 million debt due next summer that will force them to liquidate if they can't find an investor.
– And finally, John Cena may have injured his knee at Raw. Some are saying it's a work, others that it's legit. Who knows? Cena posted this to Twitter earlier –
"MRI was typical good news bad news scenario. I've dealt with knees issues for the past few yrs, ill add one more to that list…..
I know the risks of what can happen to me and I'm willing to play the odds. #nevergiveup c u 2nite grand rapids"
If it is a real injury, I expect Cena to have already recovered thanks to his Wolverine healing factor.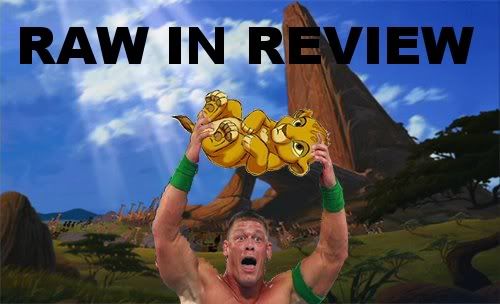 Ryback vs. Tensai
A decent promo from Ryback, considering. This is all he needs to do – come out, be really angry, smash some shit, done.
And he hit shell-shocked on Tensai this time! Vindication!
Hey, was Tensai okay? I wonder –
No.
Kofi Kingston vs. Wade Barrett
A fine match, but ugh. Is Wade Barrett gonna be feuding for the IC title again? I guess he needs something to do until the main event scene opens up a bit, but this still seems a bit below him.
divas
Antonio Cesaro vs. Brodus Clay
I guess the R-Truth feud is continuing then? Why?
We've seen the neutralizer on Brodus before, but it's just as impressive second time round. Also, flying uppercut, yay!
Cena and AJ put on a show
So, if someone is throwing around accusations that two people had an inappropriate workplace relationship, the best way to prove them wrong is by getting kissy in the middle of the ring, RIGHT IN FRONT OF THEM? Hmmm.
Also, Cena is ten years older than AJ. Creepy.
Randy Orton vs. Alberto Del Rio
A great little two-out-of-three falls match. These two have wrestled so often that they've built up some amount of chemistry. I'd imagine this marks the end of the feud, especially if Orton is turning heel. HINT HINT FOR THE LOVE OF HOGAN TURN ORTON HEEL
The Great Khali vs. Primepico
I….. just…… there are no words. Time to debut my new favourite gif –
Paul Heyman really wants balloons
Saw Heyman screaming about balloons and immediately thought of this. Around 1:06 to be exact –
The Miz vs. D'Ohtunga
This was reaaaally boring. Miz is still figuring out how to play a face, and Otunga's offence is 95% chinlocks.
Sheamus vs. Damien Sandow
These guys had a good match a number of weeks ago and this was much the same. Were these two to feud properly, the results could be pretty great.
Dolph delivers the verbal beatdown of a lifetime
And how!
I would have loved some girly shrieking when AJ burst into the locker room, various wrestlers trying to cover their decency with their hands as they yell GET OUT, GET OOOOOUUUUUTT. But alas.
The spear/takedown through the cubicle was neat. I appreciate random destruction. Also, if Cena's injury is real/wasn't planned, they did a good job of incorporating it into this.
Looks like we are getting a Dolph/Cena feud after all. The matches should be great. Can Ziggler win some of them? Please?
Team Hell No vs. Team How Do These Guys Not Have A Team Name Yet
An entertaining tag match until the DQ ending. A full-length title match between these four would be some fun stuff.
Might get some flak for this, but how funny was Titus O'Neil on commentary? You could tell that he, Cole and King were struggling not to crack up at times. All that washrag stuff. Marvelous.
Whereas D-Young didn't really have anything to say. I'd never have put much money on Titus being the one with personality, but there you go. The guy has come a long way since NXT. Make it a win!
CM Punk's one year celebration
Hang on…. where are the balloons? I was expecting more razzmatazz after all that effort Pauly went to.
Here's Ryback…. and heeeeeeeeeeere's the Nextus!
Nice of WWE to redo the end of Survivor Series for those that missed it. Sarcasm.
Not the best episode this week. The Orton/Del Rio match was good but nothing else stood out much. I was just hoping for more Ambrose and Rollins the whole time, but seems they are playing the slow game. Crafty, WWE. Crafty.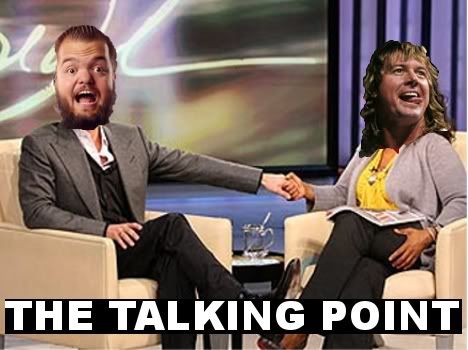 I hate you all and I only do this out of some sick sense of masochism. Time for some reader comments!
RD –
Summerslam in the UK would be a great idea and I'm an American. I just hope that they save wait until the evening to play the event because I work on Sundays. I don't care if it was spoiled before hand.
Yeees, yeeeeeeeeees. Excellent. Are you reading, WWE? Even real-life American people want SummerSlam in the UK! Make it happen!
CharlieGoose –
Steve Austin hinting at a return, just as Redneck Island returns. Not a coincidence.
Although I haven't bought a copy in probably 20 years, the death of Inside Wrestling and The Wrestler makes me very sad. I read all of the Apter mags religiously when I first got interested in wrestling, and IW was my favorite.
Good point about Austin. Doesn't stop me from dreaming. One day…..
Hoss –
UK PPV in Manchester please. London has had the Olympics this year, is getting the Champions League final next year, hosts all England football and rugby internationals, Wimbledon and the FA Cup Final every year and it's rumoured the British Grand Prix is moving there as well. Therefore London gets more than its fair share of major events so about the North got a top class event.
No. Bad. London is closest to me, therefore the PPV should be in London. Those are the rules, sorry.
So ends another chapter of The Wednesday Wrestling Week That Was. Thanks for reading, please leave a comment and come back next week for more drivel.
Remember to follow me on Twitter and read my blog. I'm Sam Smith, and I'll be back next week.
NULL