The Wrestling News Experience: 01.21.13
January 21, 2013 | Posted by
Monday, January 21st, 2013
From 411Mania's Canadian offices in Kitchener, Ontario, Canada, this is The Wrestling News Experience, with Stephen Randle!

A Subsidiary of Entertainment 7Twenty
Good morning, everyone, and welcome to the Experience. I am Stephen Randle, warm and safe inside despite the weather this weekend, which has varied from bright and sunny to 100 km winds to (not making this term up) actual thunder-snow. Let me tell you, seeing lightning in the middle of a snowstorm will get your attention.
Also, don't look now, but the Leafs are undefeated.
Give me a break, that's likely the only time I'm going to get that chance. Although…it's a short season, it could happen.
Moving on.
This week, it's the third anniversary of Raw airing in 2013! I agree, it doesn't sound as impressive as 20th anniversary of Raw, but we do what we can. And it's also the last week before the Royal Rumble, and possibly the very last week of CM Punk's 400-plus day WWE Title reign! If so, the champ won't be going down quietly, and with both Punk and The Rock in the house yet again this week, after they had to be pulled apart forcibly last week, one has to wonder if they can manage to even make it to the Rumble without tearing each other apart.
Meanwhile, after they crashed Mick Foley's Hall of Fame induction announcement, it looks like The Shield's enemies might be collaborating against them, as Sheamus, Randy Orton, and Ryback look to have united to prevent The Shield's surprise attacks. Could we see a match between all six men tonight, or will The Shield have something up their sleeves that might affect all three of their opponent's spots in the Rumble match next Sunday?
Plus, as expected, The Big Show invoked his rematch clause against Alberto Del Rio for the Royal Rumble. Can the Mexican aristocrat manage to beat the Big Show a second time in a more conventional match format? And as well, Del Rio becomes the latest World Champion who must always be mindful of Dolph Ziggler and his MITB briefcase. Ziggler is already entered in the Royal Rumble, but he might just decide to jump the line instead.
And Team Hell No, having passed their four month Anger Management review somehow, now must prepare to once again face the Rhodes Scholars at the Rumble. Kane and Bryan earned singles victories over their foes last week on Raw, and earned a win against them in a six-man match on Smackdown, so it seems like everything is currently coming up roses for the tag champs. But with that much volatility in both men, how long can it last?
All this, and maybe we'll find out how much of a Divas division remains, tonight on Raw!
Here We Go Again
I touched on this a little in After Dark last week, but after WWE proved that, at least for a little while, they can actually re-build the tag division and make it meaningful (even if it has lost focus after Mysterio and Sin Cara got sidelined, reducing the star power of the division significantly), I want to come back to the much-maligned Divas division, which once again sits on the precipice of complete and total irrelevance.
To start, I still haven't fully checked, but after losing the Divas title on Raw last week and subsequently exiting WWE, stage left, Eve Torres was at least the third or fourth Divas champion in the last few years to lose the belt only because her contract had expired and she was leaving WWE. Once or twice might be a coincidence, but this pattern of "crap, get the belt off her, she's leaving after the next show" displays a remarkable lack of forethought from WWE Creative, to the point that you have to wonder if they even book anything for the Divas division beyond a weekly "go out and have a match, if we feel like it this month we might create a contender so you can have a PPV slot as well" routine. And when title changes are seemingly mostly motivated by the champion leaving the company, one can't help but assume that they've basically all but given up on women's wrestling at this point.
It's not a decision I can completely blame them for. Outside of a few very specific examples and timeframes, women's wrestling is not a draw. Unlike the other divisions in wrestling (i.e. the tag ranks), it's truly a completely separate entity from the rest of the show, because there is no such thing as matches where men and women fight (aside from the occasional comedy bit), and with good reason. With those two factors, it's hard to understand why WWE even bothers having women on the roster.
I will say that I truly believe, even a year later, that Kharma's pregnancy and subsequent issues royally screwed the entire booking plans for the division. Think about it, they were totally prepared to bring in this one, unique talent who has actually been a proven draw in women's wrestling and who could bring an entire new direction as a believable, badass, giant monster heel, something that WWE has never truly had in the women's division, which could easily have sustained storylines for the Divas for months and months. Then, suddenly, she reveals that she's pregnant and gone for nine months. So you go into a bit of a holding pattern for when she returns, but then, the unthinkable happens and Kharma never actually comes back. So you put all that initial energy into building that character, waited patiently for a long time, and then your net result is nothing.
Okay, so, that brings us up to early 2012, and now they basically have to rebuild the entire Divas division around what's left. The only problem is, due to the holding pattern you were in for 2011, a lot of the Divas got tired of going nowhere and decided to search for greener pastures outside of wrestling. Over the last two years, WWE has lost Maryse, Michelle McCool, Melina, Gail Kim, Serena Deeb, Maxine, the Bella Twins, Beth Phoenix, Kelly Kelly, and now Eve Torres. They have replaced those women with…nobody. They are currently in envy of the Kansas City Royals' depth of talent. Here's what remains of WWE's Divas division:
Kaitlyn – Your new Divas Champion and NXT Season 3 Champion (who actually wasn't even booked to be a part of that season initially, but got slotted in after the whole "Aloisia" fiasco), she does have a unique look and average in-ring skills, although she was the designated Divas division face jobber for most of her WWE career until a couple months ago
Natalya – Possibly the most experienced female wrestler left on the main roster, she is currently in a non-wrestling role as Great Khali's girlfriend/valet for some reason
AJ – Rarely wrestled even before she suddenly became a huge part of the show, I'm told she's not a bad wrestler, but she's not really an active competitor at this point
Aksana – Pretty much a horrible wrestler, even by the low standards of the Divas division
Alicia Fox – Slightly better than Aksana, but like I said, that's a pretty low bar. Voted "Diva Most Likely To Kill Somebody With Her Finisher", or she would be if such an award existed.
Rosa Mendes – Finishing off the "Non-Power Trio", she's apparently so bad at wrestling that they've bent over backwards to ensure that she never actually does so, yet she still remains on television.
Layla – Since losing the Divas title to Eve at Night of Champions, I honestly think they've forgotten she's even on the roster.
Tamina Snuka – Non-legendary daughter of the legendary Jimmy Snuka, she made a "big" return attacking AJ, then they pulled the plug on that feud so that AJ could move away from actually wrestling.
Cameron and Naomi – Well, technically they're part of the division, although I believe Cameron has zero professional matches to her credit, outside of battle royals.
Not exactly the seeds of something interesting, is it? Frankly, I think the real shame in all of this is that WWE actually has a roster full of excellent women's wrestlers who are skilled, dedicated, and interesting, some of the best talents from all over the world…which you can see weekly on NXT, the developmental show that nobody watches. Seriously, there's a reason why we gave Paige the Women's Wrestler of the Year award for her NXT work. Oh, and you can toss in their trainer, a woman who is considered the best female wrestler in the world (and some would put her pretty high up on a list that didn't contain that extra qualifier), Sara Del Ray, just for kicks.
Seriously, WWE, what have you got to lose? Grab the entire NXT Divas roster and put them on TV. Don't tell me you can debut that many women over a short period of time, back when you were trying to justify the Diva Search you gave a dozen or so mostly unqualified models random TV roles over the course of a couple weeks. At least this time you could do it with actual wrestlers.
My point is, much like the previously forgotten and maligned tag division, WWE totally has the resources to make their Divas division more than a throwaway quarter hour segment that everyone fast-forwards through on their PVRs. The fact that they don't even bother to try is baffling, especially since they're paying all these women anyway. I mean, nobody expects it to fail, and if it succeeds, hey, you have another part of your show that isn't a ratings void. What's the worst that could happen?
Aside from Alicia Fox accidentally killing someone with her finisher, I mean.
– In a recent interview, Jeff Hardy said that one of his goals for 2013 was to perform one of his band's songs live at Bound For Glory. TNA has announced that they will be lowering the price of Bound For Glory to whatever you're willing to pay to forgive them should they allow that to happen.
– Oh yeah, and Jeff Hardy, TNA's World Champion, will be absent from the next four weeks of Impact due to them being taped in the UK. The reason for this, you might ask? Why, Hardy is not allowed to enter the United Kingdom due to his felony conviction, of course. Hey, look, it's another perk to not having a monthly PPV that they'd need the World champion on TV to build for, I guess!
– WWE has signed Oregon State wrestler Clayton Jack, whose name will require absolutely no modification if they know what's good for them, to a developmental deal. The betting pool is now open on whether he becomes the next Kurt Angle or the next Sylvester Terkay. We will also accept bets for "the next Jack Swagger", but you will be required to wait until we can determine what that means before you can be declared victorious.
– At this point, we have no idea if Randy Orton is taking time off or not, because we're pretty bad at this whole "journalism" thing, and also none of us have anything resembling a trustworthy source. Hearsay and conjecture are kinds of sources, right?
– TNA has dropped their "contract collusion" lawsuit against WWE, possibly after realizing that WWE was going to win, and besides, if they could get Ric Flair to show up at WrestleMania while still under TNA contract, they were going to have even less trouble getting him now that he's a free agent. Is it wrong to find it hilarious that this entire thing basically was fought over the issue of "who gets to make Ric Flair's alimony payments"? I mean, it's not like WWE signed away any of TNA's actual contracted talents to set this whole thing off.
– And a man in Corpus Christi was jailed for selling fake tickets to a WWE house show taking place there. The man was arrested on suspicion of fraud, and also WWE wants to hire him to see if he can apply his methods to help boost sales of actual tickets to WWE house shows.
In celebration of Bully Ray and Brooke Hogan tying the knot this past Thursday (it did end up official, right?), here's my Wrestling Wedding Power Rankings!
1. Edge and Lita
Talk about a wedding that had everything. Snitsky reading a poem in a sleeveless tuxedo, Trish Stratus' Maid (schyeah, right) of Honor Dress (which was only slightly more revealing than the one worn by the bride herself), trolling the audience with Matt Hardy's entrance music, and Peek-a-Boo Kane emerging from the ring apron to Tombstone the priest. Sure, everyone will get mad that Savage/Elizabeth didn't get #1, but much like soap opera weddings, nobody watches a wrestling wedding hoping for a successful ceremony with no complications.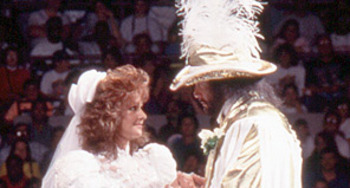 2. Randy Savage
and Elizabeth
I mean, if I weren't a cynical wrestling fan this would probably be the top pick, and at least the reception featured Jake's wedding gift for the couple that kicked off a great feud, but come on, what's with all this talk of "love" and "happiness" in a wrestling ring? It's like they booked it as if it were a real wedding or something.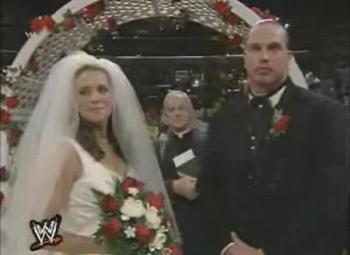 3. Test and Stephanie
The wedding that pretty much changed THIS BUSINESS forever. One has to wonder, since the entire Test-Steph thing was a Russo deal and they actually re-wrote the ending when he left since nobody knew what he had planned, what might have been had he actually gotten to finish what he started. The mind recoils at the possibilities.
4. Billy and Chuck
I had Bully-Brooke in this spot until the very last second, because try as I might, I can't stop enjoying the reveal on this one. I really wish they hadn't done this as a taped show, because the priest peeling off his Mission Impossible mask to reveal Eric Bischoff was so awesome that it needed to be a live "holy crap" moment.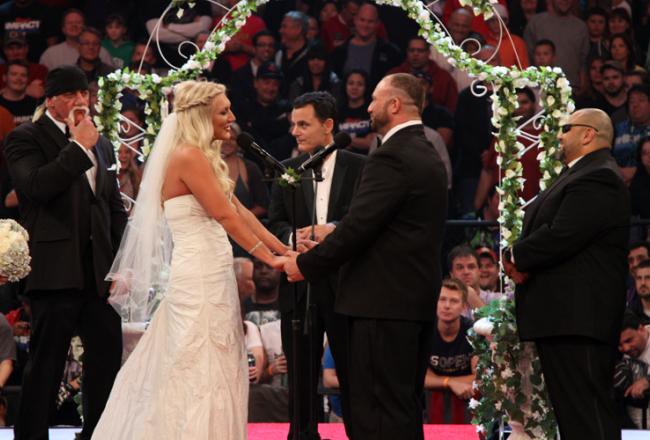 5. Bully Ray and
Brooke Hogan
Well, at least they finally tied the Aces and Eights back to Hogan (and Bully to a lesser extent) after seemingly forgetting about them for a couple months. What is with TNA once again treating Tazz joining a faction as a big deal? They are aware that the only wrestling shape he's in would be "round", right?
6. Dawn Marie and
Al Wilson
Let me just say, none of this made a lick of sense and the entire thing was physically painful to watch. And I'm not just referring to the wedding, but the entire storyline leading up to it, and also the storyline that spiralled out of it, which all told took the better part of an entire year to finally finish. But at least Al got to die having sex with Dawn Marie. There are worse fates.
7. Kane and Lita
Number one of two weddings featuring unwilling brides, worthy of note due to Matt Hardy losing his girlfriend in a wrestling match, then being unable to rescue her at the wedding, then having her cheat on him in real life so he lost her forever and never really got revenge on anyone in any significant way. I mean, I think he beat Edge one time, eventually, but Edge ended up a multiple-time World champion and Hall of Famer, so I think he might have come out ahead in the end. Also, introduced the world to Kane's Theme As Arranged For Cello
8. Goldust and
Aksana
Featuring the best priest in the history of priests in the ordained Million Dollar Man, also notable for not being the craziest thing to happen on NXT Season 3 by a long shot, and, technically, the wedding was successful, even if it was a sham to get Aksana her green card and she turned on Dust after the ceremony. He did divorce her after she got eliminated two weeks later, though.
9. Undertaker and
Stephanie
And here's our second bride who would have rather been elsewhere, and while I can't give it a higher spot because technically, Austin interrupted the ceremony and saved her, at least this ended up giving us "It was me, Austin! It was me all along!" which would have been an instant Internet meme had such things existed at the time.
10. AJ and
Daniel Bryan
Another excellent choice in priest, but I do wonder if, looking back, WWE regrets not just going with the whole "Bryan commits AJ to an asylum" angle instead of the inanity that was the GM AJ storyline.
Inactive List as of 01.07.12
WWE Raw
– Evan Bourne, out indefinitely as of March 19th (foot)
– Rey Mysterio, out indefinitely as of December 18th Smackdown (personal)
– Tyson Kidd, out 4-6 months as of January 10th (knee)
WWE SmackDown
– Christian, out indefinitely as of September 1st (elbow)
– Curt Hawkins, out indefinitely as of October 8th (multiple surgeries)
– Hunico, out indefinitely as of November 1st (ACL)
– Mark Henry, out indefinitely as of May 1st (surgery)
– R-Truth, out 1 month as of December 17th (leg)
– Sin Cara, out indefinitely as of December 18th Smackdown (knee)
WWE NXT
– No reported injuries
TNA
– Chris Sabin, out 6-9 months as of June 14th (ACL)
– Eric Young, out indefinitely as of November 22nd (kayfabe injury)
– Jesse Sorenson, out at least one year as of February 12th, 2012 (spine)
– Magnus, out indefinitely as of November 15th (kayfabe injury)
Transactions
– Adrian Neville, NXT, made NXT debut on January 16th NXT
– Curt Hawkins, SD!, returned to action on house shows
– Eve Torres, SD!, contract expired, will not re-sign
– Santino Marella, SD!, status uncertain pending MRI results
WWE Champion: CM Punk
– 428 day reign, defeated Alberto Del Rio on November 20th, 2011 (Survivor Series PPV)
– Next title defense: vs The Rock, Royal Rumble PPV
World Heavyweight Champion: Alberto Del Rio
– 10 day reign, defeated The Big Show on January 11th (Smackdown)
– Next title defense: vs The Big Show, Royal Rumble PPV
WWE Intercontinental Champion: Wade Barrett
– 21 day reign, defeated Kofi Kingston on December 31st (Raw)
WWE United States Champion: Antonio Cesaro
– 155 day reign, defeated Santino Marella on August 19th (SummerSlam PPV)
WWE Tag Team Champions: Kane and Daniel Bryan
– 127 day reign, defeated Kofi Kingston and R-Truth on September 16th (Night of Champions PPV)
– Next title defense: vs Rhodes Scholars, Royal Rumble PPV
**NEW** WWE Divas' Champion: Kaitlyn
– 7 day reign, defeated Eve Torres on January 14th (Raw)
WWE NXT Champion: Big E Langston
– 12 day reign, defeated Seth Rollins on January 9th NXT
– NOTE: The NXT Title reign only counts what has aired on TV, not when they occur at tapings
TNA Heavyweight Champion: Jeff Hardy
– 99 day reign, defeated Austin Aries on October 14th (Bound For Glory PPV)
– Next title defense: vs Christopher Daniels, January 24th Impact
TNA World Tag Team Champions: Chavo Guerrero and Hernandez
– 99 day reign, defeated former champions Daniels & Kazarian, and AJ Styles & Kurt Angle in a Triple Threat match on October 14th (Bound For Glory PPV)
TNA X-Division Champion: RVD
– 99 day reign, defeated Zema Ion on October 14th (Bound For Glory PPV)
TNA Television Champion: Devon
– 46 day reign, defeated Samoa Joe on December 6th (Impact)
TNA Knockouts Champion: Tara
– 99 day reign, defeated Miss Tessmacher on October 14th (Bound For Glory PPV)
TNA Knockouts Tag Team Champions: ODB and Eric Young
– 319 day reign, defeated Gail Kim and Madison Rayne on March 8th (Impact)
DeMarco has The Wrestling 5&1.
Wright has The Heel Report.
And this week's TWNE After Dark featured a lot of talk about all the things that went down on last week's Raw, from Rock and Punk to Cena and Ziggler, making all stops in between. Also, we look at my favourite Rumble of all time! Click the banner to have a listen!
Also, don't forget to join the TWNE After Dark Facebook group.
411 will have live coverage of Raw tonight starting at 8 pm EDT.
From our promotional department, I've been informed that if you really do like 411Mania and all it provides, or even just me (and really, who doesn't like me), don't forget to bookmark the site in your browser or make 411 your homepage, and tell all your friends about how awesome 411 is.
And don't forget, you can follow all of the everyday goings on in 411 on Twitter.
Stephen's Twitter
http://www.twitter.com/411mania
http://www.twitter.com/411wrestling
http://www.twitter.com/411moviestv
http://www.twitter.com/411music
http://www.twitter.com/411games
http://www.twitter.com/411mma
That's our show, Marsico is in tomorrow, I will be back next week. Also, don't forget 4PC in the Games Zone on Wednesday, and the TWNE After Dark podcast on Thursday, airing live at around 10 pm on Spreaker.com, posted on 411 shortly thereafter.
Here it is, your Moment of Buddy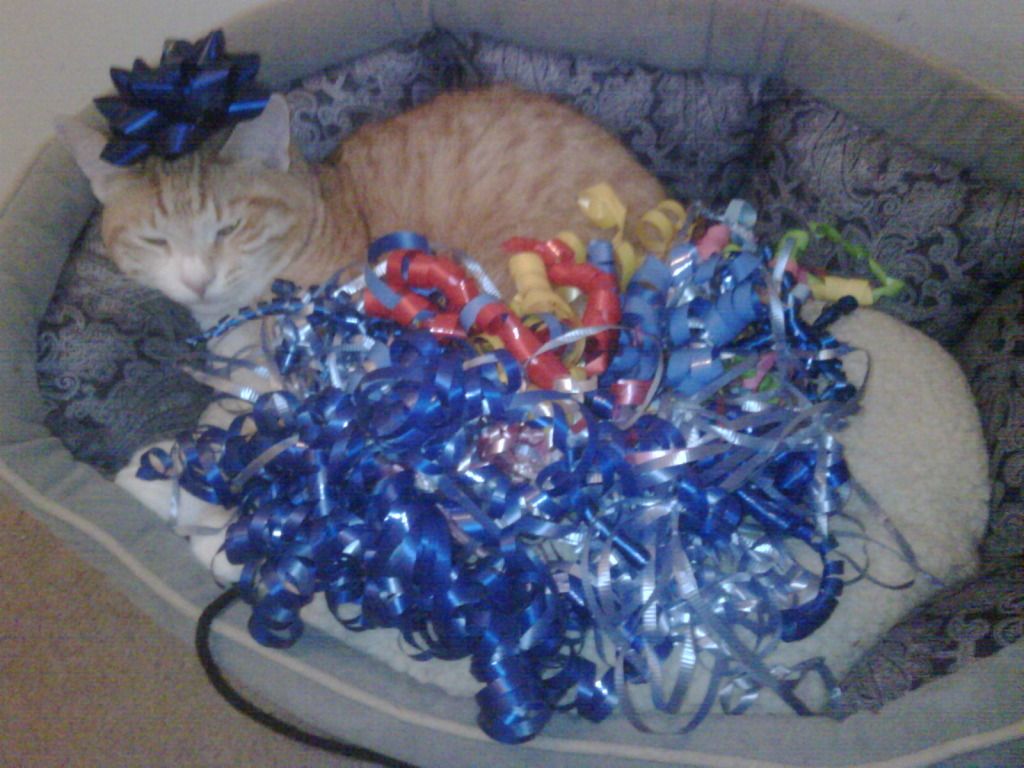 Wait, What Do You Mean,
"Were You Celebrating The Leafs Winning?"
Buddy Doesn't Watch Hockey.
This Was A Totally Unrelated Thing.
Have a good one, and always be a fan.

NULL