The Wrestling News Experience: 05.06.13
May 6, 2013 | Posted by
Monday, May 6th, 2013
From 411Mania's Canadian offices in Kitchener, Ontario, Canada, this is The Wrestling News Experience, with Stephen Randle!

I'm Still Trying To Figure Out What Happened To The First Mouse
Good morning, everyone, and welcome to the Experience. I am Stephen Randle, and I have seen Iron Man 3. It is glorious and everything you could want in an Iron Man movie. I was quite hyped up on adrenaline after watching it. But that was Saturday. Today, I must bring you the very best in wrestling news reporting.
Or I could flip on my PS3 and watch my Blu-Ray of Avengers.
Actually, I could probably do both at the same time. I'm sure the quality of this piece won't suffer that much.
Moving on.
Last week may have started out being all about John Cena and Ryback, but in the end, the people making headlines had to be The Shield, who not only set down the team of Cena and Hell No on Monday, but also fared decently well on Smackdown, as Dean Ambrose soundly defeated Kane as the show ended with the warriors for justice standing tall and holding the tag team championship belts. Has The Shield finally found something worth fighting for beyond preventing injustice? Could they have their eyes on championship gold?
Oh yes, and John Cena was around too, hurt but not injured, apparently fighting an Achilles injury that kicks in at inopportune moments during matches. With an honest-to-God Achilles heel working against him, can Cena overcome the odds in time to face Ryback for the WWE Title at Extreme Rules?
In the World title picture, things are heating up as all three men in contention for the title look to gain any advantage they can headed into Extreme Rules, with their match now stipulated to be that of the Ladder variety. With everyone involved a former Money in the Bank winner, it would seem that the match type will not be a huge advantage for anybody. Which makes you wonder why Del Rio chose it.
Plus, Triple H and Brock Lesnar have a Steel Cage Match at Extreme Rules! Maybe they'll show up this week on TV to actually promote it! Stranger things have happened.
– Good news, Canada! Thanks to Rogers buying The Score, WWE Raw will now be seen live at 8 pm with the rest of civilization, as they have cut out the fifteen minute pre-show that we used to have! Which means it'll be over fifteen minutes faster! Also, it means I can help fill in on live Raw coverage if necessary! Wait, that last one means more work for me. Screw that.
– UFC combatant Chael Sonnen told TMZ that he is seriously interested in buying WWE when he retires, and has talked to investors about it. Apparently Sonnen made more money losing to Jon Jones than anyone thought. Plus, he's already got a Wellness strike, so he'd fit right in!
– Take this for exactly what it's worth, but according to rumour, the plan right now for the culmination of the Aces and Eights angle at Bound For Glory is for Bully Ray to lose the title to…Hulk Hogan! Quick, choose a response from the ones below:
a) Wait, that doesn't make any sense.
b) Oh TNA, why must you be TNA?
c) If it's a fake rumour designed to work the Internet, it's certainly a dumb one
d) Yep, that's about right.
e) Push Chris Sabin!
f) Well, at least the "Worst of the Year" categories have a few early locks
g) Sting and Hogan headlining PPVs in 2013. The Mayans were a year off.
h) Why the hell did you use letters to make this list?
– Apparently some members of the NXT roster were on the road with the main roster this weekend, as the plan may be to have them wrestle in special "NXT matches" to get them used to being in front of larger crowds. Most notably, Bray Wyatt was one of the wrestlers making the circuit, which I'm only mentioning because Bray Wyatt is awesome and should be on Raw right now.
– WWE Network has been all but officially pushed back to at least the end of 2015. Man, by the time they actually debut (oh come on, let's pretend it still has a hope in hell), nobody's going to even remember what dubstep is! All that work they put into the promo video, wasted!
– Apparently fans have voted for Suicide, the masked wrestler played by at least three different guys who was the storyline star of TNA's video game (it's okay if you don't remember, in fact, you're better off) and notable for…not doing much, actually…to return to TNA's X Division. No word on who will actually be under the mask, but my money's on Pierre Oulette.
– The Rock looks like he'll be moving onto conquering cable TV next, as word is that HBO has ordered a pilot episode for a show starring him and executive produced by Mark Wahlberg, who I believe last had a hand in that Entourage show that everyone liked and I never saw. I do know it gave us the phrase "hug it out", and for that, it earned my undying enmity.
– Apparently all that shameless Tout promotion has paid off for WWE, as their financial report stated that they received $200,000 off an initial investment of $5,000. Yes, I thought it had to be a typo, too. That won't even pay the catering bill for WWE Films' next failure!
– And the final stigma of the brand extension is set to be erased in the near future, as house shows will no longer be branded and instead all operate under the "WWE Live" nomenclature. Apparently there was this crazy public perception that Smackdown house shows were second tier and lower quality, which is a perception that makes sense because it's entirely based on reality.

A funny little concept I tossed around in my head, how about the top ten guys who weren't even on Raw, Smackdown, or Impact last week! No, Main Event doesn't count until it's on a channel I could conceivably watch.
1. CM Punk
The most notable absence ever since he went away, and while I don't blame him for taking time off, the void is becoming quite apparent. With Ryback not exactly lighting the world on fire as a heel, who else is there to become John Cena's next victim?
2. Jeff Hardy
Another one where it's kind of justified in that his last appearance, he got beaten down by Aces and Eights, but I think even Magnus came back faster than this, and you wouldn't think they'd want the guy who's allegedly so important to TNA's bottom line they made him World Champion as a negotiating tactic actually on television to justify his new contract.
3. Wade Barrett
Hey, the midcard titles are meaningless, but you could at least put him on either one of your two main shows last week. Especially since you've got a PPV to sell in a couple weeks, and no current feud for the IC title. Hey, maybe they're just waiting for an insta-feud with this guy…
4. The Miz
Apparently he'll be back tonight, but man, where does he go from here? He tried to win the US Title and failed, he tried to win the IC Title and managed to hold it for a whole 24 hours before losing it, so now…is it too late to resurrect the Cruiserweight Title? He could fail to win that for a month or so, easy.
5. Triple H
6. Chris Jericho
I know, he's touring with Fozzy and also scheduled to be back tonight, but am I the only one who thought it was weird that in the middle of a dance contest between Fandango and Great Khali, they had King ask, basically out of the blue, "so what did you think about Chris Jericho on Dancing With The Stars?" First of all, real timely reference, and second of all, be more obvious that you're setting up for a Jericho-Fandango rematch without having one-half of the feud anywhere near the building.
7. Eric Young
Okay, it's not horribly shocking, but once again, they brought EY back to be a big player in a main event angle as the surprise member of Team TNA at Lethal Lockdown, the team pulls off a big win, and now…where's EY? If his fishing show is keeping him away, maybe you should have chosen someone else, right?
8. Samoa Joe
Do you ever wonder if Joe regrets not taking the rumoured WWE deal where he was supposedly going to get the Umaga gimmick? I mean, before drugs derailed Umaga, he was a huge deal for a good long while there, and while Joe's had big moments in TNA, they keep coming in between periods where you're not sure they remember he's even on the roster.
9. The Prime Time Players
Remember when the PTP got to rub elbows with Cena during the build for Mania? Remember when people were high on Titus as a talker and it looked like they might be in line for something resembling a push, especially when WWE broke up Rhodes Scholars? What the heck happened?
10. Santino Marella
What? I like Santino. He makes TV more enjoyable. Why can't he be Assistant to the Managing Supervisor instead of dull old Brad Maddox?
That's right, I don't like Maddox and I think he's boring. Come get me.
Inactive List as of 04.29.13
WWE
– Evan Bourne, out indefinitely as of March 19th, 2012(foot)
– Christian, out indefinitely as of September 1st, 2012 (elbow)
– CM Punk, out indefinitely as of April 8th (R&R)
– Hunico, out indefinitely as of November 1st, 2012 (ACL)
– Sin Cara, day-to-day as of March 23 (concussion)
– Tyson Kidd, out 4-6 months as of January 10th (knee)
TNA
– Chris Sabin, out 6-9 months as of June 14th, 2012 (ACL)
– Madison Rayne, out indefinitely as of March 17th (pregnancy)
Transactions
– Chris Sabin, TNA, returned to action on May 2nd Impact
– Summer Rae, WWE, promoted to main roster

WWE Champion: John Cena
– 29 day reign, defeated The Rock on April 7th (WrestleMania XXIX)
– Next title defense: vs Ryback, Extreme Rules PPV

World Heavyweight Champion: Dolph Ziggler
– 28 day reign, defeated Alberto Del Rio on April 8th (Raw)
– Next title defense: vs Jack Swagger and Alberto Del Rio, Ladder Match, Extreme Rules PPV

WWE Intercontinental Champion: Wade Barrett
– 28 day reign, defeated The Miz on April 8th (Raw)

WWE United States Champion: Kofi Kingston
– 21 day reign, defeated Antonio Cesaro on April 15th (Raw)

WWE Tag Team Champions: Kane and Daniel Bryan
– 232 day reign, defeated Kofi Kingston and R-Truth on September 16th (Night of Champions PPV)

WWE Divas' Champion: Kaitlyn
– 107 day reign, defeated Eve Torres on January 14th (Raw)
– Next title defense: vs AJ Lee, date undetermined

WWE NXT Champion: Big E Langston
– 117 day reign, defeated Seth Rollins on January 9th NXT

WWE NXT Tag Team Champions: Adrian Neville and Oliver Grey
– 82 day reign, defeated The Wyatt Family on February 13th NXT to become the inaugural champions
NOTE: NXT Title reigns only count what has aired on TV, not when changes occur at tapings.

TNA Heavyweight Champion: Bully Ray
– 57 day reign, defeated Jeff Hardy on March 10th (Lockdown PPV)
– Next title defense: vs Sting, Slammiversary PPV

TNA World Tag Team Champions: Chavo Guerrero and Hernandez
– 18 day reign, defeated Austin Aries and Bobby Roode on April 11th (Impact)

TNA X-Division Champion: Kenny King
– 67 day reign, defeated Rob Van Dam on February 28th (Impact)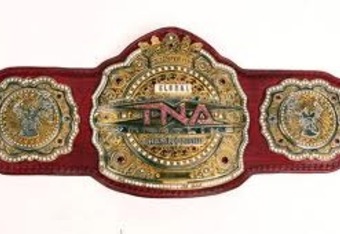 TNA Television Champion: Devon
– 151 day reign, defeated Samoa Joe on December 6th (Impact)

TNA Knockouts Champion: Velvet Sky
– 74 day reign, defeated former champion Tara, Gail Kim, and Miss Tessmacher in an Elimination Match on February 21st Impact

TNA Knockouts Tag Team Champions: ODB and Eric Young
– 424 day reign, defeated Gail Kim and Madison Rayne on March 8th, 2012 (Impact)
De Marco has The Wrestling 5&1.
McGee has The TNA Power Rankings.
Harder has The Professional 3.
Larry has a new Take.
And this week's After Dark featured discussion of Cody Rhodes' lisp, WWE's misuse of the term "charity", and the many different ways one might order pizza. I don't know, we got into a thing. Plus, I play Coin Flip with the chat, and for some reason, attempt to book SummerSlam! Click the player to hear the latest show, and hit the banner for the archives!

Also, don't forget to join the TWNE After Dark Facebook group, for updates on show airtimes and potential discussion topics, and more!

Far Cry 3: Blood Dragon **COMING SOON**
Dragon Fantasy: Book One
Guacamelee!
BioShock Infinite
Dead or Alive 5 Plus
Generation of Chaos 6: Pandora's Reflection
Rocketbirds: Hardboiled Chicken
Ni No Kuni: Wrath of the White Witch
Earth Defense Force 2017 Portable
411 will have live coverage of Raw tonight starting at 8 pm EDT.
From our promotional department, I've been informed that if you really do like 411Mania and all it provides, or even just me (and really, who doesn't like me), don't forget to bookmark the site in your browser or make 411 your homepage, and tell all your friends about how awesome 411 is.
And don't forget, you can follow all of the everyday goings on in 411 on Twitter.
Stephen's Twitter
http://www.twitter.com/411mania
http://www.twitter.com/411wrestling
http://www.twitter.com/411moviestv
http://www.twitter.com/411music
http://www.twitter.com/411games
http://www.twitter.com/411mma
That's our show, Marsico is in tomorrow, I will be back next week. Also, don't forget 4PC in the Games Zone on Wednesday, and the TWNE After Dark podcast on Wednesday, airing live at around 9:00 pm EDT on Spreaker.com, posted on 411 shortly thereafter.
Here it is, your Moment of Buddy
Buddy Always Feels
He Missed His True Calling
As A Gargoyle
Have a good one, and always be a fan.

NULL