The Wrestling News Experience: 11.05.12
November 5, 2012 | Posted by
Monday, November 5th, 2012
From 411Mania's Canadian offices in Kitchener, Ontario, Canada, this is The Wrestling News Experience, with Stephen Randle!

I Will Never Be Good, And That's Not Bad
Good morning, everyone, and welcome to the Experience. I am Stephen Randle, telling you to take your first opportunity to go and see Wreck-it Ralph, not just because it's about video games and we're all hopeless nerds here, but because it is a movie that needs to be seen to be believed. And special mention goes to Paperman, the animated short that airs in front of the movie, which I truly believe tells a better, more emotionally fulfilling story in five minutes than many movies do with a feature-length running time. And it doesn't even have any dialogue!
And I'm not just pimping for Disney because they now own roughly 95% of my childhood after last week. I would give them all my money for unedited Star Wars BluRays, but it's an empty promise because the Mouse already has most of my available funds tied up anyway.
Moving on.
This week, Raw is live (on tape delay) from the United Kingdom, and you know what that means: the return of the red police box at the entrance! Seriously, I think the only time one of those actually exists in England is when WWE brings it out with them.
Last week, after being chastised by Mick Foley for ruining the concept of a Hell in a Cell match (where was he when Triple H took on Nash? Oh wait, he was the referee, because they needed someone who might actually sell something), CM Punk demanded that Foley assemble himself a team of Superstars to face his own group in a traditional Survivor Series match in three weeks. And thus, ten men will face off at Survivor Series, and despite there being four champions in the match, there is absolutely nothing important on the line…except maybe some respect.
Speaking of the WWE title situation, referee Brad Maddox will be in attendance, presumably to explain his actions at Hell in a Cell. I can think of at least one guy who probably won't be satisfied with his explanation.
And speaking of unsatisfactory explanations (man, I am killing it with segues today), after Vickie Guerrero provided lots of conjecture and hearsay last week (which, admittedly, are kinds of evidence), we still don't know, or particularly care, to be brutally honest, if John Cena has been sticking it to former General Manager AJ. I mean, good on him, but when TNA's making fun of your angle, maybe it's not delivering the message you were looking for. More this week, probably!
Meanwhile, while the tag champions may be tied up in another match, there's no reason why the rest of the division can't jockey for position, and it looks like the Prime Time Players may have set their sights on crowd favourites Rey Mysterio and Sin Cara. Plus, they've been lurking in the weeds for a few weeks now, but is this the week that 3MB makes a big splash in the tag division?
All this, plus Randy Orton tries desperately to escape the Alberto Del Rio never-ending feud void that formerly tried to swallow Sheamus, tonight on Raw!
– WWE is overseas, leading to a slow week outside of WWE Financial reports that I don't claim to fully understand in the first place, not that it ever stopped me, so let's go right to the less-gigantic but equally available for humour news.
– Oh, all right, we'll talk about finances for a bit. WWE reported that some areas were down slightly, some were up slightly, and overall, for 2013 so far their revenue is down slightly from last year. This caused the stock price to rise. If that made any sense to you, congratulations, you know more about how stocks and publically-funded corporations work than I do. It's a low bar, but you should still probably try and clear it.
– More importantly, WWE has announced that their Network (yes, it's still coming) will be a subscription-based system similar to HBO. Which is probably the last time you will ever hear WWE Network compared to HBO in the same sentence, unless it's "The new WWE Network contains nowhere near as high-quality programming as the far superior HBO".
– Apparently the original plan for Hell in a Cell, as soon as the day before the event, was to have Ryback win the WWE Title in order to shake things up. Vince McMahon was reportedly very strongly behind this plan to push the big, muscle-bound, hoss-like individual, which means that they must have distracted him somehow. Hey, I think I just figured out why Big Show won the World title!
– Word is that WWE really badly wants to push David Otunga given his look and his Hollywood connections, but he's not really getting over liked they had hoped, so they're keeping him off TV for a while. Maybe at some point, they should consider teaching him how to wrestle.
– Even though no votes have actually been counted, we here at the TWNE Election Center are calling the Connecticut Senate seat election for whomever Linda McMahon's opponent might be. If her campaign office had only asked two failed runs ago, we would have saved her over 100 million dollars. But they didn't ask.
– Zack Ryder is reportedly working on his first original song, which I'm sure will go down in the annals of wrestlers signing music right along with The Rock's classic love ballad "Pie". I'd venture to say that I'd rather listen to 3MB's hotly anticipated first single than any song titled "Hoeski".
– I do like how our news bites are pretending that "Man With The Iron Fists" is "Batista's movie" so we can tie it into wrestling. When you're fifth in the IMDB credits listing below a guy who's only known by his initials, who also wrote and directed it, and the advertising revolves around the fact that Quentin Tarantino was the "presenter" (i.e., he does a voiceover and probably provided some money), there's no way it's "your" movie.
– Jesse Ventura's "Conspiracy Theories" show will return for a third season. In the premiere, they will look at the conspiracy behind how that show stays on the air.
– The "CrankyVince" Twitter account may have been revealed to be a former WWE Creative team member, who should be worried that he can so accurately portray a mentally unstable senior citizen with a God complex, because in real life, that only works if you're also a multi-millionaire.
– Former WWE Diva Amy Weber, who gets to be called that despite her WWE tenure lasting about a month and the fact that she probably would never, ever, want to be referred as such, posted nude pictures of herself on the Internet after her laptop containing them was stolen, presumably so that the thieves could not profit of them. I know that I myself would pay a whole zero dollars for naked pictures of Amy Weber, even if I could remember what she looked like, rather than spend five extra seconds looking for pictures of equally attractive naked women that happen to be free.
– And before we go, I know we all get upset about the state of wrestling these days, and it tends to cause us all additional stress, which is horribly unhealthy and could lead to medical complications. With that in mind, I decided to find something to help us all relax: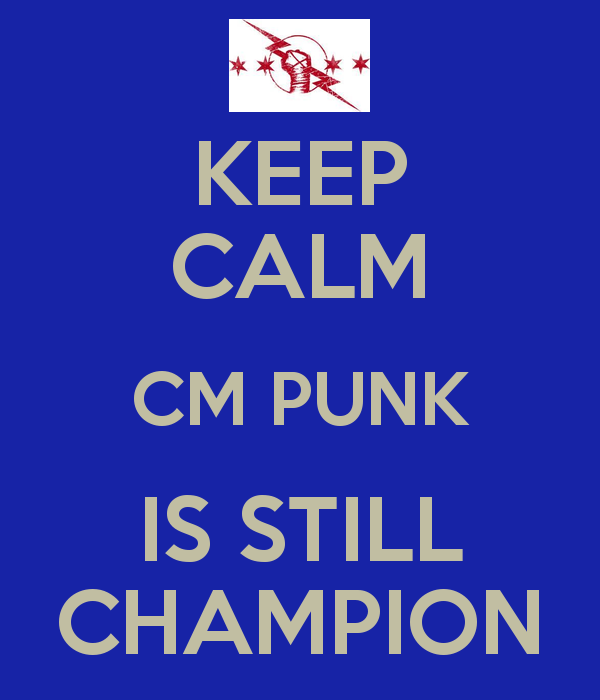 You're welcome.
1. Daniels and Kazarian
Just because I can, and we may never, ever get this chance again, it's a special all-tag team edition of the Power Rankings! And when you're thinking about awesome tag teams, it doesn't get much better than the team that is great enough for two worlds, who if there is any injustice in this world, should pick up the belts at Turning Point. As long as they can stay away from AJ Styles this time.
2. Rhodes Scholars
They also might not be the champions, but it's hard to find a team more cohesive than Rhodes and Sandow. Given who the current champions in WWE are, of course, it's really not a huge accomplishment
3. Hell No
Dysfunctional no matter what they say, but still enough of a unit to beat the Prime Time Players, who must really be regretting missing the small window between the start of their push and when Kane and Bryan exploded onto the scene somehow.
4. Sin Cara and
Rey Mysterio
At any other time, these guys would probably already have the belts, simply because they're over, they sell merchandise, and they're top faces. When we look back on this time period, Cara and Mysterio should probably get credit for being the secondary force behind the tag division resurgence, because having them as a team but not the champs ensures that there can be more than one angle revolving around the division on TV at the same time.
5. 3MB
The very definition of "put them in a tag team, what else are they doing anyway?", it just isn't a tag division if there isn't at least one group that operates under Freebird rules. I am a bit surprised that Drew seems to be the odd man out in matches so far, but I think he might still be recovering from an injury. In any event, their total dedication to the bit (even Jinder, somehow) means that if they can stay relevant, they can go places.
6. Los Stereotypicos
It may seem like a criminally low ranking for TNA's tag champions, but it feels like they're just marking time until Daniels and Kaz regain the belts, and the only reason they won the belts at BFG was because Styles and Angle split up and re-focussed on the World title after the PPV.
7. Cobro
Frankly, it's the only way Zack Ryder is going to ever win a match again, and it really makes sense to collect both their low-card comedy acts that are really over with fans but not serious enough to have real credibility into a single team, so that you can dispose of them more easily. Besides, at least their matches will have crowd heat.
8. Prime Time Players
Like I said, the window is closing quickly, with Hell No, Rhodes Scholars, and even 3MB looking like they might eclipse this team that seemed guaranteed to be champions at one point, but a feud with Rey and Sin Cara could vault them right back to the top of the pecking order.
9. ODB and
Eric Young
Well, technically they're the longest-reigning tag champs in either company, even if the division they represent is essentially dead.
10. Matt Morgan and
Joey Ryan
While they seem to be working towards separate goals, and tag team competition isn't really in their immediate future, any team with Morgan in it has to be considered a serious contender for anything he decides he wants.
Hey, that was fun. Maybe next week, we'll do the Divas/Knockouts!
Maybe not.
Inactive List as of 10.22.12
WWE Raw
– Alex Riley, out indefinitely as of September 20th (knee and elbow surgeries)
– Evan Bourne, out indefinitely as of March 19th (foot)
WWE SmackDown
– Christian, out indefinitely as of September 1st (elbow)
– Curt Hawkins, out indefinitely as of October 8th (multiple surgeries)
– Mark Henry, out indefinitely as of May 1st (surgery)
WWE NXT
– Bray Wyatt, out six months as of July 4th (torn pectoral)
– Skyler Moon, out indefinitely as of September 27 (rehab)
TNA
– Chris Sabin, out 6-9 months as of June 14th (ACL)
– Jesse Sorenson, out at least one year as of February 12th (spine)
– Mickie James, out indefinitely as of October 16th (surgery)
– The Pope, out 2-3 months as of August 12th (broken collarbone)
Transactions
– Beth Phoenix, RAW, "fired" (contract expired, will not re-sign) on October 29th Raw
– Derek Bateman, NXT, out indefinitely as of October 30th (knee)
– Hunico, SD!, out indefinitely as of November 1st (possible suspension)
– Luke Gallows, TNA, revealed as member of Aces and Eights
WWE
WWE Champion: CM Punk
– 351 day reign, defeated Alberto Del Rio on November 20th (Survivor Series PPV)
World Heavyweight Champion: The Big Show
– 8 day reign, defeated Sheamus on October 28th (Hell in a Cell PPV)
– Next title defense: vs Sheamus, Survivor Series PPV
WWE Intercontinental Champion: Kofi Kingston
– 19 day reign, defeated The Miz on October 17th (WWE Main Event)
WWE United States Champion: Antonio Cesaro
– 78 day reign, defeated Santino Marella on August 19th (SummerSlam PPV)
WWE Tag Team Champions: Kane and Daniel Bryan
– 50 day reign, defeated Kofi Kingston and R-Truth on September 16th (Night of Champions PPV)
WWE Divas' Champion: Eve Torres
– 50 day reign, defeated Layla on September 16th (Night of Champions PPV)
WWE NXT Champion: Seth Rollins
– 68 day reign, defeated Jinder Mahal to become the inaugural Champion
TNA
TNA Heavyweight Champion: Jeff Hardy
– 22 day reign, defeated Austin Aries on October 14th (Bound For Glory PPV)
– Next title defense: vs Austin Aries, Turning Point PPV
TNA World Tag Team Champions: Chavo Guerrero and Hernandez
– 22 day reign, defeated former champions Daniels & Kazarian, and AJ Styles & Kurt Angle in a Triple Threat match on October 14th (Bound For Glory PPV)
– Next title defense: vs Daniels and Kazarian, Turning Point PPV
TNA X-Division Champion: RVD
– 22 day reign, defeated Zema Ion to on October 14th (Bound For Glory PPV)
TNA Television Champion: Samoa Joe
– 39 day reign, defeated Mr. Anderson on September 27th Impact to win the vacant title
– Next title defense: vs Magnus, No Holds Barred Match, Turning Point PPV
TNA Knockouts Champion: Tara
– 22 day reign, defeated Miss Tessmacher on October 14th (Bound For Glory PPV)
TNA Knockouts Tag Team Champions: ODB and Eric Young
– 242 day reign, defeated Gail Kim and Madison Rayne on March 8th (Impact)
Acero has The Wrestling 5&1.
Byers has The 8-Ball.
And this week, it's the longest edition of TWNE After Dark to date, as I explain that I actually did like most of Hell in a Cell, at least up until I didn't, and we take a totally uneducated look at WWE's third-quarter financials, plus more things as they come to mind! Click the banner to find the latest edition, and don't forget, a new episode airs live Thursday at 10 pm!
Also, don't forget to join the TWNE After Dark Facebook group.
411 will have live coverage of Raw tonight starting at 8 pm EDT.
From our promotional department, I've been informed that if you really do like 411Mania and all it provides, or even just me (and really, who doesn't like me), don't forget to bookmark the site in your browser or make 411 your homepage, and tell all your friends about how awesome 411 is.
And don't forget, you can follow all of the everyday goings on in 411 on Twitter.
Stephen's Twitter
http://www.twitter.com/411mania
http://www.twitter.com/411wrestling
http://www.twitter.com/411moviestv
http://www.twitter.com/411music
http://www.twitter.com/411games
http://www.twitter.com/411mma
That's our show, Marsico is in tomorrow, I will be back next week. Plus, don't forget to look for Four Player Co-op in the Games Zone on Wednesday, and the TWNE After Dark podcast at 10 pm EDT this Thursday as well!
Here it is, your Moment of Buddy
Tut, Tut,
Looks Like Snow.
Have a good one, and always be a fan.
NULL