The Wrestling News Experience: 12.24.12
December 24, 2012 | Posted by
Monday, December 24th, 2012
From 411Mania's Canadian offices in Kitchener, Ontario, Canada, this is The Wrestling News Experience, with Stephen Randle!

Happy Christmafestihanniquanzakuhmas!
Good morning everyone, and welcome to the Experience. I am Stephen Randle, and no, I didn't take Christmas off. Well, okay, I did give everyone the week off over on Four Player Co-op, and there's probably no podcast this week unless somebody makes it on mainstream television for doing something horribly newsworthy in the next couple of days, but due to the overwhelming demands of the readers, I simply couldn't abide the thought of taking a week off and disappointing you all. So, that's your Christmas gift from me to you, I hope you like it, because you can't return it.
Moving on.
Tonight's show already exists in another reality, or alternatively it was taped last week because it's the holidays and even wrestlers deserve Christmas off. I'm not sure what Paul Heyman's going to do with the time off, but everyone else is probably happy. Anyway, as I recall, since it's a Christmas Eve show and nobody's going to be watching anyway, so expect lots of holiday treats, and plenty of stuff that probably won't be relevant after it happens anyway. Plus, Santa Claus is hosting! And you thought it was already hard enough for him to deliver all those presents in one night, now he has to host Raw as well, so that's three hours less time.
My helper elves are back from skimming the spoilers and they've found out that Sheamus will face The Big Show in a "LumberJack Frost" Match, plus John Cena will take on Alberto Del Rio in a "Miracle on 34th Street Fight", and there will be an eight-Diva tag match, likely involving Santa costumes not suitable for winter temperatures in the least, and generally just some wrestling to help relieve all of that holiday stress, or at least give you something to fall asleep to on the couch. Hey, it's Christmas Eve, it's on TV, every other show is on break, what else were you going to watch? Tonight on Raw!
– Next week we'll do a better-organized Year In Review Experience, but for this week, since nobody's reading it anyway and I've got lots of family Christmas stuff to deal with, you just get jokes! Aren't you lucky?
– Apparently some people at Raw mistook Big E Langston's debut for a returning Ezekiel Jackson, which surprised many people who had forgotten Ezekiel Jackson was still under contract with WWE. He's even still on the WWE.com roster page!
– Unfortunately, Ric Flair is not officially back in WWE, as his appearance on Raw last week was considered a "guest spot", and he has not signed any contract with them. Of course, his appearance last week was the highest rated segment of the show, so I'd imagine that will soon change. Plus, at least in WWE, he's still technically bound by his promise not to wrestle again!
– In case you were one of those people who recalled that a few weeks back WWE ran a couple promos for Fandango/Fandangoo, a new gimmick for Johnny Curtis that involved dancing somehow, and then stopped. And then we all forgot about it. Well, apparently WWE has shelved the gimmick for an indefinite amount of time, which would mark about the third or fourth time they've attempted to put Johnny Curtis on TV and given up. Seriously, he won NXT Season 4 and finally cashed his tag title shot prize a couple weeks ago, with a different partner than he had when he won the thing. Then he did that whole "making everyday idioms come to life" thing that lasted many weeks, then he lost his debut match, lost a few more, and disappeared back into NXT. And now this. I think the real question is, what makes Johnny Curtis so special that they keep trying to get him on TV, or at least making it seem like they're trying?
– For roughly the five hundredth time, Edge has told people that no, he will never, ever wrestle again, as due to the back surgeries he's already had, he is physically no longer capable of taking even a single bump, because it could very likely paralyze or even kill him. I think this might be the time people finally believe him.
– Reportedly WWE Hall of Famer and wrestling legend Antonio Inoki has converted to Islam and changed his name to Muhammad Hussain. And yes, I thought of the very same "Mohammed Hassan" joke you did, and yes, it is as bad as you think it would be. Let's pretend I said it, people got offended, and we can all move on, hopefully as better people.
– Hulk Hogan has opened a restaurant and bar in Tampa, which will be opening New Year's Eve, and will provide a four-star menu of entirely pasta-based offerings. Well, sounds like nothing could possiblie go wrong.
– Chris Jericho reportedly wants to return to WWE for a short WrestleMania feud where he would put over a young star at the show, whereas WWE only wants him to come back if they can have total control over his non-wrestling activities, because apparently they've resorted to blackmail in order to find new people willing to star in WWE Films projects. On the bright side, more people would probably watch Jericho in that than did in Downfall. Not a whole lot more, though.
– WWE.com has re-released ten John Cena shirts from the past on WWEShop to celebrate his tenth year in WWE. And no, the "Ruck Fules" shirt is not one of them. Which is fine, because I already bought one the first time. Don't you judge me.
– Early buyrate estimates for Survivor Series have it in the low 200k range, which would be well down from 2011's buys. Of course, early buyrate estimates are never right and are generally based around wild mass guessing, but I still think that this is the perfect time to panic, crack open our neighbour's skulls, and eat the sweet, sweet goo inside.
– In case you missed it, THQ, developers of, among other titles, the WWE franchise of video games, filed for bankruptcy last week, with WWE listed as a creditor owed over 45 million dollars. Apparently they're willing to forgive the debt as long as whomever buys THQ's assets buries the Smackdown engine in a lead-lined case at the bottom of the Pacific ocean.
– The latest news on WWE Network is that they might change business plans again, which is like actually announcing a start date or any programming, or even a price point for the reported monthly fee, but much less interesting or indicative of any progress at all!
– Both Shelton Benjamin and John Morrison have insinuated that they will be returning to WWE sometime in 2013, Morrison by basically saying he'll go back in a few months when he returns to wrestling full-time, and Benjamin being released from his ROH contract, which would seem to imply he's gotten a better contract offer somewhere else (although he has not yet signed). Meanwhile, the increasingly inaccurately named New Age Outlaws will be working a couple of house shows in January. But after last Monday, somehow, there's nobody I'd rather see return to WWE full-time than…The Boogeyman!
– Bret Hart's ex-wife will be releasing an autobiography, which, at the very least, has a chance of being less of an embarrassment than the other two Hart ex-wife biographies out there. It's a very low bar, I know, but at least the promotional material for it doesn't make it sound like it's a hatchet job, so it's way ahead already.
– And in a cost-cutting move, WWE has removed the pyro from Raw's opening. But now how will we know that the show has started?
You voted for this, and here are your results, it's the 2012 TWNE Fan Power Rankings of the Year!
1. Austin Aries
The top three spots were not separated by a whole lot, and changed on a regular basis, but in the end, The Greatest Man Who Ever Lived was your consensus pick as the #1 spot on the Power Rankings. And given the year he's had, it'd be hard to argue, but I'd say it was a minor surprise to see a TNA guy end up at the very top of the board.
2. CM Punk
As for the top WWE guy, here is the 400-day and counting WWE Champion coming in second, which I'm sure he'd take as another form of disrespect if he knew. Well, at least we can point to last week's Raw and say "See, he's the good guy who doesn't get any respect for telling the truth, and Cena's the bad guy who screws over anyone with impunity! This is what we've been saying all along!"
3. Bobby Roode
Apparently Roode's dominant run as TNA World Champion and possibly the biggest heel in wrestling at one point has earned him a lot of points with the fans, and well-deserved ones at that. Plus, he gets the distinction of being Top Canadian, which comes with double prize money.
4. Daniel Bryan
I think this is a little low, and in fact he wasn't even really in sniffing distance of a Top 3 finish, but you probably already know my opinion on D-Bry. Still, a superb 2012 for the former King of the Indies, and a WWE career I'm sure a lot of us are happy to see in action.
5. Ryback
And this is why they're pushing him, because like it or not, it's working and I think, people recognize that if it's going to happen anyway, you might as well try and get into it. He's going to have to put on a blowaway match to really grab things by the throat and truly earn what he's been given, but I'd suspect his upcoming match with Punk might be where he accomplishes that.
6. Bully Ray
I don't think, quite honestly, that anyone involved in this vote would have even had Ray on their lists at all at the end of 2011, and who can blame them? Ray's renaissance has been something that you absolutely had to see to believe.
7. Sheamus
The Sheamus backlash is out there, but maybe not as widespread as you might think, given the votes that the big Irishman pulled in. I would assume most of this is based on his in-ring work as opposed to his increasingly ridiculous character, who I'd call a mid-card comedy act if I didn't know he was World champion for half the year.
8. Dolph Ziggler
This would be the one I'd expect to be much higher on the Top Ten by the end of next year, since it seems like his time might have finally come. This is about the right ranking, too, because while I know we all love him, 2012 hasn't exactly been a banner year outside of the MITB win and the last few weeks.
9. Hell No
I did count Daniel Bryan, Kane, and Hell No as separate votes because, well, they are. Remember, the team didn't even form until mid-year, which was fortunate for Kane, because his first half of the year was forgettable at best and pure garbage at worst. Obviously the best tag team in wrestling this past year, and in 2012, that actually meant something.
10. James Storm
Another TNA guy on the list, and I can't help but feel that he'd be higher if they didn't keep booking him to lose his World title matches through the cheapest of shenanigans.
Inactive List as of 12.17.12
WWE Raw
– Alex Riley, out indefinitely as of September 20th (knee and elbow surgeries)
– Evan Bourne, out indefinitely as of March 19th (foot)
WWE SmackDown
– Christian, out indefinitely as of September 1st (elbow)
– Curt Hawkins, out indefinitely as of October 8th (multiple surgeries)
– Hunico, out indefinitely as of November 1st (ACL)
– Mark Henry, out indefinitely as of May 1st (surgery)
– Randy Orton, out 2-3 weeks as of December 10th (separated shoulder)
WWE NXT
– Derek Bateman, out indefinitely as of October 30th (knee)
– Skyler Moon, out indefinitely as of September 27 (rehab)
TNA
– Chris Sabin, out 6-9 months as of June 14th (ACL)
– Eric Young, TNA, out indefinitely as of November 22nd (kayfabe injury)
– Jesse Sorenson, out at least one year as of February 12th, 2012 (spine)
– Magnus, out indefinitely as of November 15th (kayfabe injury)
– The Pope, out 2-3 months as of August 12th (broken collarbone)
Transactions
– Big E. Langston, NXT, made main roster debut on December 17th Raw
– Kurt Angle, TNA, out 2-3 weeks as of December 22nd (groin)
– Rey Mysterio, RAW, out indefinitely as of December 18th Smackdown (personal)
– R-Truth, RAW, out 1 month as of December 17th (leg)
– Sin Cara, SD!, out 6-8 weeks as of December 18th Smackdown (knee)
WWE Champion: CM Punk
– 400 day reign, defeated Alberto Del Rio on November 20th, 2011 (Survivor Series PPV)
– Next title defense: vs Ryback, January 7th Raw
World Heavyweight Champion: The Big Show
– 57 day reign, defeated Sheamus on October 28th (Hell in a Cell PPV)
WWE Intercontinental Champion: Kofi Kingston
– 68 day reign, defeated The Miz on October 17th (WWE Main Event)
WWE United States Champion: Antonio Cesaro
– 127 day reign, defeated Santino Marella on August 19th (SummerSlam PPV)
WWE Tag Team Champions: Kane and Daniel Bryan
– 99 day reign, defeated Kofi Kingston and R-Truth on September 16th (Night of Champions PPV)
WWE Divas' Champion: Eve Torres
– 99 day reign, defeated Layla on September 16th (Night of Champions PPV)
WWE NXT Champion: Seth Rollins
– 117 day reign, defeated Jinder Mahal to become the inaugural Champion
– NOTE: The NXT Title reign only counts what has aired on TV, not when they occur at tapings
TNA Heavyweight Champion: Jeff Hardy
– 71 day reign, defeated Austin Aries on October 14th (Bound For Glory PPV)
TNA World Tag Team Champions: Chavo Guerrero and Hernandez
– 71 day reign, defeated former champions Daniels & Kazarian, and AJ Styles & Kurt Angle in a Triple Threat match on October 14th (Bound For Glory PPV)
TNA X-Division Champion: RVD
– 71 day reign, defeated Zema Ion to on October 14th (Bound For Glory PPV)
TNA Television Champion: Devon
– 18 day reign, defeated Samoa Joe on December 6th (Impact)
TNA Knockouts Champion: Tara
– 71 day reign, defeated Miss Tessmacher on October 14th (Bound For Glory PPV)
TNA Knockouts Tag Team Champions: ODB and Eric Young
– 291 day reign, defeated Gail Kim and Madison Rayne on March 8th (Impact)
De Marco has The Wrestling 5&1.
Wright has The Heel Report.
Byers has The 8-Ball.
Sarnecky has The Piledriver Report.
And this week's TWNE After Dark features more talk about TLC, because I know that's what you wanted to hear, plus a look at Del Rio's sudden face turn and the Question of the Week: was 2012 a good year for wrestling?
Also, don't forget to join the TWNE After Dark Facebook group.
411 will have live coverage of Raw tonight starting at 8 pm EDT.
From our promotional department, I've been informed that if you really do like 411Mania and all it provides, or even just me (and really, who doesn't like me), don't forget to bookmark the site in your browser or make 411 your homepage, and tell all your friends about how awesome 411 is.
And don't forget, you can follow all of the everyday goings on in 411 on Twitter.
Stephen's Twitter
http://www.twitter.com/411mania
http://www.twitter.com/411wrestling
http://www.twitter.com/411moviestv
http://www.twitter.com/411music
http://www.twitter.com/411games
http://www.twitter.com/411mma
That's our show, Marsico is in tomorrow, I will be back next week. 4PC and the podcast are off this week, but will be back next week as well.
Here it is, your Moment of Buddy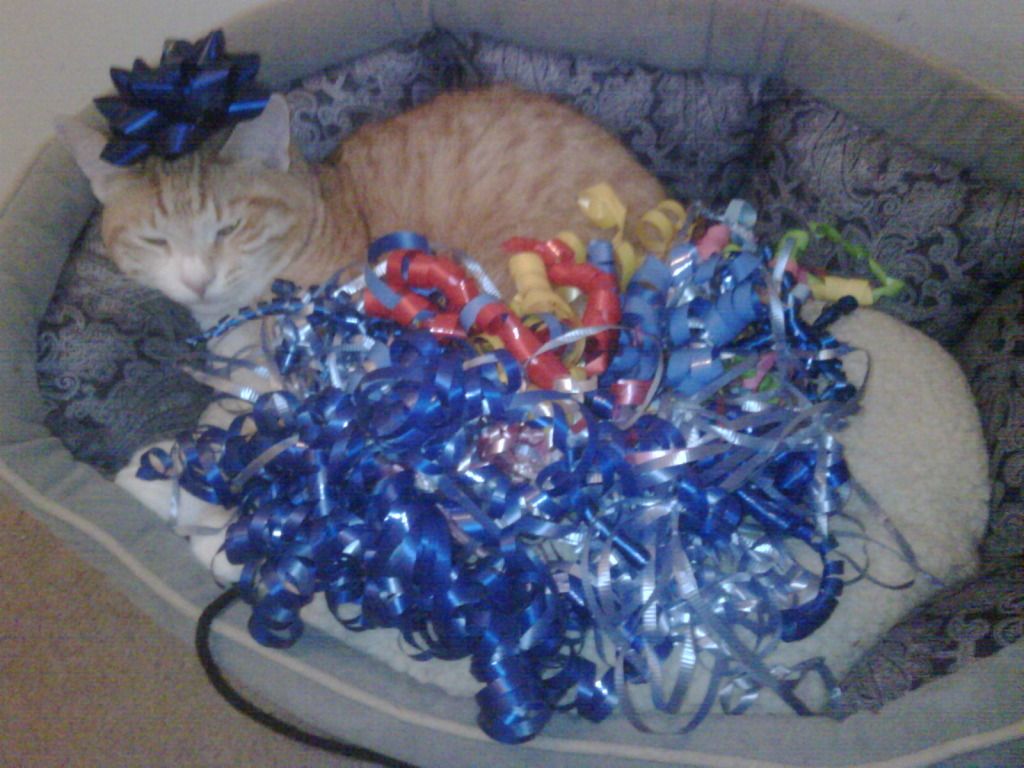 Found 'Em.
Have a Merry Christmas, and always be a fan.
NULL