The Wrestling News Experience: 12.31.12
December 31, 2012 | Posted by
Monday, December 31st, 2012
From 411Mania's Canadian offices in Kitchener, Ontario, Canada, this is The Wrestling News Experience, with Stephen Randle!

Possibly The Last Thing You'll Read This Year
Good morning, everyone, and welcome to the last Experience of 2012. Which is pretty much like every other Experience, but attaching adjectives to it makes it sound special. Hey, it works for WWE! I am Stephen Randle, I hope everyone enjoyed their festive celebrations and is ready to enjoy the dawning of yet another year tonight, because it's the last big holiday for a while, so it has to last you.
I'm not the sort of person who makes New Year's Resolutions because I have absolutely no willpower when it comes to temptation, but if I were, I suppose I'd resolve for 2013 to try and be less offended by human nature. I remember that Hobbes suggested it once and I forget how it turned out for him, but he always seemed like a stuffed tiger that really knew what was going on.
Moving on.
Tonight, it's another taped Raw that nobody will watch because it's New Year's Eve, but WWE's trying to tempt you by making tonight's show "Champion's Choice", where every title (except the one held by the injured CM Punk) will be on the line in a match where the Champion gets to choose their opponent. Of course, because WWE has totally forgotten how to promote TV, they've already spoiled what happens in the Intercontinental title match on the front page of WWE.com, because apparently they believe you'll still tune in to see a match despite already knowing the result. Anyway, we're not big on spoiling events around here, unlike WWE, so you'll have to find out what happens on your own. Or you could actually watch Raw, that's an option.
Also, Dolph Ziggler and AJ have promised to have a very special toast to ring in the New Year, and they've been nice enough to invite John Cena to take part, even though he's been nothing but a jerk to them ever since TLC. And isn't that what New Year's Eve is really all about?
Plus, I'm pretty sure The Shield will be around and make their presence felt, seeing as they have promised big things for 2013, and they seem like the kind of guys who might get a head start on their New Year's resolutions.
And CM Punk will reveal what actual doctors have to say about his knee injury, and whether he'll even be able to defend the WWE Title against Ryback on the first Raw of 2013 next week. So, you know, at least somebody's paying more attention to keeping him in good health instead of rushing him back from injury. All this and more, tonight on another holiday edition of Raw!

Yes, in lieu of anything resembling actual news, it's time for another round of End of the Year awards and celebration. And a bit of denigration. It wouldn't be an Internet wrestling column without denigration! Although I suppose I could have just left that to the Comments section. But why should they have all the fun?
All right, let's hand out some Golden Expys!
Best Canadian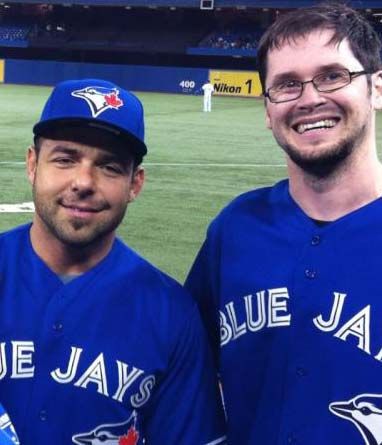 WINNER: Santino Marella
When he's not taking in a future 2013 World Series Champion Toronto Blue Jays game or meeting with internationally-known wrestling writers, Santino still had a pretty amazing 2012. Back in February, he won a battle royal to earn a spot in the Elimination Chamber, giving him his first legitimate shot at winning the World Heavyweight title. Although he came up short, Santino was one of the last two Superstars left in the match, and had the entire arena behind him the whole way. Santino parlayed his hot crowd reaction and momentum into a run with the United States titles, his first singles title run in a long while. He was also one of the first Superstars to have a WWE YouTube show once they dove into that arena, and closed out the year as a part of the revitalized tag team division.
Also, it's not like there were a lot of Canadians to choose from this year, and I didn't meet Bobby Roode at a Jays game. His loss.
Angle That Should Be Outlawed From Pro Wrestling Forever After This Year

WINNER: Relationship Angles!
In 2012, we saw the following angles involving wrestlers finding true love. Well, not actual true love, because that would be too easy. But anyway, here's the wrestling couples that came together and, in most cases, fell apart, in 2012:
– Zack Ryder and Eve
– AJ and Daniel Bryan
– AJ and CM Punk
– AJ and Kane
– AJ and John Cena
– AJ and Dolph Ziggler
– The Great Khali and Natalya
– Alberto Del Rio and Rosa Mendes
– Tara and Jesse From Big Brother
– ODB and Eric Young
– Brooke Hogan and Bully Ray
– AJ Styles and Dixie Carter/Claire Lynch (fake or not, it still counts)
Oh yeah, and they all sucked. That probably went without saying. Okay, we'll give a Del Rio/Mendes a pass because it never went anywhere and Khali/Natalya is ridiculous, but it's not like it's being featured on TV as a major angle. But still, that's twelve relationship angles (and yes, half of them involve AJ, but that doesn't make it better) in a single calendar year. Is the female demographic really so important that we always need to have a shoddy love story angle running? Anyway, this plot device needs to head to mothballs for one simple reason: wrestlers can't act. It'd be one thing if we were watching compelling dramatic (or, hell, I'd settle for decent comedic) television, with actors capable of conveying a wide range of emotions, but these are professional wrestlers (oh, and one girl who works at Universal Studios as a comic book character). I've seen more believable expressions of love on Jersey Shore. Also, because it is wrestling, these angles never, ever, ever have a happy ending, because somebody always turns on someone and becomes evil, or the whole thing was a setup, or there's a fake pregnancy, or fifty other different cop-out endings that end up with everyone going their separate ways. Days of Our Lives has had more successful relationships than pro wrestling, and that's a pretty low bar to clear.
Best T-Shirt

WINNER: Damien Sandow
A close race between this and Daniel Bryan's "Yes Yes Yes", with CM Punk's new "25/8, 366" shirt making a late charge, but for sheer cleverness, plus the pleasing blue colour that is just a treat for the eyes, nothing beats Sandow's "Evolution" garment. Thank you, Damien.
Wrestling-Based Non-Wrestling Project That Sucked The Least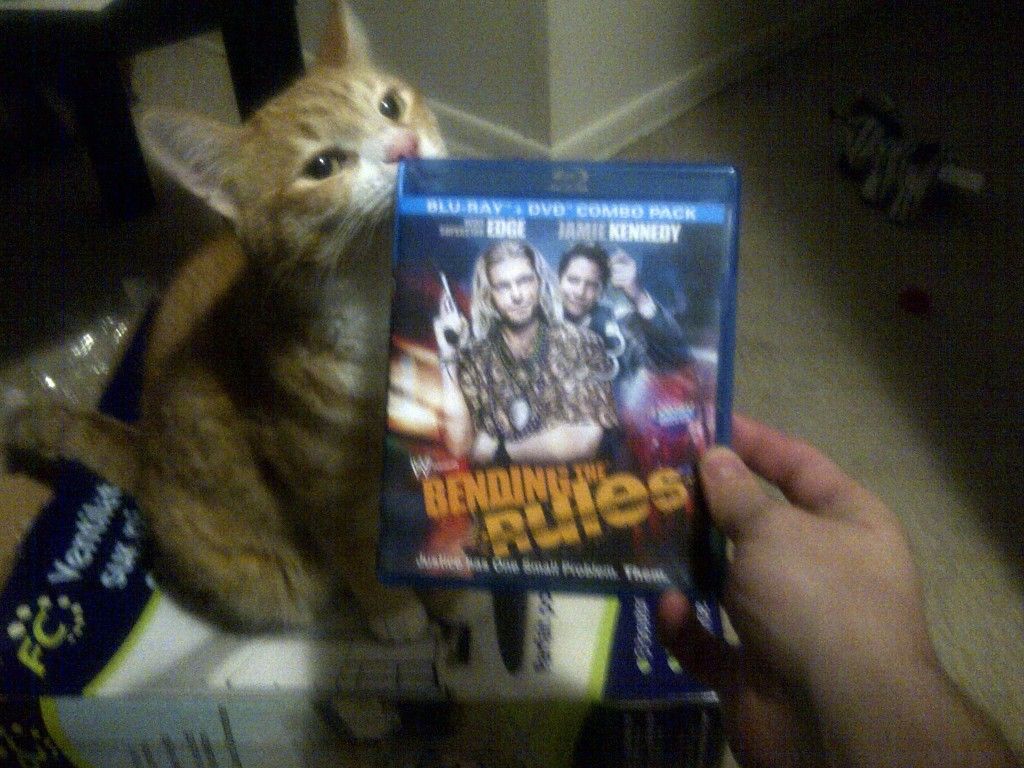 WINNER: Edge in Bending The Rules
Retired forever but not forgotten, Edge's movie came and went with almost nobody noticing, because even WWE had pretty much given up on the film division by that point. It's not a horrible little comedy, though, and Edge plays his role to perfection. Now, if I could only force myself to pay attention to Haven long enough to get to the episodes where he becomes a recurring guest star.
Best Reason To Forgive Michael Cole For Sucking

WINNER: 09.11.12
Listen, Michael Cole is a bad announcer. Nobody will deny that. And when they turned him heel based on a character they'd been testing him out with during the execrable NXT Season 3, he nearly instantly became a pox on the show in general, dragging down the commentary booth even further, and through it, the entire show. Not to put too fine a point on it, everyone hates Michael Cole and longs for the day when he no longer is considered "The Voice of WWE".
But when one of his best friends and longtime broadcast partner Jerry Lawler collapsed beside him during a live broadcast of Raw, none of that mattered anymore. Suddenly a man alone, with Lawler stricken and being attended to feverishly by EMT's, unable to even be sure if the man he'd spent most of his announcing career calling matches with was alive or dead, Michael Cole shouldered a massive burden and remained at his position, determined to inform the viewers at home, who had no idea what was going on, of the tragic events taking place at ringside and backstage. The images of Cole, struggling against his emotions to deliver a story in a situation that one wouldn't wish on anyone, are heart-wrenching, and in that moment, I, and many other people, chose to let our past prejudices fall to the wayside and embrace Michael Cole, the person. No one should have had to do what he did that night, but he did it, and he did it better than anyone could have possibly imagined, and because of that, everything else falls away. And thankfully, Michael Cole's darkest moment in wrestling even got to have a happy ending, because Lawler survived his heart attack, and now sits back alongside his friend every Monday night.
So, this award is for you, Michael Cole. Man, you suck. But that's okay, because you're also pretty incredible.
Worst Time John Cena Main Evented A PPV Over A More Important/Better Match

WINNER: Over The Limit
Main Event: John Cena vs Johnny Ace
Should Have Been Main Event: CM Punk vs Daniel Bryan, WWE Championship
While I'm not saying that CM Punk should have main-evented every single PPV while he was champion (clearly, the Rumble Match, Cena-Rock, Cena-Brock, and Triple H-Brock deserved their spot as the biggest match), I'm still not sure what the logic was in making sure that John Cena, no matter what insipid feud he was in, closed out every PPV for the first half of the year, despite none of them being for the alleged most important title in pro wrestling. While Cena-Kane at Elimination Chamber and Cena-Show at No Way Out could have easily taken this award, at least those involved actual wrestlers and could even be argued that, because Cena won, enabled them to "send the crowd home happy". Cena vs Johnny Ace was a comedy match involving a long-retired, essentially non-wrestler, that was ten minutes too long, featured almost no actual wrestling, and ended with a massively telegraphed "swerve" ending that resulted in Cena taking the loss in what would be considered a gross injustice if anyone cared about Cena getting screwed over, so the show even ended on a down note. Meanwhile, the (still super-popular face at the time) WWE Champion CM Punk went out, put on a wrestling clinic with equally talented (and also incredibly over due to the rise of the "Yes" chant) Daniel Bryan and pulled out a hard-fought victory to retain his title. But you tell me which should be the main event of a wrestling event people paid forty-plus dollars to watch.
Most Surprising Joke That Somehow Got Over And Was Awesome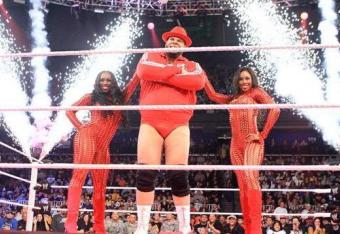 WINNER: Brodus Clay
Seriously, how can you not love The Funkasaurus? It was just the perfect amount of campy, silly fun combined with a guy who apparently decided "fuck it, I'll just go with it" and turned into something special. Sure, they forgot to actually do anything with him, but the beauty of the character is, all he has to do it win a few matches and you can easily pretend he's credible again, because the fans still love to watch that fat man dance. We really don't ask for much, sometimes.
Best Good Angle With An Unfortunately Disappointing Pay-Off

WINNER: TNA Bound For Glory Series
I loved the TNA Bound For Glory Series. The excitement of the whole setup, the "anyone can win" booking, the fact that it gave a reason for all the random matches that happen on Impact, all with the ability to track standings on a match-by-match basis, which makes the stat-head sports fan in me very happy. Plus, from the beginning it was looking like the whole thing was a logical set-up for James Storm's triumphant return, so he could win back the TNA World Title from former best friend Bobby Roode in a big-time match at Bound For Glory.
Then, two things happened. The first one, which I have no problem with, was that Austin Aries got himself so over and so popular that TNA felt they had to put the TNA World Title on him at Bound For Glory. And then they ran with him to the point that it became clear that Roode would not regain the belt in time for BFG. And as a result, James Storm lost his semifinal match in the BFG Series at No Surrender, in order to set up what would be an excellent match with Roode at BFG, but one that would not be as big of a deal, since the World title was removed from the equation.
Now, TNA could have still gone with a serviceable Plan B at that point, and slotted in incredibly hot heel Bully Ray, who had also finished in the Top 4 of the Series, and had him take on Aries in a continuation of their feud from the spring, playing off Aries having proven that he could hold the X Division title against bigger challengers, and now having to hold a bigger belt in a tougher situation. I think anyone would agree, that's not a bad storyline.
But instead, Jeff Hardy, who was barely a footnote for the entire BFG Series and somehow amassed enough points to squeak into the semifinals at the very last opportunity, ended up winning the title shot against Aries. TNA's justification was that Hardy is their top merchandise seller (apparently WWE isn't the only company that can ride that tired horse), and also giving him the belt was an incentive for Hardy to re-sign with the company. Now, merchandise or not, nobody has gotten more second and third and fifteenth chances in wrestling than Jeffrey Nero Hardy. If he didn't move t-shirts, he would have been out of wrestling about six seconds after the first time he no-showed an event in either promotion. TNA even tried to play Jeff's title shot off as the culmination of some grand "comeback", glossing over the fact that the reason he was making a comeback was because of the time he'd embarrassed TNA on a major level by working the main event World title match of a PPV clearly stoned out of his gourd.
Oh, and because apparently it just couldn't be a face-face match, TNA turned Austin Aries, their World Champion, who had also been a big player in the whole Aces and Eights angle up until that point, heel a couple of weeks before the PPV for reasons that were silly at best and downright nonsensical at worst. So yeah, TNA blew so many opportunities to do a big thing correctly with the BFG Series, and that was a damned shame, because the entire build, right up to the semifinals and finals at No Surrender, was actually really compelling and brought me back around on the promotion.
Video Game I Was Most Likely Playing Instead Of Finishing The Experience Most Weeks

WINNER: Persona 3: FES
Honorable mention also goes to Mass Effect 2, Persona 4 Golden, Uncharted: Golden Abyss, The Old Republic, and, for a couple of weeks in May, Diablo III. What? I like video games. Especially really addictive ones that you can sit down to play and suddenly realize that it's four hours later. And then you keep playing.
Wrestler Who Must Return To A Major Fed in 2013

WINNER: John Morrison
With the caveat that he must leave Melina at home. Or at Batista's house, whatever works for her. There are few wrestlers that WWE could bring in right now who would have an immediate, credible impact, who fans could immediately buy as a World title contender, and John Morrison is one of them. He has one of the most uniquely recognizable styles in the ring, his character is easily adaptable between comedic and serious, as well as face and heel, and if they're so worried about the female demographic, well, he's got rock-hard abs and boy-band good looks. I'm not saying he could save WWE, I'm saying he could instantly be a hot main event-level talent that could, at the very least, give them some good new feuds and some memorable moments every time he busts out some crazy acrobatics on PPV. And before everyone starts busting on him for his promo skills, are you telling me that current new main eventer Ryback is the second coming of The Rock on the mic? Or even the second coming of Sid?
I, and many people picked Morrison to have a Breakout Year back in 2011. Well, I say better late than never, and I want WWE to make this happen in 2013. Who knows, it might at least get them some credit for the next few stupid things they do.
And to finish things off, it's the final Power Rankings of 2012, my own personal "Best of the Year" Edition!
1. Daniel Bryan
From top to bottom, Daniel Bryan's 2012 was incredible. He got a good run with the World Heavyweight title to start the year, and even in humiliating defeat, managed to turn lemons into lemonade and somehow became the most over wrestler in WWE, an act so hot that even attaching a floundering Kane to it couldn't drag him down, and in fact inspired Bryan to even higher levels. He wasn't even supposed to make it to WWE, and his WWE career was almost over one week after he hit the main roster, but instead, he's become one of wrestling's biggest stars.
2. CM Punk
We can bicker and argue about who main evented PPV's forever (and we will, no doubt), but CM Punk entered 2012 as the WWE Champion, and he left 2012 still the WWE Champion, having held the belt for the entire year without interruption. For that alone, anyone would call that a legendary year, but Punk also had great matches, delivered great promos, and more or less cemented his position as "Best in the World".
3. Austin Aries
After many failed attempts with both promotions, somehow it all came together for Aries in 2012. He became a huge star despite his small stature, raised the X Division title from the ashes, and became so big that TNA had no choice but to put their World title on him. An unnecessary heel turn to close out the year put a small damper on his 2012, not because his heel character isn't also awesome, but because he was doing so well as a face at the time, and I would have liked to see that continue.
4. Bobby Roode
I still remember when Roode had his first singles run, back when he was stuck in a never-ending feud with Eric Young and nobody cared about his dull, charisma-less "rich guy" persona. Plus, his current run didn't exactly start out with a bang, what with rapid-fire World title changes and a heel turn out of nowhere. But Roode stuck with it, and improved at every aspect, to become one of the best heels in pro wrestling for the past year, and a main event player for years to come.
5. Bully Ray
Speaking of guys who you would have never seen in the main events, at least as a singles guy, somehow the man whose last sniff of main eventing was way back in the original ECW (and nobody bought him as one then, either) managed to take a mean streak and an obsession with perfect calves and turn it into a well-rounded, credible, and hot heel act that propelled him to the top of the TNA card. Much like Aries, his year hasn't ended spectacularly due to a left turn into a relationship angle with Brooke Hogan, but 2012 was definitely the year where Bully Ray made his mark on pro wrestling.
6. WWE Tag Division
They've been promising this for years, but it was never more than lip service. Until, somehow, without warning, tag teams exploded back into WWE and suddenly, there's an entire division of teams, all with some degree of credibility, and the tag team titles aren't just a trophy to be paraded around by some guys who only exist as "jobbers with a belt". No, nobody would accuse Kane and Daniel Bryan of that, and the good news is, when they inevitably break up and/or lose the belts, there's still a whole bunch of good teams there to take their place and maintain the momentum.
7. Christopher Daniels
It's been a very long road for a guy who, back at the end of the Monday Night Wars, was actually considered one of the hottest young prospects not signed to either WWE or WCW. Daniels may not have the World titles under his belt, but his wrestling has always been impeccable, and this year, even with the crap he had to shovel in the form of the Claire Lynch angle, he came out of it all smelling like a rose. Or an appletini, maybe.
8. Ryback
Well, he wouldn't be my first choice (or second, or third, or…) for a new main event talent, but you can't argue that they finally decided to give somebody, anybody, a serious push without worrying about 50/50 booking or all those other crutches that makes everyone in the midcard look like a bunch of losers. At least it came in handy when John Cena got injured right before Hell in a Cell, anyway.
9. Antonio Cesaro
Another guy who was brought in this year and somehow has managed to escape being treated like "just another guy" (recent squashing by Ryback notwithstanding), you can tell that there are reasonably big plans in store for Cesaro, who has all the tools to become a big star.
10. The Shield
They came in so late in the year that this is really just a reward for their potential effect on 2013, which should figure to be a huge year for the trio of Ambrose, Rollins, and Reigns. It's a pretty safe bet that at least some portion of these three will be gracing this list in higher spots at the end of the next twelve months.
Inactive List as of 12.24.12
WWE Raw
– Alex Riley, out indefinitely as of September 20th (knee and elbow surgeries)
– Evan Bourne, out indefinitely as of March 19th (foot)
– Rey Mysterio, out indefinitely as of December 18th Smackdown (personal)
WWE SmackDown
– Christian, out indefinitely as of September 1st (elbow)
– Curt Hawkins, out indefinitely as of October 8th (multiple surgeries)
– Hunico, out indefinitely as of November 1st (ACL)
– Mark Henry, out indefinitely as of May 1st (surgery)
– Randy Orton, out 2-3 weeks as of December 10th (separated shoulder)
– R-Truth, out 1 month as of December 17th (leg)
– Sin Cara, out 2-3 weeks as of December 18th Smackdown (knee)
WWE NXT
– Derek Bateman, out indefinitely as of October 30th (knee)
– Skyler Moon, out indefinitely as of September 27 (rehab)
TNA
– Chris Sabin, out 6-9 months as of June 14th (ACL)
– Eric Young, TNA, out indefinitely as of November 22nd (kayfabe injury)
– Jesse Sorenson, out at least one year as of February 12th, 2012 (spine)
– Kurt Angle, out 2-3 weeks as of December 22nd (groin)
– Magnus, out indefinitely as of November 15th (kayfabe injury)
– The Pope, out 2-3 months as of August 12th (broken collarbone)
Transactions
– Randy Orton, SD!, cleared to return to in-ring competition as of December 30th
WWE Champion: CM Punk
– 407 day reign, defeated Alberto Del Rio on November 20th, 2011 (Survivor Series PPV)
– Next title defense: vs Ryback, TLC Match, January 7th Raw
World Heavyweight Champion: The Big Show
– 64 day reign, defeated Sheamus on October 28th (Hell in a Cell PPV)
WWE Intercontinental Champion: Kofi Kingston
– 75 day reign, defeated The Miz on October 17th (WWE Main Event)
– Next title defense: vs Wade Barrett, December 31st Raw
WWE United States Champion: Antonio Cesaro
– 134 day reign, defeated Santino Marella on August 19th (SummerSlam PPV)
WWE Tag Team Champions: Kane and Daniel Bryan
– 106 day reign, defeated Kofi Kingston and R-Truth on September 16th (Night of Champions PPV)
WWE Divas' Champion: Eve Torres
– 106 day reign, defeated Layla on September 16th (Night of Champions PPV)
WWE NXT Champion: Seth Rollins
– 124 day reign, defeated Jinder Mahal to become the inaugural Champion
– NOTE: The NXT Title reign only counts what has aired on TV, not when they occur at tapings
TNA Heavyweight Champion: Jeff Hardy
– 78 day reign, defeated Austin Aries on October 14th (Bound For Glory PPV)
TNA World Tag Team Champions: Chavo Guerrero and Hernandez
– 78 day reign, defeated former champions Daniels & Kazarian, and AJ Styles & Kurt Angle in a Triple Threat match on October 14th (Bound For Glory PPV)
TNA X-Division Champion: RVD
– 78 day reign, defeated Zema Ion to on October 14th (Bound For Glory PPV)
TNA Television Champion: Devon
– 25 day reign, defeated Samoa Joe on December 6th (Impact)
TNA Knockouts Champion: Tara
– 78 day reign, defeated Miss Tessmacher on October 14th (Bound For Glory PPV)
TNA Knockouts Tag Team Champions: ODB and Eric Young
– 298 day reign, defeated Gail Kim and Madison Rayne on March 8th (Impact)
Acero has The Wrestling 5&1.
Byers has The 8-Ball.
And TWNE After Dark will return this Thursday after a one-week holiday. I don't know what we're going to talk about, maybe I'll ramble about random things until we run out of time. Who can say? Anyway, click the banner and you can access the whole archive of episodes from 2012! And maybe by the end of 2013, I'll have descriptions on them all so people can see what they're all about without having to listen to them first!
Also, don't forget to join the TWNE After Dark Facebook group.
411 will have live coverage of Raw tonight starting at 8 pm EDT.
From our promotional department, I've been informed that if you really do like 411Mania and all it provides, or even just me (and really, who doesn't like me), don't forget to bookmark the site in your browser or make 411 your homepage, and tell all your friends about how awesome 411 is.
And don't forget, you can follow all of the everyday goings on in 411 on Twitter.
Stephen's Twitter
http://www.twitter.com/411mania
http://www.twitter.com/411wrestling
http://www.twitter.com/411moviestv
http://www.twitter.com/411music
http://www.twitter.com/411games
http://www.twitter.com/411mma
That's our show, Marsico is in tomorrow, I will be back next week. Also, don't forget 4PC in the Games Zone on Wednesday, and the TWNE After Dark podcast on Thursday, airing live at around 10 pm on Spreaker.com, posted on 411 shortly thereafter.
Here it is, your Moment of Buddy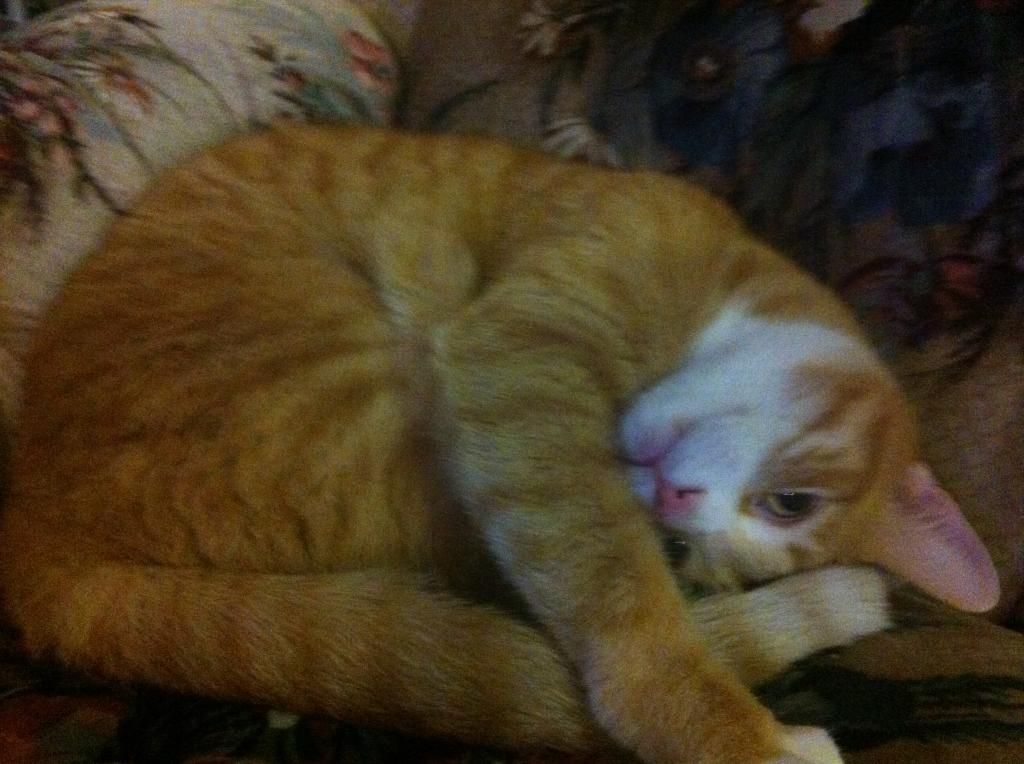 Wait, Did I Manage To Sleep Through The Mayan Thing?
How Did That Turn Out?
Have a Safe and Happy New Year, and always be a fan.

NULL