Thursday Sports Entertainment News Report 01.03.13
January 3, 2013 | Posted by
Greetings, folks, and welcome to another edition of Thursday Sports Entertainment! I hope you had a great Holiday season. For me, we had a lot of fun taking the kids to Disney World for Christmas. The only sucky part was that I got sick, but at least the kids enjoyed themselves.
As for New Year's, a lot of people like to get all retrospective-y this time of year. Not me. After all, time doesn't exist, so why get all worked up about it? Still, if you're into the New Year thing, I hope you all have a wonderful 2013. Especially my new favorite person, Stanley Wilson. Happy New Year, Stanley! Let's take a look at what Stanley had to say:
Point 2: I can't stand Colt Cabana's fans. The guy has had multiple looks at the big time and he has fallen flat on his face every time. He's not talented enough, he's not big enough, and he clearly hasn't worked hard enough. Guys with the right look can get away with being a little less talented. Guys like Mick Foley or the Rock are good enough on the mic that they could get away with coasting in the ring from time to time. Colt Cabana can't and it caught up to him.
There's nothing wrong about being an independent wrestler. You can make a living doing what you love and perform in venues across the globe. But there's a big difference between being an "Indie star" and being a WWE "superstar". To try and pretend otherwise is both ridiculous and stupid. We can argue all day which is better and whether the WWE ought to be moving the other direction. But as long as Vince McMahon is alive the Colt Cabanas of the world have to be so clearly superior to their peers to get a chance. That requires both God-given talent and self-driven effort… and that effort needs to be on display in the gym, in the ring, and on the mic.
If Colt Cabana was that good he'd have made the main roster a long time ago. He hasn't. And all the crying of his fans is not going to change that- because Vince McMahon can't hear the ten of you from his $20 million mansion.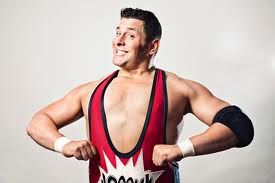 What I like about Mr. Wilson's post is that while he says something seemingly outrageous, he's also kinda right.
Think about it. There are lots of indie guys out there with the cult following and wrestling know-how to do very well for themselves in that environment, yet, with opportunities in the major leagues, they never make it. Why is that? Why did Kevin Nash become WWE champion and Colt Cabana get kicked to the curb?
I like Colt Cabana. I really have no problem with him. But, if he were good enough to flourish in the WWE, he'd be flourishing in the WWE, right? Stanley is correct – guys with the right look can get away with being less talented. Ryback, Khali & Big Show are all huge monsters, so if their in-ring work leaves a bit to be desired, so be it. Their look is their attraction, and that more than makes up for it. Colt doesn't have a monster look, but one could argue that he has more of a WWE-type look than his friend – the skinnier, grungier CM Punk. So why isn't he in the big leagues? On paper, he seems to have a lot going for him:
Colt Cabana has name recognition from a sizable minority of the audience
He has connections out the wazoo, the most obvious and influential being that he's a good friend of the longest reigning WWE champion of the modern era
He has in-ring talent, honed by years of experience
He has a look that can be categorized, at worst, as decent
He has good mic skills
What's he missing? Is it politics? Although one could argue that successfully being able to navigate the political world of professional wrestling is a requirement to "making it." Maybe one of my enlightened readers can offer their perspective on this one. It has to be more than "WWE is stupid and didn't know how to use him."
I can't tell you how disappointed I am that we didn't get a full Awesome Ladybug Girl review of her first live event. Not since the "A Few Minutes with Dr. Phil" section over in Entertainment have I looked forward to a piece each week.
-PHGuy
You're not the only one. I was looking forward to hearing her reactions at the event, as well. But, alas, it wasn't meant to be. It did answer the question of whether or not I should take ALBG to WrestleMania, though. If she can't stay awake past 9:30PM, then I've gotta find someone else to take that ticket. The good news is that I have an Awesome Ladybug Girl mini-update later in the column. Thanks for the kind words, though.
I'd use Orton the same way he should've been used his entire career: an uppercard Jobber to The Stars. As in, wrestlers who actually have futures. Especially now that he's definitely 1 Wellness Policy violation away from a long-overdue firing.
Also: claiming that Warrior should be in the HoF before Savage, Bruno & Foley? dat crazy fanboyism!
Ice Dagger
I agree with everything you said there.
WORLD (WRESTLING ENTERTAINMENT) NEWS TONIGHT
For the second time in nearly the year that I've been doing this column, there is essentially NO wrestling news worth talking about. It's that time of year where things slow down, everything is pre-taped, and people are gearing up for WrestleMania season. That makes it the perfect storm for a dead news cycle. Oh, well.
I wanted to remind everyone that I'm accepting reader-submitted bits for this column at [email protected] So far, I've been inundated with tons of, oh wait. I got nothing from nobody. Come on, people, this is your big chance! Don't you want to put your name out there for ridicule? Everyone says this site is biased against TNA – here's your opportunity to turn the tables!
OLD LANG SYNE
With the end of 2012 behind us, people turn their eyes toward the future. Many major publications like TIME magazine make predictions on what will happen in the year ahead. 411Mania is no different, with the Top 5 Wrestling Predictions for 2013 already in the books.
That's all well and good. It's fun to try and prognosticate the future. But it occurred to me – how often do we go back and check out the results? I thought it might be fun to look at the 411Mania Wrestling Predictions for 2012 and see how they turned out. Some were spot on, while others were less accurate. Let's take a look at a few:
Spot On
These are the predictions that nailed it. Some, in hindsight, seem like sure things, but when you look back at where we were in December 2011, all of these could have easily gone a different way.
TJ Hawke: "The WWE Network will be Considered a Disaster" Hawke was right on this one. The fact that they can't even figure out a model for the network isn't exactly encouraging. Perhaps in time the WWE Network will become a success, but as far as 2012 was concerned, the WWE Network was a huge bust.
Jeremy Thomas: "Brock Lesnar Returns to WWE" This, in my opinion, was the least likely accurate prediction that took place. What I mean by that is, it was a long shot prediction to make in December 2011, but it actually came to pass. The night after WrestleMania will forever be known as the time Brock brought the pain to John Cena, and we were introduced to excited Brock Lesnar guy.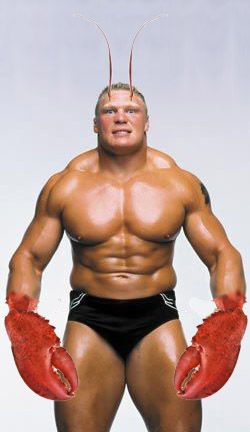 Jack Bramma: CM Punk will turn heel again around SummerSlam and will go back to ruling the world. This one was very specific and very accurate. CM Punk turned heel on RAW1000, less than a month before SummerSlam 2012. He then went on to become positioned as one of the top guys, becoming the longest reigning WWE champion of the modern era. In fact, 2011 was the year known for too-frequent WWE title switches, and Punk brought that to end by spending every day of 2012 as WWE Champion. Amazing.
Ross Rutherford: A New Face in the WWE Main Event Scene: Ross speculated that a new main event babyface would emerge in 2012, and he was right. With the coming of The Ryback, the WWE has a new top face in the company. Sadly, a prediction like this one could actually be considered a long-shot- the WWE has a pretty bad record of making new babyface main eventers in recent years, so kudos to Ross for calling it.
Not So Spot On
These were some of the predictions that missed the mark. With the exception of one, all of these predictions could have easily happened. Circumstances, timing, etc. all played a big role as to why these predictions did not come to pass. Let's take a closer look:
TJ Hawke: "The Rock will team with Steve Austin at Summerslam againt Punk & Someone Else" : This could have happened if not for Steve Austin's knee surgery. It would have been a helluva match to watch, that's for sure. Punk was teasing an encounter with Austin at the time, so Hawke was smart for thinking their paths would cross in 2012. Alas, it was not meant to be. Hopefully soon, though!
Wes Kirk: "The Rock Signs with TNA": This is the one weird prediction that I mentioned earlier. The Rock in TNA? WTF? I don't understand why Wes Kirk ever thought that. We're lucky that an A-list movie star would even "lower" himself to participate in wrestling matches with the big leagues – why would he ever even consider going to TNA short of impending bankruptcy? Whatever. Take a minute to bask in the ridiculousness of this one and let's move on.
Robert S. Leighty Jr.: John Cena: Heel Turn This is another one that people have been predicting for years. Sooner or later it will happen, so let's keep our eyes peeled for a John Cena heel turn in 2013.
Jeremy Thomas: WWE Network Is a Big Success Again, this could have easily happened. Sure, poor planning de-railed the Network before it could even get off the ground, but, at the time, WWE had announced a post-WrestleMania launch for the network, so we all assumed it would be on the air by then. Like I said earlier, it's entirely possible that the WWE Network will be successful, but since they didn't launch in 2012, this prediction is incorrect by default.
Tony Acero: Dolph Ziggler will be World Heavyweight Champion Again, this could have, and arguably should have happened by now. I think it's a question of timing, as it seems Mr. Shake-A-Butt guy is on his way to big things in 2013.
@OFFICIALVIRGIL AWESOMENESS
A while ago I posted some of The Iron Sheik's most hilarious Twitter rantings. As it turns out, he has some serious competition for most awesome wrestler twitter feed from none other than Virgil, Ted DiBiase's former manservant. Many of you may know him as a sad, 8×10 hawking weirdo from Deadspin's Virgilbag, but the former Million Dollar Champion mixed it up with fans for an entertaining, holiday-spirit-filled chat session on Twitter. Here are some of the highlights:
"@WellGeeze: What's cum taste like? @Officialvirgil"ask your dad
"@WellGeeze: he said it taste like your dad :-)"you sure you didn't ask your mom by mistake? I no they look similar with her moustache n al
"@jfeador: @Officialvirgil can you body slam My buddy @bryankmetz"$150
"@Slew_Foot: @Officialvirgil if I gave you 10 bucks could I kick you in the balls?" No
"@PARecSpecs: . @Officialvirgil Have you ever had horse meat?"no but mrs Virgil has lol
"@PeteSudbury: @Officialvirgil Is it true that you had a hooker take a shit on a glass table while you jerked off under it?"standard Tuesday
"@atlantafixer: @Officialvirgil I thought you were dead, is just your career?"just my career
"@WellGeeze: Hey wanna snowball with me? @Officialvirgil"ask your dad again
Who knew Virgil was such a funny guy? Homework assignment time, readers. Pester Virgil on twitter. If he replies, let me know and I'll post it here!
AWESOME LADYBUG GIRL MINI-UPDATE
This week I was only able to watch 15 minutes of RAW with Awesome Ladybug Girl. We watched the Ziggler/AJ/Cena New Year's toast segment, that infamously ended with gallons of poop falling from the ceiling. Here's the highlights:
Victoria was confused that AJ would be friends with Shake-a-butt guy (Ziggler). After all, she had spent weeks rooting for AJ, but now her hero was with her mortal enemy. I explained to her that AJ helped Ziggler keep his briefcase by becoming a bad guy. Her answer was "I slept through that, didn't I?" Yes. Yes you did.
She was very upset that AJ and Ziggler were together. After all, she has a not-so-secret crush on the Show Off. When they kissed she let out a jealous "ewwwwwww!"
Victoria thought that the poop part was hilarious and gross. She couldn't believe that so much could just fall from the sky. She insisted on knowing if it was real poop or pretend poop. I was honest and told her it was just pretend poop, but it's fun to imagine that it's real.
She was very happy to see AJ covered in shit. Not so much with Ziggler. Man, women are jealous and vindictive even at six years old? Jeez.
That's really it. She was too shocked and upset at the Ziggler/AJ pairing to have any comments.
YOU'RE IN FOR A REAL TWEET
And of course, follow all the 411 stuff on Twitter! #spon
http://www.twitter.com/411mania
http://www.twitter.com/411wrestling
http://www.twitter.com/411moviestv
http://www.twitter.com/411music
http://www.twitter.com/411games
http://www.twitter.com/411mma
SIGNING OFF
Thank you for making Thursday Sports Entertainment your go-to destination for Wrestling News, Opinions, etc. Remember to send in your TNA, ROH, etc. news bits to [email protected] Hopefully, there will be some news to cover next week.
Hasta Jueves,
This is Sean.
NULL